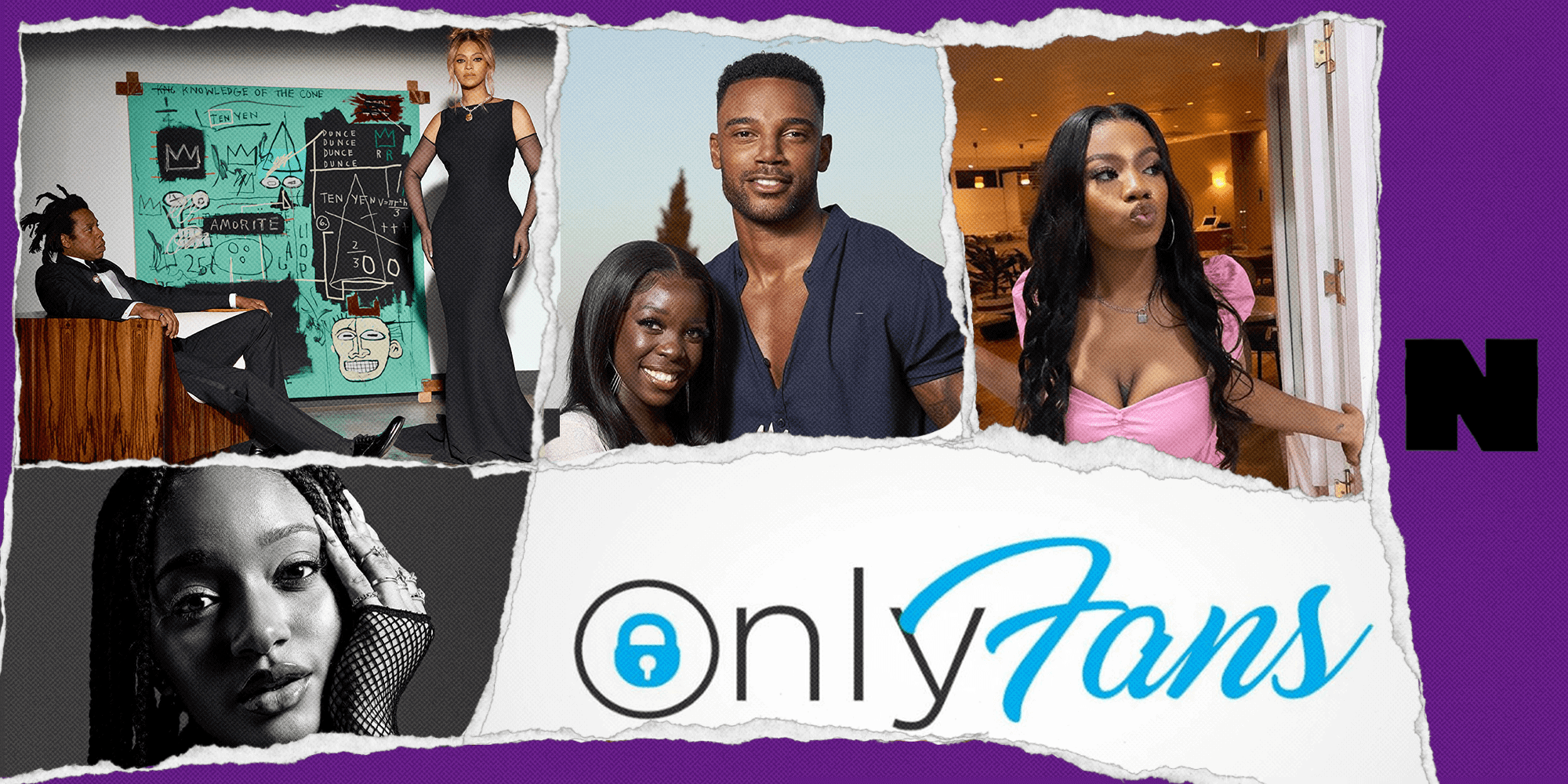 Hot Takes: Only Fans, Tiffany Blood Diamond, Love Island Finale & More
so here's the stitch
With August almost out the way and the summer days rolling on, we're counting down to a very special announcement here at the NATIVE, and things have been busier than usual. Our NATIVE Sound Production Camp just kicked off in London this week and we're so excited to see our in house team and friends cooking up some heat for something special coming very soon.
Even in the middle of a global pandemic, the wheels of pop culture never stop spinning, and over the past couple of months, the cultural moments that have collectively got us through the tough times have only become wackier and more bizarre with each passing day. Some things fade away quickly while others linger for weeks or months, taking space on our social media timelines and populating every conversation with friends, with the ability to change the shape of mainstream popular culture.
From DaBaby exposing Hip-Hop/Rap's blatant homophobia to Saweetie and Quavo's epic breakup and now reunion, there's never a shortage of pop culture moments that deserve our hot and sometimes unpopular takes. This week, I take the lead on Hot Takes after weeks of going dark to bring you my picks for the week including blood diamonds, the anticlimatic Love Island finale, Only Fans losing the plot, and more.
What I'm currently listening to
I'm not particularly listening to anything of note currently because I'm always super jaded when I return from a long hard day of creating the content you need. However, recently, I have found myself giving Ayra Starr's debut album '19 & Dangerous' and Liya's debut EP 'Alari' a couple of spins. They're both really fun albums by two rising talents in Afropop's new vanguard who have an inspiringly firm sense of identity and a powerful voice. The other day Dennis said in our newsroom that female Pop is probably at the highest peak its been in a while again and now, I kind of get it. Women have been holding it down in Pop for a long time but there's no denying that they're often pitted against one another or maligned by their fans looking to crown only one woman at the top. Now Tems, Ayra Starr, Liya, Fave, Tsuni, Somadina, and more are redefining Afropop on their own terms.
What I'm currently watching
I haven't really been tuned into much this week except catching up on Gossip Girl episodes. However, earlier this week, Ryan Murphy's Hulu series 'American Horror Story' celebrated its 10th year anniversary so I've spent most of the week watching episodes when I can in between breaks and before bedtime. I'm not sure if this exactly counts as horror maybe soft-horror but I do love watching films and series in this genre. It's amazing to see how far the AHS franchise has come. Tweet me your favourite season?
View this post on Instagram
Justice for Kaz and Tyler
A Black couple might have made it to the Love Island finale for the first time ever, but they certainly didn't take home the £50k and win the game thanks to the UK's ingrained racism. Despite being one of the most unproblematic and the most compatible couples in the villa, Kaz and Tyler were passed up for the win to Mille and Liam and Toby and Chloe but the shocking twist came when even Faye and Teddy scored higher votes than the pair. Even though we all watched a woman verbally abuse and harass her partner, and hit the record for the highest number of Ofcom complaints, we still devastatingly watched a good couple get last place votes because of the colour of their skin.
Kaz was often branded as aggressive on social media, despite being one of the more collected and articulate contestants. As with previous Black contestants, she wasn't given the same access to public forgiveness as their white counterparts and was simply written off and faced harsher criticisms than her castmates who were dished nothing more than a slap on the wrist. Well, it seems that Black Twitter is definitely not letting up this time around. Although the season promised to be the most diverse season yet, it failed miserably at delivering such and missed an opportunity as a show with a huge platform to create a worthy standard that could be emulated by other reality dating shows of today. Disappointing and can't say I'll be tuned in to the next season. #JusticeForKazandTy though!
After Toby & Chloe came 2nd and Kaz & Tyler came 4th, I believe this is a well deserved consequence for the producers. The lengths they'll go to for ratings & it's actually sick. Well deserved, drag them! 👏🏾👏🏾👏🏾👏🏾 #LoveIsland pic.twitter.com/0zkO7sFCoo

— &thatsonmary (@notamutual) August 24, 2021
Dripped in (Blood) Diamonds?
Is this your Queen?! Earlier this week, Beyoncé received some pushback after donning a rare diamond from South Africa in a Tiffany & Co. campaign. In the past, the diamond has been worn by Audrey Hepburn and Lady Gaga and is worth an astonishing $30 million (about £22.9 million) making Beyoncé the first Black woman to wear the diamond which was originally extracted from the Kimberly Mine in South Africa in 1877.
But having any sort of firsts for Black people in 2021 is not the celebratory moment most people are making it out to be. More than this, a Black woman wearing a diamond obtained by colonial powers through illegal means is certainly not the news that many of us want to hear this week. But really my take on all this is what do we really expect from a couple that has previously sang "At the Saxon Madiba suite like Mandela/Bumpin' Fela on the Puma jet, like we from Lagos/Mansa Musa reincarnated, we on our levels," on 'Black is King', an album executively produced by Beyoncé and in collaboration with Disney.
View this post on Instagram
Tell those aunties I'm a bad bitch
I haven't really been tuned into Big Brother Naija this year but I've been able to catch glimpses of everything going on in the house from my Twitter timeline. Notably, we're all discussing how much Big Brother is too much Big Brother when the memories of Erica, Laycon, and more from the lockdown edition last year are still permanently etched in our memories. The gist this season seems to be that there's a dearth of content brought about by the fact that the housemates this year just aren't fun or engaging enough. A contributing factor to this current plight seems to be the vast age differences between many of the contestants with some on the lower-20s spectrum and others on the early to mid-30 spectrum.
These age differences already seem to be playing out in the house. It seems that the older men or women are unwelcoming to this season's Gen Z queen, Angel who's been endlessly slut-shamed and berated since she joined the season over a month ago. By viewers and her fellow housemates alike, Angel has faced opposition for the way she chooses to dress, the things she says, and the men she's associated with. With the way she seems to be constantly piled on (yes I saw the Sammie episodes), it's hard to forget that she's a 21-year old woman trying to navigate her way through a reality television show in one of the most conservative nations on earth. The more I see Angel slut-shamed and put down by other older contestants, the angrier I am and the more I just want these aunties to know that she's a bad bitch and we all support her all the way! #TeamEmoSlutz
And that… ladies and gentlemen.. is how Angel clears a bvtch 🙂 #BBNaija pic.twitter.com/L7DtZjWRaz

— sam 🤍 (@celestial_beau) August 13, 2021
Only Fans lost the plot
Earlier last week, it was announced that Only Fans, the subscriber-based video and audio platform would be banning explicit and pornographic NSFW content on its website starting in October. The company's valuation went up to more than $1 billion dollars in the past year, following the effects of the socially distanced lockdowns which had more people indoors and glued to their phone screens. A large majority of this valuation was due to the milieu of adult content that lives on the platform which has attracted many subscribers and consumers from around the world.
So, it seemed abrupt that Only Fans would suddenly be pushing out the very industry it should have been keeping close to its chest. OnlyFans founder and CEO Tim Stokely put the blame for the porn ban on international banks in an interview with the Financial Times, saying that banks including JP Morgan Chase, Bank of New York Mellon and the U.K.'s Metro Bank had cut off OnlyFans' ability to pay creators. While the ban has now been reversed, with Only Fans reneging on the suspension later this week, sex workers and adult content providers cannot trust that ban like this will not happen arbitrarily again. I, personally don't trust anyone willing to chuck out sex workers on a whim after gaining popularity as a result of this industry.
OnlyFans Will Ban Pornography Starting in October https://t.co/ISdJunPvUS

— Variety (@Variety) August 19, 2021
Featured image credits/NATIVE
---