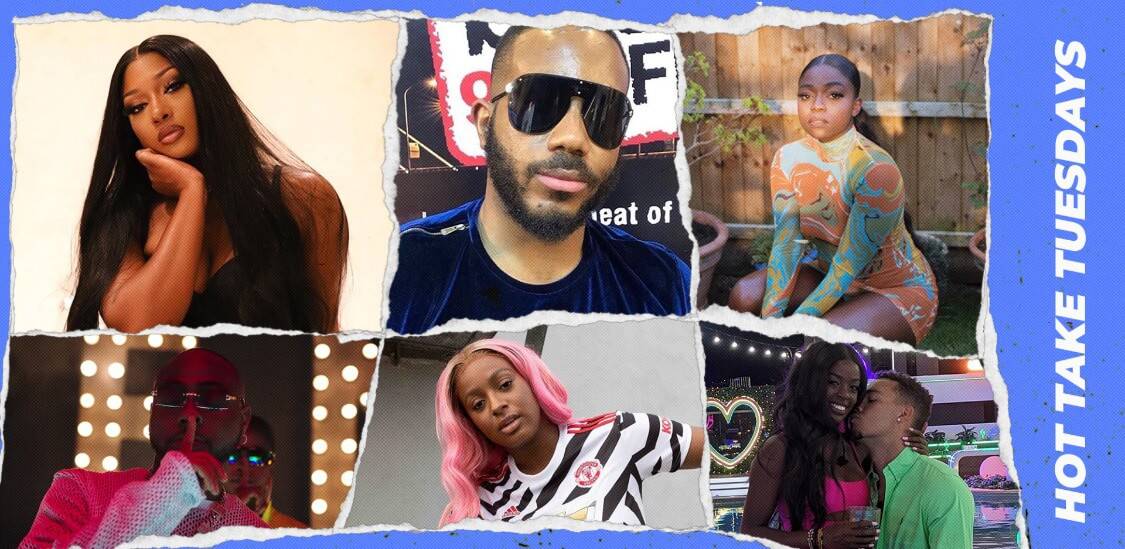 Hot Takes: Davido's Fem, Kidderica, The Year of Gaia & Cuppy SZN
All the hot topics from the weekend!
This week, the mood of the world seems relatively slow. We're coming up to the last quarter of probably the craziest and strangest year of all our lives, and the world and its barrage of bad news seem to have finally slowed down (nature is healing). As we endlessly cascade towards the end of the year, I've found myself taking more time to pause, reflect, and re-align my purpose each moment, day, and week, and it's reflected in my entire outlook on life these days.
Though every day brings with it a new tragedy, outrage, or controversy and the suffering of Black people and women, I have been trying to find ways to improve my value to myself. This year, I found power in living my life for myself. Yes, I mean exactly just that, as I've learnt that there's so much power in moving with the knowledge that your life belongs to you, not to your parents or your friends or lovers, but to you. You are the main character in the life that is yours, and as obvious as this may be, I can assure you that discovering this has been even more rewarding and freeing than you can imagine. Social media can become so consuming that you find yourself unsure which thoughts are uniquely yours, and well you're not alone because Netflix's new documentary The Social Dilemma shows exactly how the algorithm intentionally plays with our minds. It's made me re-access how I use social media, and maybe it could help you too.
For this week's Hot Takes – our new column where a different member of the NATIVE editorial team will dissect different trending topics across the globe, giving give their hot takes on each topic – I will be sharing all the topics from the different corners of the internet that I have been privy to, and also one or two topics that have helped me grow or reaccess my current practices. Here goes:
What I'm watching on Youtube: Podcasts
A few weeks ago, I spoke to two women in Nigeria running their own lifestyle and culture podcasts. It was a super enlightening conversation that showed how women are carving out safe spaces for themselves and women that look like them just exist and share their experiences. Since then, I've been listening to more and more women-only podcasts and Whoreible Decisions is one of those podcasts that has been riveting, thrilling, and absolutely funny. I also love finding out more of the artists I am listening to so I definitely recommend this episode in particular with the City Girls. It's interesting to see how the presenter's perception of the City Girls based on their music, which is filled with braggadocios lyrics and raw sexual vibrancy, plays into the questions they are asked. The girls were not having it at all, especially Ms Caresha (LOOOL!).
Watch it here:
What I'm watching generally: Love Island USA
As you all know BBNaija has ended – at least for me. With Erica and now, Kiddwaya gone from the house, it's been less tempting to steal moments to watch the show. Reality TV has always been super entertaining for me if it's not rigged like BBN (don't come for me) and so, with help from my best friend, I've found myself falling in love with the new season of Love Island USA. Without giving too much away, this season has all the drama and I do mean, ALL of it. From the couple who get together on day one and think they're the Island's favoured ones, to black men showing their colourist asses yet again and even to all the juicy tidbits of Casa Amor, Love Island USA is giving me all the drama and more, and that's probably why I binged it in about a week. I fully stan Jaleb so if this is your sort of thing then check out the trailer below (and let me know which couples you stan @tamimak_).
What I'm listening to: Future's Purple Reign
did this tape change your life or are you normal? https://t.co/0ZbvcOI6AL

— tam (@tamimak_) September 15, 2020
Where were you the first time you listened to Future's 2016 mixtape, Purple Reign? Can you remember? I sure as hell can. I was rounding up my final year of A-levels, nursing a broken heart, in need of a 'fuck you I'm over it' anthem, and Future's Purple Reign was the gift that kept on giving #thatyear. Your story might be different to mine, no doubt about that, but the feeling Future's brand of toxic masculinity mixed with a dash of undercover loverboy music gives you is euphoric and dare I say, sensational.
For years, we could only enjoy this glorious mixtape on Soundcloud but over the quarantine, Future fed the kids by making this tape and Monster, Beast Mode, and 56 Nights, all of which are now streaming on your favorite streaming platforms. At the time of its release on Apple Music, I revisited the tape because I was feeling nostalgic and the state of the world left me feeling unsafe but since then, I hadn't gone back to it. However, with the new week, I was missing that dark and compelling brand of music that only Future provides, causing me to revisit the mixtape yet again. Nostalgia is one hell of a drug, but definitely listen if you haven't, 'cause this man is a genius. Put aside his toxic misogyny (trust me you can) and you'll be able to see it too.
Davido wants the haters to FEM!
Davido is back! Back on social media, back to making music, back to teasing his third studio album A BETTER TIME and all is right with the world again. Its been three months without hearing from the pop star and his return has been anything but a quiet one. Having teased "FEM" on social media before, fans were joyed to find that their favorite 30BG member was now ready to share the song on streaming platforms which finds him taking direct shots at the Odogwu. Without getting into men and their egos, one thing that stood out from Davido's return for me was the wisdom he shared on press runs with radio stations where he shares the reason for the social media break.
"I needed to just go away, re-group and it helped. I won't say I am a different person but [it has changed me]" he shared with the Beat 99.9 FM a few days ago, in a conversation about his upcoming album and working with international artists such as Lil Baby and Nicki Minaj. For me, Davido admitting that he needed to take time and regroup in order to come back to fulfill the vision for his album, reflected the mood that I have also been in over the past few weeks. Whenever I feel stressed, I get an urge to walk away (read as run), and find ways to reconnect to my personhood and my beliefs. It helps me refocus and conquer any challenges in front of me, and Davido seems to know that all too well. He speaks about needing to take this break because he had a lot of people depending on him, and it wasn't until he took a step back that he found the fortitude to come back even stronger. Woju and Damilola co-wrote a brilliant piece on mental health that you definitely should read if you're feeling exactly how Davido felt before his comeback. We all need to take care of ourselves more, and that includes taking responsibility for our mental health.
We're tired of the people comparing the rap girls.
Despite the fact that rap niggas ain't shit and they fail to take care of black women that exist within their community, we also have to deal with niggas consistently trying to pit women against each other and I am honestly tired of it! A few days ago, the 2020 XXL Freshman class cypher was released and boy did it send the internet into a frenzy, as people began debating who brought the heat and who got overshadowed. This year, only two women were in the 2020 edition (which is two more than the first ever edition 10 years ago), and in true misogynistic fashion, the niggas came with guns blazing, ready to discount two women who are both at the top of their game this year.
Not only were they comparing these women to each other, but they also brought in Megan Thee Stallion into the conversation, endlessly debating whether Mulatto could overthrow thee Stallion as rap's leading lady of the year. But what is rap's obsession with only allowing one woman to dominate at a time? Why do they have to be in any competition? I would really like to know why women always have to be pit against each other, especially a time where it's clear to see that the current rap girls are all about supporting each other and working together. This is actually a monumental time in history and we should be documenting every last step of it rather than trying to discredit the hard work that each of these women have been putting into their music, their video treatments, their looks, their brands. I'm going to need the rap dudes to take a leave out of these women's books and stay out of our business if they have nothing beneficial to contribute.
And please don't get me started on this 'Felmale list'.
Top 100 Best Female Rappers Out Rn "Ranked" pic.twitter.com/cExCPH4W2n

— JPDigitalTv (@Jpdigitaltv) September 13, 2020
To Cuppy this tune
In case you didn't know it's Cuppy SZN and I am a super proud cupcake. Cuppy is really defying the odds, betting on herself and her brand and coming out on top every single time and we absolutely love to see it. After wowing us (and her opps) with her impressive debut album Original Copy, Cuppy is unrelentingly keeping her feet on our necks showing no plans of slowing down any time soon. Earlier last week, it was unveiled that our very own Cuppy was in the latest jersey campaign for Manchester United football club. And not only was she in the campaign, but her own song, the brash smooth-talking "Original Copy (Interlude)" also made an appearance in the campaign video.
It goes without saying that this is a huge opportunity for Cuppy and her music. For a young Black woman like myself, this feels momentous, and it seems the Internet agrees, because Cuppy is finally getting her flowers. Having grown up in a home where my dad was a huge fan of Manchester United and I spent my formative years, knowing, breathing, and living everything Man U, it feels insanely monumental that a Nigerian artist is featured on their 2020 jersey campaign and it goes to show that anything is possible. I am a big believer in all good things come together for those who wait (and work hard) and this feels like a win not just for Cuppy but for African women everywhere. We're making strides in a myriad of industries and I have never been more proud to be a Nigerian woman. Cuppy has also promised to break the internet this week, and that she definitely did. Shortly after this promise, she took to Twitter to announce the arrival of her brand new pink Ferrari in usual Cuppy fashion, alongside tan and blue models for her sisters. She certainly achieved her goal of breaking the internet because Nigerians have been reacting all morning to the announcement, with replies ranging anywhere from 'poverty die' to 'let's eat the rich'. Considering the fact that capitalism and its ensuing effects have been at the height of conversations on social media during the quarantine, it is interesting to see how the conversation has changed and how so many Nigerians think they'll actually be billionaires someday.
Papa took us shopping and bought one of each! 💕💨 #FerrariPortofino #CuppyDat pic.twitter.com/3bEqNwS0nv

— #OriginalCopy 🧁 (@cuppymusic) September 16, 2020
Gbogbo Wa Ma Gaia!
Nigerian women are winning on all fronts, and you need only look at Fisayo Longe's brand Kai Collective and its recent success during the quarantine to see exactly how we are dominating the world. Almost overnight, Fisayo Longe's 4-year old label saw a meteoric rise during the coronavirus-induced lockdown and that is thanks in large part to the killer mesh print dress tagged the Gaia. Made in 3 different versions, the Gaia is the most coveted item of the summer (after the Telfar bag) that transforms its wearer into That Bitch. Scouring the internet, no two Gaia's look alike, and what's more, every woman who has donned it has looked absolutely killer in it, and it is most pleasing to see. To be tasked with creating a community of women who uplift and support each other can be tiresome, but Fisayo Longe does it all with ease as fostering this community of fierce women is of utmost importance to her brand's ethos.
Yesterday, the Gaia was restocked for the third time since its birth back in April and it once broke the internet (or at least it did the servers on Kai Collective's site). It is so heartwarming to see so many women rush to support a black African woman's brand and is a huge testament to how much hard work and consistency pays off. Kai Collective didn't start today, and it's been doing fairly well long before the Gaia but with this piece, Fisayo Longe has found her bestseller and well, Gbogbo wa ma Gaia (We must all wear Gaia).
And I mean, if you're not convinced, then look at these photos of Saweetie in Gaia, and see the material!
View this post on Instagram
Kidd is back home people!
If you were counting on Kiddwaya making it to the finals, you'll be disappointed to find that he did not make it into the top 5 this week. At the Sunday eviction show, Kiddwaya was among the two housemates (Prince as well) who were evicted from the Big Brother Naija Lockdown house and I'm sad to see him go. Kiddwaya was an all-rounder and brought so much entertainment and life to the house that his presence will surely be missed. But now that he's out of the house, the question on everyone's lips is will there be a reunion with Erica seeing as the two were intimately involved with each other on the show.
Watching Kidd in the house, and now seeing him make press runs outside the house, it is clear that he's a very smart and sensible guy and I mean this because his recent interviews have been the rave of social media this entire week. Every other day, I open my Twitter app to discover that Kiddwaya is trending and more recently, it's because of his aptly appropriate responses to interview questions during his media rounds. In a conversation with BEAT 99.9FM, when asked whether there will be a relationship between him and Erica now that he is out of the house, Kiddwaya shared that people would always try to group them together because of their relationship, but his only wish is for Erica to be a woman in her own right, conquering her own world while he conquers his with their newfound fame and status. Rather than allow rumours to build about what may become of the two, Kidd centers the conversation on the future business opportunities and deals that they both will be dealing with, sharing that their success does not need to be eclipsed by the public's need for a romantic relationship. Whether the two ever do formally date or not, they will always be a part of each other's journey and frankly, it's nobody's damn business as these two adults are perfectly capable of doing whatever they want to.
[mc4wp_form id="26074″]
---
Hell hath no fury like Tami. Tweet her your fave female rappers @tamimak_
---