It has been another heavy week for black people. It's really abnormal to watch the way black people are treated as often as we do, and recently, another video of a black man being brutalised by the police has surfaced on the internet. In addition to that, we're being bombarded with pictures of Jeffree Star and his black lover, and while I felt guilty scrolling away from the video of Jacob Blake getting shot, I did not feel any type of way about skipping footage of Jefree Star's racist ass.
I don't know about everyone else, but I don't want to see a-single-nother second of him and his 6'7 bae on MY internet any longer, especially because along with this news, has come another avenue for homophobes to homophobe, and the only person I blame here, is Jeffree Star – he is just bad news through and through.
Men have failed us this week, from openly being amorous with a racist to not showing support after Meg publicly announced her abuser. For a bit of catharsis, The NATIVE has birthed a new column, Hot Takes, where every week, a different member of the NATIVE's editorial team will dissect different trending topics across the globe, and give their hot takes on each topic. Here's how my week is going so far, and a few of my hot takes for the week.
What I'm watching on YouTube: Tea Time With Tems
Tems is one of the funniest people you'll ever meet, and what makes her so funny is that it's completely unintentional. When we spoke for our Issue 004 cover, she told me her ultimate goal would be to set up a tea room, called Tems Tea. In a new series with YouTube music, she's answering a few questions about herself and her music, and it just really shows how hilarious she is. Definitely looking forward to Part 2
Watch it here:
What I'm watching on Netflix: The Governor
It's taking me forever to get through this, but it's one of those series that's so bad it's good. The overacting, the ridiculous plot, the poor quality – what better way to waste my time? What I do love about it, is that The Governor is a woman who shows her ability to be the head and the neck at the same time. As you would expect in real life, being the HBIC doesn't exempt her from disrespect from other men, but she (almost) always clears them and I love to see it.
What I'm listening to: 'Festival Bar' by Davolee
After I watched Top Boy last year, I became obsessed with life on the streets, and after reading everything on the internet about gang banging, the best way to get continuous insight is through music. This is why I became particularly enamoured to young rappers closer to my age group like Dave, Headie One, Polo G and Roddy Ricch, because they illustrate life on the streets so well, that I feel like I was there with them and his has recently become the case with rappers my age back in Nigeria.
In May when Davolee dropped Festival Bar, I had a lot on my mind and because he was rapping in Yoruba I couldn't concentrate enough to get a clear enough picture of what he was saying. The other day, however, "Festival Bar 2" came up on shuffle, and it was fire. I then went to listen to the whole thing properly, and I couldn't believe what a fantastic storyteller he is.
Throughout the EP he takes us through different phases of his life; we first meet Segun the barman at Festival Bar in Ikotun who gets the boot for another person's wrongdoing, then to Segun the motor boy who just wants to make an honest living because he wasn't interested in a life of crime (emi o le gbe 'bon laye mi, hustle mi yo mi). He discusses how he only got paid N17,500 at Aquadana in Oshodi, getting counted out of a competition because he rapped in Yoruba (much like indigenous rappers get counted out today), how he met Olamide and his life changed, but the pressure of fame and success became unreal for him to deal with. He paints a clear picture of how his experiences in life caused his depression, dabbling in drugs and alcohol to numb the pain he was feeling, and how everything he went through contributed to the man we know today.
I'm definitely interested in hearing more from him and I'll be looking out for a project.
The rap niggas ain't shit
I was listening to "Hate The Real Me" by Future earlier today and when I heard him say 'I ain't been the same since that nigga shot me', I thought of Megan immediately. It has been so nice to see her go back to normal on social media, being her normal, bubbly, twerky self, even though she was shot in both feet less than a month ago. Last week, she came out and announced that it was in fact Tory Lanez who shot her in the feet for no reason, and there has been an underwhelming amount of support from the men in the rap community she's a part of. When you think about the fact that these men know exactly how she's feeling, (because from the music I listen to, chances are it's been them or they know someone who has been assaulted in this manner,) it's unbelievable how quiet it has been.
I remember J Cole recently making an entire song because he didn't like Noname's tone when she wasn't even talking to him, yet it's crickets when a fellow rapper has assaulted a woman. While we don't know what kind of support Megan been shown offline by these rappers, I feel like it's important for them to also speak up and call out Tory Lanez' bitch ass for assaulting a woman. There have been a few rappers speaking up for Megan such as Bun B, T.I, (who's the last one), and even though a lot of what they're saying is laced with benevolent sexism, such as 'how can you shoot a female in a bikini?' (snore) and "these niggas is bitches, these niggas is hoes" – this is the same energy I expect from ALL rappers. In this current social climate, I believe that a public denouncement and shaming of a perpetuator is necessary, especially when the entire situation played out so publicly. To me, Tory Lanez is the bozo who shot Meg, but he's also representative of all the other men who assault women on a daily basis and could be a threat to any of the rest of us. Their silence towards his wrongdoing just reminds me how unprotected we are, but how can I even be shocked when they're still out here making songs and fraternising with Chris Brown?
Beyond this particular incident, rap's disdain for women is made increasingly clear with each passing day. From the subject of their music treating women like collateral damage or objects they acquire, to actively fighting when women try and take up space in the scene (see ridiculous reactions to "WAP"). Rappers are a very important voice in demanding social justice, and at the moment, black people all over the world are outrightly challenging unjust practices. The fact that their voice isn't lent to demanding social justice for women, is surprising and disappointing.
The other day, I saw a video of a woman being touched inappropriately without her consent, and when she fought back, she was teased and mocked by all the men surrounding her. These are two entirely different situations, from two different parts of the world and there seems to be the same underlying sentiment towards the woman. It's a shame and I hope that the world does become a better place for us in my lifetime. The world needs to protect black women in actual practice and not just in empty platitudes on the internet when it doesn't actually matter.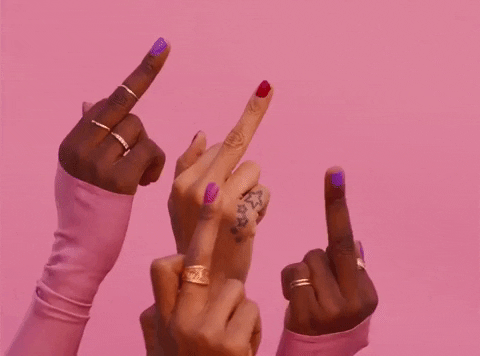 "Brown Skin Girl" is the best song in the world at the moment
On a more positive note for women, we know that we always have our own backs whether it's in action or finding comfort through songs like what Megan provides for us. When I'm feeling really sad, I listen to Megan Thee Stallion to make me feel like a bad bitch, and I really hope making music does for her what listening to her music does for me. Yesterday, Beyoncé released the video for "Brown Skin Girl" on YouTube, which featured on 'Black Is King' last month and watching the video again made me feel very accepted and loved and seen. The level of collective emotion Beyoncé is able to capture is truly a superpower, but I feel like "Brown Skin Girl" takes it to a different level.
Beyond being an actual bop, the song feels a bit to me like a reinsertion of black women into society on our own terms, and the video kind of reinforced that for me by portraying young black women as debutantes – a very rare sight. I learnt recently that black people were only allowed into these balls as servants, and it reminded me a bit of when I was in school, and was never I was never invited to a debutant party of sorts called The Feather's Ball even though I was typically invited to other types of parties. I never actually wanted to go, but I definitely always felt left out when (all) my friends would come back after a Christmas holiday talking about something that happened at this ball. "Brown Skin Girl" for me, feels a bit like not being left out of the ball, because I'm hearing all these affirmations about the way I look and who I am. Beyoncé was able to capture a very specific insecurity most young black women have, which society instilled in us from a very young age, and that's why I believe it's one of the most powerful songs of our generation. Another song I believe is a strong contender is Jhene Aiko's "Born Tired", but that's a discussion we'll have when the video drops and I can really talk my talk about its positive effects on a woman's mental health.
Ladipoe is really The Leader Of The Revival.
2020 has been the year of Ladipoe. Since "Know You" got to number one back in April, he's become a ubiquitous voice for the rap scene, and beyond the actual music, you can tell that he's here to stay. He's recently made a move which shows us that he's thinking ahead not just for his own music, but for the future of the Nigerian rap scene, which might confirm his self-appointed position as the Leader Of The Revival. A few months ago, we discussed the issues we had with indigenous rappers being left out of the rap conversation, yet have managed to gain commercial success and acclaim through their own versions of rap. In that piece, Dennis concluded saying that the rap scene needs to embrace them for organic growth throughout the continent, and it seems like we called it all the way back then as we recently got a collaboration between Ladipoe and Zlatan on a Rexxie production. Back in April when we interviewed Ladipoe, he said to us: "I've learnt that people don't know what they want, so you need to give them you, and don't worry about whether they will like it or not. It has to be your authentic self, first, so that they set their own standards and expectations accordingly."
This made me revisit his nearly two-year-old debut album, 'Talk About Poe', and a lot of the songs stood out to me more than they did when I first listened. With a more trained ear, I could hear his authenticity in the cadence, lyrics and flow, which is the most important tool (I believe) you need in music. Some of my favourite rappers such as Jay Z or Meek Mill stand out to me because I feel like what they're saying in song could be a conversation they're having with anyone, and this is the same way it feels when I listen to Ladipoe. He's at a unique intersection in the Nigerian music scene, which hasn't fully embraced rappity rap yet. If we're looking through his music from this year alone, you can see that there's something special, as he's been able to maintain his own signature sound on collaborations with artists who have completely different sounds to his such as Simi, Teni and Zlatan. I always say that when you have something worthwhile to say, people will listen and it's worth paying attention to Ladipoe. It feels a bit like he's ploughing the road himself, and then setting the foundation for those coming behind him… and for God's sake, stream Haba.
Noughts & Crosses… no.
Roc Nation recently acquired the rights to the television adaptation of what I considered a modern classic at 12 years old, Noughts & Crosses, and for those who don't have context, it made them furious. This is very understandable, considering that we've just seen a video of another black man being killed mercilessly by the police, therefore the timing couldn't be more off.
I read Noughts & Crosses about 12 years ago, and it was easily one of my favourite books at the time. I remember bursting into inconsolable tears when.. well, the end happened, and now I'm wondering whether I would have such a reaction (in context of it being a FICTIONAL story) to seeing a white person being treated the same way we see Black people being treated all the time.
I never set any time aside to watch the series, just because I didn't want to taint the memory of such a great book, but now I'm definitely intrigued. When I was a young teenager, I wasn't as socially aware as I am now, and it could be interesting to see what kind of nuance I missed in the story when I read the book.
Fun (or maybe not so) fact: One of the scriptwriters is a Nigerian lady: Lydia Adetunji
People have a weird obsession with Father DMW being a virgin
We all remember when we were deep in lockdown, and Father DMW was a huge source of our entertainment. It seems like a lifetime ago when we would all look forward to his and Eva's daily conversations (my favourite one was when she told him she had a boyfriend and he had a mini-breakdown), until Michael Blackson made it weird by inserting himself into the conversation and talking about why Father didn't want to have sex. Unlike a lot of you fickle lot, I tune in every time I see him going live on Instagram, and you can imagine my shock when I heard someone STILL asking him why he's a virgin and why he doesn't want to have sex. It's hard to understand him sometimes, but he's said very clearly that he's waiting until he gets married to have sex.
It might seem like a joke, but this is toxic masculinity at play here. History is replete with women preserving their sexuality before marriage, because society teaches that one is more valuable when they're 'innocent' and 'untouched', therefore, it beats me that this isn't extended to men, and Father's virginity is met with disdain. It wouldn't be nearly as scandalous and unbelievable if a woman said she wasn't a virgin, so pray tell, why it's such a big deal that Father is not interested in having sex? It should go without saying, but another person's decisions about their sexuality should not be anyone's concern, and it's very strange for people to keep poking fun at him for such a personal decision. Male chauvinists will always do their thing I guess – where do we sign up for men to not be allowed to men anymore?
The food on Big Brother is very unhealthy
I'm a very passive Big Brother watcher. I used to watch highlights on an Instagram page called BigBrother Hot Gist 2020, but they got closed down and now I just watch via the timeline. Even with how little attention I'm paying, I can tell that their diet is abysmal and someone needs to step in. Every time I tune in, I see them either eating or cooking Indomie. I've heard that they eat other things like Eba and other 'swallows' but I've never seen it and I'll believe it when I see it.
Apart from the fact that it's a bit dead to literally eat the same thing every day, Indomie is the worst thing to be eating so often. Instant noodles are made to bear long shelf lives, therefore they're packed with all sorts of preservatives that aren't really good for the human body. On top of that, it's high in fat and sodium AND there's such little nutritional value, you might as well just be eating a sponge.
I get that Indomie saves lives in a pinch, when I ran out of pocket money at uni I was on a strict Indomie diet, but surely Multichoice can provide them with better and more healthy food options? It's upsetting me and my homegirls fr. In unrelated news, I'm really excited about the Pepsi Challenge tonight!
Featured Image Credits: 
---
Damilola is the HBIC around here, don't tweet at her @damdamxx
---