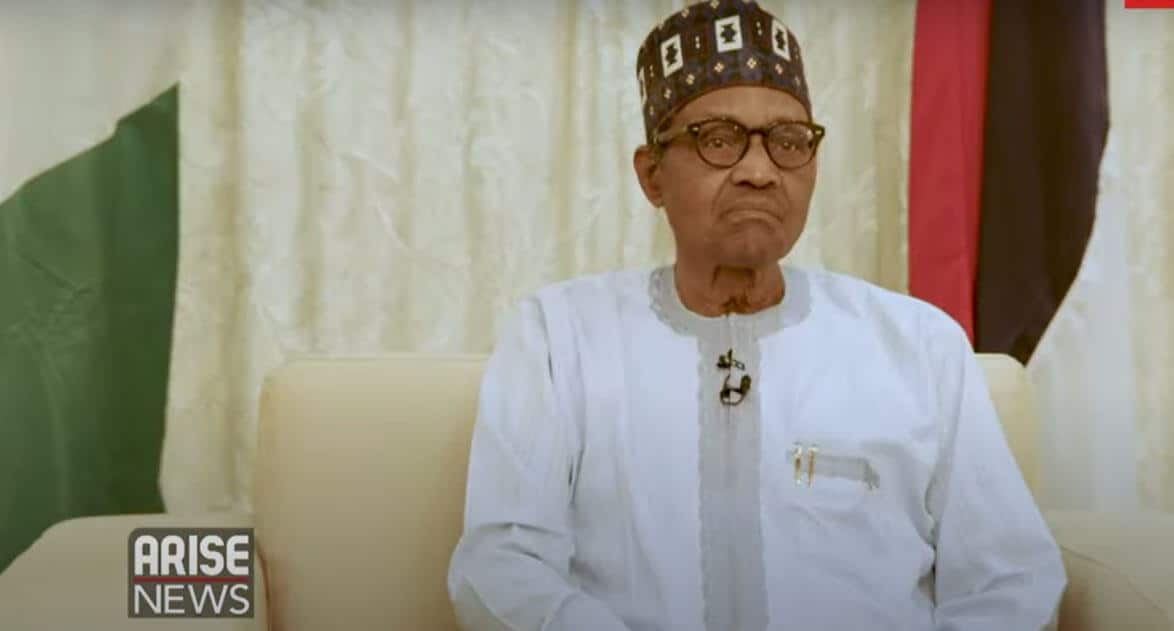 Four takeaways from President Buhari's interview with Arise TV
His first sit-down since re-election
Nigeria's President Muhammadu Buhari is a public figure with sparse public appearances. In the six years since taking the highest office in the country, Mr. Buhari, a former military dictator in the '80s, has kept avenues for addressing national issues to the barest minimum. Ever so often, Nigerians clamour for his presence in times of crisis and, more often than not, are typically met with deafening silence. When he chooses to surface, it's usually through heavily curated mediums, reading pre-written speeches and avoiding any form of spontaneous conversation.
With this precedent, it was surprising to find out that, as part of his visit to Lagos, President Buhari had opted to be interviewed by local news channel, Arise TV. It was his first interview in the two years since winning a second term. Announced on the day of—just hours before it was aired live—its mere occurrence was a unicorn sighting, and many eagerly waited hear from the president on the myriad of issues facing the country. Comprising Nduka Obaigbena and Segun Adeniyi, high-ranking officials in the THISDAY-Arise media group, and Arise News anchors Tundun Abiola and Reuben Abati, the panel enquired on several concerns, especially on the matter of national security and the economy.
While the 45-minute interview can barely be considered a rigorous enquiry, it clarified Mr. Buhari's opinions on pertinent issues and his plans for the country for his administration's remaining two years in office. Here are a four takeaways from the interview.
Buhari is very aware of everything that's going on
Perhaps the biggest, most annoying myth in the last six years is the idea that Mr. Buhari is not in full control of his administration. Partly due to the health issues that kept him in the UK for a prolonged period during his first term, there's been claims made that his duties and intentions have been hijacked by a "cabal", a claim that the first lady has been party to a few times. Just this week, in light of the twitter ban, a member of the National Assembly implied that there was a difference between the president and the presidency—to which the interviewer rightly called bull.
If there's anything this interview proves, it's that Mr. Buhari is in the full-know of everything happening in the country. Even though his answers weren't the epitome of directness and clarity, they showed that he pays attention to what's been said in the media and he constantly seeks and receives reports about ongoing events from those around him. The idea that he's a senile old man needs to be eradicated, he's directing the affairs of the country with a lucid mind and he's doing it how he deems it best.
(It seems) Accountability is not really his bag
In the last six years, the mantra of the ruling All Progressive Congress party has been along the lines of if all else fails, blame previous administrations. It's a motif that President Buhari clearly buys into. During the interview, he was asked to clarify the constant rumours of the increase in petrol prices and the murkiness of petroleum subsidy. As he did all through, Mr. Buhari refrained from answering directly, instead, he chose to lay blame at the feet of past administrations who squandered public funds from the booming price of crude oil "from 1994 to 2014".
As much as many will agree that past administrations were fiscally irresponsible, it's a tired trope to play into, especially since the same issue is plaguing this administration. Corruption is still a huge problem, lawmakers still earn ridiculous salaries and allowances, a bulk of the yearly federal budget is used for debt servicing even as the country's debt obligations continue to increase. Mr. Buhari does everything other than hold himself and his administration responsible for escalating the woes they've escalated, even pointing blame fingers at the low tiers of government and citizens in general.
💔"You may have a good degree but you may die without even a job. Why? Because no one is going to invest in an insecure environment

"So I told them to tell the youths that if they want jobs, they would behave themselves"

– President Muhammadu Buhari (Arise TV Exclusive) pic.twitter.com/F2ZE17c0he

— 🐂 𝙾𝚍𝚘𝚐𝚠𝚞 𝙼𝚊𝚔𝚊𝚗𝚊𝚔𝚒 🐂 (@maazi_chinedu) June 10, 2021
In the interview, Tundun Abiola asked, "What can you do to make Nigeria a more competitive and more attractive destination for foreign direct investment?" In response, President Buhari first references last October's EndSARS protests as a march for EndSARS was a march for young people to "remove me," before going on to lay the entire blame for Nigeria's increasingly hostile business environment on its youth. "You may have a good degree but you may die without having a job. Why? Because nobody is going to invest in an insecure environment," he said. "So I told them, I said they [members of the federal executive council] should tell the youth, if they want jobs they will behave themselves, make sure Nigeria is secure so that people can come and invest." Yikes.
Buhari wants us to be should be appreciative of his administration's effort
"We have a problem of unemployment," Mr. Buhari said at the beginning of the interview. "We have a problem of a lot of youth looking, basically, for what to eat, not to talk of accommodation and others. The level of poverty is unimaginable." It's another indicator that the president is not entirely oblivious to the challenges in the country, however, it didn't take long for him to state that the country is faring much better than it is when he took office six years ago, asking us to refer to the people of the North-east and South-south for affirmation of his claim.
In a country being rocked by a nationwide problem of insurgency, banditry, kidnapping, police brutality, multi-dimensional poverty and other terrible systemic issues, the president is seeking for a standing ovation on the basis that he believes things were worse. "Try and appreciate what efforts the federal government has done," he replied Reuben Abati when asked about the security issues in Nigeria's northern region, with respect to his administration's promise to lift 100 million people out of poverty. Even though words were not jumping out of his mouth, Mr. Buhari constantly spoke with an assuredness that his administration has been getting it right all along—and will continue to get it right. Well, I know more than a few people that will rebut with a vote of no confidence.
Is Nigeria's Democracy a joke?
A big part of the campaign that helped him win the 2015 presidential election was the projection that the former military dictator had returned as a reformed democrat. Since taking office, though, he's leaned into autocratic ideals on several occasions, disregarding the rule of law and the constitution at will. Just last week, his administration suspended Twitter in the country, in retribution for the removal of a tweet widely considered as a threatening invocation of Nigeria's genocidal past. When asked about it, he replied, "I will keep that one to myself."
"@Morris_Monye: Arise TV correspondent: "What about Twitter?"

President Buhari: "That, I will keep to myself"

*General laughter*

What is funny????????#TwitterBanNigeria pic.twitter.com/IJzgiHF5gE

— GIDITRAFFIC (@Gidi_Traffic) June 10, 2021
As annoying as his unwillingness to be held accountable for such a weighty decision is, what's more sinister is the chuckle he let out, which led to a room briefly filled with laughter—I still don't know what's funny. In his six years in office, Mr. Buhari's administration has routinely undercut free press ideals and continues to trample on public freedom of speech, especially with its attempts to restrict and regulate social media usage. The suspension of Twitter's operations in the country is a clear attack on the civil rights of Nigerians who've constantly taken to the platform and other social media platforms air out systemic grievances and organise for our voices to be heard in protest.
It's his latest autocratic move in a country that's (supposed to be) running a democracy, and nothing about it warrants a chuckle. In another grim example that hints at a seeming chagrin at democracy, Mr. Buhari fondly recalled the era of military regimes, explaining how the fight against corruption involved taking suspects to jail and treating them as guilty until they prove themselves innocent. Considering his administration's track record for violating the rights of citizens, detaining and re-arresting individuals against court orders, amongst other indicators, the reformed democrat might not really be reformed after all.
---
@dennisadepeter is a staff writer at the NATIVE.
---