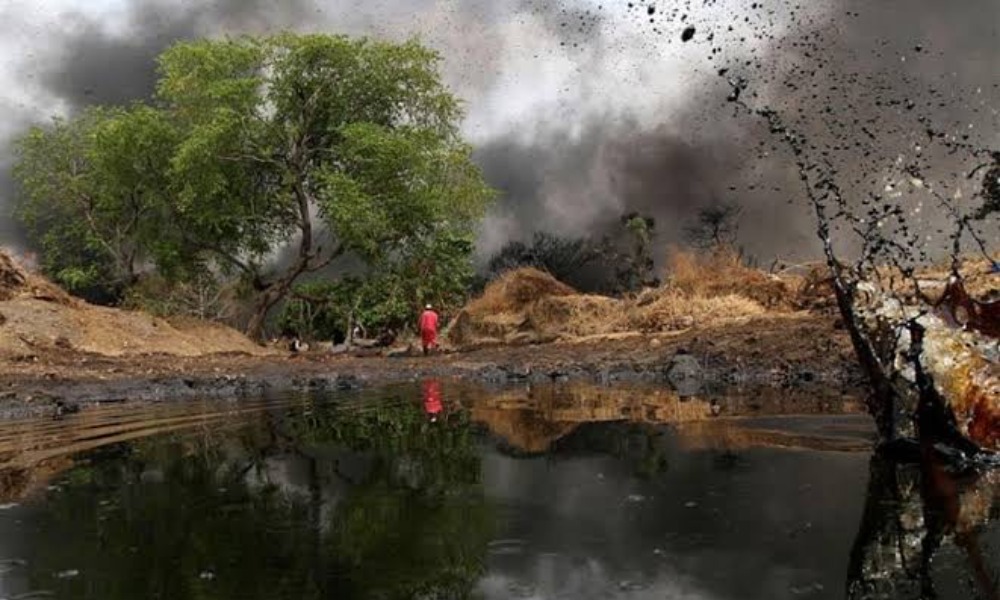 What's Going On: Trafficking In Tanzania, Crude Oil Spillage In Niger Delta & More
notable headlines from around the continent.
"What's Going On" Tallies Notable News Headlines From Across The Continent — The Good, The Bad, And The Horrible — As A Way Of Ensuring That We All Become A More Sagacious African Generation. With This Column, We're Hoping To Disseminate The Latest Happenings In Our Socio-Political Climate From Across The Continent, Whilst Starting A Conversation About What's Important For Us To All Discuss. From Political Affairs To Socio-Economic Issues, 'What's Going On' Will Discuss Just That.
---
Trafficking of People With Albinism In Tanzania
Tanzania has the highest rate of people with Albinism all over the world. Albinism affects nearly one in 15,000 people in Africa with further estimates showing that it affects one of 1,400 Tanzanians annually. Yet, those who are born with the skin condition often battle stigmatisation and are referred to as 'ghosts' or 'white goats' as well as other derogatory names.
While they face discrimination from their fellow Africans, it seems that the trafficking of albino body parts has been on the rise in recent years with an underground network specialising in the resale of parts such as bones, skins and internal organs which are used for amulets believed to bring good fortune and powers.
In Tanzania, a set of organs is worth nearly $75,000 by the traffickers serving wealthy clients. Although crimes against people with albinism are underreported, the high values attached to the illicit trade make this form of human trafficking one of the most lucrative and harmful. According to reports, victims are abducted, trafficked from one country, town or village to another, killed and have their organs taken out. Currently, there are three active trafficking routes in East and Southern Africa, says Ntetema, an investigative journalist in Tanzania: "Tanzania-Malawi-Burundi-Kenya; Tanzania-Mozambique-South Africa; and Tanzania-Swaziland-South Africa." In March, the country launched a National Anti-Trafficking in Persons Plan of Action which will surely bring some improvements and justice to the region.
Kenyans Call For Investigation Into The Murder Of A Non-Binary Lesbian
According to LGBTQ groups in Kenya, 25-year-old Sheila Lumumba's body was found several days ago after they were brutally raped and killed in their own home. According to reports, a group of men broke into their house in Karatina town, sexually violated them and ultimately killed them. 
Now, members of Kenya's LGBTQ community and allies have taken to social media to raise alarm about the discrimination and stigmatisation the group faces daily, as well as call on the Kenyan authorities to look into the murder of Sheila Lumumba, a member of the queer Kenyan community. Although the police are yet to determine the motivation behind Sheila's killing, Kenya's National Gay and Lesbian Human Rights Commission (NGLHRC) have shared that what happened to them is not a one-off occurence as there is a repeated history of sexual and physical violence being meted out against queer Kenyans.
Just last year, hashtags such as #JusticeForErica were trending following the murder of another member of the LGBTQ by, a trans-woman activist. Queer Kenyans have slowly become a target in the past few years and nobody is being held accountable for these tragic deaths.
Today Sheila is dead, six men broke into her house and gang raped her, further broke her leg according to the autospy and killed this beautiful beautiful human in Karatina town. Why? Because she was a lesbian. My heart is beyond broken.

Sheila don't rest#justiceforSheila pic.twitter.com/m0Atf5QP6a

— Njeri Wa Migwi™ (@NjeriWaMigwi) April 21, 2022
Crude Oil Spills From A Pipeline In Nigeria & Kills Over 100 
Oil pipeline vandalism has been one of the major factors contributing significantly to environmental degradation in the Niger Delta region, which accounts for about 70 to 80% of the oil and gas sector that drives the Nigerian economy. Over the weekend in Rivers State, over a 100 lives were lost due to an explosion at an illegal oil refining depot. The blast at a site in the Abaezi forest during the night of April 22-23 killed at least 110 people, said Ifeanyi Nnaji, head of operations for the Nigerian government's National Emergency Management Agency in Imo state, where the accident happened.
Unemployment, lack of jobs and poverty have made refining of illegal crude oil a lucrative yet extremely harmful business in Niger Delta, Nigeria. Over time, the refining of illegal crude oil has caused many accidents and has caused oil spillages causing polluted farmlands, lagoons and more. Passer-bys shared that many cars were waiting patiently to purchase illegal fuel when the explosion occurred which caused a number of people to be burnt in the fire. President Muhammadu Buhari declared the event a "catastrophe" and instructed security agencies "to intensify the clampdown on illegal refineries," according to a statement by his spokesman. The financial backers of the site "must all be caught and made to face justice," it read.
An illegal oil refinery site in Nigeria exploded, leaving more than 100 people dead — here's what we know pic.twitter.com/aWnV741fsW

— NowThis (@nowthisnews) April 25, 2022
Kenya's Ex-President Mwai Kibaki Dies At 90 
Kenya's third president, Mwai Kibaki has died at age 90. Kibaki served as the elected leader of Kenya for over a decade, from 2003 to 2013, before leaving public office. Kibaki, whose death was announced by the current president of Kenya, President Uhuru Kenyatta, is credited with reviving Kenya's then ailing economy.
However, his tenure was marred by deadly violence that killed more than 1,200 Kenyans following his disputed re-election in December 2007. While announcing Kibaki's death, Kenyatta also recalled his long public service, as well as being a member of parliament for five decades. Domestic media reported that Kibaki (90) has been ailing for some time. Kenyan politicians took a break from campaigning for the general election scheduled for August 9th to mourn the ex president. 
New Case Of Ebola Found In Congo 
Four months after the end of DR Congo's last outbreak, a new case of Ebola hemorrhagic fever has been confirmed in the Northwestern part of the country. The Ebola outbreak in 2018 which lasted for over two years, killed about 2,300 people, approximately. This was recorded as the second highest death toll in Congo.
The National Institute of Biomedical Research said on Saturday that a 31-year-old male was detected with the Ebola virus in Mbandaka city, Congo's Equateur province. The patient who had experienced a few symptoms a week prior had failed to seek any medical attention. He was later admitted to an Ebola treatment centre but passed on that same day. Congo has seen 13 previous outbreaks of Ebola, and Mbandaka has contended with two – in 2018 and 2020.  The last outbreak, which also spread in the Eastern region of the country, infected 11 people between October and December, while killing six people. 
Following reports of an Ebola outbreak in the Democratic Republic of Congo, Uganda's Ministry of Health is to strengthen the border's surveillance system for early Ebola case detections #NBSLiveAt9 #NBSUpdates pic.twitter.com/EarALHtdwn

— NBS Television (@nbstv) April 25, 2022
---