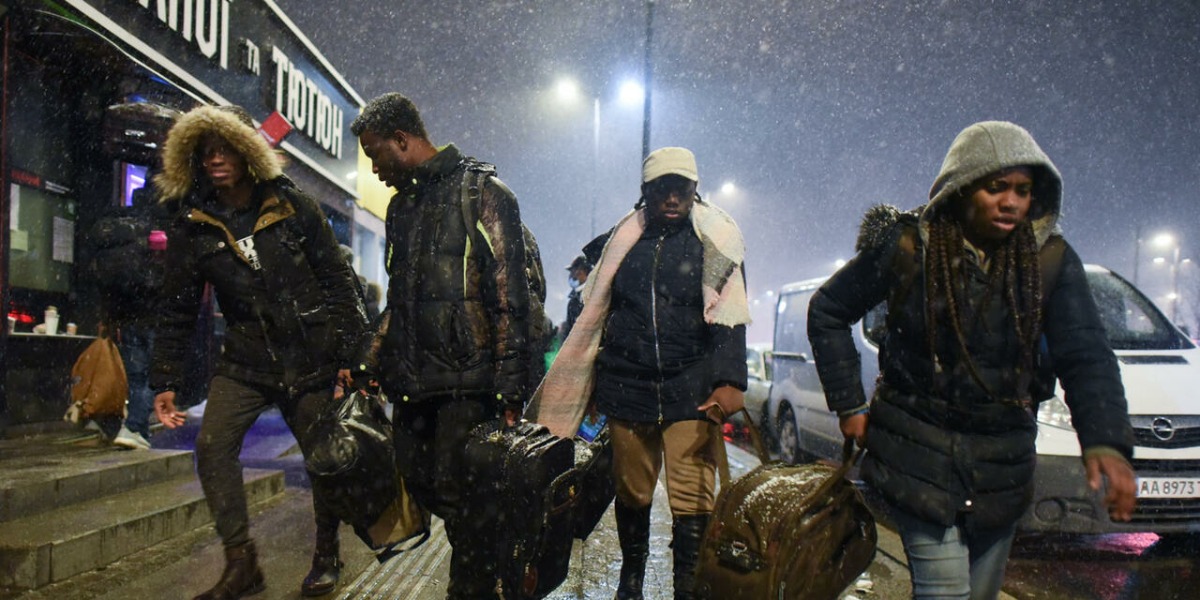 What's Going On: Kenya's Presidential Elections, Africans Stranded In Ukraine & More
notable headlines from around the continent
"What's Going On" Tallies Notable News Headlines From Across The Continent — The Good, The Bad, And The Horrible — As A Way Of Ensuring That We All Become A More Sagacious African Generation. With This Column, We're Hoping To Disseminate The Latest Happenings In Our Socio-Political Climate From Across The Continent, Whilst Starting A Conversation About What's Important For Us To All Discuss. From Political Affairs To Socio-Economic Issues, 'What's Going On' Will Discuss Just That.
---
Nigeria approves US request for extradition of Abba Kyari
The Nigerian Federal Government has finally approved the US's request for the extradition of Abba Kyari. Before the controversial 'super cop' was indicted in an illicit relationship with the internet fraudster Ramon Abbas (otherwise known as Hushpuppi), he was the country's Deputy Comissioner of Police (DCP).
After an indictment was filed against him last year April, many thought it was unusual that Kyari was still a free man in Nigeria, without so much as a thorough investigation befitting the proof that was leveled against him. Nothing seemed to be changing months later, until now. Last week Tuesday the Attorney-General of the Federation and Minister of Justice, Abubakar Malami (SAN) filed an application for Kyari's extradition before the Chief Judge of the Federal High Court in Abuja. The application came after a request by the Diplomatic Representative of the US Embassy in Abuja.
It was filed "for the surrender of Abba Alhaji Kyari, who is a subject in a superseding three counts indictment." The accompanying affidavit related the satisfaction of the Attorney General, that Kyari will be allowed to return to Nigeria if there's no reasonable reason to detain him. It also confirmed that no offence committed by Kyari before his surrender will be used to keep him in detainment.
Abba Kyari has pleaded not guilty to a drug trafficking charge filed against him by the National Drug Law Enforcement Agency (NDLEA) on Monday.
He was arraigned alongside six other officers, on allegations bordering on drug trafficking at the Federal High court in Abuja. pic.twitter.com/B5Ojh2pqLY

— The Nation Nigeria (@TheNationNews) March 7, 2022
Kenya's Uhuru Kenyatta endorses longtime rival as president
It was drama in the last days of March as President Uhuru Kenyatta endorsed Raila Odinga as the next president of Kenya. The 77-year-old Odinga has contested four times in the past. Between 2008 and 2013, he served as the Prime Minister of Kenya, then becoming part of its opposition party shortly after.
In 2017 he lost controversially in the presidential elections to Kenyatta, with echoes of election malpractice ringing from some corners. Afterwards, both men settled their differences and seemingly moved on; some say this was reason for Kenyatta's subsequent falling out with William Ruto, the deputy President.
Ahead of this year's presidential elections scheduled for August 9th, the incumbent Kenyatta, via a political alliance, has rather endorsed the opposition leader. Odinga will run under the Azimio la Umoja alliance, made up of ten parties, including his Orange Democratic Movement and Kenyatta's Jubilee Party. Analysts expect that VP Ruto, who's affiliated with the United Democratic Alliance, has been politically isolated and has had lowered prospects for winning the polls.
John Mbadi: President Uhuru Kenyatta supporting Raila Odinga does not compromise our elections. The only reason Ruto is bitter, claiming elections will be compromised, is because Uhuru did not endorse him. Kenya is full of surprises. – John Mbadi. pic.twitter.com/GTCULzhlcY

— KenyaMOJA.com (@KenMOJA) March 3, 2022
Burkina Faso's military government names interim Prime Minister
Earlier this year, on January 24th, the government of Burkina Faso's President Roch Marc Christian Kabore was overthrown by the country's military. The coup plotters was said to have acted against the growing insecurity in the country, which had left over seven thousand people killed between 2015 and 2021, with millions displaced by attacks by jihadist insurgents.
In February, the military named Lieutenant-Colonel Paul-Henri Sandogo Damiba as the chief orchestrator of the coup and therefore the leader of the country's new government. In a televised inauguration ceremony Damiba took an oath to "preserve, respect, uphold and defend the constitution", the nation's laws and a "fundamental act" of key decisions approved by the military.
One of those decisions is the recent naming of Albert Ouedraogo as the country's interim prime minister. In a statement released last week Thursday, the 52-year old Ouedraogo, a development economist and university, was named to work alongside Damiba to bring political stability for a transitional period of three years, before the next elections.
In other related news, the Economic Community of West African States (ECOWAS) said it had canceled sending a delegation to Ouagadougou because the military government had readily adopted the transition charter which—including other conditions—prioritizes a constitutional government and the immediate release of the former president who's on house arrest.
Burkina Faso Coup Leader, Sandaogo Damiba has been inaugurated as President today pic.twitter.com/JLhVahl6FL

— Naija (@Naija_PR) February 16, 2022
PUBLIC FUNDRAISERS FOR AFRICANS STRANDED IN UKRAINE
The ongoing war in Ukraine has led to widespread discussions towards the safety of civilians. While many countries had evacuated their nationals, it was widely reported that Nigeria and some other African countries had neglected their countryfolk in Ukraine. After the conversation trended online, a number of public officials from this side made attempts to evacuate Nigerian citizens stranded in Ukraine.
Also reported was the racial discrimination facing Africans who, like everyone else, was fleeing war-torn Ukraine into the neighbouring countries like Poland. Per multiple reports, Black people weren't allowed passage across a number of borders, leading them to wait there for days before any sort of help came. To respond to this, the #AfricansinUkraine hashtag has been trended on Twitter and through it, stories of discrimination and opportunities for positive change are being shared.
Right now, there's a public fund setup to assist Africans in Ukraine. In just 24hours, 20ETH ($50,000) was raised by a tech-based collective on Twitter. Similarly a coalition of African Web3 orgs #Web3forAfricansInUkraine are raising funds through cryptocurrency for Africans and Black foreigners in Ukraine. Alongside this, the first evacuations from Ukraine just landed in Abuja earlier this weekend.
How to donate? #Web3forAfricansInUkraine is a coalition of African Web3 orgs raising crypto for Africans and Black foreigners in Ukraine. We have a mirror fundraiser going here with more details: https://t.co/VsreAMUDsa

— nneoma.sol (@nneoma_work) March 6, 2022
Featured image credits/France24
---