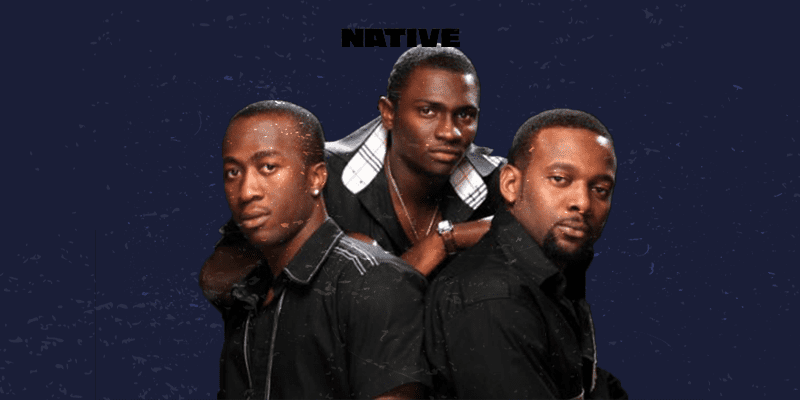 How Styl-Plus upheld the art of storytelling in Afropop
When it comes to 'Expressions', storytelling is at its finest.
Styl-Plus' album 'Expressions' is one of the most popular Nigerian albums of the 2000s. Growing up in love with the noughties boy band, journalist 'Tofe Ayeni narrates how the group stood out by telling detailed stories in all their songs, an art that seems to not be as important in modern music.
---
The Beginning
If you had the pleasure of growing up in Nigeria in the early 2000s, Styl-Plus, namely their debut album 'Expressions', was likely one of your most-played albums. Before Apple Music and Spotify – when we used to play CDs, the radio, or cassettes if you're that retro – the songs from this album helped a lot of us through long trips to school in traffic, only to end up singing the catchy lyrics with your classmates upon arrival. 
Styl-Plus were the group who made people of all tribes belt out Yoruba words through tracks like "Imagine That"; Styl-Plus convinced you that it might actually be interesting to get spellbound by food from a local restaurant; Styl-Plus made everyone from the ages of four to forty simultaneously desire and fear the concept of love. Nigeria's premier R&B boy band at the time, Styl-Plus has a special place in all our hearts. 
Styl-Plus were not the only Pop stars at the time, but they were arguably the only R&B group to maintain the level of popularity they did consistently, commanding a nationwide audience through their compelling, unmatched and unmistakable storytelling. The group, originally called STYL, began in 1997 with founding members Shifi Emoefe, Tunde Akinsanmi, Yemi Akinwonmi and Lanre Faneyi – STYL being the first letters of their names. Sadly, as is described in their song "Four Years", Lanre passed away in 1998, following which Zeal joined the group, making them Styl-Plus. In 2002, Yemi left, and the quartet became the sensational trio of Shifi, Tunde and Zeal. 
The group, which began as a purely gospel quartet, moved into the love ballads and Pop music we know them for today in 2001, and it was at this point that they gained nationwide recognition. In Styl-Plus' era of secular music, each song they delivered were tales of passion, of hurt, of love, of life in general, all the while ensuring they gave us beats catchy enough to allow us to dance to their songs at parties. Interestingly, and perhaps due to their gospel background, the group managed to keep their music 'family friendly', concentrating on love rather than sex, with theatrical, melodramatic lyrics very far from the more melancholy tone we (or I) tend to relate to today. 
Although I am unashamedly biased, it is safe to say that no other Nigerian artiste or group has managed to consistently show their songwriting prowess like Styl-Plus. We all know good songwriters still exist, but the popular ones, say Teni, have a mix of songs that tell a clear story ("Case"), and those with not as strong storylines. On "Obe" (ft. Boj), for example, there is no real tale – no beginning, middle or end to tell us of how the artist arrived at the subject she is singing about. 
This is not to bash the song, or Teni, or other artists who don't feel that storytelling must be at the core of every song. There is no rulebook that says singers must be authors with a melody, and we all know that on this side of the world the beat is usually the most important part (see: "KPK", with its three lyrics being the song of last Christmas).  But when it comes to the album 'Expressions', storytelling is at its finest. There is not one song on it that does not present a compelling narrative. 
The Middle
From crooning about the girl who is Tunde's world in "Always on my mind", to the girls that broke their heart on "Imagine That", to the bukka owner who stole their destinies on "Iya Basira", on each 'Expressions' record, listeners are introduced to a topic, explained the situation, and everything is concluded with a nice bow tie. In particular, three songs remain especially memorable and narratively skilful. Three of the most  popular, indelible songs from the album, these are "Olufunmi", "Imagine That" and my personal favourite, "Iya Basira". 
Olufunmi
Let's start with "Olufunmi", a song that has hardly decreased in popularity since its 2003 release. Over the melancholic keys, the crooners sing to a girl named Olufunmi, with whom each one is 100% besotted. Despite all the promises, and Tunde building his world around her, Olufunmi wants to leave. Begging her, in Yoruba, to not leave them, the catchy chorus lives in the minds of all Nigerians, whether one grew up here or not. Re-listening to the lyrics today, I am (not) ashamed to say that… tears in my eyes? I am also begging Olufunmi to stay,  because clearly, neither Tunde, Shifi, nor Zeal could possibly survive without her. Sliding in a Rap cut after the second chorus, "Olufunmi " lends to the fact that Styl-Plus also provided some of our first experiences of popular-rap verses in Nigeria.
Imagine That
Imagine That: A classic, indisputably. What did Styl-Plus not do on this song? As they start by telling everybody to "move your body now, forget about a blue day; everybody move your body now, tomorrow is a good day," when listening to the lyrics you are somewhat taken aback by a chorus that focuses on heartbreak. Then, it makes sense. The group have endured so much in love – but instead of wallowing, they dance; tomorrow is a good day. If that's not the Nigerian way of dealing with just about every issue, I don't know what is. 
In the Yoruba chorus, in which each line is topped up with the words "imagine that," we hear about how each lady left, even after all they have done for them. Suggesting that their lives would be over if their respective muses did follow through with leaving them, a pattern begins to form. The conclusion? Styl-Plus needs to stick to women that like them.
My favourite part of the song is the Yoruba verse at the end, where Zeal sings so beautifully about a woman treating him like trash. It's poetic but like… only in Yoruba. This song will make you dance, works great with karaoke, and with the detailed English verses explaining what different girls have done, a handle on Yoruba is really not required. "Imagine That" is perfect in every way.
Iya Basira
My personal favourite. Honestly this was probably the first (non-nursery rhyme) song I knew word for word, and I've never forgotten a single lyric. Through their detailed sung descriptions you can literally see the events of the song unfold. Iya Basira is more than a story; it's like a movie, or, at the very least, a skit. There are different characters: the main character who falls for the jazz in Iya Basira's food; the person that tells him that his "long-throat" is too much; the policeman that he recruits to go with him to the Oshodi Bukka, and Iya Basira herself. The song gives all we didn't know we needed and more. 
Although they admit they "never see this juju tele tele" and literally warn us against it, I can't be the only one that, to this day, has a craving for this food that prevents Styl Plus from eating their mother or girlfriend's food.
The dialogue in Iya Basira is where the song gets its belly-aching humour. The most comical part of the skit comes from the officer going to the bukka, asking Iya Basira what she is giving people to eat that is causing this wahala. Of course,  when he proceeds "to chop small – fufu N90 plus that soup wey dey draw," upon tasting, he asks for more, and then dismisses the case – Iya Basira's food is just that good. Though the main character is calling us, the people, to save him from this mystic bukka, it is clearly a lost cause, because even the law enforcer is unable to resist. Sprinkling dexterous vocals over the song's conclusion, "Iya Basira" is comedy, but with a whole world of talent, don't forget that.
The End
Back in the day, storytelling was an imperative component of good music. When you think about the greats from the different decades – from Fela, to Lagbaja, to (dare I say) Styl-Plus – their songs told a story. They had to. Whether it was a political story with Fela, or love stories with Lagbaja and Styl-Plus, the artists gave us a tale to follow, because that was what listeners were looking for, what we expected and what got us hooked. 
Nowadays, the storytelling aspect of Nigerian music is not as important. Narrative lyrics have lost their crucialness. This could be attributed to a heavier focus on beats and producers, and also because it is more important to have music one can dance to rather than learning lyrics to sing. But regardless of these compound causes, these days we see many modern artists who don't tell stories through their music. This is not to say that they don't say anything at all. Davido has a fair share of love songs, but his tales don't have a beginning, middle and end like those of Styl-Plus. Burna Boy often sings political tunes, but he also has a firm foot in lighter, free-spirited pools of music. 
If an album that tells stories in quite the same way as 'Expressions' does exist, we don't know it. Sure, Nigerian music has improved in many ways since the early 2000s, but times and tastes have changed, and the artists seem to be able to feel this. Or perhaps the artists changed first, and we began to accept this new style of music. It's hard to tell but either way the fact remains, no one compares to Styl-Plus – not when it comes to the art of storytelling.
---
Featured Image Credits: The NATIVE
---
'Tofe Ayeni, political journalist, feminist. And I listen to a lot of music.