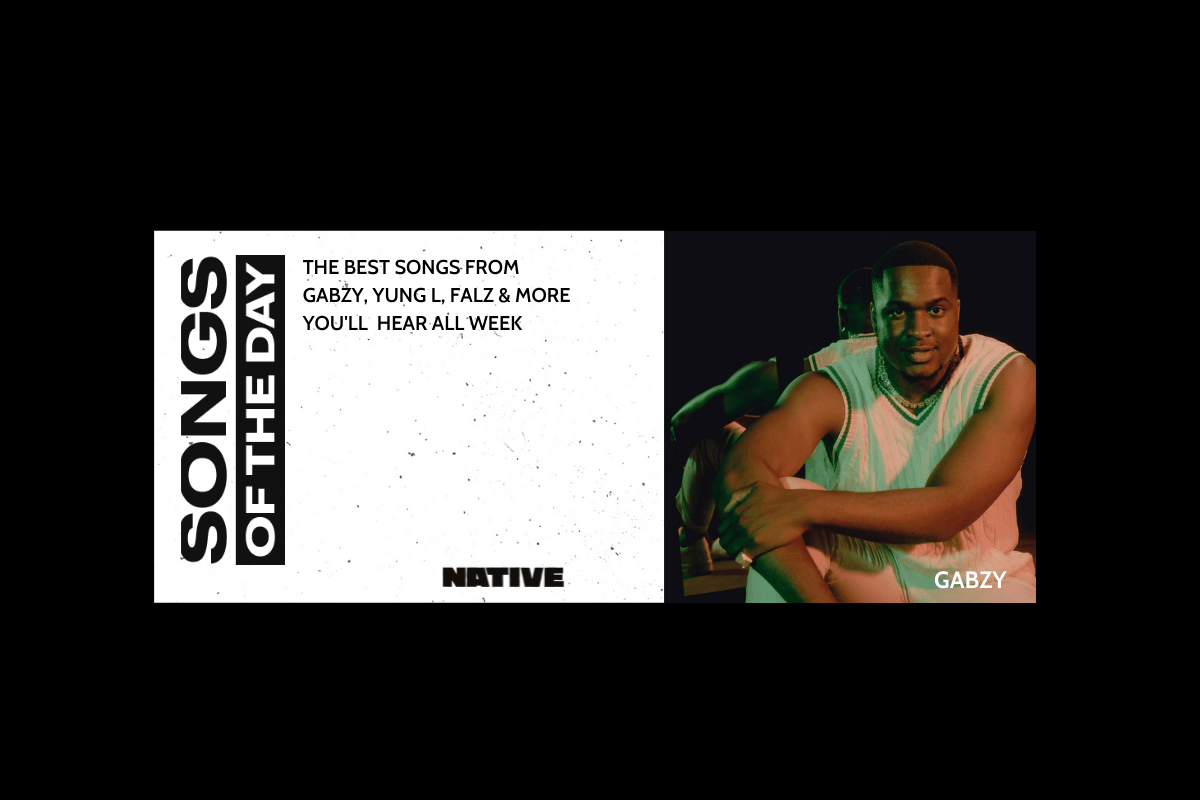 Songs Of The Day: New Music From Gabzy, Yung L, Falz & More
new music for your playlists
2022 is no longer a new year, and Afropop knows that very well. As much as the previous year was packed with scene-defining achievements, especially within the context of global growth, the only way to keep the momentum from falling off is for artists to keep reaching into their bag for great music that holds the ears and captures the hearts of millions of listeners across the continent and well beyond. That's exactly what's been happening, so much so that there's hundreds of new singles, at-least one new must-hear album and a new smash hit every week.
Amidst this torrent of new music, the NATIVE is committed to highlighting the best releases you need to hear, and possibly add to your playlists. That's the essence of our 'Songs of the Day' column. Last week, we highlighted new drops from Zinoleesky, Asake, DJ Spinall, Naya Akanji, Mavin records and more. To begin the new week, enjoy a new selection from Gabzy, Yung L, Falz, and more.
GABZY — "RICE & PEAS"
Blending Afropop, R&B and Latin Jazz into an iconoclastic concoction of escapist sounds, Gabzy treats us to another dose of his gilded magic on "Rice & Peas", a standout off his just-released awe-inspiring EP 'At The End Of The Night.' From the impeccable production to his concerted breezy delivery, Gabzy rolls together a brilliant summer anthem, perfect for turning up with your favourite person.
DJ TUNEZ & D3AN — "LONDON"
Over the past few years, the name DJ Tunez and the phrase "Life of the party" have become synonymous. Off the back of a monster hit, "MMM", which features burgeoning Street Pop icon Mohbad, he teams up with D3AN for yet another banger, "London". Coming at us with boisterous percussion, sustained synths and dizzying melodies, the pair deliver an awe-inspiring Amapiano gem, certain to send clubs into a vivacious frenzy any time it comes on.
YUNG L & MR VEGAS — "JO"
Since releasing his spellbinding 'Yaadman Kingsize' EP in 2021, which spawned seismic hits like the Wizkid-assisted "Eve Bounce", we've all been eagerly waitiTim ng to see where Yung L will take his Afro-Dancehall sound next. Now, he returns with a gleaming offering with Mr Vegas titled "Jo", the latest addition to our Dancehall playlist. Salacious lyrics over an undulating dancehall production, "Jo" is all you need to unwind and let loose after a hectic day.
WAJE AND FALZ — "VIBEZ"
After a long-drawn hiatus, Waje is back and she has definitely not lost her defining lustre. On "Vibez," she joins Nigerian singer for a bouncy, utterly irresistible and explosive new track. Waje's dizzying voice drips across the song's mid-tempo production, dazzling and rolling back the curtains of nostalgia. Falz pulls his weight, dishing swanky lyrics, as the pair deliver a celebratory Afro-house earworm.
TIM GREY — "4U"
At some point in our lives, we've all certainly experienced the twin emotions of sexual attraction and unbridled love for a love interest. In Tim Grey's new track "4U", he pulls apart the gamut of emotions that accompany love and longing, while delighting our eardrums with a sultry upbeat percussive record.
Featured image credits/
---