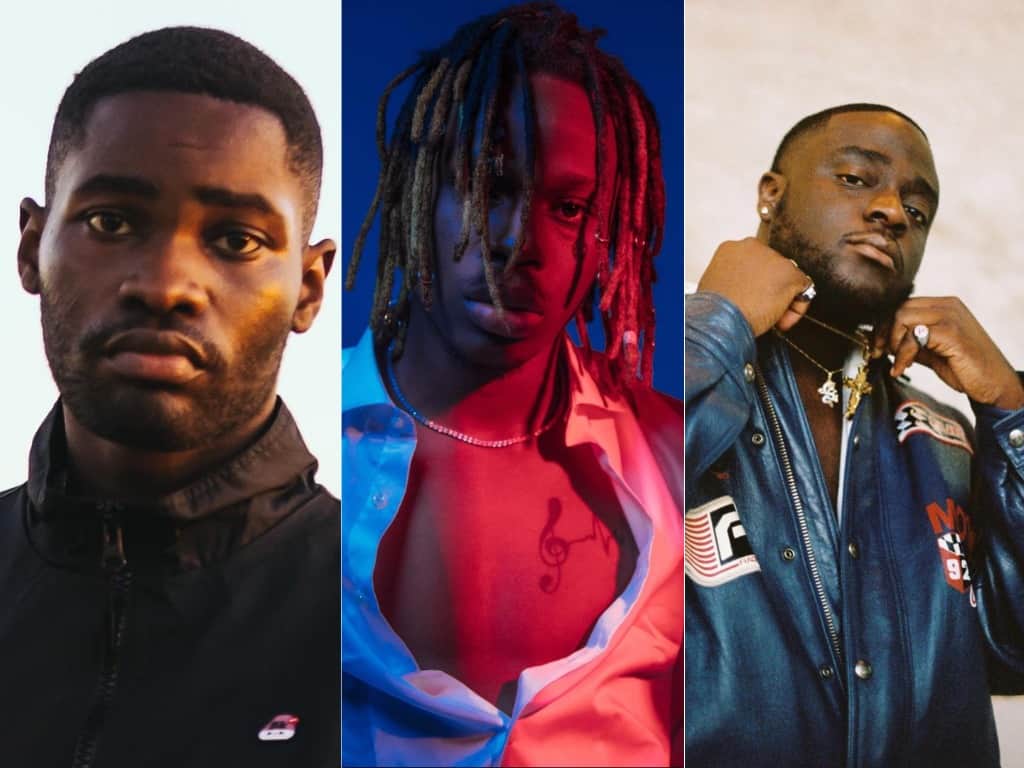 Songs Of The Day: New Music From Dave, Fireboy DML, DND Section & More
new music this weekend
We're halfway through the summer and the amount of music we consume continues to grow exponentially by the second. With amazing songs dropping at an unrelenting pace, it's not always easy to cut through the noise and the sheer volume of it all to find the music that will accompany our melancholy, inspire our next creative breakthrough, allow us our loved ones more securely, or take us to a place of unencumbered elation.
That's where our 'Songs of the Day' column comes in. We try to keep our fingers on the pulse of music from across the continent and beyond, bringing you exciting songs from talented musicians who are continuously trying to bounds of artistry with their music. Earlier this week, we brought you new releases from ENNY who just released her debut EP 'Under Twenty Five', Buju, Tomi Thomas, Hermez, April Maey, Fresh Meat alums Benzo and Skolleywood & more. This weekend, there's tons of new music to get through from Dave, Fireboy DML, Juls, DND Section, Azanti, Jaylon, Cheque, Kida Kudz, Ajebutter, Oxlade, Ictooicy, adé and more. Enjoy.
Fireboy DML – "Peru"
Following the success of his sophomore album 'Apollo' released last year, Fireboy continues to show his undoubted star power. After a brief hiatus from releasing any new solo material, the singer is back for his first release of the year following his appearance on Cheque's single "History" earlier this year.
On "Peru", the new Shizzi-produced romantic, the singer is at his most relaxed, reassuring a lover of his dedication to them. With lyrics such as "Omoge no be so, girl you wan capture soul/I'm loo- even Peru don dey tire" on the romantic number, it's clear that Fireboy DML has spent the past year sharpening his writing skills. With an enviable flow and clever wordplay, Fireboy DML reaffirms his place in the new vanguard of Afropop hitmakers.
Dave – "System" ft. Wizkid
Dave's highly anticipated sophomore album 'We're All Alone In This Together' is finally here. On the newly released project, the British-Nigerian emcee is turning up the dial on his Nigerian roots by featuring both Wizkid and BOJ on two separate tracks.
The Wizkid-assisted "System" is a groovy summer number that will certainly soundtrack parties from the ends to Agege. "Whine baby show me that you whine am well, I never knew about you so well/My enemies only pray for war so I give them/Henny for system, one more and she giving me," quips Wizkid over the song's memorable hook with sounds that transport listeners from the nightclub to an intimate romantic setting and back.
Juls – "WICKED" ft. Sam Wise, Kadiata & Knucks
British-Ghanaian artist, producer and DJ Juls is preparing for the release of his debut album which is slated for release later this year. Ahead of this, he's been giving listeners a taste of what to come with the Tay Iwar-assisted "Chance" and now second promotional single "WICKED" featuring Sam Wise, Kadiata, and Knucks.
On the new release, the artist teams up with some of the finest British talents from the UK to helm a song that will certainly soundtrack nighttime activities. The accompanying Ray Fiasco-directed video finds all artists delivering their verses as blazing neon lights ooze in the background taking them from the streets of London to intimate house parties and dancefloors.
Yung Bleu ft. Davido – "Unforgiving"
One of the best parts about music in this decade is the multitude of cross-border collaborations that we're receiving on a near-daily basis. After spending some time in Lagos earlier this year, Yung Bleu linked up and made magic with some of the cities finest musicians.
On his newly released album 'Moon Boy', Davido makes a legendary appearance on "Unforgiving", a midtempo romantic number. Singing "Back then I thought I found love, but now you're someone I used to know/Now you're asking for one more chance but yawa don gas," Davido delivers a memorable verse that allows him to flex his singing chops in a new light.
dndSECTION – "Red Eyes" ft. Maradonna
For his first release of the year, dndSection is here with "Red Eyes". With a Maradona-verse assist, both artists deliver a stellar performance against the backdrop of a groovy GMK production. The track has the artists at their most boastful as they speak on stacking bands, their exotic lifestyle, and putting the opps in check. "My dawg gon pull up if you test my, rolling with the worst guys/All my niggas outside, shoot a nigga ten times/Throw hundreds in the roof in a club no dead vibe" DND raps on the hook. The accompanying video is also equally captivating with a glimpse of dollar bills, exotic cars, and Maradona in a party scene.
KIDA KUDZ – PROBLEM
There's no denying that British-Nigerian rapper Kida Kudz is the jiggiest rapper alive. To capitalise on this moment, the rapper has just released his sophomore album, aptly titled 'TOP MEMBA' to signify his jiggy status. The 10-track album features a spate of talented collaborators from Bella Shmurda, Made Kuti, Tanika and more.
On standout number "Problem", Kida Kudz is at his most boastful, flexing the newfound success and wealth he now enjoys in this phase of his career. "More money zee problem, Fine girls me I love them/Everything I've done, I don surrender and it's me and you forever" he sings-raps on the hook before rounding the song up with Osita Iheme's famous 'Bigi Bigi' soundbite. This is certainly one problem we'd also like to have in this life of sin.
CHEQUE – "Call Me Baby"
Following his earlier release, the Fireboy-assisted "History", singer Cheque is back with his second official single for the year. On Call Me Baby", the singer delivers a love tune over a distinct bouncy trap beat. Over the heavy kicks on the Andyr and Lay Z-produced track, Cheque sings "Can I call you baby, I'm in the mood come on my cruise/Let me call you baby, I call the shots you call the shots now you a boss, you're the one" on the hook, assuring his muse of his affection for her.
Ajebutter, Oxlade – "Unconditionally"
The year is 2021 and Ajebutter is gearing up for the release of a new album. Ahead of this, he's been sharing a number of singles including "King of Parole" and now the Oxlade-assisted "Unconditionally". Singing "I wanna love you unconditionally but I gotta take it slow and take it gradually" sings Oxlade over the song's catchy hook as he directly addresses a lover and reassures her of his affection. Ajebutter sings-raps on the song's verses, also full of admirable words and reassurance for his muse. It's a loved-up summer. Get to know.
DAGIZAH – PRESIDENTIAL
Dagizah releases his debut EP 'Zero Your Mind', a 6-track project which has the artist talking about his hustle stories and how he connects his struggles to the music. The track "Presidential", has the artist hyping himself up and basically saying he's in charge over the trap beat as well as infusing Yoruba lyrics on the track; "No case, me i be the coolest and i get craze, No face twinkle monster that is 2face/Steady grinding no laziness, Don't you listen don't believe in them".
Jaylon – "Firedncr." Ft. Azanti
Record producer and audio engineer Jaylon is back with another hit tune titled "Firedncr". This time, he collaborates with Apex Village's newest signee Azanti who glides smoothly over the futuristic production on the HVRRY-assisted produced track. The romantic track has Azanti serenading his muse with lyrics such as "And if na woman go kill a man, na you be one wey go kill a man/I go die for you, Chale i go die for you". If you're looking to serenade your lover this weekend, this is the track for you.
Ictooicy & adé – "Luv+War"
Ictooicy is gearing up for the release of a new project. Ahead of this, she's just released a new single titled "Luv+War" featuring close collaborator, adé. The Winzycool-produced track finds both artists reflecting on two contrasting responses to a lover who gaslights them instead of engaging in healthy conversations.
"You don't wanna talk to me/I'm a lover not a fighter/You steady always blaming me/Take me for granted when you know I can't stand it" quips Icy over the song's catchy hook, addressing a love interest directly and making them see all the ways they're hurting her. If you've ever championed love over dramatic fights in your relationships, this is definitely the perfect song to add to your playlist this weekend.
Featured image credits/Instagram
---