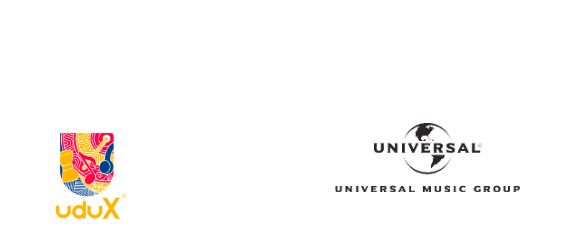 Nigeria's first local subscription-based music store and streaming service, uduX partners with UMG
Bringing value to the Nigerian music ecosystem
Since streaming platforms became so monetized with artist-friendly payment plans, digital streams have slowly replaced physical tapes as the primary source of music and videos, and African consumers are very much in the loop of things. Mainstream streaming platforms like Spotify, Apple Music and even Netflix have launched African centered playlists and shows in a bid for global inclusion, but there are also local streaming services like uduX, Nigeria's first domestic subscription-based music store and streaming service.
Developed by Groove Platforms, uduX is leveraging on the growing adoption of digital streaming services by consumers on the continent. Aware of the potential African reach and the great growing relevance of the Afropop genre around the world, uduX hopes to bring value to the music ecosystem both here in Nigeria, and the rest of the world. The platform offers high-quality audio and high-definition music videos with exclusive content curated by music professionals close to the culture for optimal user experience.
To further accomplish their goal, uduX has partnered with Universal Music Group which will allow them to provide Nigerian music fans with access to their favorite artists from around the world. Under the terms of the agreement, uduX will distribute music for UMG's world-renowned artists through its streaming service in Nigeria, allowing users access to UMG's extensive catalog of both local and global artists like J Cole, Tekno, Eminem, Nicki Minaj, Nasty C, Post Malone, Lady Zamar, Lil Wayne, Bob Marley, Brenda Fassie, Wurld, Hugh Masekela, Larry Gaaga, Tamia, Maroon 5, Aka & Anatii, TJAN, Jah Prayzah, Nonso Bassey, Mafikizolo, Cina Soul, Ella Mai, and Mr. Eazi.
Nigerian artists are already making a huge impact on the international music scenes, and with the partnership between uduX and UMG, the platforms can also contribute to help shape the future of the digital music space as it helps accelerate the growth of the entire African music ecosystem; from digital production, publishing, and marketing.
uduX is currently available via monthly subscription through Habari by GTBank, a leading platform for music, shopping and lifestyle content launched in November 2018. The service will also be fully incorporated into the Nigerian music market as a stand-alone app in the coming months.
[mc4wp_form id="26074″]
---
You are meeting Debola at a strange time in his life. He wandered into a dream and lost his way back. Tweet at him @debola_abimbolu
---