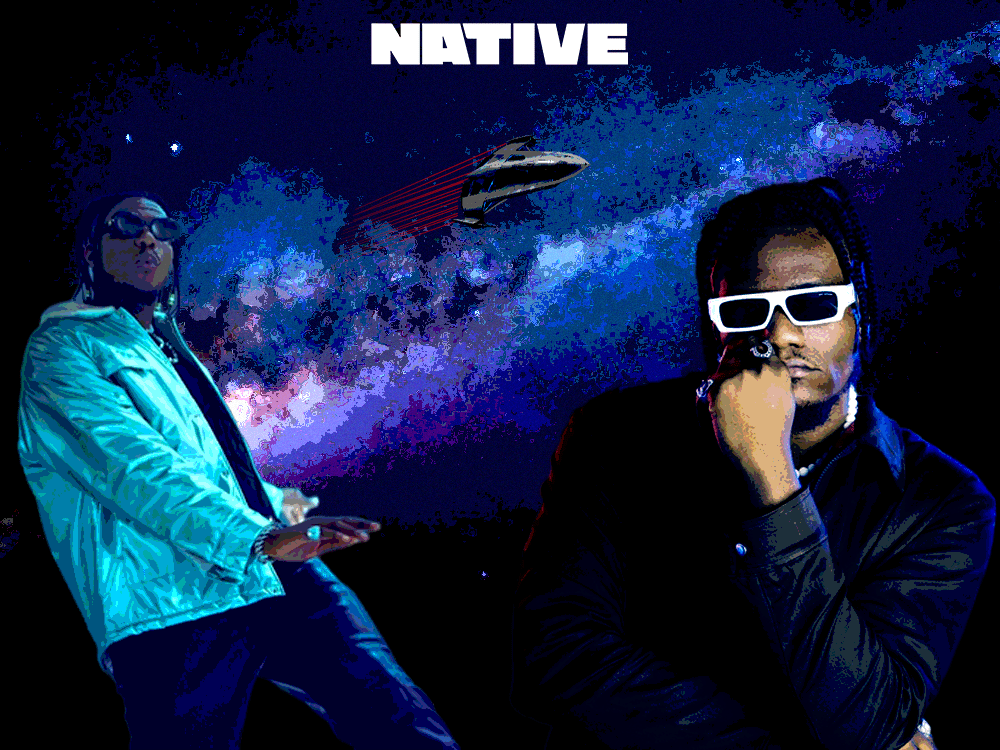 NATIVE Exclusive: Pheelz Is Always Getting Better
"Finesse" has changed my life.
"Life has been a movie since I stopped directing and became the actor," wrote Nigerian record producer and artist Pheelz on Twitter. When asked what that statement meant, he reveals to NATIVE, "Right now, I'm more in control of my life and how I move and the kind of art that I put out. So that's what I meant by life has been a movie since I stopped directing and became the actor because now I'm both the director and the actor of this whole story."
With over a decade of experience in the Nigerian music industry, Pheelz, real name Phillip Kayode Moses, has made a smooth transition from producing for heavyweights like Olamide and Tiwa Savage to being a full-blown artist with the world-conquering hit track "Finesse" under his belt.
Just as 2022 began, Pheelz shared "Finesse" on Instagram and TikTok. The track, produced by his protégée Miichkel, went viral. On Instagram, Nigerian artist BNXN hit Pheelz's DM to enquire about the track. "He was like 'Yo, what the fuck is this? Is this just a TikTok sound or an actual record?'" Pheelz says. "And I replied, 'It's an actual record. Do you want a verse?' And he was like 'Bro, hell yeah.'" The next day, BNXN and Pheelz linked up in the studio to complete the track. "Finesse" took on a life of its own, travelling across music charts around the world, featuring on Barack Obama's summer playlist and the FIFA 23 Soundtrack, and earning Pheelz a deal with Warner Music and a 2022 BET nomination for Best New International Act.
Pheelz's latest single "Electricity" featuring Nigerian superstar Davido is equally intriguing, displaying his hit-making abilities in front of the microphone and behind the boards. As Pheelz continues plans for a forthcoming EP, he sits with NATIVE to talk about his long-running career and his journey toward global domination.
His words which follow below have been lightly edited for clarity.
NATIVE: You started as a young chap playing instruments in church before interning under the guidance of ID Cabasa. Is there anything you miss about the Pheelz of that time?
PHEELZ: The one thing I miss about that time was the simplicity of life. This adulting thing is long. Another thing that I miss was how simple the industry was then because I'd like to think that I belong to two generations of creatives and two different generations of this industry. I really miss how simple the industry was then. It wasn't all about who was first or who was second, it was mainly just about the music. Those are the two things that I miss. But I wouldn't change any of my story for anything. The stories and everything that I have gone through have made me who I am today.  
NATIVE: You got your first hit at 16 on Olamide's "First of All." How did you feel about that achievement at that time?
PHEELZ: To be honest, I didn't really know how to feel because it was very new to me and I was very young. People saw it as a big deal but I just saw it as a track that was really dope. Not until a few weeks after that I understood how big the track really was and I started thinking that this is something I'm going for the rest of my life like if my music is this accepted, then let's see how far we can push this. And then the bangers just kept coming in from "First of All" to "Fucking with the Devil" to "Durosoke" to "Turn Up" to "Melo Melo." They just kept flowing back to back.
NATIVE: Did you feel any pressure as your popularity grew then?
PHEELZ: I feel like I learnt to deal with pressure very early on in life. Remember I am 16 at this time and I'm jumping into the deepest end and being one of the top producers of my time at a very young age. It was pressure initially but I learnt to deal with my mind and understand that it's all self-inflicted and if I can just not focus on the pressure and just focus on making the music that I want to make; that was the mentality I had and that's the mentality I still have. There's no pressure; I'm just making art and making music. People will say what they want to say. If they fuck with it, fine. If they don't, that's okay. I'm just making my art and telling my story one sound at a time.
NATIVE: Since "First of All," you and Olamide have enjoyed a fruitful connection, producing hits after hits for over a decade. How have you two continued to strengthen that bond as your careers reach new heights?
PHEELZ: If there is one thing you'd know about energy, it's that it changes form from time to time and you have to allow it to change. And another thing is accepting each other for what you are. Olamide has been a really good friend and we have made a lot of bangers together. For a very chunky period of my life, he has been my muse and I have communicated my sound through him and I wouldn't change that for anything. Over the years, the energy and relationship have morphed into different stages and we have allowed it to morph, and we are just cool, living life and making sounds. He's doing amazingly well and I am doing amazingly well and we are just proud of each other.
NATIVE: Your production discography boasts of superstars such as Olamide, Tiwa Savage, M.I Abaga, Runtown, Mr Eazi, Fireboy DML and Teni, among others. What has kept you pushing on over the years?
PHEELZ: I think one of the major things that have kept me going is learning and always morphing. I believe in change and I believe in changing with the times and just advancing and just increasing yourself. I believe no man is an island and I also believe no man knows everything. There's always something to learn; there's always an extra level to get to and I'm always hungry for that next level, that next sound, that next knowledge. I think that's one of the things that have kept me going because I have always been learning. Even till today, I still learn. I call myself a graduate of the University of YouTube because I just keep learning and keep researching and just growing. I think that's one of the reasons why I'm still here today.
NATIVE: When you look at your career as a producer so far, what has been your proudest moment?
PHEELZ: That's a tough question because I have had a couple of proud moments. One of my proudest moments would be the 'LTG' album for Fireboy DML. Another proud moment was getting Adekunle Gold signed to YBNL. Over my life, there've been a couple of proud moments but that's just two out of them.
NATIVE: How did you get Adekunle Gold signed to YBNL?
PHEELZ: I had to convince Olamide to sign Adekunle Gold. I'm like, "Bro, sign this dude.  If this dude doesn't blow, put the blame on me. But sign him first." I was so invested in Adekunle Gold when I heard that "Sade" song he did on the One Direction instrumental. And the funniest thing was that he had been sending me BBM messages but I just never saw them. But then I heard "Sade" and I convinced Olamide to sign Adekunle Gold. We reproduced "Sade" and that was it. It's crazy.
NATIVE: You have mentioned in interviews that ID Cabasa, Don Jazzy, Timberland, Kanye West and Pharrell are some of your inspirations as a producer. Who are the newer, up-and-coming producers whose works speak to you?
PHEELZ: I like P.Priime's production. He co-produced "Electricity" as well. There's a new kid called Oma that's really dope. I like Semzi's production as well. I like Kel-P's production. I like Sarz's production. I like TMXO's production. There's a kid called Smiley, I like his production. Who else do I really fuck with? It's a lot but those are the ones I can say off the top of my head right now.
NATIVE: While you worked behind the scenes on the music of others, you nursed your dream of being a singer. When did you discover your talent for singing?
PHEELZ: The dream actually started as me being a singer because my first placement was in Coded Tunez on Olamide's first album. It's the first track, it's called "I'm Going In" featuring Pheelz. The initial dream was to be a singer but the production kind of picked up quicker and based on the grind, I had to just focus more on that and keep nursing my singing dreams and waiting for the opportunity and the right time.
NATIVE: What was that process of working behind the scenes and improving your skills as a singer?
PHEELZ: It was a lot of work because [on] most of the songs I have produced over the years, I have co-written, and added my vocals [and] my harmonies. My vocals are on like ninety per cent of my production if you listen closely. I have been rehearsing and learning and just writing and getting ready because I believe everything happens in its own time. I'm not always in a hurry to do what I'm meant to do, and I don't look at another person's speed, you get me? So I was just chilling, learning, growing, and waiting for "Finesse," I guess.
NATIVE: You put out your debut EP 'Hear Me Out' last year. It featured great songs that highlighted your skills as a producer, singer and songwriter. What impact did the process of writing and recording that project leave on you as an artist?
PHEELZ: That EP deleted my fear because another thing that I have been battling over the years was the fear of breaking boundaries and going outside my box. People kept saying, "Yo, you are in a really safe box. You are one of the best producers of our time. Why do you want to sing? Why not just remain a producer? This is already working amazingly well for you." Over the years, I have had friends and people around me instil that fear in me.
But one of the things that happened that made me go full 180 was Covid because in my mind I'm just like "Bro, you can die any time and you'd just die with all these gifts." The words just came into my mind and I just said, "Yo, you have to die empty. You have to give everything out," and I was just like "Okay, I'm doing this," and I just started recording the EP. At that point, I didn't care about [the] result; I just cared about doing it, I didn't care about who was going to hear it or how many millions of streams I was going to get, I just wanted to do it. I just wanted to leave it on the earth and die empty. That was the goal for the EP and that's still the goal.
NATIVE: You mentioned in an interview that you made the animation videos for the songs on the EP and spoke about how you used to research art and fashion in cyber cafes after you left secondary school. What is it about visual art that thrills you?
PHEELZ: I feel like my original passion is making something out of nothing. I love blank canvasses and that's one thing with music for me because it starts from a blank canvas and you just hear all these sounds or put all these pieces together. And that's also one thing about visual art that attracted me – that blank canvas and having to be able to put in things and just create. That, to me, is like God power, you get me? My visual art is a story that will tell itself. As I said, I don't rush things, everything will happen in due time. But my visual art story is going to be mind-blowing, I can promise the world that. And I have a fashion story as well that's coming. All these stories are going to be told.
What other creative talents are you currently exploring or wish you could explore?
For now, it is just music, visual art, [and] writing—there's a book that I'm writing that will not be out until I'm 55 or 60.
Why is that?
Because I'm not ready for that conversation now. But it's a lot of conversation. So I write a lot from time to time; I think that skill actually seeps through in my lyrics, when you hear my songs, because I don't think I write like every other artist. I think I have a special way of writing my lyrics.
I [also] plan on making a short film very soon. I want to go into directing, fashion and tech. I just want to create. I hate boxes; I never want to put myself in a box and say, "Oh, he's just this and that's the only thing he does," no, man. I'm a Jack of all trades, I'm a master of all, man. I'm a genius and it's not ego, it's fact.
Tell me how much "Finesse" has transformed your journey as an artist.
"Finesse" has changed my life. It's a movie now. This is the life I've always been waiting for. This is the story I have always wanted to start. Now that I have the ears of the world, we are going to have some fun because the music that's coming is mind-blowing. But yeah, "Finesse" has changed my life; I have met a lot of people, met a lot of fans, and performed on so many stages. I'm just excited and feel really blessed and really grateful for this part of my life.
You returned with "Electricity" featuring Davido. How did that collaboration come about?
The funny thing is that I actually had "Electricity" before "Finesse." I have had "Electricity" since last year. It was supposed to be the first single of this year then "Finesse" happened. So I had to put "Electricity" on pause and focus on "Finesse" for a bit. David and I have always had a connection because even back in 2017, I produced his 30BG concert at Eko Hotel, did all the sound, the graphics, the lights, and did like a whole production thing for him and since then we have kept in touch. I guess 2021/2022 was just the time to get into the studio and make music.
When we later linked up, I had told him about my EP. He heard the EP and was like "Bro, you are actually a really dope artist, I actually believe in you and believe in your dreams." And he was like "Link up, let's do a feature, let's record something." So I had "Electricity" and we linked up and I played "Electricity" for him and he dropped his verse. We have some other songs that are bangers as well.
TG Omori is having an impressive run at the moment. What made you decide on him to direct the music video for "Electricity"?
TG is just one of those out-of-the-box thinkers that I appreciate. When you have a conversation with TG, you will just be like "How does your brain work?" He thinks outside of the box and I am also an out-of-the-box thinker so I just wanted to see what we could create and how we could interpret the song. We sat down, had a couple of meetings, threw a couple of ideas around and just came up with something solid for the video. 
Is there an EP or album in the works?
The EP is done already. Hopefully, it drops before the end of the year, all things being equal. But there's a new single called "Balling" and I'm saying it here for the first time. The next single is called "Balling" and it's a monster.
Will it feature anyone?
Nah, it's all me. Produced by Pheelz, written by Pheelz and sung by Pheelz.
Will there be any feature on the EP?
I will leave that under wrap until it is time to announce. Yeah, there will be a few features on the EP.
Which artist or producer have you been praying for collaboration with?
I want to work with Rihanna, Kanye West and Drake. I wanted to work with Dr. Dre but that already happened. [I also want to work with] Beyonce and Cardi B. I have one beat that has Cardi written all over it, I'm just waiting. I just want to go around the world, make music, meet people and just create art. That's all I want to do with my life—just go around the world performing, making music and creating art.
You have had an incredible career so far. What are the ideals that you have held close to your heart throughout your career in the music industry?
One of them will be [to] detach yourself from expectations. Especially when I make music. I try as much as possible not to expect anything from it because I believe expectation is the greatest route to depression and unhappiness. So I just create and let it go. The passion for creating is enough for me to be happy and just the fact that I can do it and I can do it that good is enough joy for me; whatever comes out of the track is a surprise because I wasn't expecting it. That's how I live. That's one of my mantras. As a human, you can dream dreams. Dreaming dreams and having expectations are different things. Just detach from expectations. It's hard but if you can do it, it's one of the most beautiful things.
Featured image credits/