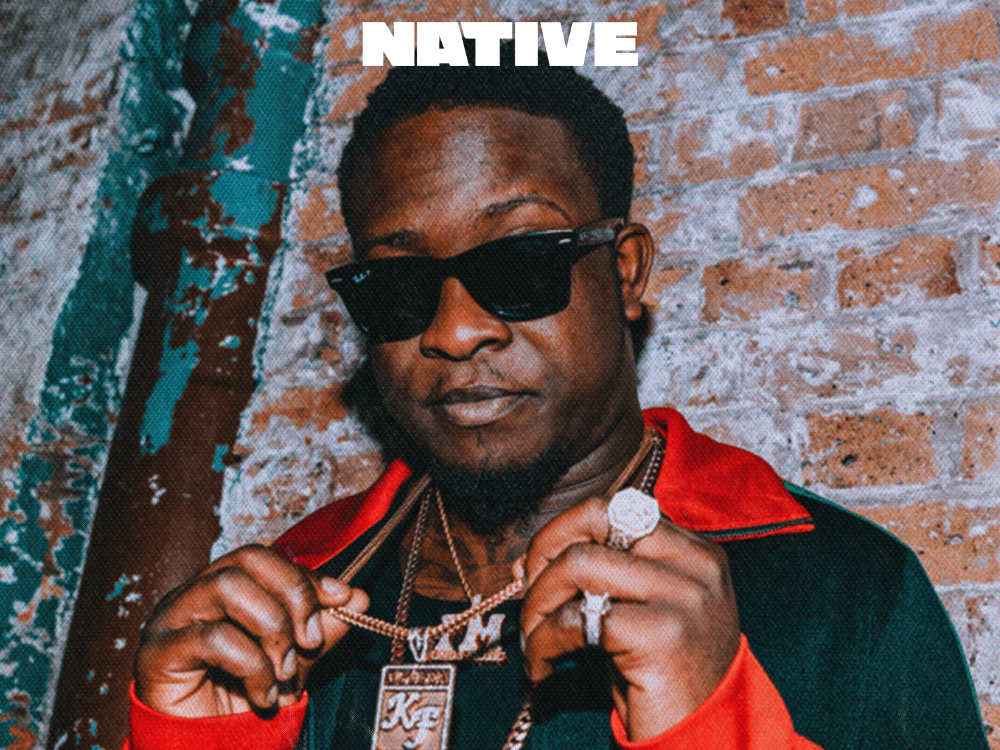 Interview: Kojo Funds Is Building His Legacy
The pioneering Afro Swing artist bares his roots and motivations
When Kojo Funds was due for college, he moved to Ghana. His mother hails from the West African country and bringing up a child in faraway London, it made sense to encourage him to embrace his roots. "Due to the area I grew up in, you could get easily influenced, peer pressure stuff like that," he told The NATIVE one recent weekday. "My family didn't really like that, because I was going in a different way. They said I need to see [my] background, he needs to really see where the fam is coming from, and the struggle that they went through." 
He ended up staying there three years, extending the initial plan of one year. The flavours of the local language appealed to him, the people warmed up to his presence, and in all, experiencing that first-hand connection with his roots was "a good learning experience," he shares. Kojo's musical background can best be described as a potpourri of sounds, although Reggae and Dancehall formed a dominant part of that diet. In Ghana, he heard a record from R2Bees on the TV which opened him to the richness of African music. "It was African but had some little twist to it," he says. "It was different." 
View this post on Instagram
Born to a Dominican father who's been absent for much of his life, the very existence of Kojo Funds demonstrates cultural merging. However, music wasn't in the picture for him until his early 20s. This was also the period of youthful zest, an incisive exposure into the lifestyle his family had wanted to steer him off. Coincidentally, he got into music via one of those social networks. "In 2014, one of my friends was having a birthday party," he narrates, "And we do this thing where somebody would just play beats off their car speakers, so they never heard me on a freestyle before. When I did it, everybody was surprised." 
The next day, he was asked to come to a studio. He pulled up, recorded a song, and the feedback was so good he put the finished version on SoundCloud. The song captured the era so well; they were regular fans bumping it on their mobile devices and cars, DJs were incorporating it into their mixes, and event organisers wanted to book him for events—just one song into his career. "My 9ine" was created with little technical expertise, but for an original like Kojo, the instinct for sound was good enough. 
He followed up with "Dun Talkin'", the record that fully opened up his path in the UK music scene. Over a chill Dancehall beat, and with a delivery reminiscent of artists like Sean Paul, the song demonstrated Kojo Funds' pioneering spirit. Before African inspired rap music became a thing, here was Kojo stitching variant inflections onto the thematic fabric of Hip-Hop. He continued in a prolific vein throughout that year. Typically over serene beats, Kojo Funds would oscillate between rapping and singing, his East Londoner personality spiced with overt sonic clues from around the Black diaspora. 
In 2017, Kojo was nominated for best newcomer at the prestigious MOBO awards. By then it was obvious that a blazing star had appeared at the constellation of British music. To his credit, Kojo Funds acknowledges the influence—if not stylistically, then characteristically—of some great UK rappers who were creating music before his entry in the scene. 
"Me coming from East London," he says, "is like the birthplace of the genre called grime. So, we kinda grew up on that. Wiley being a godfather, he's from the same, like, East London. And we have people like Kano, Dizzie Rascal, Lethal Bizzle, so listening to them was like, 'Okay, these are people the same colour as me, but they are doing something'. And I was very ambitious, you know?"
Inspiration can spur creativity in very potent ways. When Kojo Funds was still a teenager, he heard the 1998 hit song from Sean Paul, "Deport Them". The record was fiery and poignant, and "it kinda resonated with me," he says. Afterwards the melody and production couldn't leave his head, and whenever he found himself alone he'd try to make up his own melodies. 
The UK scene today is replete with artists who likely heard a song from Kojo Funds the same way, too. Sped up through the global acclaim of African music through the years, much of the music emerging from the United Kingdom takes on distinct African flavours, especially those created by diasporans whose roots were West African. Kojo Funds belongs to the earliest generation of UK-born musicians who created grime music paired with afro sounds. And of them all, he most embodied the pursuit for musical fluidity which is most exemplified by him naming his sound afro swing, which is now the popularly accepted name for that kind of music.
Over the years, more artists have identified with the fusionist style, if not the tag. From NSG to One Acen, Ms Banks, Pa Salieu and Swarmz, there's no shortage of sonic purveyors. By all means, Kojo Funds wasn't the first to make this music; in the early 2010s, the likes of Fuse ODG, Mista Silva and Timbo were adapting African influences into their music. Afterwards, there was J Hus, most prominently. However, none of the tags embraced by these musicians enunciated the merits of this fusion as poignantly as afro swing, which makes Kojo a pioneering act. 
"Because of Afro being the core, the drums," he explains the choice, "The 'swing' was just implementing the different melodies—the R&B melodies, the Dancehall flow, as well as the sounds, the strings and stuff like that. So just the Afro swinging from different elements of genres. And also me being a popular fan of New Jack Swing; cos you know R&B came from New Jack Swing, the Bobby Browns and the guys. I kind of implemented those melodies, as well. It just made sense: Afro Swing." 
Talking about Afro, there's also been notable appearances from Kojo Funds alongside African musicians. He's constantly burnished his musical relationship with the motherland; it's unfortunate that his famous lyric "Are you dun talkin'?" courted a brief controversy with Davido using it on the summer smash "Fall", but that was sorted out while the rest of Kojo Funds' Afro incursions have been seamless, especially the music. 
He fitted like second skin alongside Wizkid on "I Like", where his inflections drawled in irresistible seduction, using the agile lyricism of Dancehall to croon about a lady's positive qualities. The Director LX visuals was a mainstay on TV throughout the later months of 2019, its classy montages amplified by the understated mastery of the music. Kojo still had "What Do You See" that year with Spinall, which is unarguably one of his most popular songs yet. If the Wiz record was championed on-air, this was a celebratory affair that was gritty enough for street heroes, and so became a soundtrack for joy that had gone through struggle, which embodies the crux of Kojo's music. On "M.O.O.D" he coasted the serene splendour of signature Juls, again swapping bars for tenderness. 
More than a rapper, Kojo Funds consistently demonstrates he's an artist with the quality of water, easily shifting to the ebbs of sounds which move him. That has kept him at the forefront of music across the several music scenes he inhabits, an OG from London to Lagos, Kingston to New York. And yet like any true artist, there's an innate urge for Kojo to keep creating, to keep sharpening the strength of his perspective through the one thing he's had all the days of his life. 
Earlier this month, "FARDA" was released. The record bares Kojo Funds at his most brashful, reminding naysayers of his legacy. It's telling that the visual begins with a clip from a packed-out event, the crowd yelling back his name. "I be the one that was born to be great, destined to rise to the top of the chain," he sings in his trademark inflection in the opening lyric, driving the song forward assuredly and verve that still holds a groove. 
In 2022, Kojo Funds released only one song, "Do You Mind". It was unusual given his prolific standards, and for casual observers the larger conversation was how the recent years have witnessed an influx of young UK rappers, releasing music to frightening pace and embodying the roadman vigour beyond aesthetic. "FARDA" proves Kojo Funds' willingness to continue to belong in this discussion, with peculiar quality nonetheless. 
He plans to follow this first single of the year with other singles, "just to boil up the water," he says. There's a good chance he might release an EP, whose songs would be entirely different from the singles he'd put out. It would be his first in five years, after the effervescent 'Golden Boy' album. All this clarifies one thing: there's a lot in the vault for Kojo Funds. As the afternoon sun slowly recedes, and evening approaches, the tree visible through his car window takes a darker shade. He's relaxed and assured.
"All I just wanna do is put music out," he tells me now. "I like being creative. This song here is just to show that I'm doing what I'm doing. It's me. It's Kojo. Regardless of any hardship or any situation, I just love making music. I haven't been away from music; I've always been in the studio". 
---