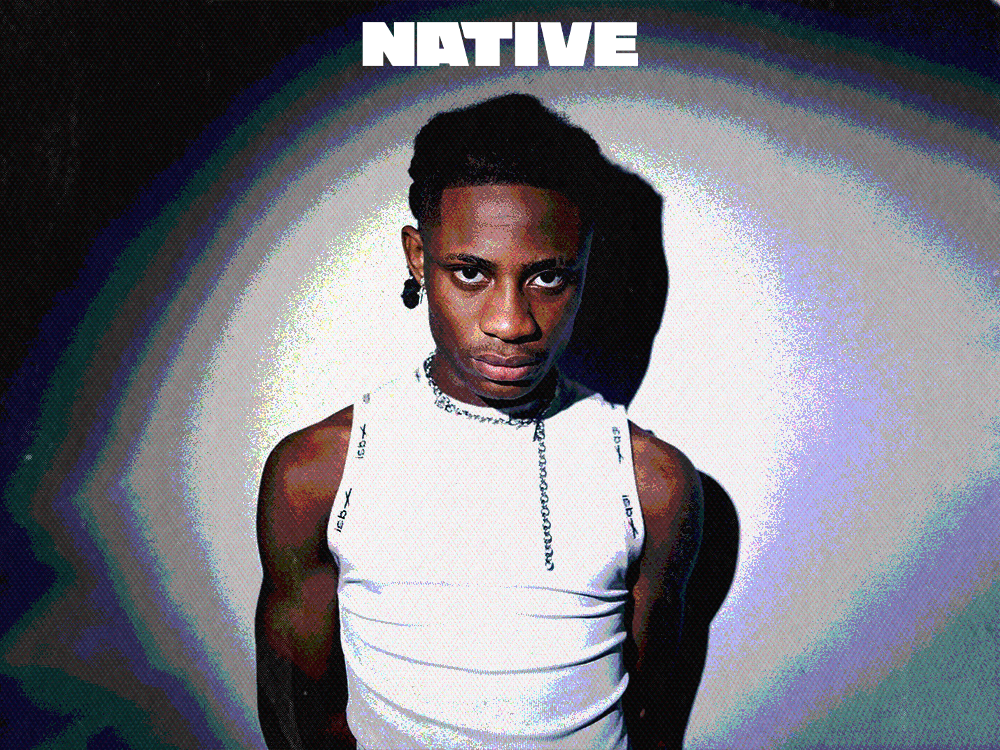 NATIVE Exclusive: Khaid is Recharged For His Next Phase
the Nigerian artist is more confident
At any given time, the Nigerian music industry steadily churns out new acts. These talents appear on the scene with hopes of garnering the attention of audiences and firing up their careers. For many, the move from newcomer to known star can take years. For others, it happens in a flash. It is the latter group that Khaid belongs to when, at 17, his debut single "WITH YOU" became a hit song. Released at the start of 2022, "WITH YOU" introduced Khaid's rap-influenced flows and Afrobeats-tinged melodies. 
"[Before the release of the song], I was bothered about how people were going to see me, how people were going to take my sound out, how people were going to react when I dropped it," Khaid says. "I was just pressured because at that time I wasn't really into Afrobeats. That's why when you listen to "WITH YOU," you kind of hear a little bit of trap stuff. By God's grace, "WITH YOU" went well and I'm grateful to God that it actually did."
After indulging in the risk that was "WITH YOU," Khaid sought his comfort zone for his next release. On the Trap tune "SKI," Khaid's confidence shined as he hopped from verse to chorus to verse to chorus with dexterity. A month later, he released his debut EP 'DIVERSITY'  where continued his Afrobeats experimentations as well as flaunted his rap skills. For Khaid, the project was an eye-opener that taught him to be fearless and go wherever his creativIty led him.
The sixth child in a family of ten, Khaid—born Sulaimon Shekoni Solomon—grew up in Shibiri in the Ojo area of Lagos State. In their home, Khaid's parents were music lovers (his father loved Fela Kuti and his mother preferred Michael Jackson). At 13, Khaid realised his passion for music, having listened fervently to trap songs. It wasn't until he clocked 15 that he began to pay attention to the music scene in Nigeria and discovered artists that he liked: Wizkid, Davido, Burna Boy, Kizz Daniel, Tekno, Rema and Crayon. 
At that time, Khaid began to notice that many up-and-coming artists were posting cover versions of songs across social media as a way to promote their talents. He decided to join in and began uploading his music freestyles onto his Instagram page. One day, Sydney Talker, Nigerian comedian, media personality and CEO of Neville Records, saw one of Khaid's freestyles and messaged him to say that he liked it. Khaid, who at the time didn't ever envisage that someone of huge importance would take a liking to his work, was amazed. "I spoke to him about the struggles I had and I was telling him, 'Can we just link up and make a video and stuff?' and he was like 'Yeah.' And when I finally got to his house, he was like, 'Yo, you are signed.'"
When Khaid informed his parents that he wanted to focus on music and not pursue a university degree, they, at first, weren't enthused. But they soon saw his vision and gave him their blessing. After the release of 'DIVERSITY,' Khaid teamed up with Zlatan and Rexxie for "Amala," a dance-ready number brimming with street lingo and lamba. It was the first collaboration in Khaid's nascent career. In the visualiser for "Amala," the YouTube title page provides this information: "Shot on iPhone by Sydney Talker." The video is a DIY-style collage of Khaid, Rexxie and Zlatan dancing to the song with Sydney Talker and his host of internet comedians and their friends. For Khaid, Sydney Talker's unwavering support has been instrumental to his growth.
"He's just this one multi-talented guy," Khaid says about Sydney Talker. "[He] knows how to do almost everything so, that's kind of a plus to me because most things we'd just be like 'Oh, Let's just do it ourselves.'" Since "SKI," Sydney Talker has been in charge of visuals for Khaid's songs. "We wanted to get a video director and he was like Oh, he directs his skits and everything so why won't he be able to direct a [music] video? And we tried it and it actually came out fantastic. So everybody's grateful."
While Khaid might have harboured doubts when he released "WITH YOU," he sounds completely assured on "Jolie," which is his first single of 2023. "Jolie" treads the same path of romance as "WITH YOU" but it is Nigerian in its sonic texture with Khaid wielding Pidgin English and no American influences. He followed that up with "Carry Me Go" where he and Mavin Records' Boy Spyce made delicious Afropop melodies.
"I don't think we [Khaid and Boy Spyce] were really serious when we made that song, we were just playing around, trying to see the vibes that work," says Khaid. "While playing around, we came up with "Carry Me Go" and it was so crazy because everybody in the studio was feeling the song. When I got home, I played it for the team. I had my single already that I was supposed to release, but hearing the song, my label was like, "We have to release this ASAP." 
The confidence from "Jolie" and "Carry Me Go" is an integral part of Khaid's forthcoming EP. "On this new project, you should expect the Afrobeats Khaid," he says. He began work on the EP last year and he's excited for his fans to hear all he's been making. He also reveals that producers Signal and Finito are on the project. This month, Khaid released the Signal-produced "Anabella," another love-eyed rendition of boyhood affection. He also reveals that after his Afrobeats EP drops, he has a Trap music project coming next. 
Like Khaid, other Nigerian artists got their opportunity to fame through social media. They include Rema, Crayon, BNXN, Ayra Starr, Boy Spyce, Zinoleesky and Ruger. These artists took advantage of the internet's wide-ranging reach to cross borders and connect cultures. Khaid agrees that more up-and-coming artists should toe the same path. "I think the world has made it easier by social media," he says. "Just post as much content as you can post because anybody can see you from anywhere. As for me, I didn't know Sydney Talker would see me one day, I just knew I was posting my stuff."
A few weeks ago, Khaid's efforts were commended when he was nominated in the Rookie of the Year category for this year's Headies award alongside ODUMODUBLVCK, Bloody Civilian, Guchi, Bayanni and Eltee Skhillz. The Headies' Rookie of the Year category, since it was launched in 2012, has housed names such as Burna Boy, Teni, Reekado Banks, Oxlade and BNXN. "I felt great. I wasn't expecting it," Khaid says about his nomination. "I was just saying, 'If they notice me, I'll be happy.  If they don't, I will still be happy regardless.' So I'm just grateful to God for making me noticed."
In the period he has been with Sydney Talker's Neville Records, Khaid says the qualities he has learnt from his boss are patience and a firm belief in God. It is these positive qualities that have shaped his aspirations for his career and towards his fans. He acknowledges that the core of his fanbase is people as young as him and that he's aware the dynamics of that relationship will continue to evolve.
"First of all, [I'll] be transparent with them. I'm still trying to work on that part," he says. "I'm trying to be as transparent as I can to them and give them things to talk about. Make them see [me], make them feel [me]."
Featured image credits/NATIVE