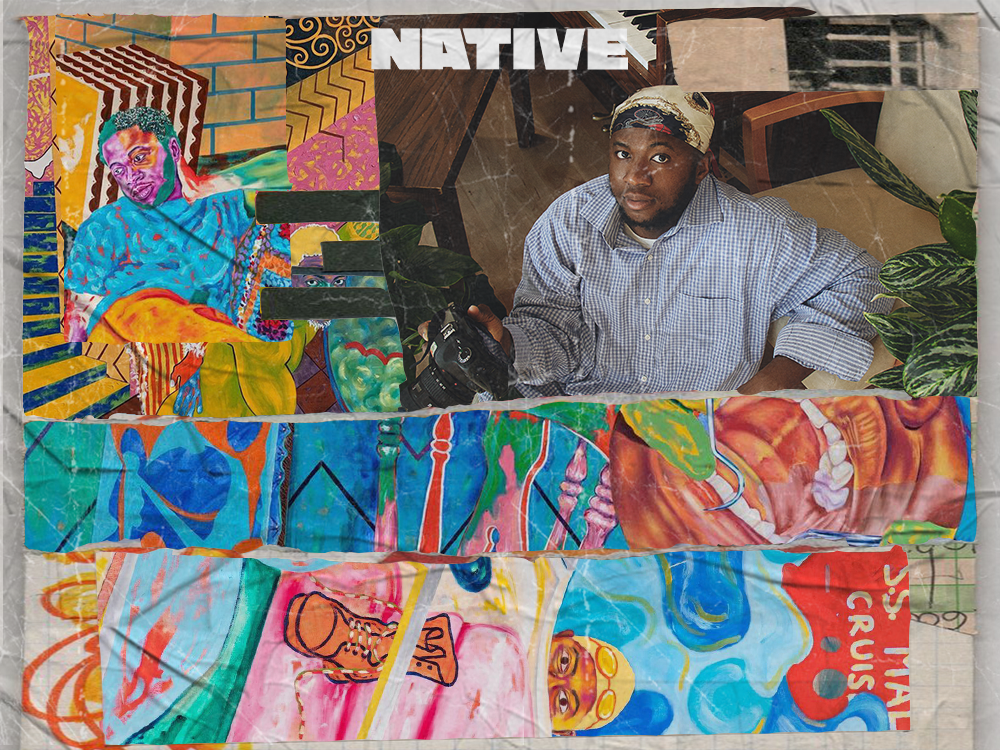 NATIVE Exclusive: How Chukwudubem Ukaigwe Is Telling Meaningful Stories With His Art
'Elegy Of The Wind' runs till October 15
"For me, painting has become a method of way finding," shares Nigerian artist Chukwudubem Ukaigwe to the NATIVE, a day after his solo exhibition, 'Elegy Of The Wind' kicks off in Lagos. As an interdisciplinary artist, curator, writer, cultural worker and founding member of the Patterns Collective, Ukaigwe sees their position in the art scene as an important one, which he does not take for granted, as he begins to lay the groundwork for a cultural renaissance.
View this post on Instagram
Growing up with horticulturists as parents, art has always been a part of his family in more ways than one. "While I was in school, I was already practising professionally, however even before school, I think it was very apparent that I was an artist," he shares, speaking about his upbringing which gave him ample space to be creative and try out different skills and hobbies. 
After initially beginning his tertiary education as an Engineering student, Ukaigwe soon decided to acquire a certification in Fine Arts. Soon, he made the change from Engineering to Fine Arts, pursuing a degree at the University of Manitoba in Canada where he graduated with a first class honours. Bolstered by this new certification, Ukaigwe was assured of his innate skills and abilities and soon began seeking out opportunities to find a path that worked for him.
"I believe painting inspires my work. Painting is really interesting for me, because I approach my paintings as writings. I don't know if that's very apparent from the way they look. For me, they are a process of thinking through ideas," Ukaigwe admits about his work which spans different mediums including ceramic work, sound, sculptures and more. Of his artistic ethos and approach, Ukaigwe admits that he has become more interested in painting the picture of an entire story, from its beginning to its inevitable end: "Another thing about my paintings is there's a nowness to [my paintings]. What that means is I don't tend to have an idea of what I'm painting before I start, a lot of things just happen while I'm painting."
(What Bigger Sea)
Ukaigwe's unconventional style of art has earned him loyal fans, from Canada to Los Angeles, and now, his home city Lagos, Nigeria where he is currently hosting his solo exhibition in collaboration with Kanbi Projects and AMG Projects. 'Elegy Of The Wind,' as the exhbition is dubbed, is Ukaigwe at his finest as he delivers an introspective enquiry into the human condition, and the economy of language with reference to its universal implication and inferences.
The works featured in the exhibition function as stand-alone essays or compositions covering a wide range of subject matter: Modernity, time, migration, consumerism, and global warming. Across these works, Ukaigwe questions mark-making through an active covering-up and revelation of layers of painting, drawing, and truths. The exhibition will runs from the 17th of September until the 15th of October. Before the exhibition draws to a close, we caught up with Ukaigwe to talk about his interdisciplinary methods, making the change from Engineering to Fine Arts, his solo exhibition and more.
Our conversation with Chukwudubem Ukaigwe follows below, and it has been lightly edited for clarity.
NATIVE: How are you and how has the exhibition been going?
Chukwudubem: It's been great. The opening was very warm, with a lots of love and people around. It was exciting and also very nourishing to show here in Lagos, because I was born and raised here. Also, I wanted for people who are like me and who I grew up with, to have access to my work for the first time. It's something that's fulfilling for me. 
Can you tell me about yourself?
My name is Chukwudubem Ukaigwe. I am an interdisciplinary artist that means I work across mediums. To be specific, I work with paintings, ceramic, sounds, sculpture and assemblage. I am also a professional writer and I run a collective of three curators. We effectuate artistic programming in collaboration with institutions like universities, artist-led centres and museums.
How did you discover your love for art? 
I think it's always been there in some ways. I had a brief Engineering background before going to school for Fine Arts. I got my Bachelors of Fine Arts and graduated with a first class honours from the University of Manitoba in Canada. While I was in school, I was already practising professionally, however even before school, I think it was very apparent that I was an artist. If I could pick a particular period, it would be the time I loved drawing as a kid. I used to draw with my friends and I think that kind of helped me. I was also an illustrative learner and would use diagrams and drawings to understand complex ideas from Chemistry and Mathematics. Before I left the country, I started practising art on the side while practising engineering as well. Then in Canada, I  switched to arts after a while. It wasn't hard for me because I was still practising professionally while I was doing engineering and I also had exhibitions and shows. Immediately I got into the Fine Arts program, I was offered a scholarship, so it felt like I had found my place. 
What was growing up like for you in terms of art and engineering?
I grew up in Lagos and it was full of so many experiences. My parents practised landscape art and were artistically inclined, even though they preferred for my siblings and I to pursue a lot of other skills. I also noticed that my brothers had artistic inclinations even though they went to school for other things. I also went to boarding school in Lagos and it's like a melting pot of culture from different places of the world.
Can you talk to me about the art you create?
I approach my practices as conversations. Depending on the medium I am trying to pursue, I approach each piece of work as a conversation that needs to be expressed. For example, when I think about a particular theme or idea, I sit down and write about it or even read a little, then I can now choose what medium to express that. My inter-disciplinary practice explores the plurality of things such as time, language, place, migration, beauty, nostalgia and more. Using semiotic dissonance, I bring faucets of everyday life to generate conceptual interconnections pertaining to global aesthetics. Recently, my work has been requested in utilising simultaneous multiplicity of media to create immersive scapes. This means that I work a lot with the community and people. I'm also interested in multiple illustrated authorships. This means I'm interested in getting friends, family and people in the community to create with me and author my work with me. A good example of this is when I commissioned my brother to record sounds from Lagos and have them play in ceramic vessels during a recent solo show in Canada.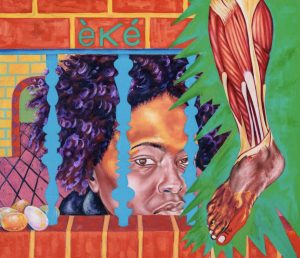 (Wishes For The Passive Aggressive)
What message are you trying to convey with your work?
Generally, I believe painting inspires my work. I approach my paintings as writings, I don't know if that's very apparent from the way they look. For me, they are a process of "thinking through" ideas. Paintings are very active in the sense that they become a medium for me to process ideas. What happens is that once they are placed in a room and they start feeding off each other, new themes and conversations might pop up. Another thing about my paintings is there's a nowness to my paintings. This means that I don't tend to have an idea of what I'm painting before I start, a lot of things just happen while I'm painting. Like every mark is an event, nothing is planned; from the sketch to the under paintings to the final work. I imagine myself as a music composer putting things together. There are things I'm leaving out, there are things I'm covering up, there are things I'm letting be. So I'm very textual and musical with the way I compose these paintings.
Let's talk about your exhibition. Why did you decide to bring your work to Lagos?
Well, I was born and raised in Lagos and the funny thing is that this exhibition is the first time my family is seeing my work as a professional artist because I've been gone since 2015. I also did it for people here in Lagos. I've been quite fortunate to have exhibitions in London, United States, Canada, artist run centres, museums, e-commercial galleries and I feel like these are places where the everyday Nigerians, people I grew up with can't really have access to my exhibitions. So I believe a show in Lagos was imminent and very important because this is the space that shaped my childhood. I don't think it's going to be my last show here, I'm going to keep on engaging the Lagos Arts community or the Lagos Arts Ecosystem.
One thing that really stood to me is the name of the exhibition, "Elegy for the Wind." Can you tell me how that came about?
Naming is another big part of my work. Sometimes, these names are comical, sometimes they are literal, and other times, they can be sarcastic and negate the actual reasons behind my work. I believe naming is an art form on its own. It's not about just making the paintings or making a show, there are particular things that are also very important. I feel the way you name the work also does something to how it is received. You can extend meaning from the way you name it. So when people see it, it can either guide them to view the work or distract them.
For this show, coming up with the name didn't just happen immediately, I was overthinking it at first. I wanted something very vague. The first name that I sat on for a while was "Willow" but it felt kind of derivative for me and I had to change it later on. 'Elegy Of The Wind' just felt like the right choice. I was reading Christopher Okigbo's poems when I came up with the name. In the poem, he had like an elegy, which means a very sober and serious poem. I thought about my show and how I wanted to approach my show as an elegy; as a serious poem.
"I was trying to say with the name that this is a serious poem and it's a very large one, very expansive like the wind."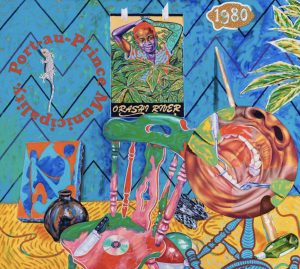 (Darn That Dream)
How did that collaboration with Kanbi Projects and AMG projects come about?
This is the first time I'm involved in such a collaboration with two institutions coming together to present my work. For me, it's a blessing to be honest. I've worked with Kanbi projects in the past and Adeola, its founder. We've booked shows primarily in London a couple of times, and he introduced the ideas of a solo exhibition in Lagos and put me in touch with AMG Projects who had interest in presenting my work. Collaboration is very important, and is also the foundation of where we are, as people. I run a collective where our whole foundation is built on the premise of collaborating with institutions. I'd love to see that happen more to be honest. [To witness] galleries from the United States collaborate with galleries from Accra, Nigeria, Scotland, wherever. This would lead to a richer and voluminous audience from all over the world. It also creates cross-national and continental relationships and we'd be able to meet new artists and create conversations that way.
What do you want your audience to take away from this exhibition?
There isn't one thing in particular that I want my audience to take away from the show. I want people to experience the show, and have conversations with themselves, and with other people as well. I feel like my show is very rich and I believe some people need time to process my work so I'm not expecting people to come to a particular conclusion immediately. I think I'm just excited and I really want people in Lagos to see, think about and engage with the work. I want people to react to the work and engage with it on their own terms, and just take it with them wherever they are.  Generally, just for the show to be a point in people's lives and for them to think through. We're in a very critical time in the country, with the elections coming up and we need to have more conversations than we usually do. We have to bring more perspectives to the fore with the way we view things.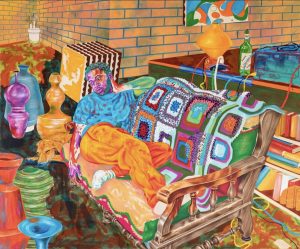 (Introspective Pause)
Featured Image Credits/NATIVE 
---