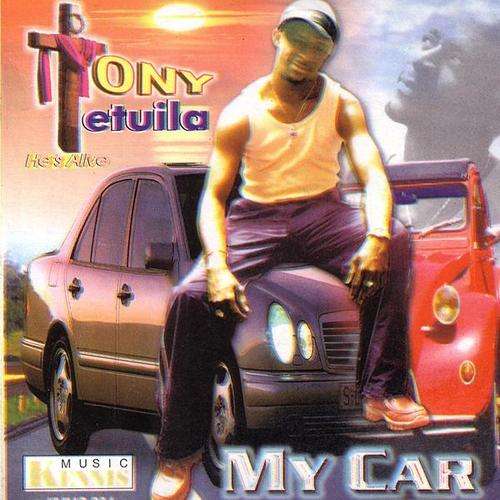 Artist: Tony Tetuila
Album: My Car
Year: 2001
Label: Kennis Music Records
Rating: 🐐 🐐 🐐 🐐
Before Tony Tetuila's debut solo album, he had been one-third of Nigeria's biggest hip-hop-inclined group at the time – The Remedies.
Established in 1997, The Remedies were made up of Eedris Abdulkareem, Eddy Montana and Tetuila. Signed to Kennis Music Records since their inception, they fit perfectly at the self-proclaimed best record label in Africa. Helmed by the legendary radio DJ Kenny Ogungbe, Kennis was the first indigenous label of the 90's to capitalise on the new wave of television programming and electronic production to build a steady audience.
The group scored their first hit with the timeless "Shakomo", a rolling ditty that combined the best of the increasingly popular American hip-hop music, drawing uncanny parallels to the Bad Boy's iconic remix of 112's "Only You". Then came the singles "Jealousy" and "Belinda", the preludes to their critically received debut album, Peace Nigeria.
Like any great boy-band fresh off success, there were calls from fans and critics alike for a solo run from the frontman. In the case of The Remedies, this was for all intents and purposes Eedris Abdulkareem. Whilst they all remained independently signed to Kennis Music, Abdulkareem's album marked the end of the group's two-year run at the top of the game. Due to Montana's close family ties to label boss Kenny Ogungbe, he was the next to be offered a chance alone in the spotlight. With his label-mates achieving contrasting levels of success, next up was Tetuila.
Tony Tetuila had no delusions going into the production of his solo album. He was the last man standing with the label due to his original contractual obligations. Kennis wanted an album as quickly as possible, but like any label, they wanted a sign that there was an audience yearning for a solo Tony Tetuila album. Enter: lead single and album title track, "My Car". Built on a heavy bass riff and thumping percussion, the former Remedies man delivered a hilariously accurate take on a motor accident in Nigeria. Tetuila's storytelling seemed to hone in on urban life in Lagos and the relatability of the tale propelled his music beyond just the nightclubs and the bars, but to the streets. It didn't hurt that the music video for the song managed to incorporate a few jabs at former labelmate Eedris Abdulkareem, and pay homage to Bola Tinubu, the Lagos state governor at the time.
"My Car" became a critical success, and most importantly for Tony and the label, a commercial success, fast-tracking the production of Tetuila's debut album. In a situation that seemed to suit both parties, Tetuila was able to stay true to his sound due to the success of the single, with Ogungbe allowing him to have creative control of the LP. Simultaneously, the label was happy to plug into the Tony Tetuila "Street Champion" brand, thus providing them good reason not to commission big-budget music videos, as it simply was not what the people wanted.
Despite being from an era when American hip-hop and its mannerisms were beginning to gradually seep into Nigerian popular culture as the marker for cool, My Car celebrates Tetuila's Yoruba heritage, with distinct strains of fuji, updated to what was then considered as contemporary sounds. His traditional instrument of choice was the talking drum, substituting its more organic, earthy sound for the more popular electronic drum arrangements that producers favoured at the time. A number of collaborators including Pastor Goody Goody, Ice K and Ruggedman helped add much-needed variety to the LP.
This album was Tony Tetuila's way to prove himself capable of sustaining a solo career. Essentially written off after the break-up of the group. My Car presented a way to catapult himself back into the limelight. And most importantly, he was calling the shots for once. In Remedies, the label heads had always deferred to Eedris Abdulkareem and allowed him steer the group's music. Going solo allowed Tetuila the opportunity to tell the kind of stories that mattered to him, often specific in scope yet somehow universal in sentiment. My Car saw Tetuila narrate the most ordinary of uniquely Nigerian experiences, a style of songwriting that had previously been reserved exclusively to niche genres like Fuji and Highlife. It showed record labels and artists that it was possible for artists to rise from the ashes of a group and go it alone, simply by being themselves.
Humour can be such an effective tool in music, but over the years, artists in every genre have utilised it very differently. Eminem's infamous opening lines of his career, "Hi kids, do you like violence?" foretold the story of an artist who would use humour to temper his darker world. In Nigeria, humour was introduced to Afro-Pop music as a necessity in the late 20th century: it was the only way to make the increasingly hip-hop inclined songs accessible to the public. These days, humour is pretty much embedded in the troll-like culture of millennial online interaction. In music, you hear it in Falz's "Brother Taju" schtick, Mr Eazi's deadpan sarcasm and many others. With My Car, Tetuila became one of the first artists to truly incorporate humour and tongue-in-cheek social commentary into his music videos. It was an approach to music video storytelling that Eedris Abdulkareem would capitalise on a year later with his "Mr Lecturer" visual series that swept the nation into a frenzy, and started a revolution against the sexual harassment of students in Nigerian schools.
The formlessness of Afro-Pop has robbed the sound of a tangible history, leaving us with a murky timeline of singles and albums, marked by shifts and turns in songwriting and composition. My Car is not a genre-defining album, nor is it a perfect musical masterpiece. But what makes the album resonate so much is the honesty and transparency behind it all – and this is what makes it an essential album to truly understand where Nigerian music is now. The satirical social commentary displayed in the title track can be seen replicated in the hits of today, such as D-O's "Chop Elbow". The pseudo-love song "Only You", sees Tetuila try and convince his girl that he's ready to be serious with her — a narrative all too familiar in the current crop of dance-floor fillers. It's taken 17 years, but the seed Tetuila planted has grown into a whole generation of artists happy to be themselves. For that alone, he's a legend.
'01 In the news:
Religious riots in Jos claim 1,000 lives over the course of 10 days.
Mexican drug lord and the head of the Sinaloa cartel Joaquín "El Chapo" Guzmán escapes from Puente Grande prison.
2,977 victims are killed in the September 11 attacks at the World Trade Centre in New York.
Apple releases the first ever iPod
'01 in Albums:
The Blueprint – Jay-Z
Lagos Tunnel – Damask
Pain Is Love – Ja Rule
8701 – Usher
Survivor – Destiny's Child
Stream Tony Tetuila's My Car via Apple Music