It's been a long road to get here but the wait is finally over. In just a few hours, Ghanaian-American singer Amaarae is set to roll out her full-length debut LP 'The Angel You Don't Know' via Platoon and we couldn't be more excited. Coming three years after the release of her EP 'Passionfruit Summers', her debut project has already been teased as 'afro-fusion that's more upbeat and fuller-bodied than her previous effort', but still retaining the hallmarks of sonic experimentation she's become known for with each new release.
From the well-charting solo singles "Leave Me Alone" and "Fancy" released ahead of the project, anticipation is rife for the debut as we're all wondering which side of the neo-soul princess, we will be getting with the new release. With the 14-track piece boasting of appearances from Cruel Santino, Odunsi The Engine, CKay, and Ghanaian singer Moliy, as well as long-time collaborators like Rvdical the Kid, there's certainly a lot to look forward to. Ahead of its release, we did you the courtesy of compiling a short guide on what to expect from the album tomorrow.
Here's everything you need to know about 'The Angel You Don't Know'.
View this post on Instagram
1. She's taking us to church
"At its core, this project is my form of gospel. I'm on a quest to evangelise the people. If you weren't an Amaarae believer before. You have no choice now."
Ahead of her project release, Amaarae shared with the NATIVE that 'The Angel You Don't Know' is her form of gospel and she was on a mission to convert everyone who listened to the project to the church of Amaarae. We know she doesn't literally mean converting us to a church but this is a pretty big statement that gives us high hopes for the type of music we're about to receive from the singer.
Her music has previously featured touches of gentle organ patterns and vibrant percussive instruments that perfectly couch her breathy soprano voice. Sonically, this project will be a progression on what she's been doing on her singles and features in the last two years. This instantly brings to mind "Fluid", a euphoric cut on her 2017 EP 'Passionfruit Summers' which was defined by sexual confidence and self-assurance. Just going by the song titles, we won't be too surprised if numbers like "Fantasy" and "3AM" offer some of this cocktail of sex-positivity over neo-soul ready strings.
2. There will be some dark songs.
In a recent interview with Pitchfork, Amaarae was quoted saying, "Left up to me, the album might have sounded much darker—I did a lot of really dark, dark, dark songs". The singer also revealed that the album's direction later changed when she consulted producers and songwriters like KZ and Maesu who helped her give a more well-rounded view of her sonic world. Judging from song titles like "Hellz Angel", "Dazed and Abused in Beverly Hills" and the oxymoronic KZ-assisted number "Party Sad Face", we would say there's still a bit of darkness left in there to work out what's got our favourite neo-soul princess ready to shed her bubble-gum pop label and get a bit more personal.
We've already seen bits of Amaarae's dark thoughts for a while now. Last year, her single "Like It" was one of her first introductions into the flip side of her mind. In the accompanying video, we saw a younger Amaarae saunter into a mysterious building where androgynous men, sexy strippers, sad clowns, and midgets in cabaret masks, all come out to play. A year later, the bewitchingly vibrant Gianluigi Carella-directed video for "Leave Me Alone" took us on another mysterious psychedelic journey as she tried to escape the real world for the "nightmare" in her mind. It is clear that Amaarae has no problem shocking us.
"I'm evolving and evolution very often is going to be filled with risk-taking and full of adventure and might get uncomfortable sometimes but I want people to be okay with being uncomfortable."
3. Something old, something new
There are lots of signs that suggest Amaarae is meshing old and new to create her debut LP 'The Angel You Don't Know'. For one, she's linked up with some old collaborators such as Cruel Santino who makes an appearance on "Jumping Ship" with Kojey Radical. A title that sounds just as energetic as last year's "Rapid Fire" where the two first worked together. She's also long-time producer Rvdical the Kid who she's been working with since her introduction to the music scene. The pair have worked together on numbers such as "Like It", "Spend Some Time", "NASA" and more, and are set to work on 6 new songs on the forthcoming project.
In terms of something new, there's a ton of new names on the project that we're just dying to hear. We have so many questions about the collaborations we're already seeing. Like how exactly does an Odunsi the Engine and Amaarae track sound? Who's Moliy and why have we never heard of her before this? And how exactly did we miss the chance to feature on the album's outro which is said to be written by 'Amaarae and fans'? We can barely conceal our excitement and we know that in just a few hours, most of these questions will be answered.
4. The album is for bad bitches
My album is basically non stop affirmations and incantations 4 bad bitches

— at0mic angel (@amaarae) October 29, 2020
Finally! An album made exclusively for the bad bitches. Amaarae promises that this will be full of endless affirmations and incantations for the ladies who know they're the shit (and then some). Now I don't know about you but when I think of bad bitches, I think of women like Megan thee Stallion and her legendary hotties who turned being a hot girl into an ultimate state of mind. Amaarae has been vocal about how she's inspired by rappers from the South whose cadence and flow she emulated on her recent single "Fancy", a no-holds-barred anthem that speaks to her masterful grasp of stunting on the competition. With songs like 'Trust Fund Baby", we have no doubts that she will deliver something unique and quirky enough to feature as the next caption under numerous Instagram posts.
5. This might be the album cover of the year
Album covers are pretty indicative of what to expect from a new album and it suffices to say that Amaarae's album cover is one of the sickest we've seen this year. A vibrant myraid of shapes, colours, hues and symbols, the album cover was creatively designed and illustrated by two African women, Toyosi (SameFlesh) and Nana Nyahan. Taking a closer look at the cover's art direction, you'll immediately notice certain things; like the nude women at the album's edge creating a formidable circle that hoists up another woman. We could be wrong but this may be symbolic of the invaluable contribution of women to the world (or at least to Amaarae's world).
Amaarae has always been vocal about the relationship she shares with the women in her family and how they are the backbone to her personhood, so we won't be surprised if she's making parallels with the all-round power and efficacy of African women. You'll also notice a monster perched at the side of the album cover, with more eyes than you can count, looking down at the scene below. Whatever its placement in the cover could mean, we're betting it links back to the darkness Amaarae mentioned would be couched within the project.
Let's Have It!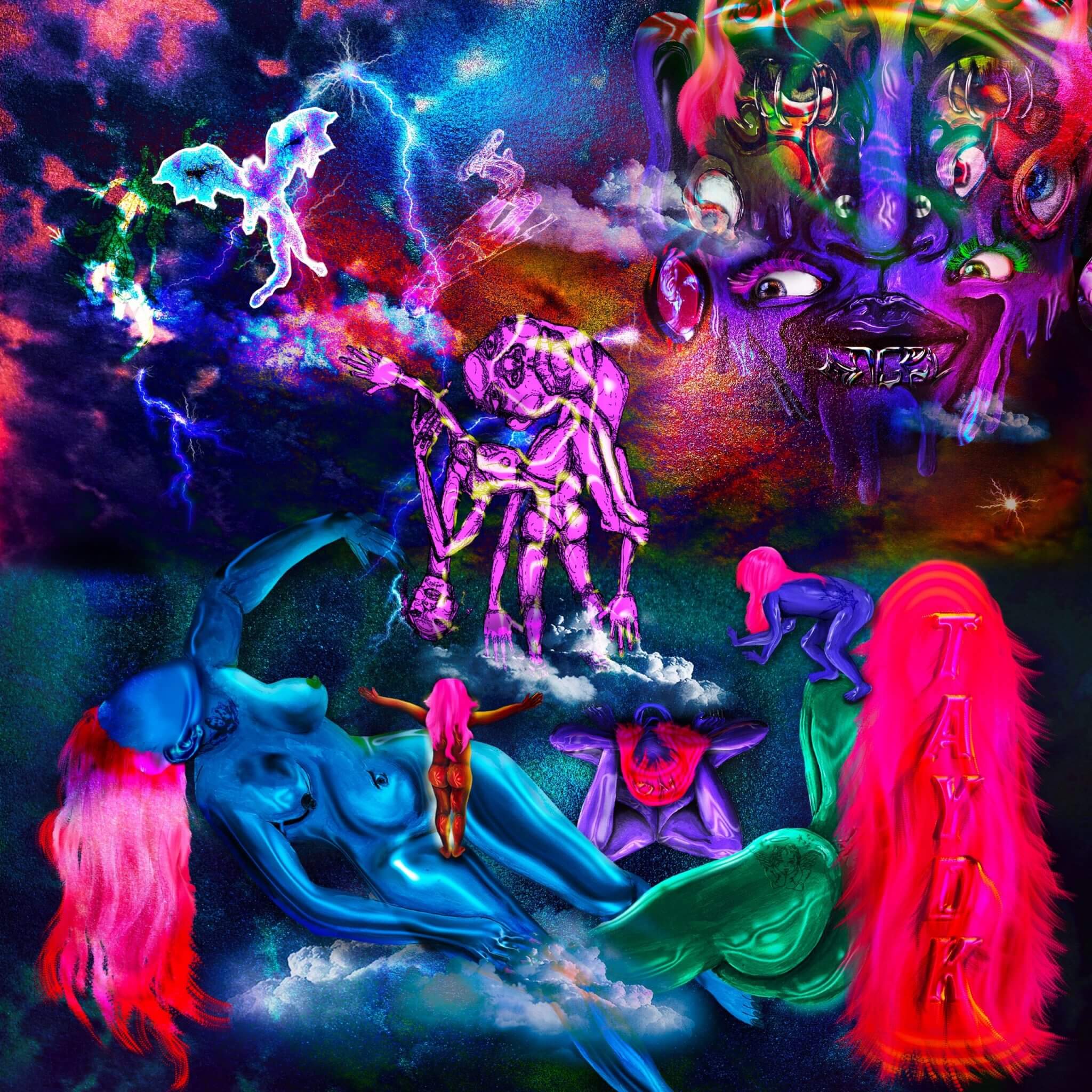 Featured image credits/YussifAlJabaar
---
.@tamimak_ Is a Staff Writer at The NATIVE
---