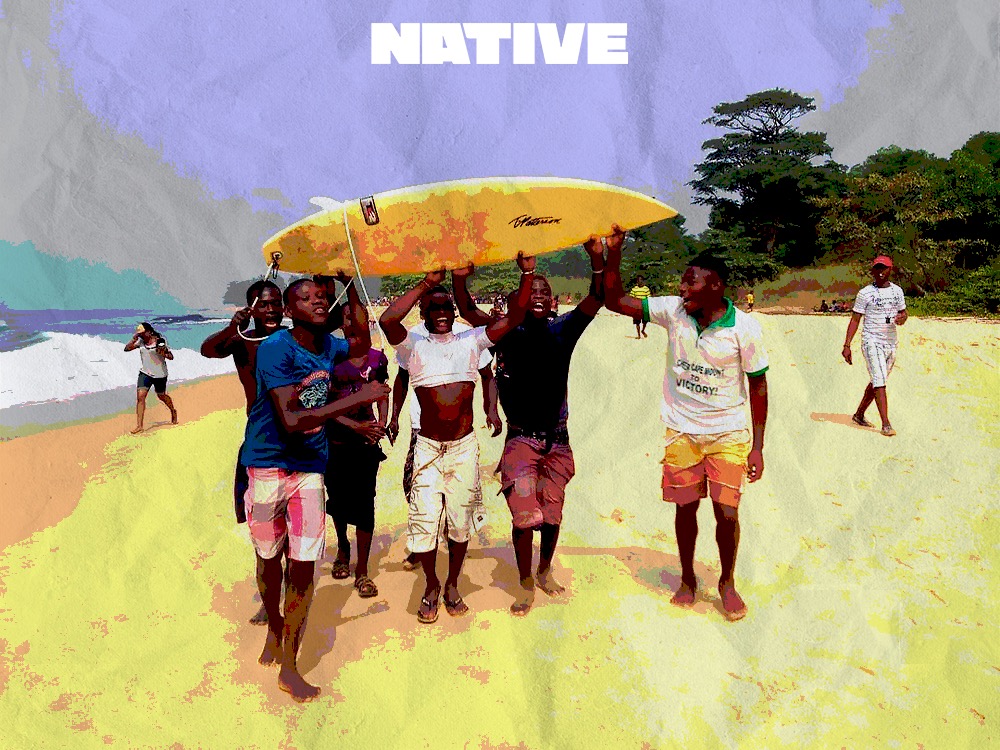 This Town In Liberia Is Sparking A Tourism Renaissance Through Its Surfing Community
"I love surfing because it's sweet."
Dounard Bondo is a writer based in Liberia. His writing usually covers politics, policies, human rights and entertainment in Africa. Dounard has bylines in BBC, Euronews, Quartz, and others. He also writes short stories.
---
It's 5pm on a cool Saturday evening in Robertsport, Liberia, a serene coastal town in the country known for its pristine beaches and crashing waves. Cyrus, 15, a young local surfer in the area has been swimming in the water since without taking any breaks. "I love surfing because it's sweet," he shares with the NATIVE when he finally emerges. "I like being in the water and on the waves, it can make me feel good. I just learnt how to surf last year, but I will become the best surfer."
Known for its good waves, sandy white beaches, serene landscape and wonderful people, Robertsport has become a home for Cyrus and many other local surfers in the area, who have settled in search of new means. Robertsport, which is a three hours' drive from Monrovia, Liberia's capital city, has blossomed into the prime surfing destination in the country that attracts both local and international tourists.
While Robertsport now boasts of trained and skilled surfers, its history with the water sport dates back to the early 2000's when expatriates visiting the country introduced the sport, after the end of the country's 12-year civil war. Since then, interest for the aquatic sport has grown exponentially and has seen the emergence of more surfers who dominate the sport locally. According to those in Robertsport, the number of confirmed surfers has grown from 60 surfers in 2013 to over 200 surfers in 2022.
View this post on Instagram
A new surfing ecosystem.
Surfing and surf tourism has seen the birth of a budding business ecosystem. Originally, Robertsport paled in comparison to bigger cities such as Monrovia when it came to tourism and tourist investment in the early 2000's. However, the times began changing when a new community of surfers found their home along the beach front. Now the coastal town is racking in travellers from around the world largely due to the growth of surfing in the area.
For Momo Kiazolu, an employee of Nana's Lodge, a popular beachfront guesthouse in Robertsport, surfing is the key factor in bringing customers to their business. "Surfing has great impact on Nana's lodge. Our customers are usually surfers and tourists who come to Nana's lodge because of the surfing. Even if they just come to watch on the beach and not spend the night, they still patronise us by buying from the bar," he shares with the NATIVE.
As a result of this, local business makers in Robertsport are witnessing an uptick in their business sales. This is reiterated by Ma Martha, a local trader whose fresh catch routinely attracts customers from far and wide. "Plenty people come to watch the children surfing in the water. When they are leaving, they buy goods from us because it is cheaper here than in Monrovia. The surfing helps us get more customers," she says.
A community-centred programme.
What was once a local attraction has now evolved into a community-shared effort. Leading the charge are local surf organisations such as the Robertsport Surf Club, which is witnessing significant impact in the Robertsport community by promoting education and skills development among surfers.
Through the Robertsport Surf Club, a community has been formed which deeply cares for the safety and maintenance of the local beaches, as surfers are known to organise cleaning outreaches and programmes that preserve the community. Additionally, the surf club organises surfing competitions with cash prizes and eye-catching offers, as well as provides scholarships for five young surfers at the primary school level of education.
View this post on Instagram
In addition, Robertsport Surf Club is also concerned with the mental wellbeing of its players. The surf club runs "surf therapy program" that brings together young surfers in a safe space, teaching them values of love, community and leadership through activities which include surfing and meditation. Speaking on the surf therapy program, Prince Kanneh who is himself a senior surfer and tutor says "I like the program because we teach the kids to do away with pride or causing troubles, so they learn from us. Apart from the kids, the program has also helped me to be a better person because I have to live what I am teaching them."
Ma Martha, who provides food to guests in the market and whose son is also a surfer agrees with this statement. She shares "My child is a surfer, by the time he comes back from school, he will eat, do his assignment and go straight to the beach. He would not come back till 6 in the evening. And by that time, he is too tired to get into any problem or to be on the streets causing trouble."
Now, Robertsport Surf Club is expanding its reach by providing shelter for local surfers. In collaboration with Universal Outreach Foundation (UOF) – a humanitarian organisation that works with the surfers, the club has built a surf house, located right by the fisherman's break on the beach, and now has plans to expand their programmes.
These local strides are not going unnoticed by the Liberian government. Recently, surfing has also brought the attention of the government who plan to invest as a way to boost tourism in the country. In July this year, the government announced plans to implement part of its Tourism Development Project in Robertsport. When implemented, the project seeks to develop tourist reception facilities at the Robertsport beach-front and develop a tourism marketing strategy, focusing on Robertsport as a surf tourism destination.
View this post on Instagram
Current challenges.
Despite its present impact on the town, surfing in Robertsport is not without its challenges. While it's no secret that there are no certainties in surfing, a sport dependent on the whims of the ocean, there is also a dearth of funding for local surfers and organisations, For self-employed workers like Prince Kanneh who tutors young surfers, the challenges are endless. "It's not easy to be surfer, it takes your time and energy. And there is no pay, even though most of us we are self-employed", he shares with the NATIVE. "You go to surf sometimes and there is no food and water, but we keep going because we love the sport. I am a fisherman, when there is no wave, I go in my canoe to fish. But one day, I would make it and money would come." he adds.
Access to surfing gear is also a mounting challenge. Local surfers in the area detail challenges with their access to good and reliable surf boards, as surfers largely depend on donations to get boards. Liberia's low average disposable income also means that people simply aren't spending their extra money on surfing gear as 2021 world bank data states that Liberia's Gross national income per capita stands at 620 USD.
According to Kent Bubbs, the director of Universal Outreach Foundation (UOF), the durability of these surf boards means they have to be replaced frequently. He shares "We partnered with an organisation called Provide The Slide. While they have been amazing with providing surf boards, like all things, surfboards can break, so boards have remained a challenge."
View this post on Instagram
To address this, the Robertsport surf club is rolling out programmes which will help create income for surfers. Currently, the surf club has built a restaurant which will employ local surfers in the area and those from low-income backgrounds. The club also plans to roll out tourism packages which will involve all-inclusive deals on camping, surf lessons and board repair. Even these ongoing efforts are not enough, the surf club has also bought a canoe which can be leased for fishing or for tourists who want to go sightseeing.
However, Bubbs states that some of the challenges would be overcome by more government action. "Surf tourism is not as supported by the government. The country still doesn't have visa on arrival. These are challenges on the tourism level. Visa on arrival is probably the biggest challenge because it is difficult to get here."
Despite these obstacles, for many surfers like Cyrus, surfing has also become an avenue to chase their dreams beyond the shores of Robertsport. "I am focusing on winning the upcoming competition so I can get the money. I also want them to recognise me as a top surfer. After that, I want to be president or a senator when I get big. I will make it, and I will come back and help all the surfers and all the people in Robertsport," he says.
For now, though, life in Robertsport centres on this beautiful game which has brought a new lease of life to the coastal town.
You can donate to the Robertsport Surf Club here.
Featured image credits/