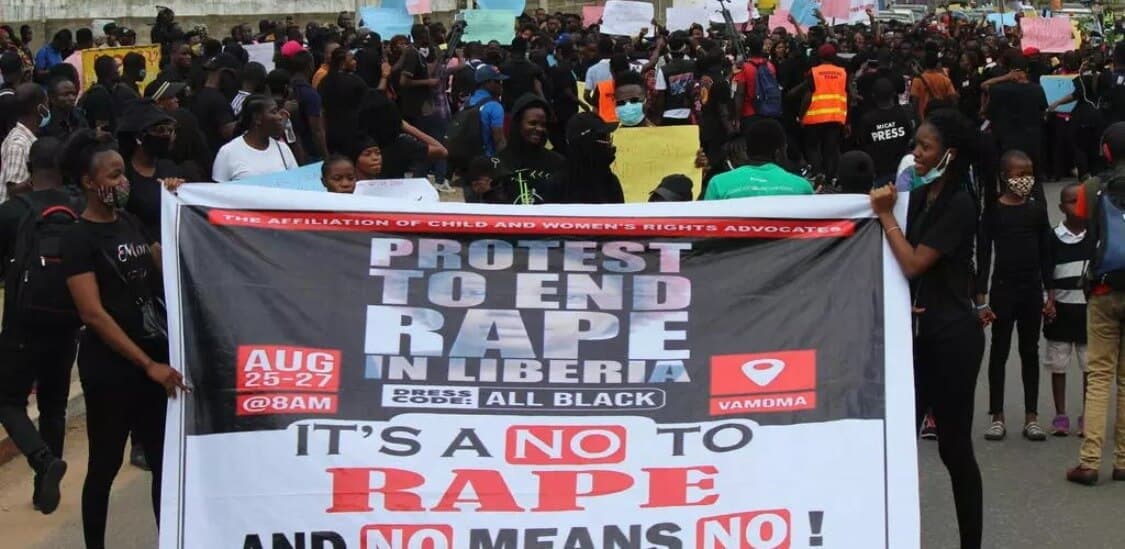 Liberia declares national emergency as the country records spike in rape cases
Liberia is fighting a rape epidemic
TW: This post contains details of sex and gender-based violence against women.
---
Africa is bleeding. Many nations across the continent are reportedly expressing bouts of revolt against injustices, as citizens demand better governance and accountability from their democratically elected leaders. While Nigeria battles decades-long negligence, which has fuelled police brutality on its citizens, reports from Congo unearth a silent holocaust that is wiping out millions, Ivory Coast and Ghana are both dealing with the alarming rise of sex trafficking cases and Namibian women are out on the streets determined to #ShutItAllDown in order to avenge their fallen sisters who have died as a result of sexual violence.
It seems that all around us, the general mood of the world seems to have shifted. People, particularly the dominant youth generation are no longer turning a blind eye to the many injustices that we currently face in today's world. And this seems to be reflected across various people and countries, including Liberia where rape has now been declared a matter of national emergency after seeing huge spikes in the number of reported cases this year.
View this post on Instagram
In August, the city of Monrovia was rocked when thousands of Liberian citizens took to the streets to protest the alarming rise in the rates of rape and sexual assault in the country. The protests which were termed a March for Justice kicked off following the tragic news of a 19-year-old boy in rural Liberia allegedly used a razor blade to mutilate the genitals of a 3-year-old girl, which he reportedly thought would enable him to rape her more easily.
Women and allies came out in numbers to protest this case and the cases of several other women who have lost their lives since the government-mandated lockdowns to prevent the coronavirus began. The director of Liberia's Women Empowerment Network, Margaret Taylor, said last month that her NGO had recorded 600 cases of rape between the months of June and August. These figures represent a 60% increase in the number of reported cases in the country from statistics collated earlier in the year.
The protesters demanded a decentralised system for handling rape cases, stricter capital punishment for those prosecuted on counts of rape and sexual assault, and the building of safe houses to accommodate survivors of rape and other SGBV cases across the country. After protesting and being tear-gassed by police, the president of Liberia, George Weah finally responded to the peaceful demonstrators and honoured some of their demands from the government. In a statement, Weah said that the country was "witnessing what is actually an epidemic of rape within the pandemic, affecting mostly children and young girls across the country."
Additionally, Weah said he would install a special prosecutor for rape in Liberia, as well as set up a national sex offender registry. Also, the government will also establish a "national security task force" to deal with matters relating to sexual- and gender-based violence. At the moment, it is yet to be ascertained whether any of these measures have been put in place to protect women and young girls but Weah's administration says it is committed to riding the country of rape by 2022-23.
The fight against sexual and gender-based violence starts with recognizing it is a threat to our collective humanity.

I commend the government of Liberia for declaring rape as a National Emergency. This national strategy to combat rape must be inclusive of all and everyone.

— Leymah Gbowee (@LeymahRGbowee) September 12, 2020
Featured Image Credits/AllAfrica
---
Tweet Me Your Experiences At #EndSARS Protests Around The Country @tamimak_
---