Words: Adewojumi Aderemi
Photography: Omofolarin Omolayole
It's a breezy Sunday evening in Lagos, and the entire audience at African Arts Foundation is enchanted. We are gathered at the request of Femme: a by women, for women concert series, aimed to shine a spotlight on the unbelievable female talent in the country. As the four artists picked for this edition slalomed through their sets, I spot a familiar face in the audience. Somadina Onuoha – fresh off touring with Odunsi The Engine on his UK tour – is front and centre, cheering on her friends and fellow artists.
Somadina has been a feminist advocate for longer than she can recall. Working in a space where women are often pitted as competitors, Somadina uses every opportunity she can to deconstruct the idea that her fellow female musicians are her rivals. In fact, this 19-year old newcomer has professionally enveloped herself with female creativity, surrounding herself with a band of girls almost as dedicated to their relentless support of each other as they are to dominating their respective fields.
For Somadina, this field is music — singing and songwriting — which she has thus far channelled into two commendable singles: "IHY" and "Lay Low". Both distinctly pop records, "IHY" in particular is a telling glimpse into he artist and writer that she is. It's one of those songs that you swear you've heard before – but you haven't. An ear-worm that could have been constructed right in the middle of those major label writing camps in California. A song that would sound right at home on the top 40 charts. One of those brilliant pop songs that you can bop along to if you're not paying attention, or sing at the top of your lungs if you're having one of those days. The music isn't coming from a ray of light, but rather a tunnel of torment.
"I don't want to say I'm good friends with pain, but I've been through a lot of things in my life that I really hope other people don't have to go through," Somadina tells me, oddly expressionless considering the dark admission she just evoked. I failed to react outwardly, but in her next few words Somadina would explain to me her placid demure:
"And music has helped me in a lot of ways… I think my music speaks to everyone and anyone who can relate to pain, [but] it also speaks to me – that's the most important thing."
So, as much as Somadina makes music for pretty much everybody, she would never wish for you to relate – it is simply unfortunate that we do. Somadina's music is a medium by which she may channel her emotions, permitting her some form of control over how she feels; when I suggest the adjective "therapeutic" she incessantly repeats that I've hit the nail on the head. Somadina's songs are for Somadina's mind, and yes it is unfortunate that we can relate, it is also a gift to have her candid words — deliberately watered down by KD's upbeat production — to comfort us through our grievous times.
Grief. This is the emotion which Somadina hopes to explicate in her first body of work, titled Five Stages, a contemplative reflection on the five stages of grief. Somadina has always been certain she would explore these five concepts on a body of work, but it wasn't until she shared a flat with a grieving room mate in her first year at university, who had just lost her father, that she decided now would be the time to begin. Reminded of her erratic post-break-up behaviour, Somadina came to the realisation that mourning the loss of someone, no matter the scale, always leads its victims through the five stages of grief. It is with this amplified understanding of loss and hurt that Somadina finally embarks on her long-imagined dream of vocally illustrating the different phases we've all endured in mourning.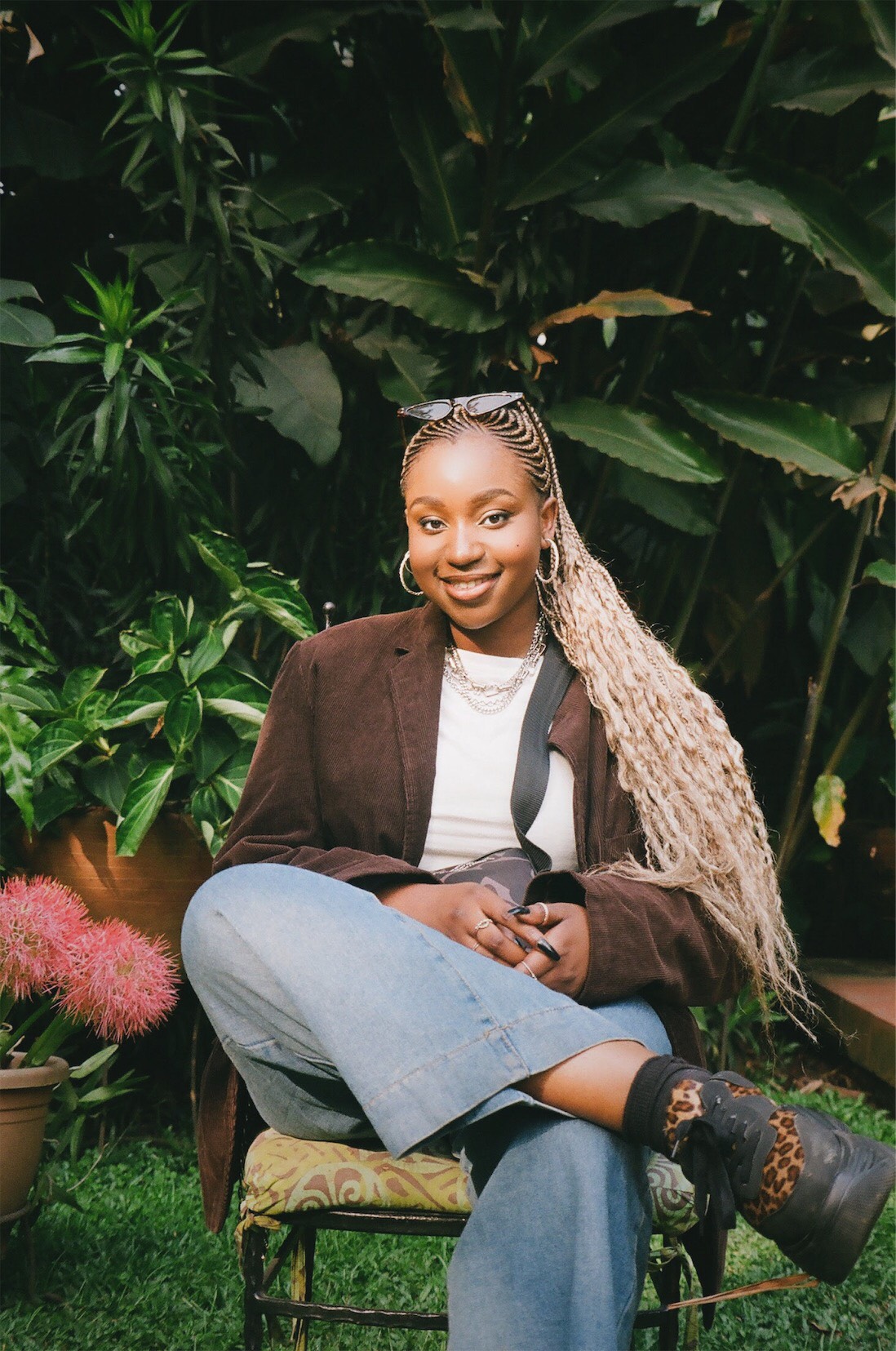 So far, Five Stages is two songs deep and holds a tenuous release date, "by the end of this year," she says but, with a Sociology degree to balance alongside her fast-rising career in music, setting rigid schedules seems almost futile.
Succeeding in music whilst excelling academically is an incredibly difficult feat, but Somadina is determined to master it – she has been, even since before she arrived at the  distinctly uni-town of Coventry. When selecting institutions for higher education, Somadina carefully considered which locations would afford her quick trips to-and-from London, landing in Warwick, a mere hour and a half from the vibrant capital city.
Somadina Onuoha is equally as prepared for the leap in intellectual exertion that she has been warned will ensue during her second and third years of university. She tells me she has returned to Lagos for a working holiday, recording as much music as she can now, so that she has releases ready for the future, thereby easing the workload she has to juggle during her final two years of higher education.
"[In] my second year and my third year I'm going to obviously focus more on school itself, because, as much as I want to do music, I still want to get a degree – that's something I've always wanted for myself."
"Music obviously is not the [sole] priority at this point." A statement that surprises me due to the brutal honesty, but is very much in line with the self-assuredness she carriers herself with. As my inquiry into Nigerian music (that sits outside the mainstream) has deepened, so have the roots Somadina's cherubic voice have planted – her name has become almost inescapable. Boasting such initial attention, even when the music is second in seniority, one can only imagine the popularity Somadina will face once she leaves university and fully commits to her creative craft. But for now, Somadina is willingly walks the path of the conventional, as has been the case throughout her life.
Born in Port Harcourt, Somadina was raised in the Netherlands for the first 9 years of her life. Between her Russian piano teacher and her music-loving father, who would inundate his children with gospel music throughout their childhood weekends, Somadina returned to Nigeria with a musical inclination far beyond the typical commercial intrigue. At thirteen, she became a fully fledged performer, captivating the audience at her mum's 40th birthday, doing the same two years later at Lagos' Muson Centre, to a crowd so receptive that Somadina, then and there, decided to embrace her destiny as a professional vocalist.
Four years later, she has amassed an impressive catalogue of live performances, most notably opening for Davido, in her birth-city – an accomplishment that seems particularly proud of.  For an artist with such a sparse discography, Somadina has attained remarkable triumphs, that have understandably ridded her of any doubt in her mind or her heart that "the music is going to work out".
Both in England and in Nigeria, Somadina has plans to conquer the charts – and she is certain she will fulfil those dreams. She's got the voice, sincerity in her lyrics, an authentic sound and allure in how she presents herself. But upon the conclusion of our first meet, as Somadina amicably hugs me goodbye and thanks me profusely for *doing my job*, I'm left in awe at a young lady with her feet firmly planted on the ground. Despite her increasing popularity and the attention that brings, she is still on her mission. She is still driving down her path, at her own pace. And she's still only 19.
Somadina's tribe of cheerleaders has grown one woman stronger.