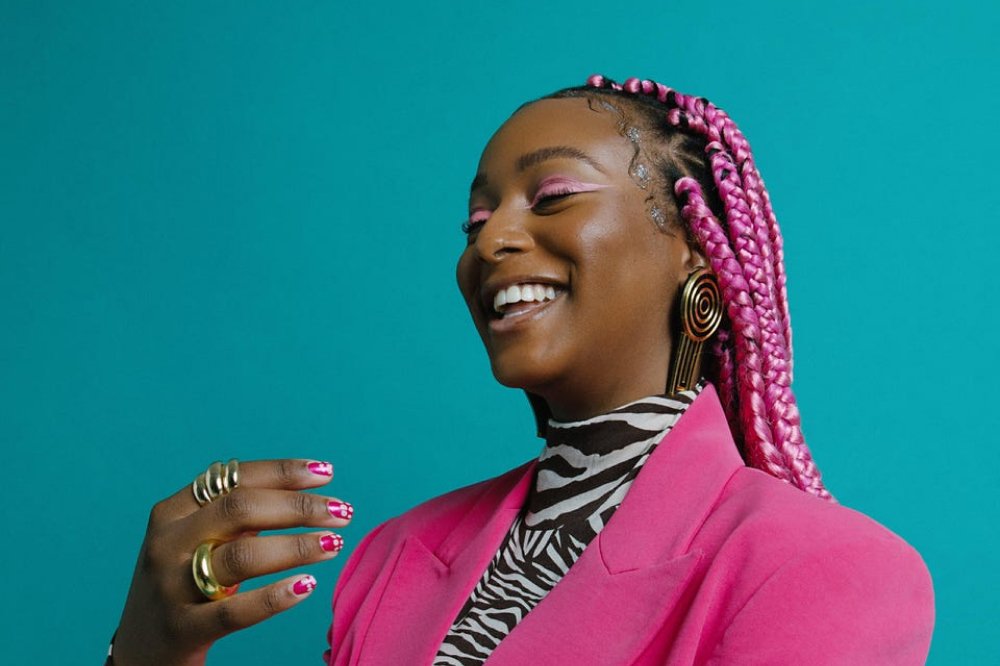 NATIVE Exclusive: Cuppy Is Always Getting Better
a win for Cuppy
'
You were born in this world an original so don't die as a copy.
'
It's a busy evening for Cuppy. Following the highly anticipated release of her debut album, Original Copy, she's been slammed with back to back time-consuming engagements all day, and this interview is right at the tail of her itinerary. "Don't worry I'm gonna give you guys all the tea," she assures me, comfortably settling into her hotel bed in Italy. She's everything you'd imagine her to be: bubbly, high energy, and casually weaving in a witty joke into every other sentence while sporting a cropped braided version of her signature fuchsia pink hair. "I guess I'm just a product of my environment", she says, speaking on her sonic influences and musical journey. 
From the moment Cuppy stepped onto the scene as the newest female DJ in town back in 2013, it was obvious that she was one of a kind. Her unique sound, for one, was a fusion of Electro House and Afrobeats; an unorthodox blend not many mainstream DJs dared venture into, at the time. The sound, which she later coined as 'Neo-Afrobeats', was one she carried everywhere with her – along with her signature bedazzled Beats by Dre headphones. These days she goes by her nickname, the 'Princess of Afrobeats', and with good reason. As a renowned DJ, she's played at countless events around the world, bringing her own slice of Africa everywhere she goes. She's on a mission to not only share what Africa has to offer with the world but hopefully open up the world more to Africa.
View this post on Instagram
Comparing her debut Electro House 2013 single, "I Love My Country" with her latest, Rema and Rayvanny assisted, Afropop smash hit, "Jollof on the Jet", the disparity is crystal clear. Prior to the release of "I Love My Country", Cuppy had been living in London, playing and listening to strictly House music. By 2017, she had moved back to Nigeria and begun getting into Afropop, taking time to understand which elements of the genre she loved, and slowly incorporating them into her sonic palette in a bid to refine her own sound. Her steady journey of musical evolution culminates into 'Original Copy'; the 12-tracker filled with a star-studded guest list that scans the breadth of the continent, making a compelling case for her growing artistry and position as a longtime Pan-African tastemaker. 
From an early age, music was a big part of Cuppy's life. Born Florence Ifeoluwa Otedola, Cuppy grew up in Lagos, the largest city and cultural hub of Nigeria, where the foundations for her love for music were established. Her earliest memories of music lie in the lengthy car rides from Ikeja to Victoria Island with her dad, listening to Fela Kuti. "I didn't really understand what was being said, but I just had that connection. And obviously, there's a lot of traffic so you end up listening to the albums over and over again," she vividly recalls. Moving to London at age 13 for school, she became exposed to the thriving nightlife of The Swinging City. 
"I remember being 13 years old and just roaming around London and just falling in love with the music. Back then it was mainly house music in London, it wasn't as urban as it is now" 
It was this exposure that instilled a deeper love for music and prompted her to pursue a career as a DJ. "I loved going out so I always wanted to do music but I didn't know exactly how," she reminisces, gently tucking a stray braid behind her ear. "I remember going out and discovering that music was everywhere but then there was this power that DJs had and I became properly obsessed with it. I thought wow, you know, I'd found something that incorporates my love for music but also is really sociable," Cuppy tells me, revealing how her love for music manifested a desire to express it in any way possible – her career as a DJ was simply a by-product of that. 
Cuppy has had a very successful career as a DJ. From playing at the 2014 Financial Times Summit in Mexico City to being named as the resident DJ at the MTV Africa Music Awards in the same year, she has a slew of high-profile performances neatly tucked under her belt. Nevertheless, with time, she began yearning for more. "I was so comfortable playing my own music as a DJ, I never really wanted to do more than that. But I also wanted to become a bigger DJ, and I noticed all the DJs – from Jimmy Jatt to Exclusive, to Spinall to Neptune – everyone actually had their own songs with artistes," she explains, narrating the genesis of her career as a recording artist. "It all started with Tekno," she adds. The Afropop certified hit-maker and producer was someone she had always dreamed of working with, so she reached out and the result was "Green Light", the rhythmic, dance-inducing number that ruled the streets in 2017. 
Unlike most artist-DJ collaborations at the time, "Green Light" had Cuppy laying down her own vocals alongside Tekno's, which she continued to do in subsequent releases. With time, Cuppy began experimenting and trying her hand at different genres and styles of African music, collaborating with renowned artists and producers like Sarkodie for the sensual "Vybe", Masterkraft on the GQOM-inspired "Charged Up", and Zlatan on the dance number "Gelato". As expected, every stage of her experimentation welcomed raised eyebrows as many doubted her actual sonic abilities and cited her DJ career as the full extent of her talents. But such doubt didn't stop Cuppy, she knew it was all part of the process and in due time, the haters would become believers. 
"With the album, I was just me, I didn't overthink it. Just enjoyed myself, had fun and talked about how I felt. Literally just did my thing. I think that reflected," she tells me of the making of 'Original Copy'. The 12-pack, feature-heavy offering hosts an impressive all-star roster and exudes a level of quality that was unexpected to many, including the artists that turned her down. '" know I owe you major tea so I'm gonna give it to you," she says propping up on her bed. "So I wanted to work with Mr. Eazi, he didn't like the record I sent him. Wanted to work with Tekno, he said he was working on his upcoming album. Wanted to work with Niniola, actually, we did a record together, but she decided she just wanted to be a writer, she didn't wanna be on it. Wanted to work with Yemi Alade, but she just couldn't make it to the studio in time. Wanted to work with WurlD, he didn't like the record I sent him. Wanted to work with Santi, he went ghost on me. Wanted to work with Tems, she didn't check her dm in time. I mean the list could go on. So I really want people to understand that I'm really proud of what I've achieved, but it wasn't my initial vision." Nevertheless, she sees the rejections and indirect 'no's' as a blessing in disguise. "Yeah a lot of doors closed but a lot of doors also opened," she adds; "Some of the artists you hear are not my first choice but now looking at it, I couldn't have had a better choice."  
'Original Copy''s release was a pleasant surprise to everyone and a shocker to doubters ready to relish in an 'i-told-you-so' moment. "I'm so glad people underestimate me so I can over-deliver," she excitedly gushed in an interview with Bellanaija prior to the album's release. And boy, did she deliver. The response was overwhelmingly positive; under 24 hours of its release, all 12 tracks made the top 100 Nigerian Chart on Apple Music and 10 of the tracks remained on the platform, days after. It also climbed to number 30 on the list of top albums on Audiomack, garnering 1.9 million streams, and 1.9 million likes in just three days. The collaborations are as expansive as you can get, featuring contemporary pop vanguards like Rema, Rayvanny, Fireboy DML, and Nonso Amadi, international heavyweights like Wyclef Jean and Julian Marley as well as afro-juju legend Sir Shina Peters. 
With 'Original Copy', the 27-year old proved that hard work trumps talent. Judging by her previous singles over the years, many wondered whether Cuppy's voice as a solo artist would shine through on this new project or if she would take a backseat and let the features do the talking. But with 'Original Copy', she proved she was perfectly capable of doing both, and succeeding at it too. Her refined vocal contributions are a product of dedicated months on end to professional vocal lessons and overall artistic development. "I never thought I would be singing as much as I am. I literally was in the car today listening to my album and I said, 'I swear to God, this isn't me,' because when I play the music and I sing it, it just doesn't sound the same. To be honest, I've gone through a lot of vocal training to become a better artist," she admits. The sonic growth exuded on her album was apparent to everyone, including the artists who turned her down. ''So many artists (I reached out to) were like 'Shit, I didn't know your album was gonna be this amazing'. I think that the Cuppy they thought was going to be on this album was the old Cuppy, the Gelato Cuppy. And they didn't realize I had developed,'' she reveals. Everything leading up to the success of the project is a product of Cuppy's hard work and determination to level up; it's a testament to her continuous evolution.
If there's anything Cuppy's six-year journey in the limelight has taught us, it's that change is the only thing you can count on to be constant. Whether it's switching out blond ponytails for bubblegum pink hair or trading ankara skirts for color-blocked outfits, Cuppy has undergone various stages of growth and change. In the same vein, her ideals have also advanced. Back in 2018, in a controversial interview with City FM, she seemingly denounced feminism – a trend most Nigerian women in music seem to follow. Her comment attracted a lot of backlash on social media with every Tom, Dick and Harry attempting to give their two cents on the matter. Looking back now, she's well aware of her misplaced ideals and the effect they had on those who looked up to her. "I think at that point I honestly didn't really understand nor did I fully embrace the power I had, or influence I had. Like 100% I'm a feminist. But I think it's really important for me to understand what I'm fighting for and the movement it even represents,' she tells me. 
View this post on Instagram
She's less worried about stepping on the wrong toes in a male-dominated industry and more focused on uplifting her fellow women. Her album – which she revealed had an all-female creative team – packs an onslaught of female artists, from Teni and Efya to Ms Banks and Darkoo. "I'm just a fan of their work and I felt it was really important to enjoy what other women had to offer," Cuppy remarks.
As well as her newly dedicated support for women, from the onset, Cuppy has always embodied the Pan-Africanist ideal. Many may remember her eight-city continent-wide tour, tagged 'Cuppy Takes Africa' back in 2015. "Exploring Africa and its rich and diverse culture has always been a dream of mine," she commented at a press conference in Lagos back then. "I am so excited about discovering the music and the people, and soaking up the whole experience."
So one can imagine the full circle moment she felt when Apple Music called her up in March to be the first host of their first African radio show, 'Africa Now'; a show dedicated to spotlighting the wealth of talent existing in Africa and the diaspora at large. Fifteen episodes deep, hosting a slew of artists from Master KG and Patoranking to Tiwa Savage and Yemi Alade, Cuppy's 'Africa Now' celebrates African music's prominence in culture, giving listeners a sense of Africa's current soundscape and rich musical history. "The journey (so far) has been phenomenal, it's been so great. Apple music is an amazing organisation and I always say this, but i think it's about damn time that the organisations invest in and highlight our continent. We're doing great things, so to be the face of that is just epic. I can only hope that as african artists get bigger, the platform gets bigger. For me I want the audience to grow beyond just Africans, I want it to become a global show that non-Africans also appreciate." 
While hosting the first African radio show on Apple Music may be new territory for Cuppy, pushing boundaries is part of the course – thankfully, she's no stranger to that. Cuppy's entire essence is boundary breaking, whether it's her sound, lyrical or video content, choice of collaborations or even fashion tastes. She's eccentric on all fronts and not afraid to be unapologetically herself. "I constantly feel the need to embody Cuppy, which is obviously me. I'm an extrovert so I wanna express myself. Without even talking to me, I want to enter a room & evoke a certain feeling. I want to come across as a confident woman. I want to be vibrant," she explains. From her signature pink hair to her bright, designer-clad outfits, Cuppy is a defiant trend-setter in her own right, if not for anyone, for herself. "Colors make me feel good, and just to be clear, pink is not a soft color. It's not a color that you should feel is over-feminine or submissive. Pink is very powerful, and I've been able to own it and embody it to who O am," she adds. 
For as long as her career can remember, Cuppy has been slapped with endless criticisms, ranging from her fashion sense to her musical abilities. But that's to be expected in these parts; being unapologetically your authentic self will always attract some level of scrutiny from the public. Her wealthy family background has also been referred to as her sole source of success, as being born into privilege is very often demonised over here. Regardless, Cuppy remains unphased by it all, with a tunnel vision on her upward trajectory. "I literally don't give a shit, like I just don't care. Because if I did, I wouldn't have put out an album, would I ?" she laughs. 
"I'm just so focused on my passion and my vision that I know not everyone will like what I do, but no one is going to deter me. I always think success is the best revenge."
It's this same hypercritical eye from consumers at home that arose the misconception of Cuppy being an 'unserious artist' (she's debunked that notion with 'Original Copy''s release), despite her having an undergraduate degree in Business from King's College, London and a Master's degree in Music Business from NYU. Anyone who's actually in the know would understand that Cuppy is actually a PR dream – her promotional campaigns for "Gelato" and "Jollof on the Jet" could be taught in the Business classes she attended; she's a brand in herself and she works hard and smart to push her brand as far as if can reach – and further. Earlier in the year, when she made the switch from her longtime Arsenal allegiance and firmly planted herself in the heart of Manchester United Twitter, many brushed it off as a phase that'd pass. But behind the scenes, she was working. Just three months later she's been revealed as a part of the official Manchester United jersey campaign, with her, Burna Boy, Aitch and Dutchavelli being among the first people to receive the new jersey. And whether or not her sudden switch was always part of the game plan, this is yet another move that makes it hard to deny Cuppy's strategic approach to her brand building. 
"I'm a contradiction in myself," she assertively tells me. "Like [as] Cuppy, considering my background, considering my upbringing, I 1000% should not be doing what I'm doing and so I'm working against odds and I'm owning that narrative." Juggling being Ife Otedola and Cuppy, the persona is no easy feat. Growing up in a family like hers, she does, however, remember to keep both sides apart. "I try not to cross the lines. If you know me as Cuppy, you know me as Cuppy. If you know me as Ife then you know me as that," she says. In her journey to musical and self-discovery, she's owning her truth and living loudly, and this billionaire pink-haired princess is doing it on her own terms. Seeing no one as competition but herself, she's proving to be a multifaceted being; she's conquered DJing, curation, production, radio show hosting, and now she's earning her stripes as a pop artist in her own right. There's no particular end goal for her, but one thing is clear: Cuppy will make her mark.
'I'm literally taking each day as it goes, I don't have a grandmaster plan or strategy in place. I'm just going with the flow, I'm creating an opportunity and learning as I'm going. I'm making it make sense financially, making money, doing some cool things. But I don't have a particular plan. For me, it's just about being authentic and showcasing what Africa has to give.'
Featured image credits/