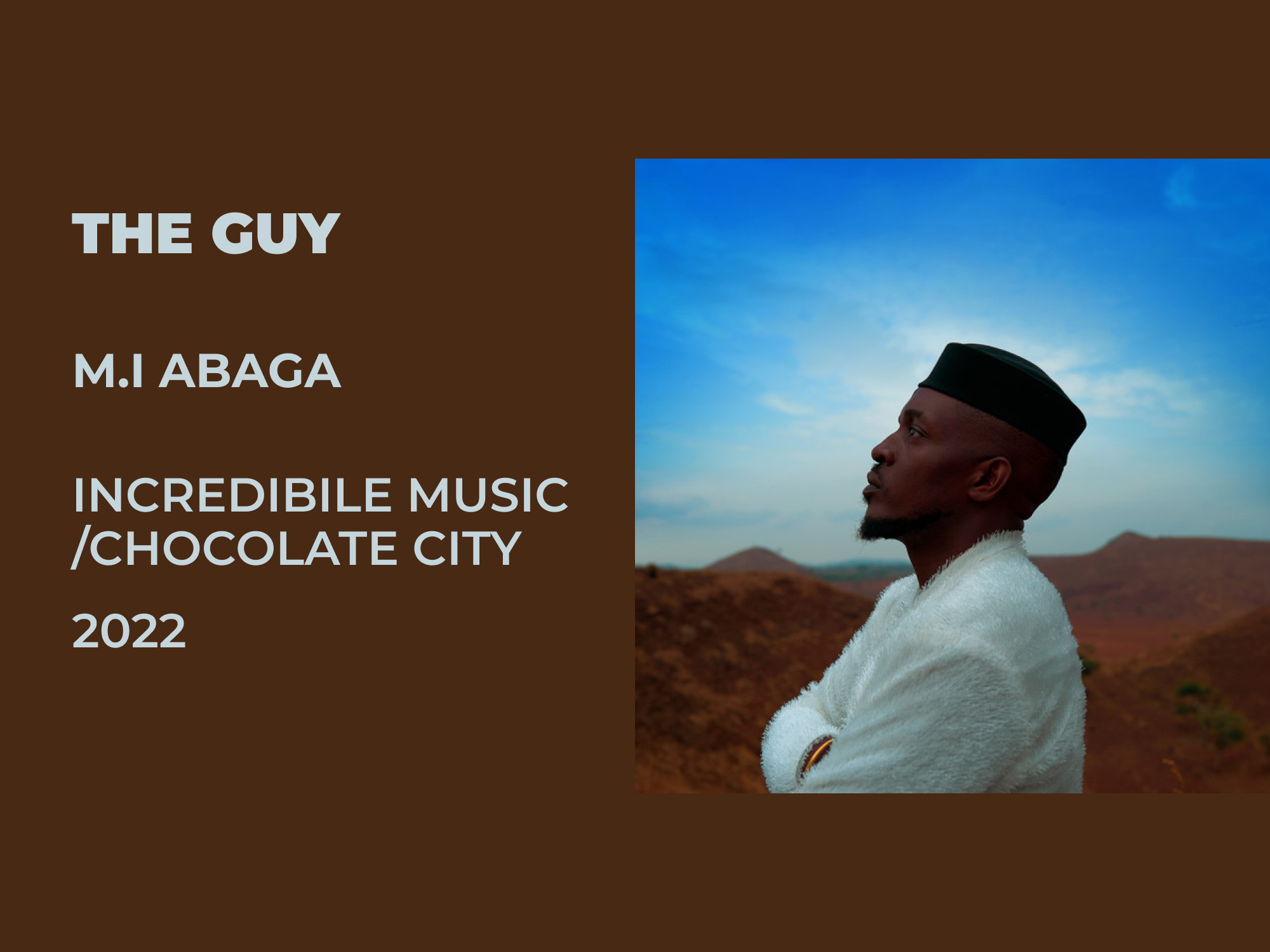 Review: M.I Abaga's 'The Guy'
M.I's act of sticking to releasing albums signifies his confidence in his gift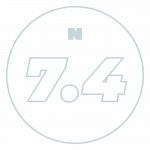 M.I Abaga is constantly evolving with the times. Since his breakout with 2006's "Crowd Mentality," the seasoned rapper has maintained his position as Africa's most successful English-speaking rapper, merging his propensity for lyrical astuteness with renowned commercial success. Over his decade-spanning career, he has built an enviable catalogue of hits from his critically acclaimed albums to his 'Illegal Music' mixtapes, all while shouldering the weight of heightened visibility and even higher expectations which have undoubtedly earned him a loyal following. 
At the end of the 2000s, M.I started his career on an irresistible ascent, a momentum that carried over to the following decade, but that dominance has been tested with each project since the mid-2010s. His 2014 album 'The Chairman' and 2018 'playlist project' 'Rendezvous' saw him offer intriguing variations of his powers as a magnet, bringing in a sprawling cast of collaborators while building on now-familiar themes and soundscapes without erasing what fans had come to love from him. Taking a stark departure from his earlier releases, he turned inward and released some of his most honest work to date with 'A Study on Self Worth: Yxng Dnzxl', offering fierce reflections about his tumultuous life and insight into his psyche.
View this post on Instagram
M.I has always been knighted as the undeniable leader of the genre, with a legacy that now ranks among one of the most powerful in the game. It is a position he acknowledges as his, even with doses of a messiah complex. "I should be close to retirement/Couple more years be retiring but/None of you rappers inspiring/None of you pass the requirements/ I can't retire yet, damn," he raps in his scathing 2017 single "You Rappers Should Fix Up Your Lives." It was this single that spurred him, Loose Kaynon, A-Q and Blaqbonez to start a supergroup (L.A.M.B crew) whose sole aim is to revive the English rap scene in Nigeria. "See I fathered the game, go check the record books/When rappers couldn't get DJs to play 'em like the second hooks," he raps on the A-Q-assisted "The Trinity," off 2020's EP 'Judah'. M.I, sure of his place in Nigeria's music archive, never lets go of an opportunity to educate listeners about his legacy.
On 'The Guy', his fourth studio album and eleventh project, M.I Abaga is at his most relaxed yet. With all his years in the game, leading and pioneering the rap genre in the country, M.I approaches this album with a profound sense of calm. While his powers as a mainstream superstar are no longer at peak levels, M.I is still making music that reflects the current landscape. 'The Guy' is best considered as a melting pot of every of the skills that M.I Abaga has shown throughout his decades-long career, all commingled into a cohesive whole with witty lyricism and suave delivery. 
The album's title, 'The Guy,' comes with an interesting backstory, which M.I hinted would be his new stage name. The title also serves as a powerful declaration: knowing your worth and power, recognising that no one is like you or can ever be you, that you are that guy (or babe or person, if you please). M.I makes this intention clear on the album's titular track where he declaratively says, "I'm the guy, ask the guy you thought was the guy/If he don't say I'm the guy, that's a lie because I'm the guy." From the album's introduction, it is clear that M.I is not concerned with the competition, he is the standard and across the album, he sets out to showcase—not prove—why he still deserves your attention this far in the game. 
Across the 12-track project, M.I Abaga enlists the assistance of some of the biggest names working in the Nigerian music industry including Olamide, Wande Coal, Phyno, Jesse Jagz, Duncan Mighty and more, all while also providing production on a few tracks. As a storyteller and world builder, M.I has managed to remain generationally relevant, adeptly growing and developing with the changing times, and placing those with less visibility at the forefront of his work. It's a remarkable position he plays with an everlasting message that guides him as he enters new phases of his personal and professional life. While not everyone will agree that he's his generation's leader, M.I is less concerned with titles than he is with collecting real estate and reverence.
On the Chopstix-produced "The Hate", he turns his attention to fellow rappers and artists. "What's up with all the hate though?" he asks before he goes full throttle to list the evidence of his legendary career. "I'm a god, I'm a king, I'm a Pharoah (Yes)/Been a leader since I was a day old," he raps. His tone is blunt but not accusatory; it feels as though it is beneath him to be angry at the unbelievers.
As if to prove his superiority, the track is followed by "Bigger", which features Olamide and American rapper Nas. There is a sharpness in both M.I and Nas' verses as they acknowledge their career successes while professing a hunger for more. A collaboration nine years in the making, "Bigger" highlights M.I's status as an upper-echelon rapper who can rub shoulders with the best artists in the world. It also counts as a win for M.I's in his mission to raise the profile of Nigerian rap. Olamide, also a veteran in the game, delights with his chorus, which captures his grass-to-grace story and his unquenchable thirst for victory.  
Longevity is a befitting word to describe M.I's career. Between 2015 and 2019, M.I served as CEO of Chocolate City (after being an artist on the label since 2006), shepherding the careers of Ice Prince, Dice Ailes, Jesse Jagz, Koker, Kahli Abdu and DJ Lambo, among others. Coinciding with the release of 'Judah', he launched his own imprint, Incredible Music, falling in line with his publicly-known dive into entrepreneurial ventures. Musically, though, he's remained both a student and teacher of the game, and that's shown in the quality of collaborators he's worked with recently, whether that's gleaning inspiration from, and trading bars with, veteran lyricist and close collaborator A-Q across a joint EP, or tapping lesser-known, porcelain-voiced singers Osi Grace and Tomi Owo on this album.
"Soft Life Tony", one of the standout songs on 'Guy', features Lord Vino, a respected rap artist in Nigerian English rap circles, and together they add Tony Elumelu to the list of wealthy people exalted in Nigerian music – a list that includes Femi Otedola, Aliko Dangote and Mike Adenuga. Both artists long for the lifestyle that the Nigerian entrepreneur and philanthropist enjoys and express a determination to hustle and attain that status. While many might feel M.I has a financial capacity that doesn't warrant looking up to Tony Elumelu, it is not out of place for humans, most especially Nigerians, to desire to go higher on the ladder of wealth. 
The Nigerian economy, with its unpredictability, forces the citizens, including the billionaires, never to hit pause. "Dangote still dey find money o," Burna Boy sings on the track "Dangote," off 2019's 'African Giant.' M.I agrees with Burna Boy when he raps, "Normally soft life no be free, e dey cost plenty fees, chale don't be deceived." Not too long after its release, Tony Elumelu posted a glossy viral video on social media, playing directly into the reverence of "Soft Life Tony".
Hey Siri, play "Soft Life Tony" by @MI_Abaga & @LordVino 🎶🦾 pic.twitter.com/BsQwT20gqT

— Tony O. Elumelu, CFR (@TonyOElumelu) September 2, 2022
M.I isn't known for playing heavily into pop culture iconography, and he doesn't start leaning into it too much now. The crux of his music has always been his personal experiences, which continues on his twelfth project. Earlier in the year, the rapper warmed many hearts when he broke the news of his engagement to Eniola Mafe. A video, which accompanied the announcement, revealed further details about the relationship. The video was also sound-tracked by a song that turns out to be the Wande Coal-assisted "The Love Song," which appears on 'The Guy.' Dedicated to his heartthrob, M.I declares his commitment, promising to be a worthy spouse and lover. Wande Coal is also in fine form, adding to the song's appeal with a sweet chorus.
The middle third of the album is filled with a run of devotional love songs, a perfect reflection of M.I's life at the moment that also plays into his well-known ability to spin timely and timeless songs out of blue-eyed romance. On the Tempoe-produced "The Front Door," Port-Harcourt's first son Duncan Mighty draws inspiration from his native Ikwerre language and Ghanaian vocabulary to serenade a love interest. M.I is playful yet deliberate with his delivery on the percussion-led track as he makes romantic promises.
On the hypnotic "The Inside," M.I taps into the Highlife leanings of Nigerian artists Phyno and The Cavemen. as he renders another love tune. There is also the playful energy of "Daddy," where he and Chillz shower praise on the anatomy of the object of their affection. While firing off relatable and catchy lines, he drops witty bars that refer to the #EndSARS protests and the Nigerian military.
When M.I decides to address weighty topics, he goes in fully. On the Ossi Grace-assisted "Crazy," he draws a parallel between toxicity in familial and romantic relationships and the toxicity found on social media. He complains about the lack of nuance and empathy in conversations, which he ascribes to the faulty relationships many people have with their loved ones. He places himself in the middle of that melee when he raps, "People be savage on Twitter be dying inside/Wish you could see how I'm feeling inside." The track ends with advice from M.I : "Be kind, you never know what people are going through/ It's crazy out there."
On "Soldier," M.I revisits the issue of male vulnerability, which he touched on in 2018's 'A Study On Self Worth: Yxng Dxnzl.' With assistance from Tomi Owo, he paints a sad picture of men, who as boys were encouraged not to express sad emotions, and, seeking an outlet for those emotions, have chosen suicide, violence or silence as adults. He surmises that this, in turn, has affected women who mostly bear the brunt of these men's aggression. "Lift your head soldier/Pick your head up soldier, don't cry," Tomi Owo sings, offering strength to every man and woman in need of it.
'The Guy' is loaded with guests, mainly on the hooks, adding even more flavour to an album swirling with colour. Serving as a (co-)producer on majority of the songs, M.I's ability to create ear-catching pop-rap is at the fore, and he's joined by a list of renowned soundmen behind the boards, including Chopstixx, Masterkraft, Tempoe, and more. As he's done on earlier commercially successful albums, and in collaboration-heavy projects, the sound palette reaches across the bubbling spectrum of Nigerian pop. There's soulful, mid-tempo pop cuts, a club-ready bop, Amapiano is folded into Trap on "Soft Life Tony", and the lead single is a drill fare that plays into the rising craze around the sound in Nigerian rap.
In addition to adding a vibrant touch and versatility to the project, several features serve as emotional foils. On the folk-inflected "Oil", singer BNXN joins M.I for an affecting performance, as both artists give thanks to God for protecting them and their families and ushering blessings into their lives. The song possesses a gentle-swaying rhythm that oozes leisure and comfort. The thankfulness extends into "More Life" as M.I and his fellow Choc Boiz—Jesse Jagz and Ice Prince—enjoy their victory lap. While Ice Prince cheers Abaga and Jagz in the background, Jagz uses his verse to declare that he and his crew are indestructible. M.I exudes positive energy throughout the track, refusing to allow life's pressures to unsettle him as he sings, "Let me live my life, you live your life/Toast to more life, we do this shit for life." 
View this post on Instagram
It is noteworthy that, in Nigeria's singles-driven market, M.I hasn't relented with putting out projects. His first and second albums—'Talk About It' and 'MI 2: The Movie'—began his storied journey and revealed undeniable talent and passion to dominate Africa's Rap scene. His 'Illegal Music' mixtapes were M.I's way of exchanging verbal punches with the best rappers he could find. Subsequent projects, even through controversies, cemented M.I's place in Nigeria's rap history as a veritable voice. 'The Guy', on the other hand, is a celebration of M.I's reign rather than the end of it. It is an applaudable chapter in the rapper's dazzling career.
M.I's act of sticking to releasing albums signifies his confidence in his gift; it is a statement that only an artist who has years' worth of refinement can make. This album isn't as ground-breaking as his earlier work nor does it take risks like his more recent, sometimes insular work, but it's a strong reminder that the Nigerian music scene is yet to see an English rapper in the mould of M.I Abaga. He has morphed through the years and adapted to different changes while retaining his core as an artist. His works have kept him in a secure space, unharmed by the wave that is Nigerian Pop. 'The Guy' is a reminder to both him and his listeners: he came, saw and is still here conquering. That is a big win for rap music in Nigeria.
---