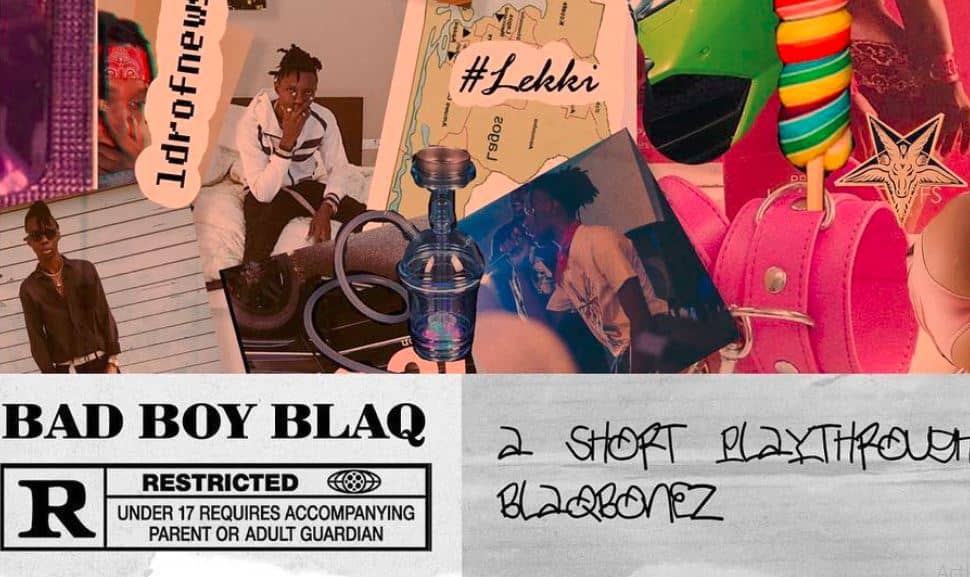 Essentials: 'Bad Boy Blaq' by Blaqbonez
An album debut, highlighting Blaqbonez's versatility
Blaqbonez' come up story is the stuff of big dreams. The 22-year old has been co-signed by M.I, Illbliss, Vector, three of Nigeria's longest-running rap careers, and contemporary wordsmiths like, Dremo, YCee who have lauded the rapper since his stint Hennessy cypher, a prelude to his debut project, 'Last Time Under'.
Blaqbonez' debut album, 'Bad Boy Blaq' is his first project since signing to 100 Crowns Entertainment. Backed by the big budget for #LAMBAugust and M.I on the executive producer chair, anticipation for Blaqbonez's album hinted at the emergence of a hip-hop prince. In a true hip-hop royalty fashion, the crown prince's "South Africa Must Go" from 2015 pushed a narrative that M.I infamously ran with for last year's controversial, "You Rappers Should Fix Up Your Lives".
I've been working all year to give you this, feels like every step, every tweet, every video has been leading to this moment. I'm so excited to give it to you. Thanks for all the support and love.

Blaqbonez – Bad Boy Blaq Project #Badboyblaq
👇👇👇https://t.co/GZwaZ8moSc pic.twitter.com/ZsUNDBNkTo

— Emeka The Stallion 🐎 (@BlaqBonez) August 31, 2018
Understandably, Those who started listening to Blaqbonez's music either this year or last would be surprised to hear his earliest recordings, where his voice came in at a much higher register and conveyed things he has mostly left behind; boisterousness and nerves. No longer feeling around for a style or held back by a need to distinguish himself from his peers, the onus was on him to fit the pieces into a whole on 'Bad Boy Blaq'.
Blaqbonez thrives in the dark for most of the 10 tracks on the project, an ambience created courtesy of production from Alpha, M.I and Tempo. The first track, "Accommodate", chronicles his rise to the limelight with a decided self-assurance that also surfaces on the second track, "Denied", where he's a dead-eye marksman, shrugging off doubters. "Never Been Lucky, My Life Ain't A Roll of The Dice, I Just Cannot Be Denied/ This Ain't no War, I Be Like Thanos The Second, Murder Like Half of Your Guys", he sneers over a bone-chilling beat with synths and scatting drum riffs.
Blaqbonez' schemes are simple but ruthlessly efficient, packing confessional lyrics with brags to make his gloats more admirable. This works best on "Play", a light-weight number where Blaqbonez crafts a catchy melody about the perils of helplessly falling for the wrong one. "Play" is backed by auto-tune filters and a mid-tempo Afropop beat, making it one of the few tracks on the project fit for radio. This fervour for pop surfaces on "Mamiwota", a love song featuring Oxlade's catchy Afropop hook. On tracks like "Tosin's Song", the emotive narrative offers a more introspective Blaqbonez using Drake-esque voice recordings to paint an warm image of his relationship. Though "Woke" underlines Blaqbonez's willingness to experiment with pop genres, "Consent" a standout track from 'Bad Boy Blaq' is where Blaqbonez attempts to make a political statement on relationships in the 21st century.
The impressive duo of Loose Kaynon and AQ grace 'Bad Boy Blaq' with a verse each on "Lowkey". Over the piercing beat, the three rappers flex on haters with brags, emphasizing the hip-hop star power of Chocolate City. It's a classic M.I style but Blaqbonez brings a freshness through his often immature lyrics; "I Got A Lot of Fuck, That I Never Get To Use/ I'm Chivita with the Juice/ Michael Jackson with the Moves".  The album closes with with "I Told You", featuring Terry Apala's Apala who infuses Apala on the trap instrumentals, providing a grim canvas for Blaqbonez's street savvy bars; "When I Started, They Told Me Nobody Go Know You/ Ogbeni Ko Si Oshi, Ki Lo Fa Oshi/ Now They Know Me For Moshin Olosha/ Sabi I Told You".
The 'Bad boy' impression on the art for 'Bad Boy Blaq' explains his self-conceited and often controversial intentions, but he's careful enough to offers context for them through his semi-autobiographical songwriting. Though the focus for BBB appears to be highlighting Blaqbonez's versatility as a rapper with enough sauce to dabble into Afropop, and trap, it also shows his budding pen game that's worth watching.
You can stream the 'Bad Boy Blaq' tape below.

Featured Image Credits: Instagram/blaqbonez
[mc4wp_form id="26074″]
---
You are meeting Debola at a strange time in his life. He wandered into a dream and lost his way back. Tweet at him @debola_abimbolu
---