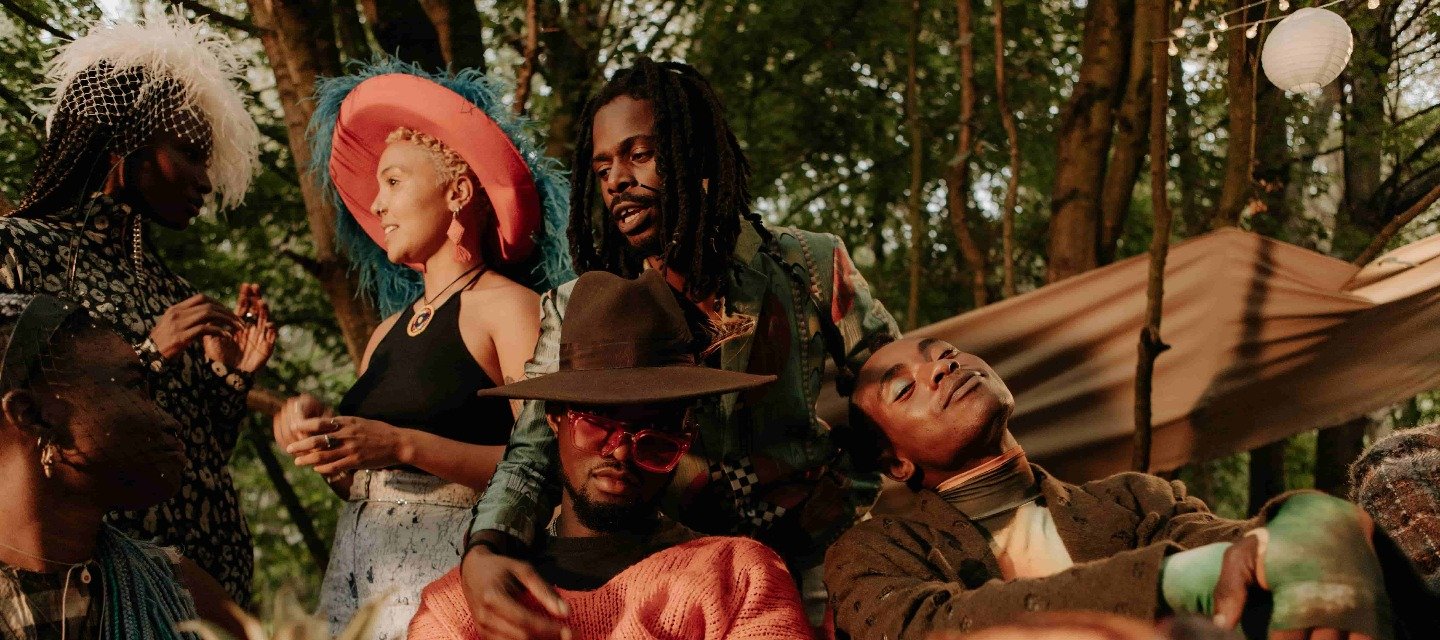 Tobi Onabolu's 'Dear Black Child,' is a celebration of Black joy
a love letter to Black people
On a mission to create a love letter to the inner child within Black people, director and innovator Tobi Onabolu, in collaboration with Rooted by Design, a social design and change studio, centering on the experiences of UK Black communities has released a new short film titled, 'Dear Black Child.'
Shot in Hackney Wick, London, the film tells a fantasy story of a Black child on a quest for joy, who encounters a mysterious spirit, and a high priestess with her merrymakers in an enchanted forest. 'Dear Black Child' captures some of the many ways Black people can develop practices to reconnect with joy, exploring themes including mindfulness, alchemy, and African spirituality.
View this post on Instagram
In the film, we come across the seeker, who is played by the talented Ayo Babatope, a talented dancer, voice actor, and movement artist. The seeker arises from meditation and journeys into the forest using movement and breathwork to reconnect with self, where he eventually manifests this energy to one they call "Wanderlust," played by the multi-disciplinary artist, Kane Horn. As they both connect, so does their joy within. 
The film is also a rendition of the well-known gospel number "Joyful Joyful" which is based on Rooted by Design's sister organisation known as the "Joyful Project," an apt response to COVID-19's disproportionate impact on Black communities around the world. The film also features an original score which was brilliantly composed by the talented Ejiro "4stringsz" Sowole-James. The South London electric violinist, multi-instrumentalist, and music producer has honed his unique technique for sound and captivating performances when performing all across major stages and that is no different in his work on Dear Black Child.
Speaking about the film, Onabolu shares:
"As Black people, we have so many different ways of expressing and defining "Black joy", so in 'Dear Black Child', I wanted to emphasise the practise of returning to that state of joy. I see joy as somewhat of a frequency, like love. The more we tune into ourselves, nourishing our lives with love, practising self-care, mindfulness, and connecting with God, the more easily we can raise our vibrations and connect to the infinite joy that exists abundantly in the universe.
With this philosophy in mind, telling this story through movement was an intuitive decision, as it allowed us to use dance as a dynamic and expressive language for depicting the journey of returning to joy." 
Following the film's premiere in London and its scheduled Lagos premiere this week at the Surreal 16 Film Festival, hosted by Abba T. Makama and the directors of the film collective, we sat down with Tobi Onabolu to discuss his influences, the film's creation process and the importance of Black joy.
His answers which follow below have been lightly edited for clarity.
NATIVE: Hi Tobi, what inspired the film's title, 'Dear Black Child'?
TOBI: I was commissioned to tell a story about Black joy, and as individuals, we are all entitled to our own definitions and unique understandings of what this means. I wanted this story to depict what that journey of returning to joy can look like. So the film is designed to be a love letter to the inner child within Black people.
NATIVE: Alongside the lush visuals, the film is also replete with interpretative and contemporary dance. What was the importance of dance and movement to the overall plot of the film?
TOBI: I'm fascinated by the idea that everything is a frequency or vibration. Doubt, fear, guilt, shame, loneliness, and more, are all things that we face within the human experience, and they are frequencies. And on top of these life challenges that we face, as Black people we are confronted by things such as systemic racism, so I'm very intrigued by the accumulative effect this can have on the body. Which then beckons the question – what frequency are we vibrating on? 
Whilst doubt, fear, shame etc. might be seen as low frequencies, I see joy, along with love, bliss, and peace, as higher frequencies. Therefore, in depicting the journey of raising our bodily vibrations to joy, it made the most sense to show that journey through dance and movement. Moving the body, through dance, exercise, yoga, etc. is also widely acknowledged as being helpful for reducing anxiety. Essentially, I wanted to show the body journeying from a lower to a higher frequency. Black joy also seems to be incredibly topical right now, so rather than just talking about it, it felt quite appropriate to show joy.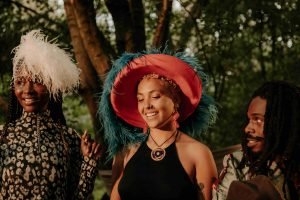 NATIVE: Were there any challenges when filming and bringing the ideas to life?
TOBI: Without a doubt – we had many, but the main one was time. From the date I received the brief from the Rooted team, to the shoot date, was literally one month, so we were sprinting from the get go. We also had to shoot the whole film in one day, and faced some technical difficulties on the day, so that really tested our resolve, as we were grossly delayed on set! Kudos to an incredible cast and crew for so elegantly navigating these challenges.
NATIVE: The music is a big part of the film as it features a score created by 4Stringsz. Explain the process of working together on this. What inspired the music used to pass across messages in the film?
TOBI: When I got the brief for this project, time for R&D was super limited, so I had to dive into the concept pretty quickly. As I took myself into the space of conceptualising the film, I ended up hearing the film before seeing the film, and I heard that it was going to be a reimagination of the gospel hymn "Joyful Joyful". I called 4Stringsz, who is like my brother, we've known each other for about 20 years. We began properly cooking up the score during the post-production process and knowing that the "Joyful Joyful" theme would anchor the score helped massively, allowing for so much experimentation.
4Stringsz pushed us to work with minor chords and atonal ambient sounds and cadences, to create this ongoing tension in the film. Our ears are used to associating "joyful joyful" with being a very happy and uplifting song, yet we wanted to explore what connecting with joy can feel like, especially when there are a lot of obstacles and challenges in our lives. It was the score that helped to bring this idea to life and the tension in the score was central to this. And then back to the inner child – I had initially wanted the hymn to be sung by a child, but at the last minute, we decided to use a violin to play the theme. As the film starts, the violin plays the theme tentatively, but as the piece goes on, the violin grows in confidence. We were playing with the idea of inner child healing.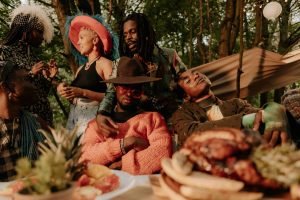 NATIVE: 'Dear Black Child' is also your directorial debut. Why was it important for this to be your first film?
TOBI: Interestingly, Dear Black Child is my third film, but the first one I'm releasing. My first, from 2018, remains unreleased, and my second, 'ALAAFIA NI', which I shot in Lagos this year, is due for release at the end of this year/start of 2022. I'm definitely grateful for this as my first release, as I was able to incorporate a lot of the lessons from the first two films into this piece. It was an honour to be commissioned too, and a good opportunity to practice negotiating a creative vision with the Rooted team.
NATIVE: What message do you want viewers to take away when watching it?
TOBI: There are a few, and I hope that we've also created enough space within the film for each viewer to take away their own interpretation. That said, I think the fundamental message is that the journey of returning to joy is a practice and that whatever our individual practice may look like, we should be intentional about it. 
NATIVE: You've screened in both Lagos and London. Are they any other ways you are looking to distribute or screen the film?
TOBI: We'll be screening at the inaugural edition of the S16 Film Festival in Lagos this December, and we are also submitting to a number of international film festivals, so we are hopeful to have good success on the film festival circuit. In 2022, I'm looking to screen in Accra and Abidjan too, and it would be an honour to screen in the States, as I find conversations around Blackness and Black healing to be incredibly rich in that part of the world. And who knows where else, but there's definitely more to follow!
Watch 'Dear Black Child' below. 
Featured image credits/TobiOnabolu