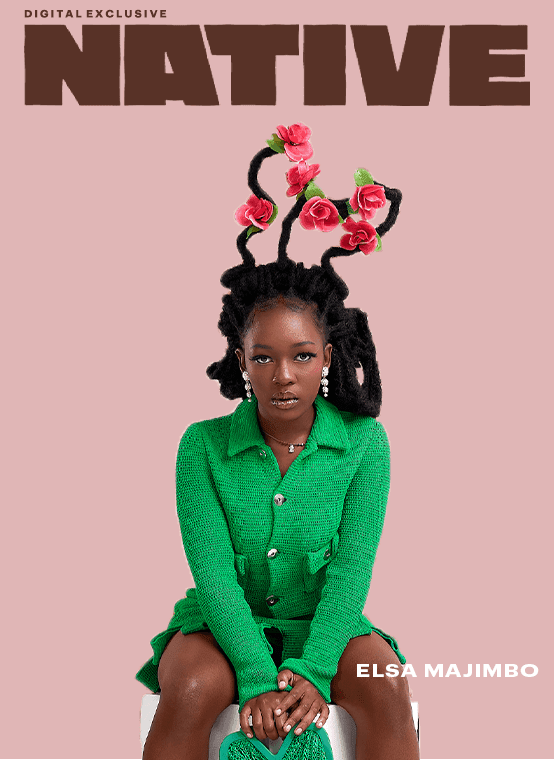 Credits:
Editor-In-Chief: Seni Saraki  
Words: Tami Makinde  
Managing Editor: Damilola Animashaun 
Creative Director/Stylist: Dunsin Wright 
Producer: Savannah Castee
Producer: Rhys Gordon 
DOP: Sokhaya Mbiko 
DOP: Cedric Nzaka 
2nd Camera: Darren Jacobs & Zethu Mbiko 
Lighting: Brent Freeman 
MUA: Tessa Abrahams 
Stylist: Thobeka Mbane
Hairstylist : Nikiwe Dlova

Elsa Majimbo has been on go nonstop since the world catastrophically shut down last year. The almost 20-year-old's life has been a speedy whirlwind ever since she started steadily providing the Internet with entertaining and empowering content during the lockdown. Our weekly dose of her infectious laughter helped fill a much-needed space for joy and community, during a time where many were in search of solace and healing.
In just over a year, she's become the gleaming jewel of the Internet, embraced by many across the world, ranging from your local girl gang to her celebrity besties, Rihanna and Naomi Campbell. From far and wide, Elsa's skits became a virtual bat signal on the timeline of sorts, where her distinct cornrows indicate that you are guaranteed a good laugh for the next minute. Elsa is pure comedy gold, and for a young African woman who is banking on her idiosyncrasies and genuine visibility to get ahead, this moment feels nothing like we've ever seen unfold. 
In person, she comes across as reserved and pensive, peering at me cautiously from the other end of our Zoom conversation. In her hand, she has a half-full strawberry smoothie, from which she takes occasional sips as we talk. It's hard to tell whether she's really as reserved as she comes across, or whether was trying to make me out to get comfortable, however, throughout our conversation, she maintains that reservedness – except for when she's made herself laugh.
It's midday in Johannesburg, South Africa, where Majimbo is taking our call. Much like her manager forewarned, she looks effortlessly stunning in a vibrant yellow Daily Paper two-piece set, with a strappy crop top, bell bottom trousers and a set of gold hooped-earrings. Her natural hair, which is usually seen cornrowed in her videos is tucked away in faux locs, clipped at the top of her head like a Byzantine halo. There's sun peeking from the office's large windows, while a construction site nearby is busily carrying on the day's work.
Life is bustling, and this is exactly the pace Elsa needs to thrive. 
Before we settle down for our call that sunny afternoon, I'm reminded beforehand by Majimbo's manager that her schedule for the day is incredibly busy as she was preparing for another shoot. I'm eager to get talking the minute she sits down, excited to immerse myself into her colourful world, especially given how difficult it had been over the past month to organise. Our interview and the cover shoot were initially scheduled to take place in Dubai, where Elsa was on working and on vacation with her family. While we were setting these plans in motion, we learnt that Elsa had upped and left to South Africa for another work commitment, and so, we suddenly began to reroute our plans, adjusting all earlier made preparations and even contacting a new team out there. 
During this process of trying to pin her down, it became abundantly clear to me that the 19-year-old was expanding her world, building different empires across different industries and continents from the same Africa as me. Seemingly appearing out of thin air in her own little corner of the Internet, Elsa won over our hearts with how effortlessly she commanded awe and attention with every move. All of us, her TL friends turned awe struck fans, were constantly waiting on her every move, cheering her on each time she shifted the needle on her creative output yet again.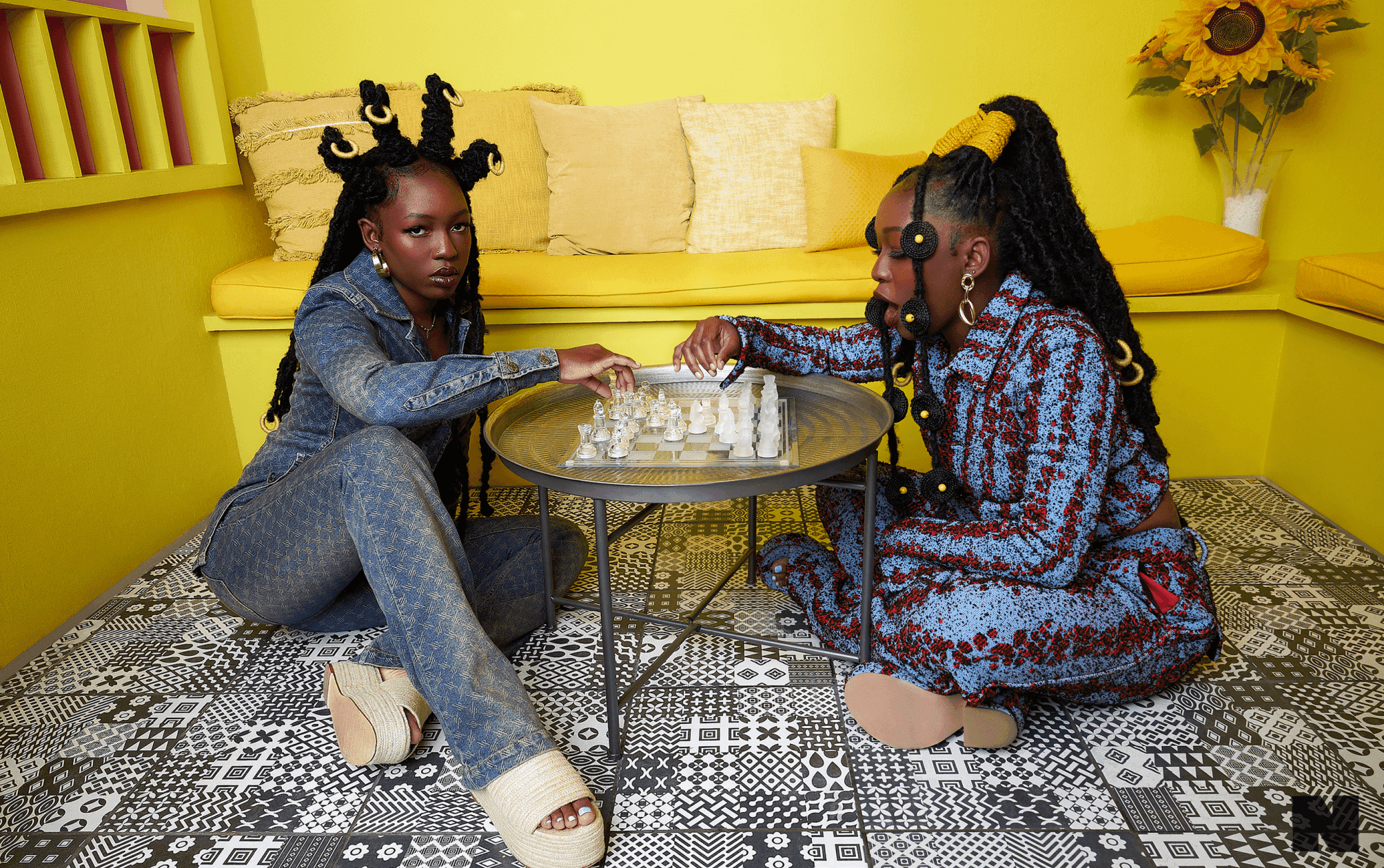 Social media has a penchant for creating sensations that spread like wildfire. With Facebook, Twitter, Instagram and the likes, we're more interconnected than ever before, and at the core of this connection is shared emotion – whether it's good or bad. With this, humour has become a universal language which cuts across many different cultures and people on the Internet. The funnier you are, the easier it is to capture peoples' attention, and even hold fort across different platforms. In the early 2010s when we first started hanging out with each other everyday on the timeline, we were all united through these funny videos from platforms such as YouTube and Vine, which birthed the likes of Don't Jealous Me, Big Tipper and even Damson Idris. More recently with more platforms such as TikTok and Instagram Reels, comedians have several different options to give us, their viewers, more immediate means of showcasing their funny bone. As the generation who grew up watching this paradigm shift, and witnessed several Internet comedian's steady incline, Elsa seems like the golden child of the movement. With her Midas touch, she's wasted no time making an indelible mark whether it's her book deal with Valentino or a brand ambassadorship with FENTY, she has weaved in her funny charm every step of the way. 
Elsa was knowable like a friend. As we talk, her calm demeanour and responses feel lived-in and familiar. You know you're in the presence of a star, but it's like you're chatting with an old pal living abroad. How could someone seemingly appear out of nowhere and resonate with people across different generations, working her way up the sharp corners of a gate-kept industry without inspiring any resentment or jealousy?
In trying to describe the way Elsa's personality radiates, its global reach and her undeniable star quality, it's important to understand where she's coming from. When you ask Elsa if she feels any pressure to follow up her record-breaking run from the previous year, the answer is a simple: "No". Anxiety is not her thing, even though she swears she's incredibly shy.
The person sitting in front of me is a far cry from the Majimbo of TikTok fame that I, and many others on the Internet have become accustomed to. It's not entirely surprising. Comedians are always expected to be in character each time they walk into a room, as many are quick to forget that their comic ability is a skill that they work on for their careers, and not their default state of being. Back in 2014, the world was gripped by the shocking death of Robin Williams, the beloved actor and comedian whose comic brilliance masked a deep well of conflicting emotions, trauma and pain. Ever so often, huge losses such as this bring us back down to earth and remind us that behind the funny bone, behind the witty jokes and intention to make us laugh, is a human being with just as many fragilities as the next person. Not many people emerged from the vacuum of 2020 unscathed, as the pandemic-imposed lockdown made everything feel heightened – it was no different for Elsa, even with all her fame and success. Like many of the rest of us who went through 2020 and made it out whole, Elsa admits that the past year was for outgrowing the pains of her past self and stepping into a new Elsa. She admits between pensive looks that: "It definitely changed every single aspect of my life from where I live to how I see the world, to who I interact with and what I get myself involved in " 
For a young woman who is about to turn 20 and is enjoying the most successful chapter of her career, Elsa certainly walks the walk and talks the talk to back it all up.
Similar to many female icons of our time – Nicki Minaj was a Red Lobster waitress, Tiffany Haddish was a ground staff for Alaska Airlines, Beyonce was floor sweeper staging solo shows at her mother's salon – Majimbo was also stuck pursuing a lesser cherished passion. Before she began chopping it up with Naomi in Kenya and made her grand entrance into high fashion after signing a book deal with Valentino, Elsa felt stuck in a rut, living each different day doing the same thing. At the time, she wasn't working any jobs, however, her disdain for school life meant that she felt trapped in her social environment, biding her time until she found a way out.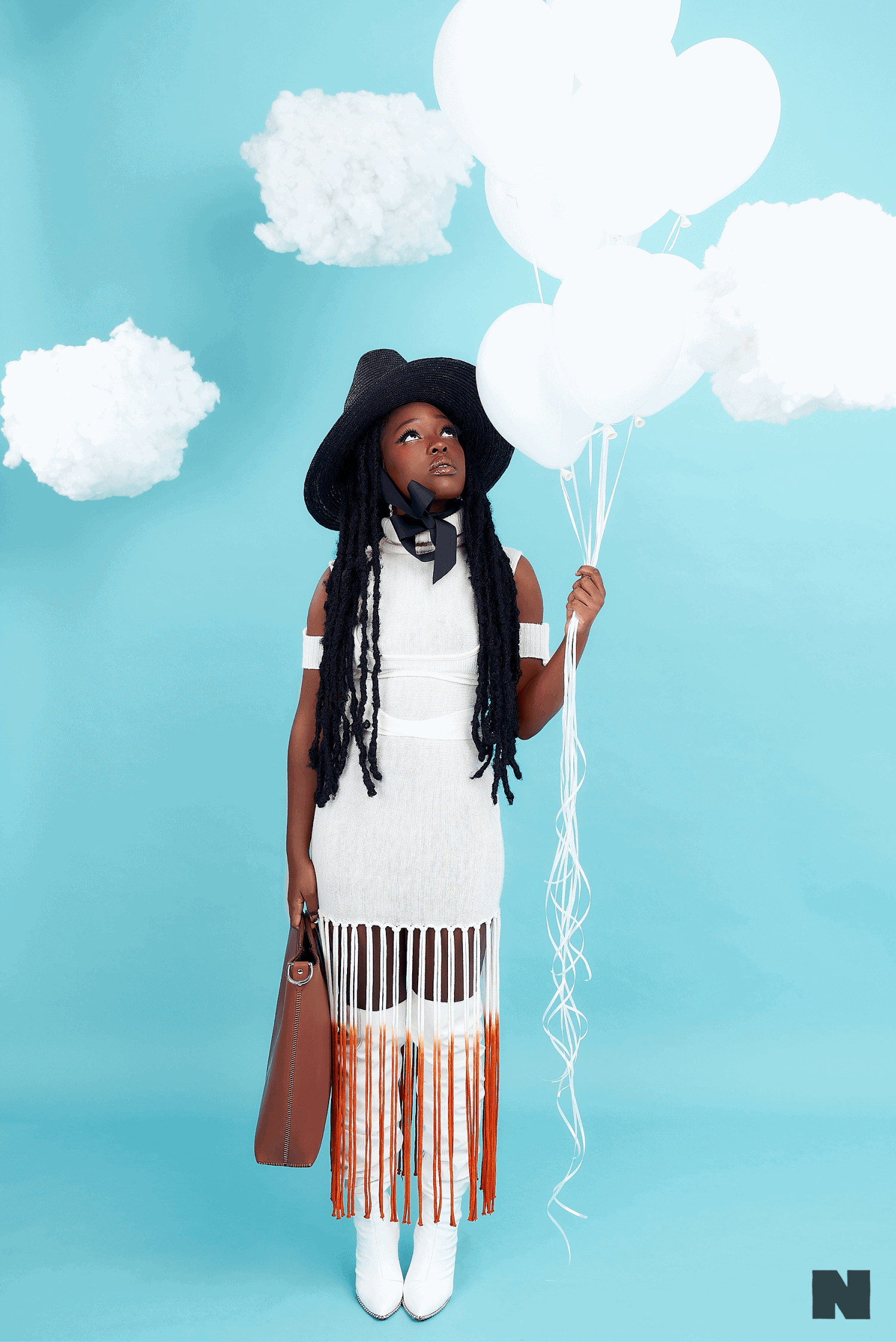 Born and raised in Nairobi, Kenya, Elsa is the second youngest in a family of four. Much like any of us, hers was a typical African upbringing filled with church and devotion. She doesn't hesitate to groan about this, exclaiming between a cheeky giggle: "Oh my goodness, it was nasty". For many young Africans, fear mongering and intimidation were commonly used tactics to keep us 'religiously sound', which often left no room for us to question the reality of our own individual faiths and belief systems. Like any good Kenyan daughter, Elsa attended these mandatory services and heeded counsel from her parents who believed that the most important thing for their children was a formal education. 
Although she scowls at the memories of Sunday school and daily devotion in the Majimbo household, she also doesn't hesitate to commend her parent's method of raising her. She explains that they understood the value of parenting their children with a stern hand whilst also affording them space to express themselves, speak their truth and come into the world as their own individuals. "My parents would reason with us instead of just putting things on us. Even as young people, they treated us like adults and not as kids, so that made me take things from a positive perspective" she recounts.
Being the second youngest of the bunch, Elsa admits that her voice was often drowned out,  especially as she and her siblings grew up in a home full of cousins and extended family. Regardless, that push from her parents to be herself, nurtured Majimbo in her formative years into the fearless spirit we see today.. 
She speaks fondly of both her parents, recounting memories of how she got away with doing things that her older siblings couldn't dare at the time. Majimbo also credits them for opening up her worldview and teaching her that she deserved the best out of life. As a young Kenyan woman growing up in a patriarchal society, she was taught to be tough and to want more for herself. "I realised that not everything would be handed to me so I need to work to go where I want to go," she explains of her reality. "I couldn't just be comfortable with the things that are around me or the things that are in my reach."
Through most of her formative years, Majimbo's parents encouraged her to finish school and pass her classes to get to the next stage, as many African parents do. As she manoeuvred life, Elsa soon realised that if she wanted to reach the heights she dreamed of, she was going to have to do it on her own terms, seize whichever lemons life threw at her and make an Elsa-flavoured lemonade. 
It hasn't been easy. Majimbo hated her time in school, a detail she doesn't hesitate to mention within moments of our conversation. While she doesn't speak in great detail about her time spent in school, it's clear she learnt some life lessons on that journey, which pushed her to "Dream more, dream big and work hard to get there." For most of her time in formalised education, Majimbo felt like an outsider who was trying to fit in, to get through and get by. During this time, everyone around her seemed to have it figured out, her school mates had their own dream careers and strong predicted grades for the Kenyan National examination, however, Elsa couldn't care less about school, and was looking for a way out of the entire system. 
That opportunity came in March last year when the whole world was turned upside down thanks to the COVID-19 pandemic. With life changing around her, while she was studying Journalism at Strathmore University, Majimbo found the perfect excuse to put off her school work, and secretly began the process of dropping out. Given that everything had become virtual and remote, it was a lot easier for her to pretend to her parents, and act like she was at school any time she was on her laptop.
"I left school first and then I told my parents way later," she tells me with a grin. Although she was hesitant to deter from the traditional life pathway set out before her, the break from her norm led her to look inwards, where she became more sure than ever that it was time to close the chapter on formal education. And what a turn of events since. Elsa turned to social media apps such as TikTok and Instagram Reels to pass away the time and share her relatable and humorous monologues
"I can't come outside cause it's a pandemic," one of her most viewed videos goes, as Majimbo's shrill laughter fills your room providing momentary solace from the comfort of her home. Her homemade skits were all recorded back then on her iPhone 6 with her gimmicks: a single crisp or her crooked sunglasses in hand, ready to spark joy in the next person. 
Elsa was able to crack the code using her social media savvy intelligence to amplify her talents in a calculated, yet still authentic and funny manner. The unrest she felt when it came to her future path was the impetus for turning her life around and forging her own path, one exclusively on her own terms and without outside voices.
"I just dived right in because I had lived the same life over and over again for years. I had nothing to do so I just went for it and I didn't care about the consequences or what would happen."
And she hasn't looked back since.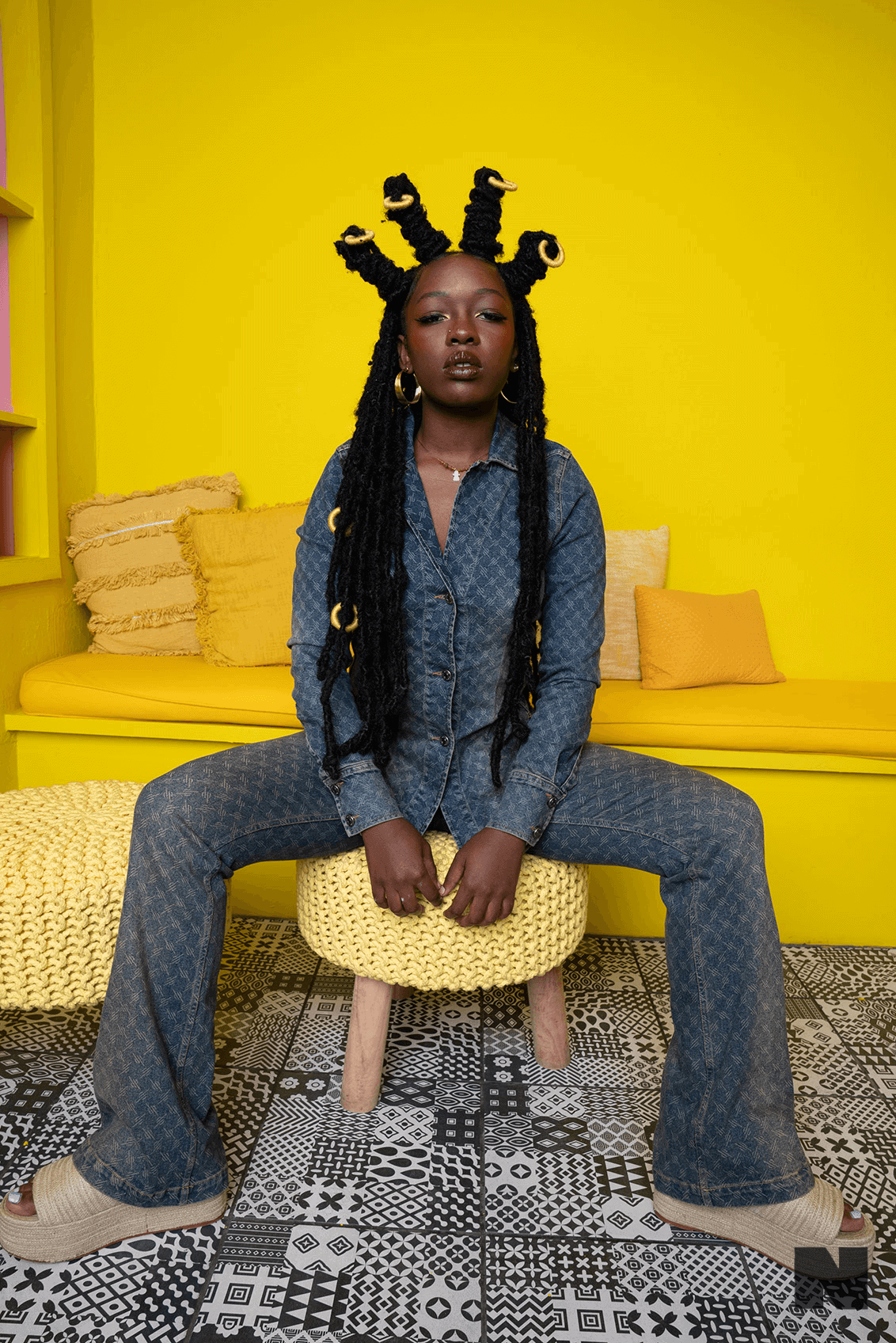 **
Elsa was different out the gate. While growing up in Kenya, she tells me that she didn't have any role models because of her hesitation to mould herself into the likeness of another celebrity. It wasn't enough that she was making these painfully truthful jokes that would have everyone around her rolling; Elsa wanted to be the realest person in the room at all times.
During our conversation, Majimbo also tells me that she didn't have a dream job in the typical sense. She's always had a different mindset to everyone around her, and never dreamt of labour, or even engaging in any sort of strenuous activity. She mimics herself, "I was like Jesus! Do I really have to work to live, I just want the money." Majimbo knew that she was destined for a life of enjoyment and success, however, it wasn't initially clear to her how to get to that point. 
When she was really young, she and her siblings would follow their father to the recreational club where he was a member. As she tells it, at the member's pool, she had the space to dream of a life beyond the one she was used to while immersed in a body of water. It was in these heartwarming moments shared with her siblings that Majimbo would catch a glimpse of the future she wished for, one where her electrifying sense of cool was never disturbed. 
"I absolutely loved that, just us kids swimming and eating with no worries at the time. It was the best thing to be surrounded by family and friends and great music," she admits. Today, Elsa still feels her calmest when she's in or around water, feeling a deep sense of being washed anew and armed with the tools she needs to take on difficult challenges. As a Cancer, the cardinal water sign represented by the crab, Elsa is used to putting up a hard exterior to guard her inner essence. She had to get right with herself at a young age and it was through forging a strong identity in those years that she is now able to stand firmly on two feet and pave the way for others to come.
Elsa is one of Africa's wildest dreams.
Her near-overnight success is often described in terms of luck, or being in the right place at the right time. All of this may be true, however, it would be a mistake to think that this means her success is incidental or anything less than the result of betting on oneself. Elsa may only be 19-years-old, but she speaks with the conviction of someone who has been here for a long time.  Rarely ever do you see a young Black African woman with this much ownership over herself, especially at such an early stage in her career. When I ask her how she was able to lean on her natural and trained talents to bring about success, she tells me that she had to learn to stand on her two feet early on. "I can ask my parents for advice but I can't ask them how to live my own life. Even though they [her parents] have been there to hold my hands every step of the way, now, I have to do things by and for myself. Everything I do now affects me and doesn't really affect how their lives go on, so I have to do things for myself and that's what I learnt."
The truth is that Elsa had to get hip to the game and she clocked early on that the way to win is to look and stay ahead. Growing up as a young African woman into a world where the odds are consistently stacked against you, and our mission has been to fix it for posterity's sake. Elsa is sitting firmly on the consistent hard work of black, African women who have broken the mould and solidified the path we're all walking on today. This is why she's consistently championed the mindset of 'if not us, then who?'
It's no secret that society is not built with the safety and progress of young Black girls and women in mind. From a very young age, it becomes apparent that this is a reality that has existed for long before us, and so as a result, we have been taught to be on high alert all the time. Black women aren't really given the room to slip and fall, make mistakes and get back up again knowing that our fall will be cushioned. Instead, many of us are dealt tough cards from a very young age, forced to protect ourselves against a world that seems to constantly attack us. 
That's why in conversation, Elsa is not afraid to say that she's milking everything that this current moment has to offer – unapologetically. 
Majimbo credits her father for instilling this in her, as he taught her early on that men and women were equal, whilst stressing the importance of staying grounded in a world that seeks to prey on those less certain of themselves. In past conversations, Majimbo has spoken candidly about her experiences with colourism while growing up in Kenya, and being treated less than her other white and light skinned classmates. These experiences stuck with her for a long time, and showed her quite early on that dark skinned women were at the bottom of the food chain. 
Now, she's at the top and is determined to show the world that people who look, sound and dress like her are no less people than anyone else, their dreams are achievable, despite what is usually prescribed from their immediate environment. "I know I am going to change so many things and I know that I am going to show so many people that they can aim for so much more," she adds gleefully.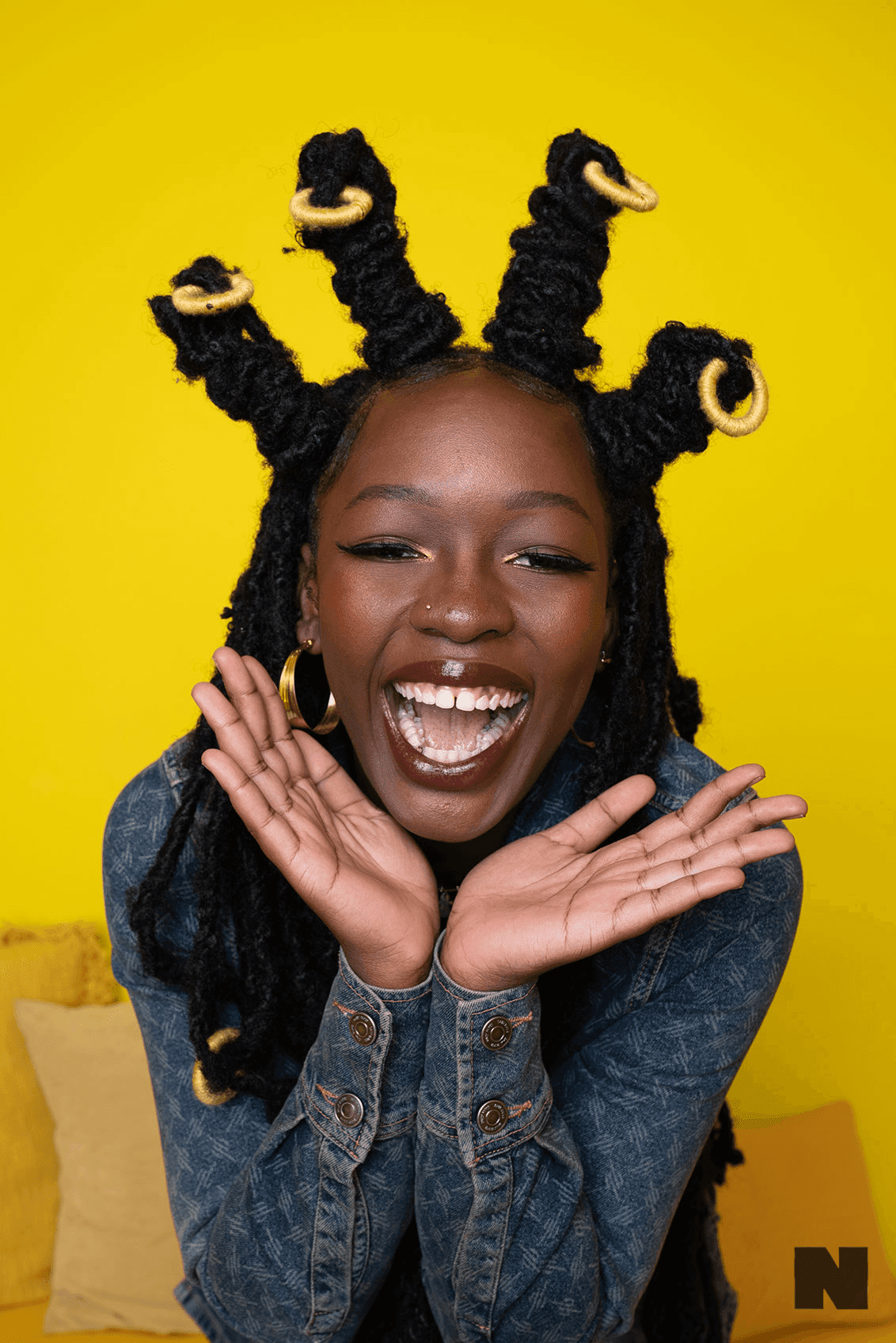 This innate, unwavering belief in her own value is exactly what Elsa projects to her fans. She is bringing a strong sense of self into the world of comedy, and in doing so, becoming a beacon for a new generation of homegrown African talent. None of it sounds cocky when Majimbo says it, in fact, it's incredibly heartwarming to see a young woman unashamedly champion herself. On this side of the pond, success rarely ever looks like making it as your generation's next social star, because young Africans are urged towards more traditional careers. Thanks to people like the Naomi Osaka's, Marasi Martins and Elsa Majimbo's of today, there is now increased acceptance in the diverse film, music, comedy and entertainment industries. 
As such, Majimbo's story is one about being so sure of your value that the world can longer question it. 
In today's entertainment world, staggering reports reveal that female comedians are given less opportunities and experiences than their male counterparts. Due to the witty and cut-throat nature of this line of work, comedy has been falsely perceived as a gendered profession where the best opportunities are reserved for the men. Women are rarely ever given a foot in the door and in the slim chances when they do, they are likely to face a myriad of barriers including rampant sex and gender-based violence meted against them.
A 2019 Oxford report states that 75% of female stand-up comedians have faced sexual harassment at work with a further 25% having faced molestation at the hands of fellow comedians. These figures become more and more grim when you take into account the misogyny rife at the heart of the African entertainment industry.
However, there is a disruption slowly underway. A new crop of African storytellers are on the come up from all corners of the continent and within the diaspora. These young stars including Maijmbo, Emmanuella Samuel, Maraji, Jola Ayeye and more, are harnessing the power of the Internet for their own purposes rallying the support of generations who grew up on social media. They have achieved this through genuine visibility, representation and belief in one's own talents. They have continuously shown the power in presenting African women as we are while building their own unique audience and operating outside the sightlines of industry gatekeepers and naysayers.
In the new decade birthing the rise of a new class of stars, these women have positioned themselves at the axis of popular culture, much to the delight of the Internet.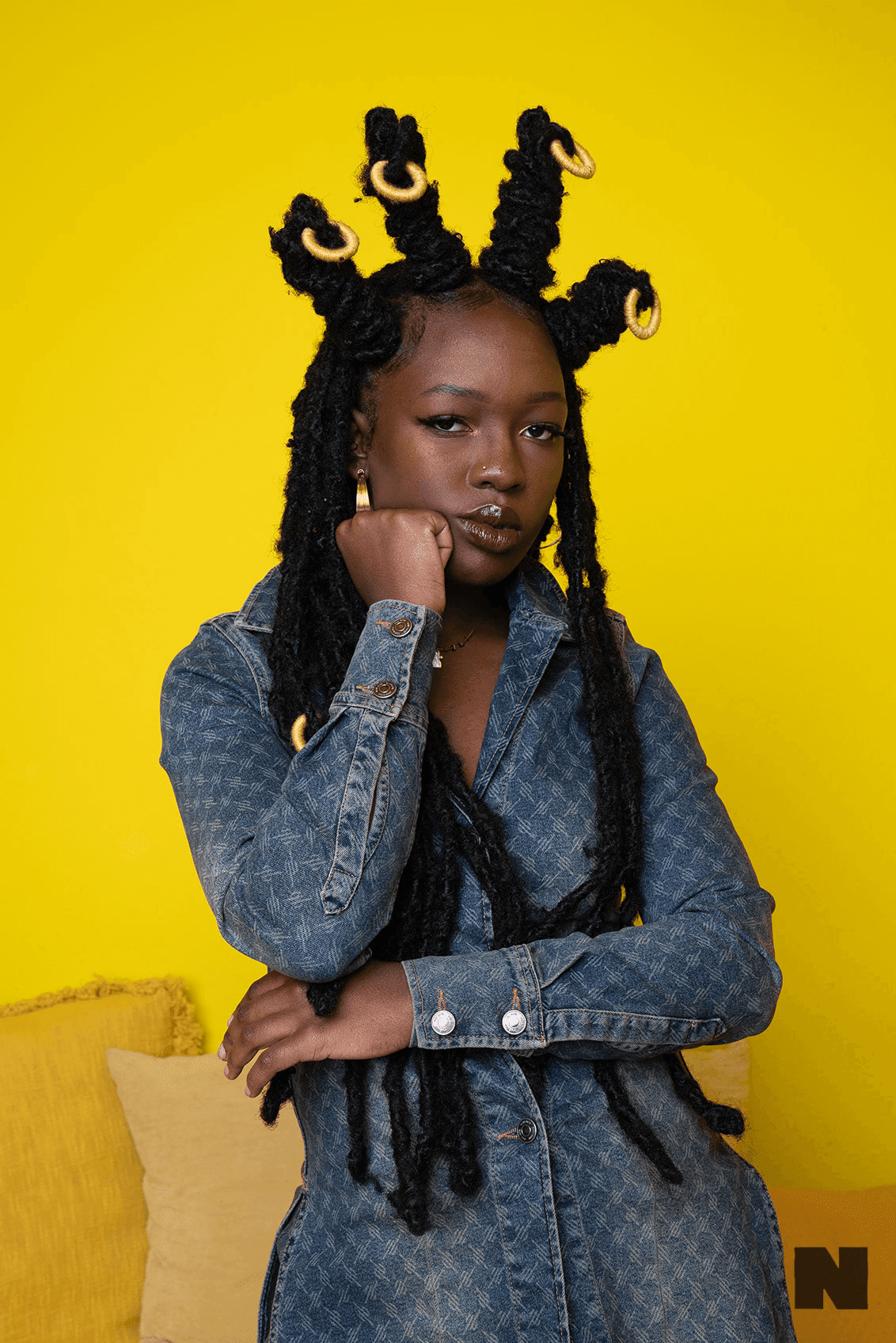 **
Majimbo is a rich storyteller and a world-builder.
In many ways, we can draw parallels between Majimbo's story and that of the lead character, Princess Elsa from Disney's 2013 film. Much like the fictional Elsa, Majimbo was given a special gift from birth–the power to evoke laughter from others which has sometimes landed her in hot waters. 
In the Disney adaptation, Princess Elsa is unable to fully grasp who she is and the magnitude of her strength; this leads her to capriciously use her powers and hurt the people and things she holds dear by turning them into stone-cold ice. She is told by adults to "conceal, don't feel" in order to navigate the world but it's only through discovering herself and understanding the source of her power that Princess Elsa is able to break the chains they hold her.
Similarly, Elsa speaks of manoeuvring the minefield of her past life and forging a new path rooted in her deep understanding of herself and her psyche. It's what makes braggadocious claims such as "Oh, sorry I was looking for humility" feel less like a boast and more like a law that governs her entire universe. It's clear that this is no ordinary 19-year-old.
Elsa's fiercely independent spirit is woven into everything that she does and it has unwittingly positioned her as one of the leading voices of this generation. However, Majimbo realises that she is a product of the Internet and understands that it can break her down as quickly as it built her up: "I think every space is the same like high school, office space, like everything is the same. There will be people there who will be friendly with you and there will be others who admire you and others who will bully you for being who you are."
She's not very bothered by the bullies, however, because she recognises how much autonomy she has over herself, and is unwilling to hand over that power to them. Judging by her rapid incline over the past year, it's abundantly clear that Elsa is learning the methods of the game while simultaneously playing it to the best of her abilities. 
Her younger self may have not had the language or the tools to stand up for herself and those around her, but this version of Elsa definitely does. With her growing platform, Majimbo currently has her sights set on giving a voice to social movements she cares about. In her new podcast titled 'Bedtime with Elsa', the brainchild of Chess Studio, Majimbo chops it up with celebrities, athletes, musicians, activists and even the leader of the DSS.
My favourite episode happens to be her conversation with Opal Tometi, a co-founder of the Black Lives Matter movement in America. The two women spoke in great lengths about the social reckonings of the past year, tracing the rising injustice from the United States to here in Nigeria, where Tometi is originally from. During last October's EndSARS protests as young Nigerians called for an end to decades-long injustice, Majimbo who was based in Kenya at the time felt greatly swept up in the movement. Although she'd never been to Lagos, its capital city, where thousands gathered for over two weeks calling for the dissolution of a rogue unit, Elsa used her social media to shine a spotlight on the injustice taking place on her virtual doorstep.
Nigeria was one of the countries Majimbo has felt the most embraced in the past year, along with South Africa, where she now currently lives. In the online world, there are no geographical borders as information is freely shared between different countries, cultures and people. Elsa understands the power of social media, having built the entirety of her world upon it, and she's become a vocal advocate for social movements. "I think things should be better for our generation and things should be better for the world so it is very important to voice everything," she admits.
However, this isn't done without exercising discretion. When Elsa speaks, it is clear that she is unwilling to let her mask of cool drop, even for a second.  As we get talking about the importance of using one's platform to voice the injustice taking place in the world, she adds "I feel like if you voice your opinion, there will always be someone ready on hand to tear you down and I don't think everyone is tough enough to take that." 
She's not wrong. To stand at the intersection of being Black and a woman is a difficult one, particularly in the entertainment industry where things aren't built for Black creatives to have long-term success–much less those from outside the West. Elsa's secret is that she's managed to brush off the haters with her razor-sharp wit and quirky one-liners, although she'll be the first to admit that people don't always have to develop tough skin to get ahead. 
"If I feel like a space is negative for me then I just pack up and leave."
For as many haters as the fame brings, Majimbo is also garnering worthy accolades along the way including the GQ Entertainer of the Year and the E People's Choice Awards for African Social Star. However, through Elsa's eyes, success is still bordering on the horizon. A month to her 20th birthday, the young star is restless as ever. "For me, it feels like another stepping stone and it doesn't feel like the end and you can't celebrate." 
The truth is that predicting Elsa's next move is virtually impossible, and that's what makes her even more thrilling to watch. On social media, as a true Gen Z, she's constantly sharing updates from her glamorous life, a trip to the skate park here, a gift set from her new famed friends and Valentino there, we can see in real-time that Majimbo has definitely upped the ante. But she's barely had time to stop and smell the roses, neither has she slowed down on chasing after the opportunities she wants. "I want to work harder to become bigger and better so when I reach a place where I feel like I can just stop and take it all in, I will do it but it is not the time."
To call her one of the busiest people in entertainment is not a stretch–time to Elsa is everything. When it was time to leave school and level up, she instinctively knew. When it was time to take on new responsibilities and projects, again, she instinctively knew. When it becomes time for her to step into the next phase of her career, she vows to also move with the same level of self-assuredness. "For me, it's amazing because the alternative lifestyle to this one seems like hell to me so it's never overwhelming," she tells me of her busy schedule. "I am just grateful to have what I have and I just do it one step at a time."
When I ask her what's up next for her, it's almost time for the next item on Elsa's busy Monday schedule. She takes a deep long laugh before answering, rather seriously "I'm just building my empire. That's as much as I can say". In the coming months, Majimbo will be moving to Los Angeles, the city of dreams, a place that's birthed many stars before her and will crown many long after her. Here, she will step into her next act: developing her debut Hollywood series with her team.
To think of an African woman like myself in Hollywood, sitting amongst the greats, and championing stories told for us, by us, is a dream come true. This is the story arc no one saw coming and perhaps where years of consistency ultimately leads to: it's Elsa Majimbo's world and we're just living in it.