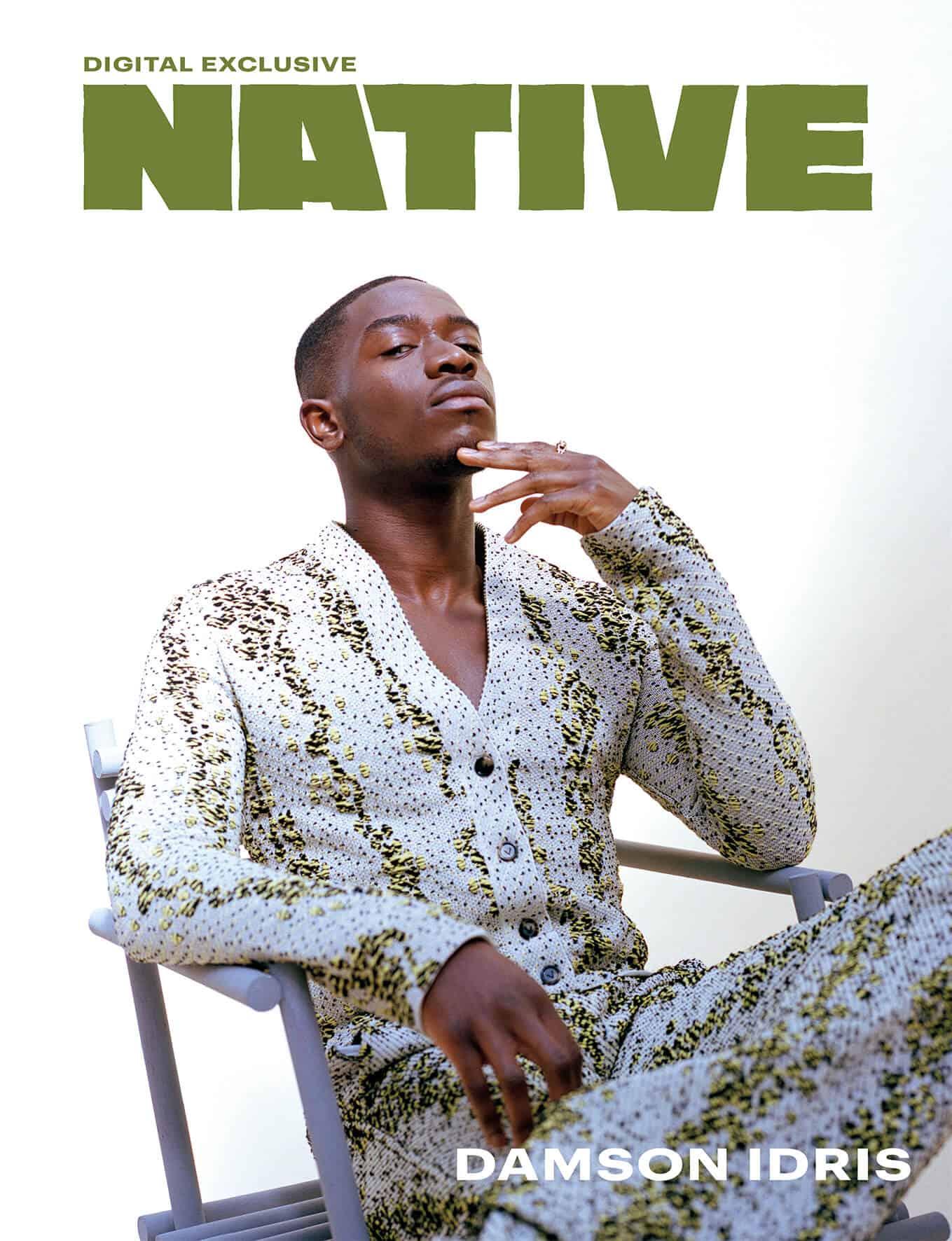 Credits:
Damson Wears – Bottega Veneta
Editor-in-Chief/Words – Seni Saraki
Managing Editor – Damilola Animashaun
Creative Director & Stylist – KK Obi 
Photographer – Alexander Ikhide
Producer – Gabriella Lafor
Videographer – Barbara Broadley
Production Assistant – Fadeke Tejuoso
Production Assistant – Ayo Saraki
Set Designer – Louis Gibson
Stylist Assistant – Kennedy Clarke
HMU Artist – Nohelia Reyes
Damson Idris has spent the last half a decade playing roles that depict the harrowing realities of growing up as a young black boy, on both sides of the pond. As 'Snowfall' – the FX drama in which he plays the lead character – reaches new heights of reverence in the pop cultural zeitgeist, Idris is preparing  his next act: Homecoming. 
London, England
Roots
"Hmm, Damson, when are you going to be on something like Eastenders or Hollyoaks?"
It's a sunny afternoon in Hackney, and we've just broken for lunch at the shoot of the inaugural NATIVE digital issue. Damson Idris, our cover star, is sitting down with his jollof rice and fish from the unmistakable Lekki Restaurant on Kingsland Road: it's the simple things for the star of the day, and quite frankly, the star of the moment. 
And what a moment he's having. 
The hysteria surrounding anything Damson Idris at the moment is something straight out of the early-noughties MTV era. A true heartthrob from the days of yesteryear, it's nigh on impossible to scroll through your Twitter timeline without seeing some sort of clip of the actor, accompanied with various complementary comments from hopeful potential paramours, some not quite so suitable for publishing.
Snowfall, the FX Crime Drama created by John Singleton, in which Idris plays the lead character Franklin Saint, has just aired its season finale, having already been renewed for a fifth season. As we catch up on the phone after a full day of shooting, Idris comes across as elated, but not overly-giddy, when speaking about the show and its increased popularity – up by 41% (via Deadline) in ratings compared to its previous season. 
"The show is just so powerful," he explains. "It's in the zeitgeist now. I feel like it's finally getting the recognition it deserves. The people love it, not just [in] America, [but] all around the world: Europe, Africa, everywhere. Everyone is seeing someone who looks like them on the screen."
He has the aura and demeanour of a man who is thankful for the success, but not in the least bit surprised. He's been preparing for this moment for as long as he can remember. 
Born Adamson Idris, but known to everyone simply as Damson, is the youngest in a family of six. He will be the first one to tell you he never had grand dreams of being an actor when he was growing up – football was his great passion, as he yearned to be the next Ronaldinho, as opposed to the British Will Smith.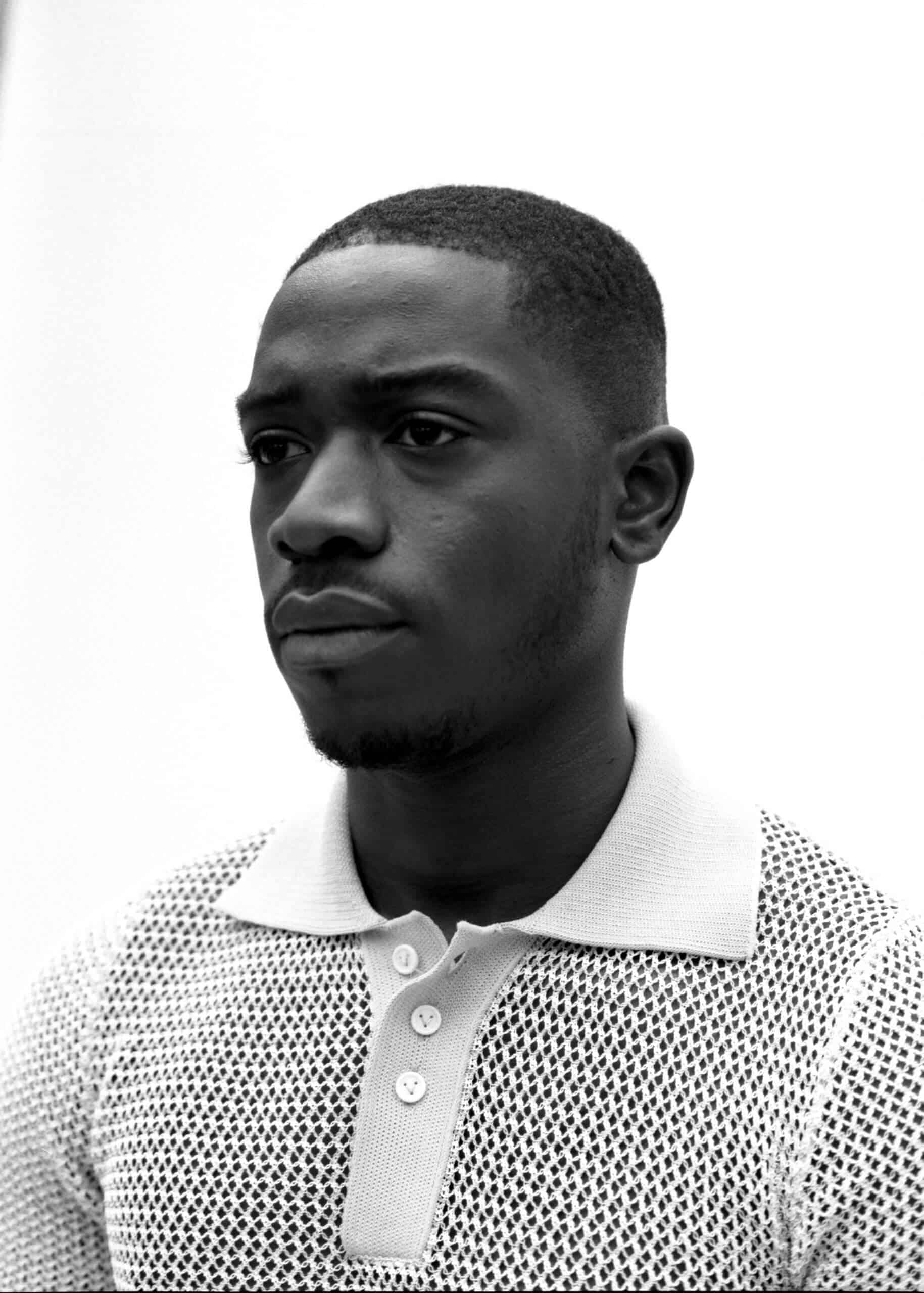 Seni: So what happened to your football career? Was it the infamous knee injury we all got?
Damson: Yes oh! I'm claiming the knee. [laughs]
Do you know what it was? I didn't listen! I never used to listen when I played football. "Damson pass the ball;" I'm doing leg over, I'm doing rainbow flick. I never used to go to the gym, I never used to work on my fitness, and that's the truth. I remember I trialled for Charlton when I was sixteen-years old, and Jonjo Shelvey (Liverpool FC, Newcastle United) was playing at the same time, and now every time I see him I think, "I used to train with this guy." But everything works out for a reason. 
When Damson's football dreams didn't quite work out, he went to university. Despite the fact his siblings all work in relatively traditional industries such as banking and law, Idris admits that being the youngest in his family gave him a certain level of freedom as he recalls the common consensus being, "D is going to go away to do something different." This privilege was never taken for granted, though. When he speaks about his family, the love rings through, but more poignantly, the immense gratitude he clearly feels towards them – especially his mother, Silifat. Moving to London from her native Oyo State, Nigeria in the 1980s, Damson describes her as his "ultimate hero". He speaks with a tinge of sadness but inevitability in his voice, as he recalls the sacrifices she made for him and his siblings. He tells me that much like many other black mothers living in inner city communities, she worked multiple jobs, but still kept it "shiny", literally, putting a young Damson in a three-piece gold suit for his birthday. 
Although he never felt obligated to attend university, he did feel a bit of pressure to complete the infamous "wall of fame" in his family home, featuring all his siblings and their graduation pictures. But as predicted, he did it his own way. Instead of going to university and studying law or business management, as is typical for most African kids, he decided to study drama at Brunel University, London, earning a BA in Theatre, Film and Television Studies. 
"When I got to Brunel, I fell in love with Stanislavsky and I was kind of infatuated with the message," Idris explains of his epiphanic moment with acting. "I had this compulsion to perform, and my family got right behind me and they supported me mentally, financially and with advice."
It's clear that Damson's personality and positivity is a big factor in his success today, and it's not a far cry to suggest he was able to blossom in such a way, thanks to the sacrifices and understanding of his mother and family at large. This genuine support didn't come without the archetypal Nigerian parent methods of encouragement, which they must all seemingly get from the same handbook. When Damson was fresh out of university, he had started acting in plays at local venues across London, such as the Arcola and Finborough Theatres, slowly making a name for himself on the circuit. Still living at his mother's house at the time, he remembers a common question that would be proffered to him upon his return after a performance. 
"Hmm, Damson, when are you going to be on something like Eastenders or Hollyoaks?" 
Damson is somewhat renowned for his hilarious impersonations. His recent Jay-Z take, in which Hov roasted him for being topless on a Zoom birthday party, took the Internet by storm a few weeks ago, however, this one of his mother, is gold. He manages to somehow translate that genuine compassion and inquisitiveness in the voices of Nigerian parents when inquiring about their children's wellbeing, whilst still maintaining that sharp, shady tone that comes when they may not be so well-versed, but are trying their best to support. 
"She loved those shows, man." Idris explains through a deep laugh. "She really loved those shows, like, you can't interrupt her when her Eastenders or Hollyoaks is on. So she would always push me to be on those."
Like a good Nigerian son, Idris worked hard and was soon appearing in legendary UK television dramas such as Doctors and Casualty. Following this, predictably (for all the Nigerians reading this), Mama Damson had another nugget of encouragement in the shape of an innocent question. 
"Damson, when are you going to go to America like Idris Elba?" Her son remembers her asking. "My mum has always pushed me to do better, and still till this day, she continues to do that. My family is the main source [of encouragement] to achieve what I've achieved today." 
Supported by his loving family, Silifat's pride and joy did end up going to America, just like Idris Elba. 
And he's barely looked back since.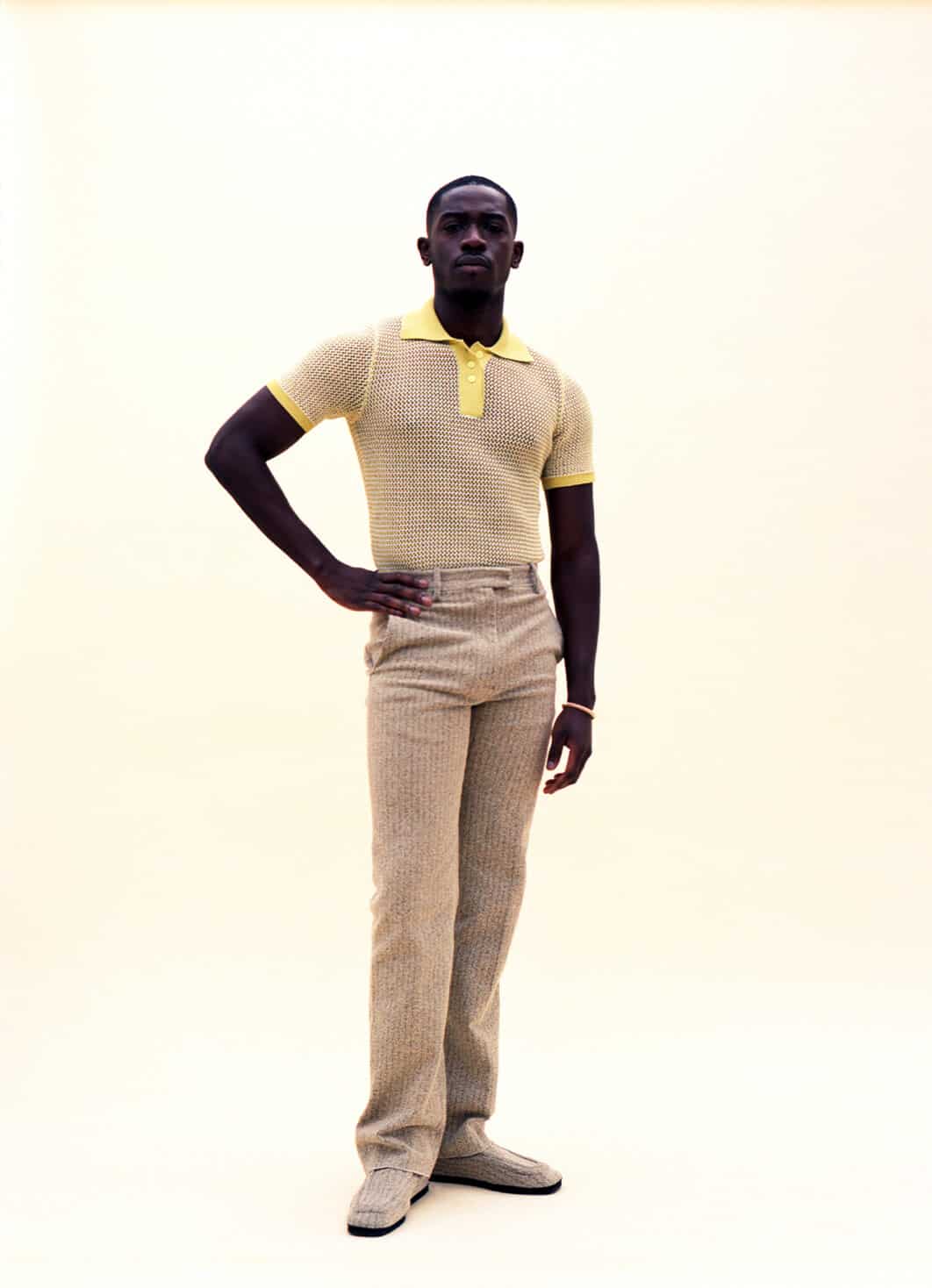 good kid(s), m.a.a.d cities 
Damson is going back to Cali.
Speaking from an Uber on his way home from the shoot, Idris is enjoying his last couple of days in London before heading back to Los Angeles, the city that changed everything for him.
Back in 2015, Idris visited Los Angeles for the first time to audition for the role of Franklin Saint on Snowfall, the brainchild of the late, legendary LA director and filmmaker John Singleton (Baby Boy, Boyz N The Hood). He has previously quipped about flying economy there, but flying first class back to London after he got the part, illustrating just how quickly things can change. And change they have. As we discuss the jollof rice from Lekki Restaurant, Idris tells a short story with his wizardry mimicry, about the time he ordered a full array of Nigerian food for Snowfall's crew after wrapping up season three. As he mimics the predominately white crew's takes on the spices and flavours of his local dishes, he offers up this experience to explain how culture can cross continents, and connect people from different walks of life. What strikes me listening to him relive that moment, is how much he has grown into the role of a leader, as a lead actor of the show. He's a long way from the boy who was giving out programmes and brochures in London theatres. 
"It's a beautiful responsibility that I welcome," Damson says gratuitously, when asked about growing into this role as a leader. "I got into this industry to inspire and motivate people, the same way [John] Singleton motivated me. He always saw me as a leader, and outside of acting, producing is something I'm involved in that I'm incredibly passionate about. I love seeing people collaborate and make great art, so I take in that responsibility and using the codes that John left me, my main aim with Snowfall, working alongside our amazing show-runner, Dave Andron and the entire cast and crew, is to make John Singleton proud. That's what FX instilled in us, and that's what I'm proud to be doing as a pillar of the show." 
Representation and identity have arguably never been as important phenomenons as they are today, and as inextricably linked realities, they orbit the existence of all of us mortals down here – particularly for black people living in Western societies. These themes are woven in a consistent thread through Damson's works – from playing a farmed Nigerian boy in Adewale Akinnuoye-Agbaje's phenomenal autobiographical Farming to a crack kingpin in Snowfall, Idris has taken roles that truly examine the psyche and life of the young black man, and his surrounding environments. Be it in a race-charged, nationalist England in the 1960s, or a quasi-war zone South Central LA in Reagan's '80s, Idris acts as The Connect, joining the common dots, exemplifying just how similar the black experience can be across generations and continents. 
Franklin Saint, Idris' character on Snowfall, is a young, smart black boy living with his mother, who turns to a life of drug-dealing, hoping to give his mother the future he feels she deserves. 
"Why are there so many Franklins? Not just in America, but all over the world," is a question Idris says he asks himself before the beginning of every season. Playing such a violent, dark character on television is something that can take its toll on actors, but Idris is obsessed with encouraging the audience and critics to dig deeper than the violence. "Why is the character so violent? Why is he doing what he's doing? Why isn't he pursuing a career in becoming a CEO of a successful, legal company, instead of becoming the leader of a drug empire?" He says incessantly. 
Growing up in Peckham, Damson Idris understands the scales are already weighted significantly against black people, seeing first hand how easy it is for one to take the wrong turn in this walk of life. Despite his natural comedic nature, no one ever told him to consider being an actor – where he's from, it was either "football, rap or road." Those are the choices traditionally on offer to black boys like himself. It's clear that he feels a certain level of responsibility to represent another potential path, and be a visible role model for this. 
"When you grow up in the inner city anywhere, such as London in Hackney or Peckham, everyone wants to be a gangster or footballer or rapper cause that's all they see," Idris explains, rather matter-of-factly. "Acting was something I didn't have any connection to, the only actor I saw from where I was growing up was the black guy on the 'I Can't Believe It's Not Butter' commercial. When I saw him I was actually shocked. That's why I got into acting so late, but today, kids are seeing people who come from exactly where they're from, and look just like them, doing the things they want to do. I'm just so happy that I'm one of those people they look at, because I'll ride for them and represent them to the end."
Idris is welcoming of comparisons with the great black television shows that came before Snowfall, such as The Wire  and Top Boy, and feels that beyond competition for which show is better, they all, first and foremost, have a duty to depict the black experience in its entirety. "It's not just about the young black kid who sells drugs on the streets, these stories are talking about the system, racism, [the] black experience and, although many of those projects are fictionalised, it's deeply rooted in truth and realness and I think that's why people connect to it. It's important not only to show a Franklin Saint, but it's also important to show many black people with different diversities on screen that viewers can relate to."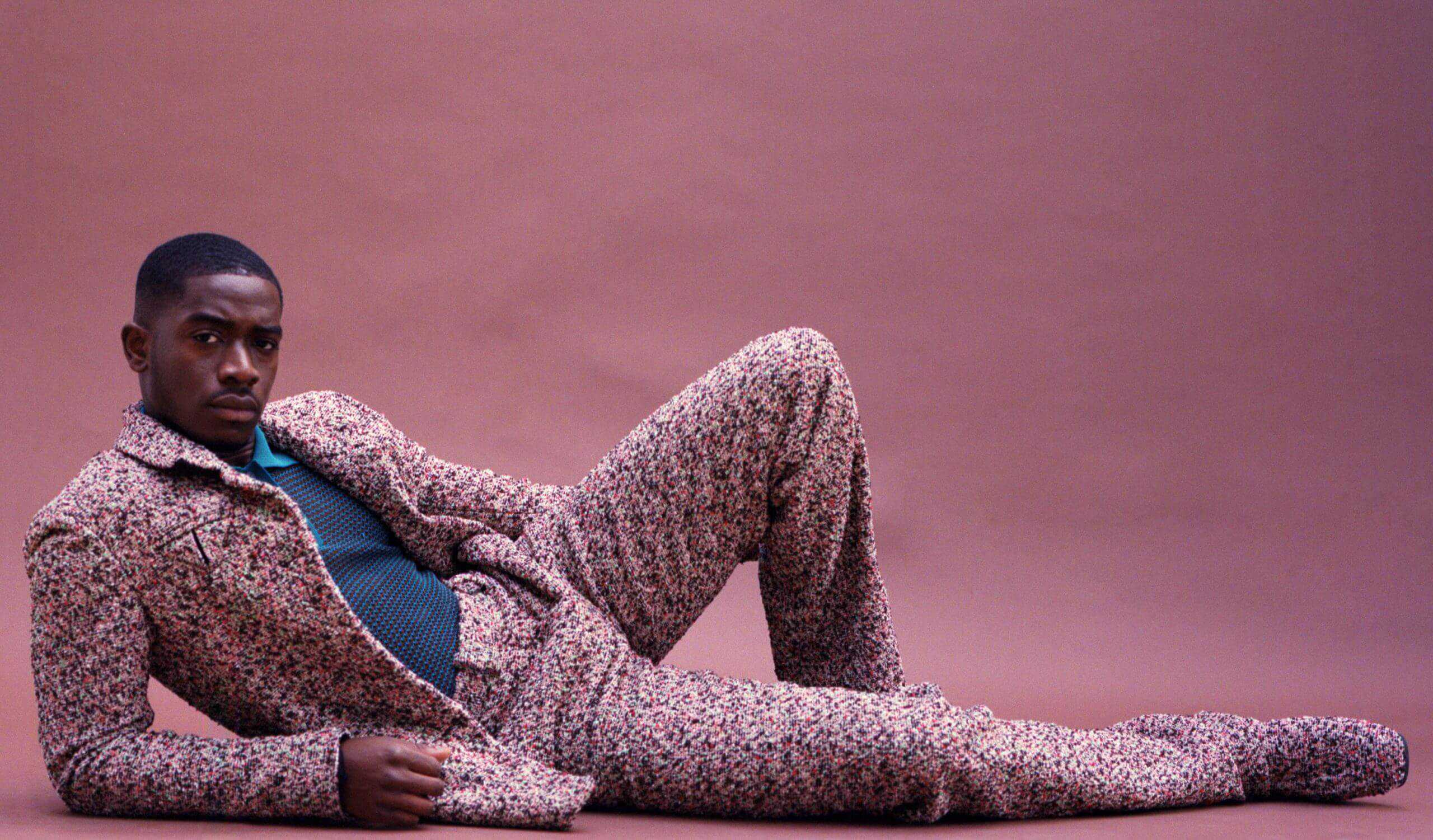 In Snowfall's season three finale, we saw the show take inspiration from "Join The Club", the iconic alternative reality episode from HBO's The Sopranos, that sits confidently in the television canon. As lead actor Tony Soprano, played by the late, great James Gandolfini, lay unconscious after being shot by his senile Uncle Junior, he dreamt a dream of another life, in which he wasn't a mobster and the boss of New Jersey. Similarly, in Snowfall's fittingly titled "Other Lives", we peer through the looking glass to what Idris' character, Franklin Saint's life could have been if he didn't take that trip down to Chicago, resulting in him discovering crack and bringing it to LA, uttering the famous words "I didn't invent the rock, but I'm going to blow it up." 
In this reality, Franklin goes to school, just like Damson, trying to chart a path in life so different to the ones he grew up surrounded by in South Central. The episode goes on to illustrate just how unfair the system was, and still is, against black people everywhere. Franklin ends up right back in his neighbourhood, after dropping out following a healthy bit of racial profiling from the finance department of his college. He ends up right back at his uncle's table, packing up the shake, on high alert as the next knock on your door could either leave you judged by 12 or carried by 6. To quote Kendrick Lamar, the life of another black [boy] damaged by the system. Earlier in our conversation, when Idris himself asks "why are there so many Franklins?" he's posing the question to himself and the viewers, but also the readers of this piece, and to me. What type of world have we designed for ourselves, where young black men's career choices are whittled down to "the league", rap music or crime?
In a scene that could easily have been missed, as it hardly enhanced any long standing storyline, a spectacled young boy is seen with a video camera, recording footage in his housing estate, and catching an unsuspecting Franklin and his best friend Leon (played by Isaiah John) in his shot. Leon, who is a small-time dealer in this alternate world as he struggles to financially sustain his young family, angrily accosts him, snarling, "Ain't nobody in the hood making no motherfucking movie." Leon's retort was perfectly in line with the overwhelming sentiment of what black people from certain communities could and could not do, growing up with an obstructive view of the bigger picture that's limited to their immediate environment. 
Damson Idris is Snowfall's Franklin Saint. Franklin Saint is The Wire's Michael Lee. Michael Lee is Top Boy's Jamie Tovell. They are all so different, and ended up leading contrasting lives, however, still represent so many young black boys somewhere between Peckham and Compton, who are standing at a crossroads, hoping the chips fall their way. 
In the run-up to submitting this story, I see on Twitter that Damson has arrived in Los Angeles, as he posts a video of himself and his friends out in California. These friends happen to include Academy-Award winning actor Daniel Kaluuya, legendary rapper Giggs and his business partner Buck, Mercury-prize winning artist Dave, and former Liverpool Football Club striker, Daniel Sturridge. The one minute clip of The Dark Skinned Society – as they have now dubbed themselves – currently has 7 million views on Twitter. Later that evening, the DSS had dinner with Drake, the rap behemoth posted their link up on his own page, right before Kaluuya's big win. When Idris speaks about visibility, and showing the next generation that their dreams are possible, this is what he means. Damson is back in Cali, but this time, surrounded by his friends from home, who, much like him, beat the odds and carved out paths of success for themselves.
It's easy for successful young, black people in overlapping industries to feel some sort of competition, or need to one-up the next person, especially in a foreign town, but Idris maintains the reality of this new generation of Black British talent are breaking the mould of what is expected of them, as they chart a new course for collective success.
"Support, support, support!" Damson chants, when I ask him about the formula to the new wave of Black British excellence. "It's all about living vicariously through each other's successes, preaching each others' names when we're in rooms [without each other]. We all started around the same time, and we're all shining at the same time,"  he says, beaming over FaceTime. "The world tends to try and break that power apart, because they feel like those powers can't exist at the same time, when in reality, they really can. In acting in particular, there's always been the mentality of one in, one out, and one person is 'the guy'. That's not the case anymore, now the case is 'we're better together'. And that's how we're going to continue to make history and that's how we're going to continue to inspire our people to follow the journey that we went on. I love that [so] many of us are producing, we're getting ourselves in powerful positions, so that we can bring more people through the door, who come from similar backgrounds."
"I'll never forget where I came from… Dursley Court, Gloucester Estate. I'll never forget that, no matter how far I go."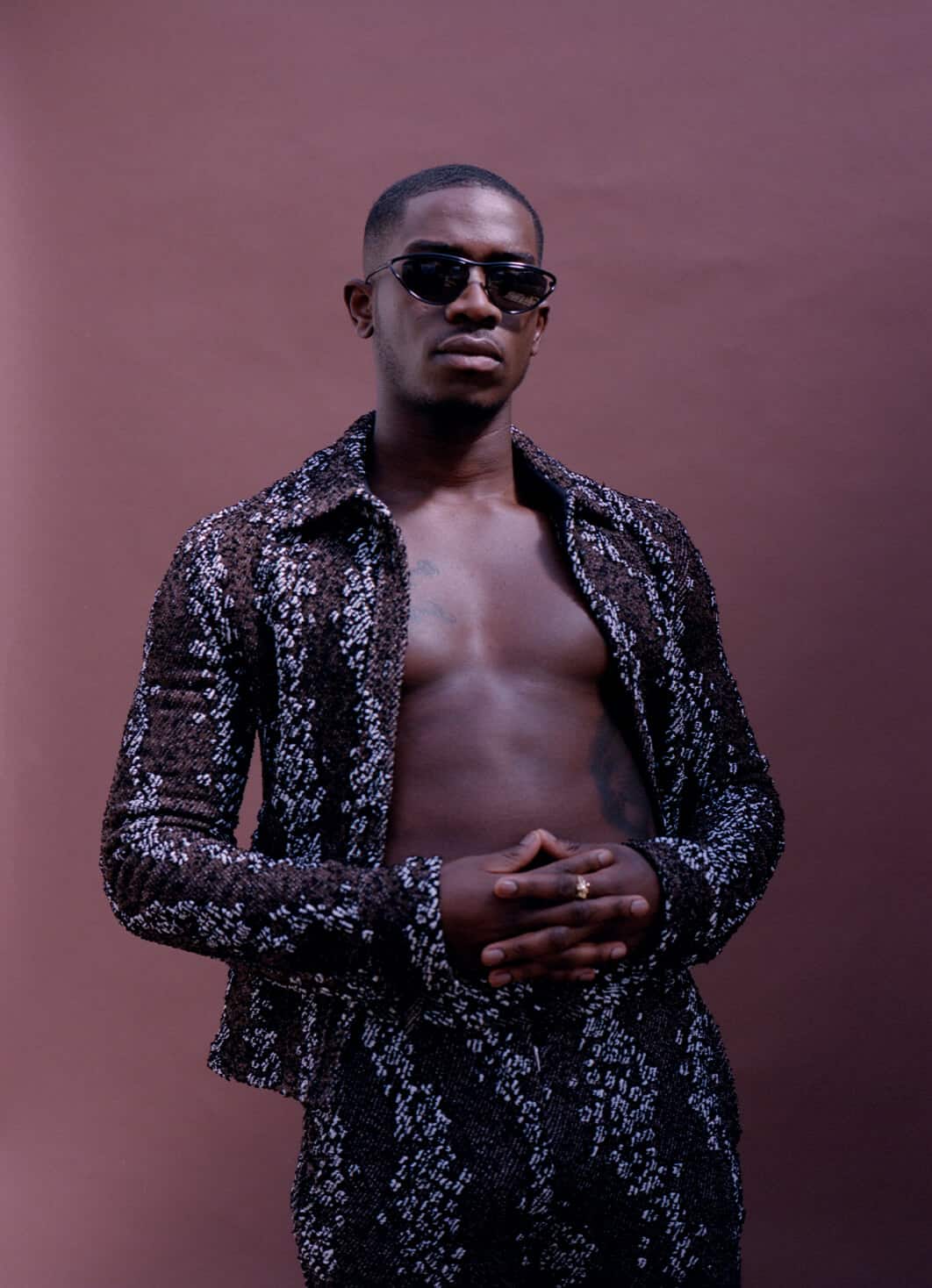 Undoubtedly proud to be part of this British renaissance, Damson has never shied away from claiming his native Nigerian roots. "My mum would always say 'live as the Romans but don't forget where you came from', and I think that's incorporated into my life today. Above all things,  no matter where I go and what circle I move in, I scream Nigeria loudly and I like to educate people about Nigeria." 
Damson straddles his British Nigerian-ness like most diaspora millennials – never has home felt so close, with the explosion of Afropop in the late 2000s and the influx of social media such as Twitter, Instagram and Whatsapp, it has been as easy to be connected to the motherland. For Damson however, that connection has never been a problem. Despite not being born in Nigeria, he was raised in a firmly Nigerian home. He speaks Yoruba fluently, something he accredits to his mum, and all the years he spent as a child following her to the mosque on Old Kent Road. "Everyone is trying to take in the culture now, and I'm so grateful to my mum for keeping me in the loop, dragging me to those hall parties, and playing Fuji music." 
Idris is right – the Nigerian arts scene is going through a renaissance period of its own, led by musicians such as Wizkid, Davido and Burna Boy, as opposed to his counterparts in Nollywood. Damson is old enough, however, to remember when being a Nigerian in London wasn't as cool as it is today. "It's so funny right, 'cause when we were growing up, everybody wanted to be Caribbean, that's what was cool, and then Afrobeats came along." Damson credits "1er Gaou", the iconic dancefloor filler from Ivorian band Magic System, as the song that opened the world for him. As he hums the melody through the phone in an effort to remember the title of the record, I can see the nostalgia-tinged smile creep through behind his mask. He notes that his elder brother had always been a "Fela Kuti fanatic", and now he can't go a single day without listening to Beast Of No Nation – he took over the sound system at the shoot to play the classic album, as he shuttled in and out of Bottega Veneta outfits on a deceptively chilly, sunny day in London. 
Despite splitting a lot of his time these days between London and LA, Damson is making a concerted effort to physically reconnect with his motherland. "I just bought my mum a house in Nigeria!" he reveals, in the most excited tone he's used all evening. "I'm trying to start laying roots there and motivate everyone to own land back home." One can't help but hear a little Franklin Saint in Idris, when he speaks about investments and real estate. It's a comparison he laughingly welcomes, saying "it's hard to play Franklin and not try and take the positives."
Silifat's last son made it to America, just as she challenged him to, and he has his eyes set on one thing to close out a phenomenal professional year: homecoming.
Seni: Do you see yourself working in Nollywood?
Damson: 100%, it's in motion. Remember how I said my mum loved Hollyoaks? She was either watching Hollyoaks or a Nollywood movie. Growing up, the first two actors I loved was Baba Suwe and Lookulooku Bansanshee. They're the first people that introduced me to comedy, and that performative and exaggerated style of performance. I remember the first time I watched Anini, I was fascinated, I couldn't take my eyes off it. It's funny that it was about Lawerence Anini, and today I'm starting the process to play that character. 
The prospect of Damson Idris producing and playing Lawrence Anini, the infamous Edo State armed robber that terrorised Benin City in the 1980s, is enough to whet the appetite of any OG Nollywood fan. Similar to his previous roles in Farming and Snowfall, Damson is channeling the dark stories of the past to tell a new narrative in the present, that he hopes will positively educate and impact the future. 
Approaching his 30th birthday this summer, every response from Idris during our conversation is honest, but measured. Perhaps unlike former toasts of the town, his total self-awareness is a complete breath of fresh air, and speaks to his humility to recognise how fleeting these moments can be. He credits Singleton for some of these assets, and truly believes young Nigerians and black people as a whole just need role models "who have walked the path, to teach people where to go." Despite his calm demeanour amidst his current superstardom, Idris' path has not been easy – from his football dreams ending before they could really get started, to switching codes, and swapping the pitch for the stage, before plying his trade across various theatres in England, and landing cameos on his mum's favourite soap operas – he has travelled a long path to get to this moment. And more than anything, he wants black people that look like him to know, that it's possible. 
"Right now, for me, it's about throwing the rope back and getting a tether for more people to come, you know?"