When the youths of Nigeria took to streets across the nation to protest the disbandment of the rogue police unit, SARS, they were met with more brutality from the Nigerian police force. This caused young Nigerians–particularly the women behind the Feminist Coalition to rise to the occassion and provide the essential services needed to provide protesters with  legal and medical aid, essential equipment, food and drinks, and much more.
All week we have watched how social media has become the most important tool in fighting oppression and how benevolent and committed to the fight many of us are, seeing as we were able to crowdfund money and resources in minutes. The Feminist Coalition (FC) has been at the forefront of this social movement and has been collating the funds needed for all the different causes that arise from the ongoing social movement. The best part yet is how seamless and transparent the entire process has been, each day, the official Twitter account is forthcoming with the amount of money received from donations and then how the money is allocated to different protest sites and for those who have been unlawfully detained.
View this post on Instagram
To make things even more transparent, the week-old organisation has now shared a detailed breakdown of where all the money that has been donated has been used. Having raised a total of 62 million naira so far, the group has allocated these funds to over 100 peaceful protests in over 25 states. NGN 759,080 in medical bills for injured protesters, donated NGN 400,000 to the families of victims murdered by police officers while protesting peacefully, paid NGN 500,000 in legal aid, and spent NGN 11,367,500 on supplies including food, water, mask among other things for the peaceful protesters.
This could not have been achieved without the collective efforts of all Nigerian youths and well-wishers from all over the world. We are witnessing history in the making and our contributions and that of the FC will always be remembered. To find out more about how the progress report, please read here.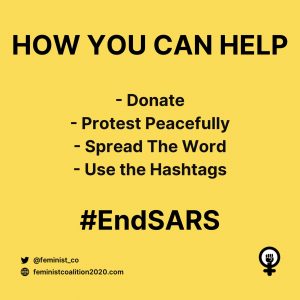 Featured image credits/FeministCoalition