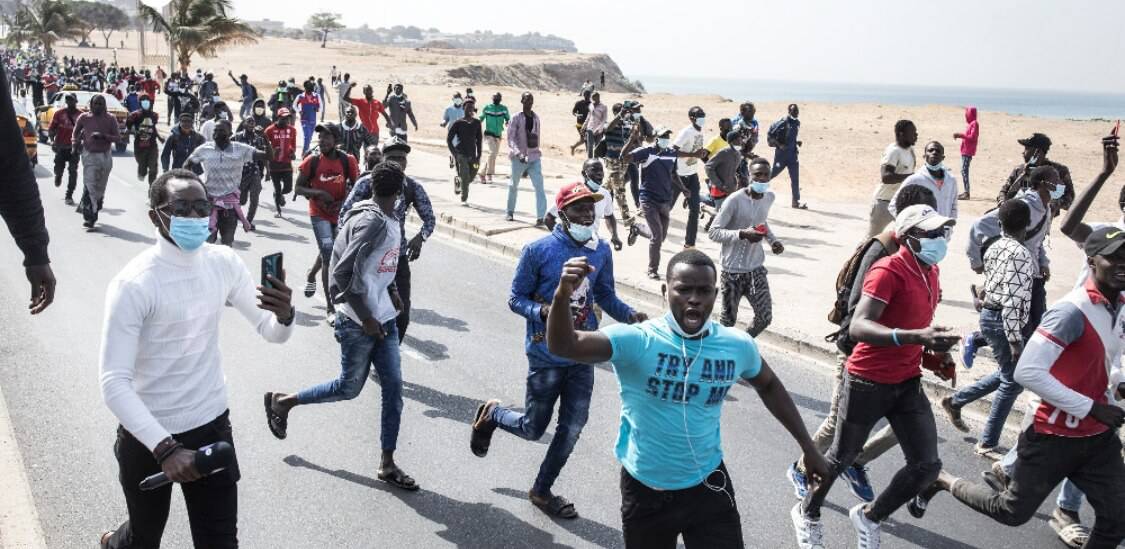 What we know so far about the protests in Senegal
Following the arrest of opposition leader, Ousmane Sonko
The past few months have been characterised by an increased demand to end the wanton corruption, injustice, and inexplicable inequity perpetuated by our world leaders and the failing police systems that have spent years abusing their power worldwide. Here in Africa, particularly, a host of nations from Nigeria and South Africa to Cameroon, Liberia, and now Senegal, have seen their young people unite to continuously speak up against oppressive regimes, years of unfettered violence, and the abuse and disregard for basic human rights by those sworn to defend and protect us.
Social media has accentuated the violations taking place across the continent, allowing many of us to watch in real-time how unsafe life has become. Over the past two days, Senegal has been under harsh global spotlight since the eruption of protests in the country's capital city, Dakar following the arrest of political opposition leader, Ousmane Sonko on Wednesday ahead of his scheduled appearance in court for an alleged rape charge against him.
Supporters of Senegal's opposition leader Ousmane Sonko protest in Dakar after he was arrested ahead of his scheduled court appearance to face a rape charge.

Sonko was arrested on charges of disturbing public order after his supporters and security forces began to clash pic.twitter.com/fZEpFyAi19

— AFP News Agency (@AFP) March 4, 2021
According to reports by Amnesty International, Sonko was arrested on his way to his hearing at a Senegalese court due to the presence of demonstrators and sympathisers on his route. Following this, on March 4, his supporters took to the streets across the country expressing their discontent at the government's treatment of Sonko resulting in the worst unrest the country has known in recent times. The headquarters of media houses deemed close to the government were attacked on Thursday evening and other demonstrations have begun across the country including in Sonko's native Casamance region in southern Senegal.
In retaliation, Senegalese law enforcement have clashed with supporters of Sonko, using tear gas and stun grenades at protesters. This is said to have resulted in the death of a 20-year-old man, Sheikh Coly in Casamance which is in the south of the country. Much like during the #EndSARS protests in Nigeria, the Senegalese government is systematically silencing the voices of the protests, through these indiscriminate arrests and also by thwarting press coverage of the events ongoing. On Thursday night, the government placed bans on two media houses accusing them of broadcasting "in loop" images of unrest triggered by the arrest of an opposition leader. Today, social media and messaging apps in Senegal were also reportedly restricted from internet access in the early hours of the day amid the two-day unrest.
THIS IS WHAT'S HAPPENED TODAY 😞#senegal #manifestation #sonko #mackysall #police pic.twitter.com/5ua2OJ3zRl

— Badara Preira (@bdrpreira) March 3, 2021
Reports also state that Sonko was to be transferred Thursday evening to a Dakar courthouse where his case was to be heard by a judge but his lawyers said the hearing had been postponed to Friday. The country's Interior Minister, Antoine Felix Abdoulaye Diome said that Sonko had been arrested over a ban on gatherings because of the coronavirus and violating a traffic plan put in place. Sonko, who came third in the 2019 presidential election accuses incumbent president Macky Sall of conspiring to sideline him ahead of the 2024 elections because of his popularity among the country's young people.
It seems that governments across various African nations are feeling the number and power of its young population who will stop at nothing to ensure that every citizen has access to their basic human rights and can live free from persecution. The Senegalese government now has the eyes of the world turned on it as news of the violent clashes continue to take over our timelines. Thankfully, this year, we are demanding better, for ourselves and the world we all live in.
This is a developing story.
Featured image credits/AFP New Agency
---