Literary events can get pretty overwhelming after a while, so organizers often try to shake up the sombre mood with a bit of fun. The Ake Books and Art Festival was no exception to this rule. For all four days of the festival,  entertainment was lined up for the evenings. Each designed to evoke in the audience, a myriad of emotions as it ends.
On Wednesday evening  was the "Concert' with the five incredibly talented women, where Salawa Abeni raised the roof with her Waka music . Thursday evening, "Witches of Gambaga" a documentary by Yaba Badoe came out once again to provoke thoughts. Documentaries like these create a public consciousness on how religion and superstitions are the main tools used by a patriarchal system to physically suppress women. Further goes to reveal the diverse interpretations of  word feminism by different races and class. To anti-feminists, it means witches, to the white woman, equal socio-economic and political rights. And to the African woman, Freedom. The movie challenged us all as African feminists to work harder towards the emancipation of her women. Considering how discomforted people were after previous nights' evening screening, Friday brought to life "Quarter Life Crisis" a stage play revolving around the life of Alicia, a 20 something year old British Nigerian who is failing at jobs, relationships and sex.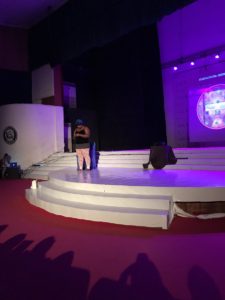 Heavily relying on her mother to get things done, all the  while hoping to get a revelation on what adulthood entails. Played by the energetic Yolanda Mercy, we were faced with the themes of death, effect of broken homes and in subtlety the issue of African parents and their phobia for open affection.
With Saturday being the last night, fittingly it ended with Palm wine and Poetry, well almost.
You know that feeling you get when you're down to the last piece of your favorite cookie, nibbling at it to prolong the pleasure for as long as possible. For the audience in Hubert Ogunde Hall at the Ake Book and Arts Festival, this feeling was made manifest in the course of the evening entertainment with these four amazing poets, Koleka Putuma, Poetra Asantewa, Mariam Bukar, Aduke Gomez and Nkateto Masinga .What could possibly go wrong  with Palm wine to soothe your nerves and Poetry to feed your soul.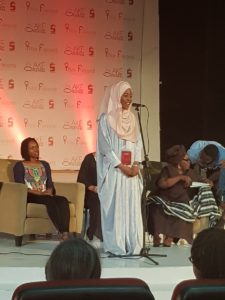 Mariam Bukar, opened the night with a motivational poem over lapping with words of advice, to her unborn daughter, whom she calls a star.  Appealing for her to never shrink herself, to aspire to live, demand for education, never constrained and never conditioned.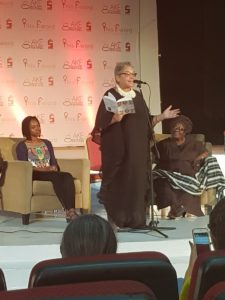 Aduke Gomez came on with an insightful poem on the culture of forced respect, and  endurance.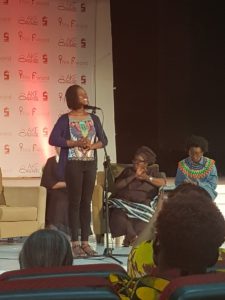 The third act Nkateto Masinga nearly sent the audience a-weeping with an emotional poem that read like a journal entry, one she confirmed she penned for a childhood friend, who died.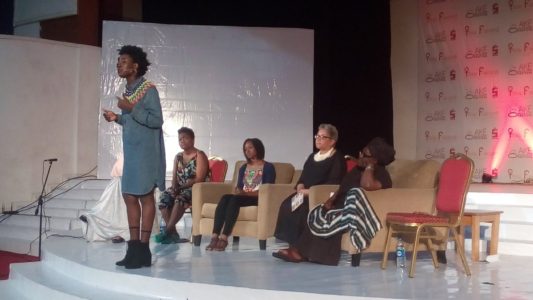 Poetra Asantewa's  mesmerizing stage presence was the right push needed to honor the festival's theme. With a couple of questions, demanding to know why the women who fought alongside men for Ghana's independence are lost in history "When a tongue is shrinking on it's own do you swallow it whole or stretch it out" , her second poem expounded on the beauty of the African woman. Truly an entertainer.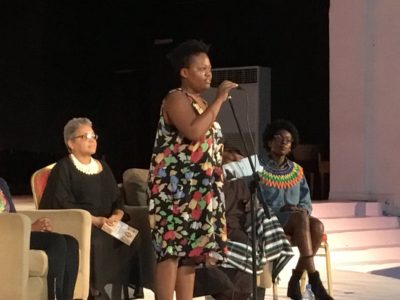 Koleka Putuma ended the night at Ake and brought the house down. Her insightful poem, "On Black Solidarity" echoing Poetra's sentiments about the disappearance of the women who fought for liberation.  Her second poem titled 'Water" delivered in sometimes clear, in sometimes shaky voices,  took us to church.  When the audience stood to applaud her performance as she got off the stage, our skin freckled with goosebumps. 
Despite the different words that came together to produce their art, despite their different background, one could tell their poems all revolved around, Freedom. And to the African woman and the Ake Book and Arts Festival, Feminism means Freedom. 
---
"Ifunanya is too queer to live and too rare to die" Tweet at her @Iphynaya
---