The Kutis know better than anyone that the nightlife can be a vehicle for social change. Fela's legacy is sustained by the religious hero-worship of his rebellious attitude, and the activism he embodied in his music. His advocacy for maintaining African traditions, anti-corruption is still upheld today at the New Afrikan Shrine built in Ikeja in his honour. 22 years after his death, and tourists from all over the world still come here to experience the music concert that celebrates the Afrobeat music he pioneered and the culture and ideals he promoted through it.
You have to endure a security search at the gate before you're permitted into the shrine. The site is mapped out like a theme park with different totem merchandise sold at every corner. Guests aren't allowed to bring any food into the grounds so the stores and bars at the sides are filled out with people who are happy to just sit and patronize the merchants and watch the football match showing on the different TVs sets while the stage is being set up.
When Femi Kuti and his band, Positive Force aren't touring the world, they spend their Sundays entertaining the mix of intellectuals, foreigners, downtown hipsters and uptown tastemakers who show up as guests to enjoy the show. Before Femi comes on stage, a different singer takes the stage and performs along with the Afrobeat instrumentalists and backup singers who embody the spirit of the Kalakuta Queens. The dancers are the main attraction of the show which also happened to be International Women's Day.
The three women are dressed in seductive traditional clothes charged with the difficult task of staying grounded in the present while simultaneously preserving the past. They show remarkable strength and endurance, singing and dancing to entertain guests for the entire duration of the show. But with their ever smiling faces, they radiate a pleasant glow that portrays them as a liberated group of women who are doing what they enjoy. They represent women as powerful, beautiful and confident as they add to the spiritual ambience of the shrine with their captivating voice and alluring performance.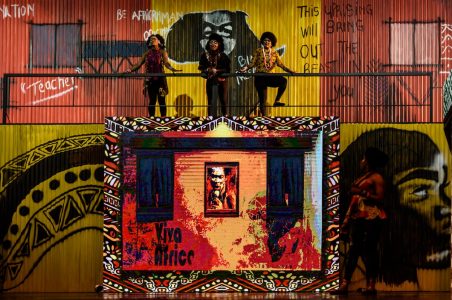 Fela's legacy might loom over contemporary Nigerian pop culture, but the unsung heroes of the legacy he left behind are the Kalakuta Queens. They instilled a sense of pride to a generation of women who have been historically eschewed by society and helped convince everyone that Fela's Shrine was indeed a space where marginalised people could feel safe and express themselves freely.
You can watch the video of the musical dedicated to honouring the Kalakuta Queens below.
Featured Image Credits: Web/nollywoodalive

---
You are meeting Debola at a strange time in his life. He wandered into a dream and lost his way back. Tweet at him @debola_abimbolu
---