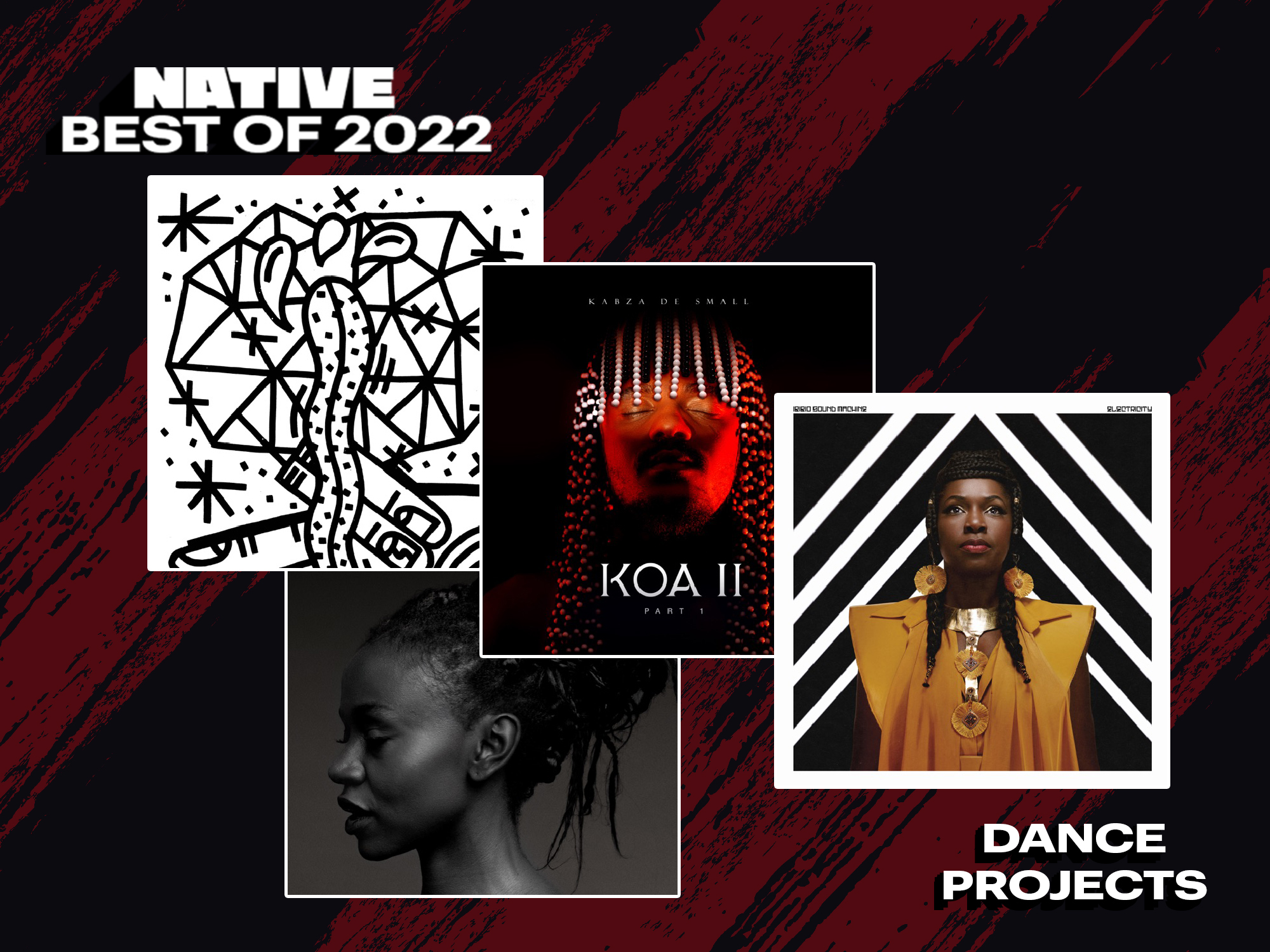 The Best Dance & Electronic Projects of 2022, Ranked
Featuring Kabza De Small, DJ Lag, NATIVE Sound System & more
Dance music is embedded in African culture. From square-filled carnivals which rose with thunderous drums to percussive rattles awakening the groove of ancient masquerades, the natural urge to movement has been sufficiently translated into music over eras. In the context of modern pop music, several countries across the continent have consistently polished and presented their distinct iterations of the sound, birthing genres and subgenres which often shapes up as the edgiest and most sonically inventive on the palette of a listener.
Earlier this year, Drake, arguably the biggest artist in the world, tapped from the intimate mystery of South African House music, working with the trio of Black Coffee, Sona and TRESOR on 'Honestly, Nevermind.' While the album's positive reception brought some degree of attention to the origins of its finest collaborators, there's surely more where that came from. Amapiano continues to tighten its hold on contemporary African music while dominating party floors and club rooms across the world; the propulsive distortions of Gqom soundtracks the biggest festivals in the world; Deep House and Afro-Tech are making upward progressions and entering the consciousness of a popular audience, project after project, one remarkable breakout artist after another.
This year has seen no shortage of music projects from the purveyors of Dance music. Traversing the genre's usual perception and including variant styles of expression, this list captures the expansive scope of the continental music scene. As expected, some of the projects embrace anthropological ethos by preserving traditional sounds and rituals, while others are rather forward-facing, pairing existing elements with novel experiments. All together, it's an essential curation of artistic achievement and a recognition of humankind's most primal desire: movement.
15. DJ LeSoul – 'Soul Awakening'
As an assembler, arranger and song curator, DJ LeSoul's music is a testament to her exploratory instincts. 'Soul Awakening' is an impressive show of the producer and DJ's upward creative trajectory, a rewarding listen with obvious dancefloor intentions, spiritually-inclined moments and gently moving bangers. A perfect combination of sweet-sounding vocals paired with a skillful organisation of a slew of instruments, the project provides a balance of heart-thumping mixes on solo performances like "Turmoil" and more melodious numbers like "Sebenza", a standout assisted by Nkosazana Daughter and Azana. Sitting at the intersection of Tribal House, Afro-tech and Deep House, 'Soul Awakening' encapsulates DJ LeSoul's self-proclaimed aim as a musical scientist.
Nwanneamaka Igwe
14. Mellow & Sleazy – 'Bacardi Fest'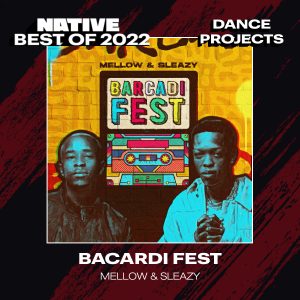 Within a few weeks of their breakout, Mellow & Sleazy quickly defined their sonic identity, merging the distinct snare sound and synthesiser melodies of Bacardi with Amapiano. Even as it's gone on to become a wildly popular 'Piano strain, the Pretoria-raised producer duo continue to prove themselves as inventive soundmen and ultra-reliable hit-makers in that lane. 'Bacardi Fest', their third project within a year, was released as a precursor to their headline gig of the same name but it's a lasting show of star power and cultural reverence. Highly collaborative, the project is graced by prominent figures like Sir Trill and Musa Keys, risers Chley and 2woshort, Bacardi veteran Dadaman, and more. Closing with the breathless lead single, "Wenza Kanjani", the project's feel-good tracks are loaded with intoxicating rhythms certain to get anyone on their feet and ready to dance.
Wonu Osikoya
13. Citizen Deep – 'Arcade 2'
Soweto-born Dance music producer and DJ Citizen Deep is known for blending new school electronic production with nostalgia-fuelled, folk-tinged melodies. A veteran enjoying a new lease on life and relishing recent boosts to his profile with last year's 'Arcade', Citizen Deep has been in the game since the late 2000's, figuring out the layers to his artistry. That dedication to his craft is evident in the consistent warmth and the electrifying feel of his soulful deep house tracks. On 'Arcade 2', he continues to refine, putting out some of the most experimental songs in his catalogue. Playing host to Just Bheki, Azana, ZeneeMusiq, Vernotile and many more vocal heavyweights, Citizen Deep's compositions are ornate richly layered and aptly tuned to equally match and challenge the evocative performances of his guests.
Wonu Osikoya
12. Coco Em – 'Kilumi'
Coco Em's music demands your attention at every turn. The Kenyan DJ/producer carries the heart of a consummate experimentalist underneath the sleeves of an electronic musician. Over half-a-decade since she began drawing acclaim for her mixes, and with only a few previous song releases to her name, her debut project, 'Kilumi', impressively confirms Coco Em's bonafides as a genre-bender whose only allegiance is to her well-honed intuitions. Here, she breaks into varying styles of Electronic and Dance music, as well as adjacent sounds, using those shards to piece together enchanting bangers and a cumulatively entrancing body of work. 'Kilumi' asserts the undeniable powers of its creator.
Dennis Ade Peter
11. DJ Lag – 'Meeting With The King'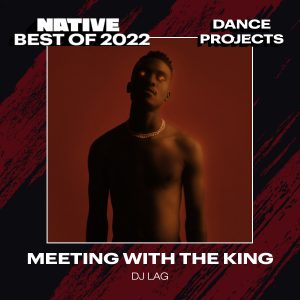 It's possible to read the title of DJ Lag's debut studio album, 'Meeting With The King', as self-aggrandising, but one listen through the mutating 15-track project sounds like an undulating ride through a primordial African castle. Since the inception of Gqom in the 2010s, DJ Lag has rounded every bend and scaled every fence, serving as a leading voice of the culture. 'Meeting with the King' sees this motif in its full glory, as the iconoclastic 26-year-old artiste burrows deep into the most starkly experimental pockets of Gqom: slowing down the tempo and sloshing it with an assortment of eclectic sounds, from Amapiano to Funk. For an artist who has been a frontrunner in the genre's burgeoning scene for over a decade, his debut album witnesses his knack for inventiveness at an all-time high. On songs like "Raptor", where drums rumble with unbridled gusto and he marries the entrancing ethos of Techno with whimsical theatrical explorations, it's obvious that he crafted 'Meeting With The King' with the grandest, voyeuristic experience of Gqom in mind.
Chibuzo Emmanuel
10. Chrisman – 'Makila'
Taking inspiration from his Gqom, Trap and Afro-house experimentations on the 2021 EP 'Ku Mwezi', Congolese producer, DJ and sound engineer Chrisman digs deep into his bag of experimental tricks for his debut album, 'Makila.' Named after his late father, the album, with traces of Trap and Gqom, weaves Angolan kuduro, tarraxinha and kizomba dances with electronic elements, creating a soundscape that is at once full-of-form yet formless, carefully assembled yet structureless and everything in between. 'Makila' is interesting music and the product of a musician obsessed with erasing the boundaries that separate musical genres.
Uzoma Ihejirika
9. NATIVE Sound System – 'NATIVEWORLD'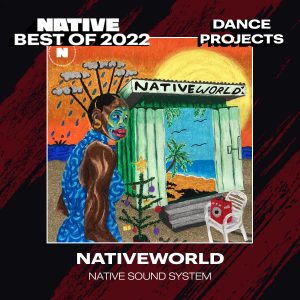 Epic in vision and intimately delivered, 'NATIVEWORLD' is musical confidence on steroids. From British-bred musicians to iconic Alte figures resident in Lagos and artists dominating the rap industry in Abuja—the album has it all, a showcase of how much deliberation went into its set-up. Its warm vibe results from this cocktail of influences, incorporating the familiar conventions of Afropop and the sprawling sounds of Africa's diasporic base. Never mind it's the first time a project this scale is being executed on this side of the continent: every musician here knows what they're doing, orchestrating seamless progressions and unpredictable highs, and its dance core holding the colourful fabrics together as the sea breeze pulls closer.
Emmanuel Esomnofu
8. Caiiro – 'Pyramids'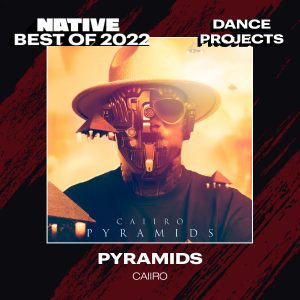 On the 20-track 'Pyramids,' South African DJ/music producer Caiiro continues his iteration of Afro-house sounds that pulsate with poignant rhythms and emotions. The sprawling set is the latest marker of Caiiro's grand executions, where the music has a hefty presence and vibrant verve, but with an emotionally relatable core. His supporting cast of artists—Nkosazana Daughter, KekeLingo, Inga Hina, Tina Ardor, Toshi and Khaeda, to mention a few—layer their feelings over Caiiro's productions, journeying from romance to hope. On tracks where there are no vocals, like "The Akan", "Dat Guitar" or "Zukku", Caiiro still shines as he melds multiple elements into his captivating sound. 'Pyramids' is a celebration of talent and the power of community.
Uzoma Iherijika
7. La Roche – 'Liye Liye'
Across the half-hour runtime of 'Liye Liye', a stark ethos of mysterious tension is established. Bold, tribal drums are paired with crashing bottles, swinging notes of horns and variants of eccentric percussion, the vocalisation reminiscent of a rousing performance before the members of an ancient clan. The music is vivid and visceral. Part of the Kinshasa-based collective Fulu Miziki, the incandescent buzz of communalism permeates this debut album from La Roche, retaining an intimate groove within the propulsive, sharp edges of the production.
Emmanuel Esomnofu
6. Moonchild Sanelly – 'Phases'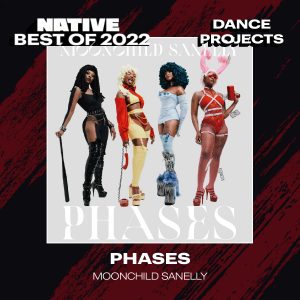 Flamboyance lies at the heart of Moonchild Sanelly's acclaim. Her artistry reveals a musician deeply steeped in the traditions of South Africa while aware of the music elsewhere. These fragments are threaded by an explosive sense of electronic music, a preference that's seen her dabble in Gqom, Amapiano and other similar sounds. 'Phases', the musician's sophomore album, followed her foray into British music circles (several UK musicians feature here) and finds her executing flagrant ideals. Romance is usually the subject, but she's astoundingly subversive, constructing remarkable storylines from queer angles. What's magical is her ability to have fun while at it, taking the listener into a soundscape that sounds like an entire carnival.
Emmanuel Esomnofu
5. Avalanche Kaito – 'Avalanche Kaito'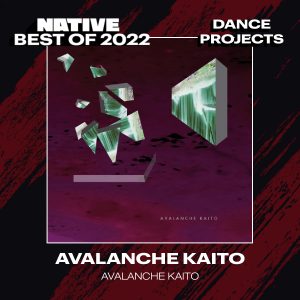 A griot from Burkina Faso and a Belgian noise-punk duo is the sort of pairing that yields anything but orthodox music. Avalanche Kaito is where traditions from a West African society meets post post-modern experimental music, a plane that's a portal to ancestral codes and a future-facing, purposefully disconcerting wall of sound. The group's eponymous mid-year album builds on 'Dabalomuni', their debut EP from the very first days of 2022, a searing set of songs that cut across riotous punk, near-wordless haunts of beatless noise, screamo vocals over glitching and whirring synths, spiritually-charged free jazz improvisation filtered through electronic arrangements, and just about anything left-field that glimmers with an otherworldly quality. 'Avalanche Kaito' is transportive.
Dennis Ade Peter
4. Ibibio Sound Machine – 'Electricity'
There's always been an intriguing ambition to Ibibio Sound Machine, even before the scope of its sound—infusing West African rhythms with electronic elements—began to expand with subsequent follow-ups to their 2014 eponymous debut. Marked by grand execution, 'Electricity' is the London-based band's highest creative zenith yet. Produced by synthpop savants Hot Chip, the electronic excursions are amped up as a way of emboldening the band's virtuosity at spinning viscerally stunning grooves. On its divinely-tilted intro, "Protection from Evil", vocalist Eno Williams literally speaks in tongues, a zany moment that sets up ISM's most accessible album till date. 'Electricity' is colourful and propulsive, where an optimistic search for hope, joy and light takes centre stage amidst Afrobeat, '80s disco, '90s house, Moroder synths and Cameroonian water drumming. Here, darkness has no chance at winning.
Dennis Ade Peter
3. Prince Kaybee – 'Gemini'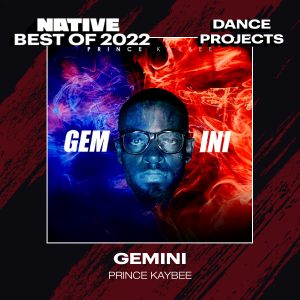 'Gemini' doesn't just reference Prince Kaybee's zodiac sign, it embodies the album's push and pull between familiar sound preferences and experimental excursions. Growing into ubiquity through guitar-laced House classics, the South African producer and DJ has always ventured beyond those star-making inclinations, even co-opting Gqom at the height of his commercial dominance in the late 2010s. Where his last album was sprawling and messy by facing every direction at once, Prince Kaybee's versatility shines through on his 5th LP by reestablishing the guitar sound as his base.
Lead singles "Sbindi Uyabulala" and "Breakfast In Soweto" offered clear signs in the lead up to 'Gemini', soulful house tracks with an affecting quality. Across the album's 15 tracks, Prince Kaybee composes an array of feel-good songs accompanied by a range of mellifluous guest vocals from Ami Faku, Nkosazana Daughter, Ben September and more, with percussive ticks and rhythmic touches cued from Tech-house and Afro-Tech. On "Milani", Prince Kaybee crafts a wordless ode to his son, a gorgeous assembly of guitar riffs and a violin solo, showing just how far the clean execution of pristine chord arrangements can take a body of work.
Nwanneamaka Igwe
2. Lady Aicha & Pisko Crane's Original Fulu Mziki of Kinshasa – 'N'Djila Wa Mudjimu'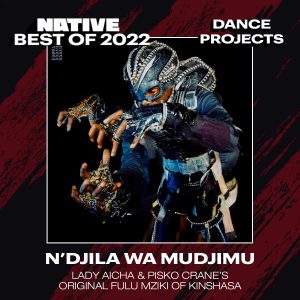 Immediately you press play on 'N'Djila Wa Mudujimu', opening track "Mesami" sucks you into the magnificent, fun-filled world of Lady Aicha & Pisko Crane's Original Fulu Mziki of Kinshasa. Over a decade and a half, Pisko Crane, who grew up in the slums of Kinshasa, has constantly sought ingenious ways to create music that represents his creative leanings and empower the sounds emanating from his neighbourhood. He went into the streets, gathered discarded trash (old computer bits, oil cans, springs, metal pipes, etc.) to build musical instruments and then set up the eco-punk band Fulu Mziki, whose name in English means "music from the garbage."
Over the years, Pisko Crane's Fulu Mziki has attained legendary status. With the assistance of performance artist, sculptor and fashion designer Lady Aicha, Fulu Mziki have reinvented themselves, venturing further into Soukous and exhilarating mix of punk, electronic music, industrial music and Spiritual Jazz. It is this embellishment of sounds that makes up the 11-track 'N'Djila Wa Mudjimu.' From the pounding rhythms of "Tikanga" to rousing chants on "Mutangila" and the hypnotic swirls of "Congo", 'N'Djila Wa Mudjimu' is a definitive album, signposting the fascinating and wildly creative sounds of contemporary DR Congo.
Uzoma Iherijika
1. Kabza De Small – 'KOA II Part 1'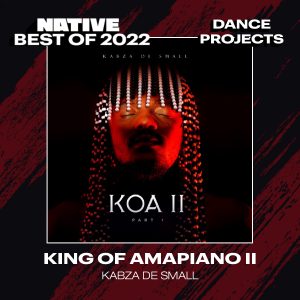 Kabza De Small is a creator and curator of lasting moments. Part of that is a by-product of his obsessive need to express himself, a prolific soundman always in need of a canvas to splash together piano riffs, synthesised notes, and unyielding percussions. Part of that is because, when you proclaim yourself king in a wildly inventive subgenre that turns out new stars with every blink, greatness is the only option at every turn. Two years off his incredibly expansive, classic debut solo LP, 'I am the King of Amapiano: Sweet & Dust', the producer returns with a sequel that's even more arrogant than its predecessor.
Assertiveness pours out of 'KOA II Part 1' unbridled; this is not a statement of importance, it's an edict from the top of Mount Olympus. The scope is unpretentiously grand, invariably packed with incredibly soulful cuts, affecting folksy tunes, and wall-rattling bangers. Ever the shamanistic composer, Kabza De Small spends two-plus hours purposefully teasing out Amapiano's range with consistent experimentations, directing a star-studded cast of guest voices that augment the simple fact that, no matter how routine it may seem, this is actually greatness personified.
Dennis Ade-Peter
Featured image credits/NATIVE
---
Written by Emmanuel Esomnofu, Nwanneamaka Igwe, Wonu Osikoya, Chibuzo Emmanuel, Tela Wangeci, Uzoma Ihejirika & Dennis Ade Peter.
---
---