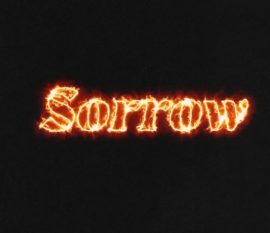 Best New Music: Konyikeh's "Sorrow" Is A Meditative Ode To Life
A powerful debut from the classically-trained singer
If you caught Dave's performance at the Brit Awards early last year, you would have come across rising artist, Konyikeh. The talented singer has a commanding presence on stage and sings with so much gusto, setting the tastefully melancholic energy which "In The Fire" embodies. It was the sort of performance many would describe as a career highlight, but for Konyikeh, it was only the latest stop on a musical journey that began a long time ago. 
Konyikeh started singing classical music when she was eleven, partly because her mother played it so much around the house, along with records from Jeniffer Hudson and Destiny's Child. A pairing that was intriguing and immersive enough to pull Konyikeh into other forms of music, her palette has continued to grow. She became a music scholar at a prestigious school in West London and for a decade went on weekends to the neighbouring Guildhall School of Music and Drama where she learned musical theory alongside piano and violin. 
Imbibing this level of expert artistry, it can sometimes be hard to adapt to popular music. The pace is breakneck, the industry even more frenetic, and language can sometimes be too outward-facing. An artist like Konyikeh requires soft landing, and to her credit, she achieves that and more with debut single, "Sorrow." On surface, it's a stirring meditative piece, an associative mood that is immediately established by the layered warmth of Konyikeh's voice.
View this post on Instagram
That's only on the surface, however. Strip the songwriting for its clues and you'll find many easter eggs–a style which is enriched by Konyikeh's third-person narrative. It's even more remarkable when you consider that the song was written when the artist was about fourteen years old, wanting to suffuse her writing with the weight of life's lessons, even if that meant writing outside her immediate perspective. 
The song's evocation of a romantic tussle that spans years constructs powerful images in the mind. Its quaint edge is flavoured with the colourful twists of a flamenco guitar, working to render contemporary zest. With sparse, staggering drums in the background, the music brilliantly complements Konyikeh's voice, which stands as an instrument of its own. In all, the song's central dilemma is present in the hook, which resurfaces in-between her incisive verses which culls inter-generational terms and religious allusions. "She sings about lust, he sings about sorrows," sings Konyikeh, building layers to this character analysis which enriches the tension. 
The visuals for "Sorrow" also mirror the poignant brooding of the record. A house that wouldn't be out of place in a Kazuo Ishuguro novel is the first thing you see, followed by the twinkling feet of a child. Snapshot after snapshot, the extremes of emotion are captured by director Kemi Adeeko. Rich montages of Black families experiencing joy are the most frequent, but with the haunting vocals of Konyikeh creeping from behind the scenes, there's a sort of hiding that's present: you're surely watching the video, but you know you're not seeing the full picture. 
Konyikeh's debut EP is slated for release later this year, while the singer continues to burnish her cred. If anything, the artist with direct links to Cameroon, Jamaica and Britain has her foot solid into the industry. Performing alongside Dave isn't her only big-name association; she's signed to Jorja Smith's management company FAMM, which also releases music from Smith and ENNY, the British-Nigerian rapper. 
A lot of songs can make you move, but few can make you stop and listen. Konyikeh's music belongs to the latter category, and for a debut, it's almost frightening what beautiful record this 24-year-old would create throughout the course of her career. Her life has been marked by playing the long game and by now it's the only way she knows. Epic and exquisitely simple at the same time, "Sorrow" is the prelude to something major.
---