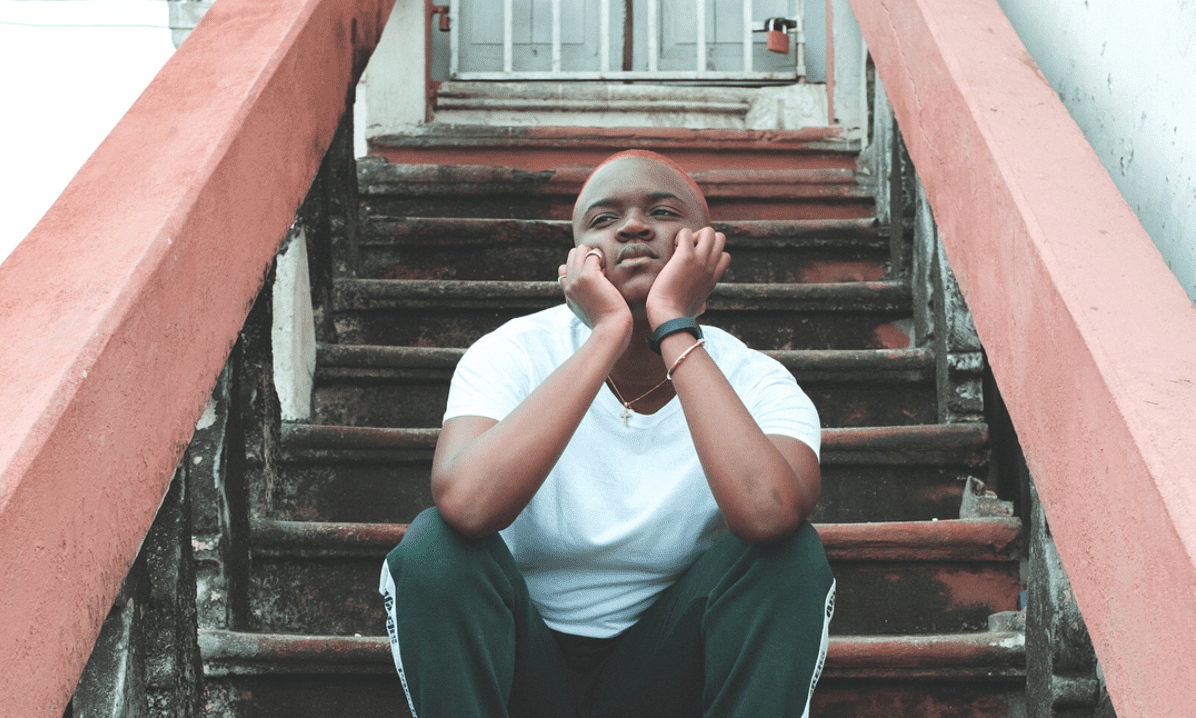 Amaa Rae feels like a singing psychologist dealing with human connection
Bringing some sexual healing into the bargain
It was 3 hours to midnight in a duplex off Wumba district when I decided to listen to Amaa Rae cradle a microphone and pour out her heart. Some two-three-minute odes to innocence. They were pure sonically, and it was obvious Amaa Rae's intention, content-wise, was for it to be clear cut.
On "Obsolete Truth", Amaa Rae sings "I look at you and can't believe, you are the only one that really knows how to fuck me, you're the only one that really knows how to love me, you're the only one that really gets me, you're the only one that…could", intimating a truth we grapple with but often cannot express. Between the words 'that' and 'could', within those ellipses you see, the producer inserts two droplets of water —conceivably, tears— to punctuate the steady piano. And in this moment, Amaa Rae sniffs, showing uncertainty, hesitating before finally inserting "could disrespect me".
Rae's vocal work is clean and dexterous. Kay So, Amaa Rae's sound engineer shifts between plain singing to echoes of her own voice behind the main register and a few lines auto-tuned to vaguely resemble a masculine bass singer, or perhaps, a monster. This song establishes such closeness, you can feel her very presence or picture Rae as she sings. It is this sort of intimacy that defines Amaa Rae's music. She strikes you as a very expressive person, and oh in reality, Amaa Rae actually detests suppressing her voice. There are no PG 13 allusions, she makes direct references to some of our favourite things.
Many artists notoriously delay interviews, but Amaa Rae comes online immediately, offering readable laughter and cheerful banter before we begin. She seems unhurried and relaxed even though she's had to take some time off work for this interview. "It's all I do", she tells me. And we begin.
It's the week after Native had a cursory misinterpretation of music composition and misunderstanding with artist, AYLØ, who featured Amaa Rae on the track, "Whoa!" off his album, type written as <Insert Project Name/>, a rich synthesis of alt and soul we had reviewed —but the article is now in our back end. On "Whoa!", both artists are deft behind the mic.
I ask for Rae's thoughts on the "Whoa!" song review in question. There is always some level of meaning lost between artist and consumer, and in this case, journalists. Such that, parts of a song's intended understanding can be lost during interpretation for a music review. Amaa Rae shows she understands this when she says, "to me ehn…"—Rae often switches between her Ghanaian and American accent intermittently— "…music can be interpreted in so many different ways because different people from all walks of life are connecting to a song but taking different things away from it, that's the beauty of music. It's so raw, so imperfect even when it's perfect."
Rae speaks comprehensively like this, all through our interview. In fact, she makes my job easier as a journalist who sometimes struggles with artists who give information in short supply, turning us into chickens scratching the surface for context. She dribbles tactfully between the side of the artist (who is her close associate) and NATIVE. A psychologist, I tell you, she actually is. This is beyond a conversation. We barter. Like a market, she gifts me honesty and mediates without breaking trust in the conversation. Then, she unburdens AYLØ's burden to me.
"from working with him, this is somebody that takes painstaking time to write every line, he puts a certain level of energy to his music. And he's very very protective and sensitive about his music. So I think for him what frustrates him is when an idea or emotion or intention he's trying to portray or project is lost on the person, as opposed to them maybe conferring with him the interpretive for themselves."
Amaa Rae's goal is to glaze or entwine her creativity with human physical interaction, but beyond this mission, with what she has just said, I think she's both an apt intervener and prophet. Then she talks of the publication with laser focus clarity.
"But as far as  publications go though, I feel like it's [their] responsibility to speak to an artist. Ask them, you know, what is it you mean when you say this. And print exactly that because it's [also their] responsibility to ensure our art is respected in the sense where you guys help to relay information to fans or other [potential] listeners. To maintain the integrity of the publication, as well as the artist by meeting them half way."
Now, this should tell you that when Amaa Rae harnesses her gifts, the results would be impossible to argue with. Yet, she often doubts herself, letting her insecurities creep in. This may be cliché but indeed, I'm dealing with someone who is going to be a force to reckon with: Ama Serwah Genfi. Conversations like this will be part of the past glories she will revisit when she breaks out. Her Upcoming EP, Passion Fruit Summers will be the victory lap, capping what has been thus far, a marathon.
Amaa Rae —the name 'Rae' is adopted from her longtime fave, Corrine Bailey Rae— wants to put out a project that isn't only undeniable in its quality but in its content as well. She isn't exactly aiming for a Grammy or such accolades she tells me, but timeless music that will transcend time, same way Amy Winehouse' craft has done overtime. "People I look up to are like D'angelo, Sade, even the Arctic Monkeys." She goes on, "Pine Paladino the-Bass-player, John Meyer…I have a whole bunch of influences, but one thing that is consistent within my influence is the way they move as musicians."
Right away, she invites me into the inner sanctum of what some of her confessional songs are created for. "I really really want people to listen to the music and to feel me and…" She emphasizes on that word 'feel', leaving a certain long-lasting effect as she communicates —similar to how she wants her music to be long-lived and dynamic. Amma Rae continues, "to connect to the music on a different level, to finally start to appreciate raw sexual expression from women and to indulge in that."
Amma Rae's creativity and persona feels like a singing psychologist that deals with human connection. She seems to always sound like she is engaging with this persona critically, making her audience wallow in the same moment, but also questioning the story she tells. So I ask her, "how true is the story you tell on "Obsolete Truth" and what do you think is the correlation between pain and emotion in music?" and she says,
"The story of Obsolete Truth is so true that it was actually a foreshadow of the demise of a relationship that I was in. And this was a relationship that was very pivotal to my growth both as an artist and as a human being."
This is a song she loathed to put out a year ago. There are three producers on it: Kuvie, who produced Burna Boy's recently released "Chilling Chillin", producer Nel Magnum who has worked on Lvin Red's "On Top of The World" and Kay So, the mastermind behind the mixing of what was in fact an impromptu circumstantial freestyle of a sensitive moment.
You see, at the time, 22 year old Amaa Rae was phone called by her partner who came to see her, but her phone was off —she was having a studio session. So they got into an argument. There was exchange of words and insults. "You know, typical relationship stuff", Rae adds and continues, "one of the producers I was working with in the studio started playing this piano loop and it just kept going and going." Meanwhile, there were about 10 people in this studio, all staring at Amaa Rae's eyes in search of words. "Yo, Rae you gotta write something," she retells. But hours passed, she didn't write anything. At about 2 or 3 am, she tapped Kay So lightly on the arm.
"I'm ready to record."
What she recorded was this.
In Rae's words, she "free styled [this] song from top to bottom", although it included a verse that she had in mind about 6 months prior: "When the nights are cold and life is obsolete…". She continues talking, "and I hated [the song]. Till today, I don't like the obsolete truth".
If certain types of artists thrive on pain and emotion in music to facilitate their creativity, bringing out a certain rawness of expression, for Rae, what she mainly thrives on is imagination. "Outside of my imagination, I thrive on human connection. And my most potent connection are very often with people that are close to my heart. And it's very often with people that are able to tap into a certain energy inside me." This isn't to say that her creativity is just based on human physical interaction alone, she explains, "those are some of the things that make up my raw expression. It's that physical potent human interaction."
Although Amaa Rae makes sex sound sacred, like a worshiping session between lovers, —"an interpretation of what your soul and spirit wants to tell the person but can't find the words to"— the human physical interaction she speaks of isn't just sex alone. She continues, "I mean touching, I mean kissing, I mean holding someone's hand, I mean hugging, I mean caressing or playing with somebody's hair. Those are the details I watch and look at or feel when somebody does them to me or [vice versa]."
The sentence may certainly feel unusual to those who cringe or stay guarded towards verbal messages about sex. In many African countries, Sex is a taboo topic. Not to talk of singing explicitly about it. Artists who make bold statements, shake us up and make us uncomfortable, are those we need; they are the true parts of our thoughts. There are no processed thoughts here. When angry or emotional, we choose to be mute and repeatedly want to be 'rational'. But what really is rationality? Sometimes our true thoughts in that moment are what really is. After blurting out in anger, you may be wrong anyway, but your thought in that furious moment is not downright out of keeping. This is part of the key preservative of "obsolete truth".
Amaarae is not here for anger though. The ultimate goal for Rae's upcoming EP, Passionfruit Summers, "is for guys or even anyone, to play for women, and then make love to them. To put you in that mood with another person you're feeling and ultimately, get to sort of connect physically through this medium of music." She says. She tells me she doesn't shy away from her sexuality because it's a core part of her expression.
Do not however get it twisted through use of certain vocabulary on "Last Weekend (Ready 4 U)" or "Body & Soul/Pu$$ywet". While Amma Rae's singing certainly has explicit material, it is not as much an avalanche of juicy things in a sweet voice. Embedded in her songs, are critical and intellectual take outs. A line like "all the ones we tossed aside, chasing after selfish pride" on "Luvr's", restates Amaa Rae's defining duality.
A comment on "Whoa!" via Soundcloud reads, "Who's Amaarae??" Well, this is she and ye millennials have to keep up. Marvin Gaye may have done this on Here, My Dear decades ago, but what this Generation Y artist lays forth is keenness to work hard, she envisions exactly where the greats have been. Imagine a future possibility of someone surpassing them.
But first, a body of work.
"there are moments that are quiet and peaceful and introspective. But those moments are very short as compared to the more elegant and extravagant moments within the project," She says of Passionfruit Summers.
Everything we know about Amaa Rae will be in it: contemporary R&B folded into experimental soul, and pieces of Amaa Rae the producer, singer, mixer and songwriter; the lascivious lyrics that swings between jibes and affection; and most of all, Rae's vulpine melodies. Developed from a childhood spent listening to the overtly sexual Nellyville, her hooks and adlibs on the EP will be more indelible than ever. She promises.
NB: This post has been updated with the EP title, formerly, Sex Heartbreak and The Beach, now, Passionfruit Summers, set for a November 30th 2017 release date.
Featured Image Credit: Instagram/amaarae
---
Fisayo is a journalist in search of words. Tweet at her @fisvyo
---