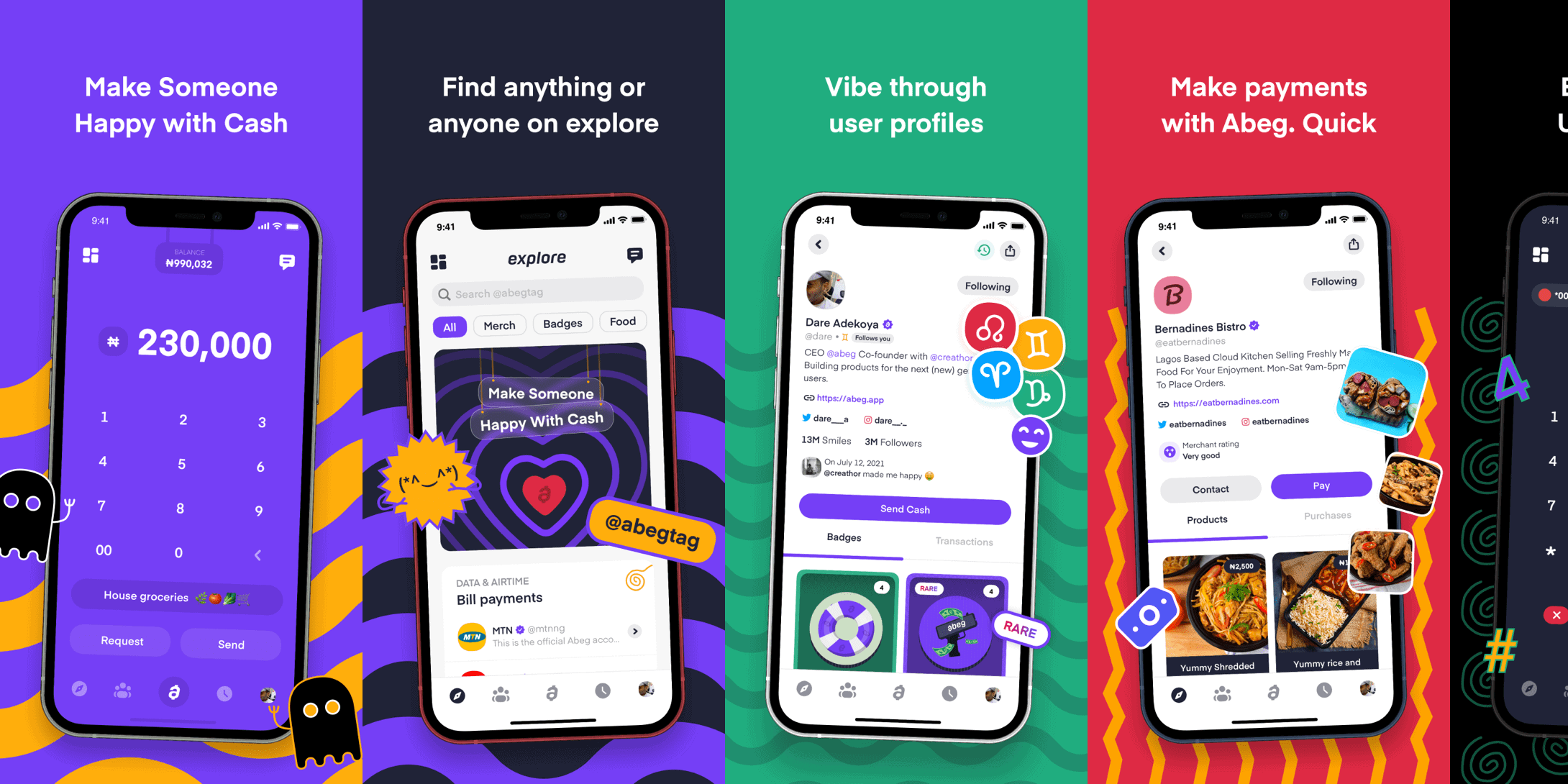 Here's What We Know About Abeg App, the Current Big Brother Headline Sponsor
The new peer-to-peer payment app
Late last month, Big Brother Naija returned to our screens once again. The 'Shine Ya Eye' Season 6 has already generated a lot of buzz, with its double entrance weekend, surprise wildcard twists and a spate of talented contestants from dancer Liquorose to Blacklist actor Boma, art curator Arinola and more. While a lot of attention has certainly centred around the excitement of a new season and the promise of new stars to stan and celebrate, there's also an ensuing conversation about this season's headline sponsor: Abeg App.
Every so often, in these parts, a brand breaks into the market and immediately stands out for its ability to connect with audiences without much push and pull. We witnessed it with the likes of fintech apps such as Piggy Vest, Buy Coins Africa, Paystack, Tix Africa and more, which have banked on their relatability with the country's millennial market who are looking for ease of doing business and making online transactions.
Abeg App is the latest of the fintech companies to garner similar attention in Nigeria's busy tech ecosystem. Founded by Muheez Akanni and Dare Adekoya in 2019, the social payment app provides a peer-to-peer platform where users can easily transfer money to other users, partake in giveaways and request funds from their contact list of friends.
Hey #BBNaija fam! We're glad to announce @abeg_app as the Headline Sponsor and @PatriciaSwitch as the Associate Sponsor of Season 6!

This season promises to be bigger and more entertaining. Who's excited? https://t.co/Ai4WvYdv8W pic.twitter.com/XxmncRb1xh

— Big Brother Naija (@BBNaija) April 26, 2021
How exactly does it work?
Abeg App provides an alternative to bank transfers in Nigeria, which are marred by several network issues and also eliminates the need for account numbers or any other account details. The only information required to sign up is the mobile number linked to the user's preregistered Bank Verification Number (BVN). Its user-friendly interface taps into the young population in the country through its title: Abeg, a colloquial phrase used to beg or request for favours. In this same light, Abeg allows users to gift their friend's money, conduct giveaways for their followers and earn badges and points for making other people happy through gifting money. The app has adopted emojis and sticker features to gain more traction from a younger audience.
However, Abeg is not the first wallet type of its kind in the Nigerian market. There is already existing competition in the country including some competitors in the African tech market: Paga App (15.8M users as of June 2020), Cowrywise (220,000 users as of January 2021), and Paystack (60k users as of October 2020). However, Abeg App now has now tapped into a market that none of these existing companies have done: Big Brother. The media value of sponsoring a show such as Big Brother Naija is undoubtedly high. According to reports from Brand Spur, category sponsorship on the reality show runs to about 750 million Naira per season with a fully-formed sponsorship package including 30-second ad slots, product integration, online activation, and other offerings. As such, many brands use sponsorship opportunities on Big Brother to get the word out about their products out.
Online retailer, Payporte was the headline sponsor in 2017 and 2018, while brands such as Bet9JA have previously sponsored in 2019 and Betway in the 2020 Lockdown season. Other recurrent sponsors include Minnie Mie Chin Chin, Nokia, Heritage Bank, Pepsi, Legend Extra Stout among others. As such, Abeg App stands a lot to gain by positioning itself as the headline sponsor on the 2021 season of Big Brother Naija, leading many to wonder about the brand's products and its co-founders.
To that end, we spoke to co-founder and designer, Dare Adekoya about the app's peer-to-peer features and its future in the fintech ecosystem following Big Brother. Our conversation, which follows below, has been lightly edited for clarity.
NATIVE: Hi Dare, could you tell us more Abeg app and its place in the Nigerian fintech ecosystem?
DARE: Abeg is a social payment app, it's the easiest and fastest way to receive or send cash to anybody using their usernames (known on the app as their 'abegtag'). Abeg was created to make spending stress-free and simple but very fun and exciting at the same time. The goal is for Abeg to become everyone's go-to method of sending, receiving or paying for anything. It is meant to make customers' lives easier when it comes down to these types of transactions. For example, no incessant waits for credit or debit alert between people or delay in purchasing items, or even in situations as petty as the stores' POS being unresponsive. You won't have any of those traditional banking issues in an ecosystem where Abeg is the preferred mode of payment.
NATIVE: What was the inspiration behind the brand name?
DARE: Abeg is a pidgin term that a lot of Africans can relate to. The name isn't entirely original either. I've always wanted to use something like Cash App, PayPal, etc since I was younger because I could already imagine how easy our lives would be with such innovations. So on Dec 30, 2018, my friend sent a tweet by Asemota (shoutout to you Early Attoh) which read "I think one should build an app in Nigeria similar to $Cash and call it $Abeg. Bambiala culture is international." I wanted to quickly flex my design skills and do something badass with Abeg. The plan was to post it hoping it could trend. So, I started working on the mini task, and immediately I fell in love with the logo and the rest is history.
View this post on Instagram
NATIVE: The focus of the app is on millennials and even the digital outlook is made to feel like a profile homepage with a distinct character. I know you're the designer, what inspired the interface?
DARE: Our plan initially was to disrupt the fintech ecosystem, because new apps kept springing up left and right and they were all doing the same thing the same way and most of them didn't look or feel great. So I had one job as the designer, to show how it should be done. Trust me if you're not using Abeg you're missing out.
NATIVE: Tell us about being the headline sponsor for Big Brother Naija? Why was this the right time to tap into this market?
DARE: Big Brother is the biggest show in Africa, and has a lot of brand equity. I think anyone would agree that it's the best place to market your product, and in this case, Abeg happens to be something a lot of Africans need. Big brother is the perfect place to educate them, while they enjoy the drama from the show.
NATIVE: Abeg also consists of a small, close-knit team. How are you able to handle the demands that now come from such a prominent involvement in a reality show as huge as Big Brother?
DARE: Yes, we're still a close-knit team product-wise, but our support team is growing fast, so we can resolve more issues faster. But that aside we're a rockstar team.
Featured image credits/Courtesy of Dare Adekoya
---