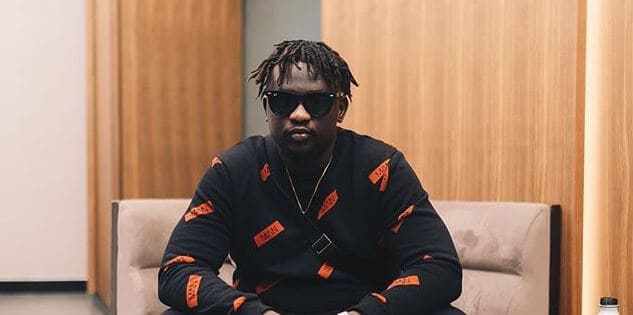 A 1-Listen review of Wande Coal's 'Realms'
His first album in over six years
In this new series, The NATIVE will be presenting one-listen reviews of some of the most-anticipated albums on the scene. As the review style suggests, all songs will receive instant reactions while being played – no skips, rewinds, or pauses in between, just our honest, in-the-moment reactions to the newest projects in town. 
---
When Wande Coal released his debut album Mushin 2 Mo' Hits back in 2009, the world was not ready for the dominance of afrobeats and the ensuing growth of its sub-genres. Over a decade later and this project has served as a cultural shift, which laid the foundation for Afropop as we know it today. Even though it's still missing across various DSPs, it remains one of the most revered and celebrated in conversations surrounding the undeniable growth of the genre.
Today, Wande Coal has released his highly-anticipated EP titled Realms, his first project in over six years. To understand why it took so long for one of afropop's biggest names to put out another project, all you need to do is look at the singles-driven market that exists within the Nigerian music scene. Clearly, Wande Coal is at the top of this game, however, he's ready to give us another project to hold us over in the meantime.
For Wande Coal, this project seems to be a way to placate his restless fans who have been incessantly calling for a body of work since the anthemic "Ode Lo Like" dropped earlier this year. Whatever the case may be, I'm always in the mood for Wande's ethereal touch on afropop and can't wait to get into Realms. Here goes:
Again
Interesting choice to open with this single which many, including myself,  have rinsed several times in anticipation for more King Coal music. Despite the underwhelming start to the project (did I mention it's his first in six years) this song still remains one of my favourite afropop records from this year because it's so catchy. The songwriting doesn't take itself too seriously and it's still a catchy tune that will get everybody fired up and dancing if played at the function.
Check
I'm really loving the song's intro, reminds me of older Coal records. The mix of ambient guitar riffs and Wande Coal's soothing vocal pitch mask the song's blunt lines and that's the best part. "Don't check on me, I got patek on me" is a very cheeky line and I absolutely love it (LOOL!). He's definitely sending a message to someone, sorry to whoever is on the receiving end. As the song builds up, his subject matter seems to delve into the romantic realm, hinting that the accused in this instance is an ex. Sending all the love & light to her because this diss song is a good song, will definitely revisit.
Naughty Girl
You already know anything Pheelz touches is an instant classic and this song is no exception. Though this was one of the promotional singles, it takes on new life in the space of the EP and makes for a more enjoyable listening experience. It even has me inspiring to be this naughty girl to an unsuspecting lad in the future. It's probably still my favourite on the project, there's just something about it, must be that Wande Coal ethereal touch I mentioned earlier or Pheelz' inclusion of that organ in the background, or both. This is the one!
Ode Lo Like
Just four songs in and I think it's safe to say that Wande Coal has an insane knack for melody and a deep comprehension for cadence because he kills any beat that he is given with ease. Dapiano's cocktail of piano synths, horn blasts, and pounding drums makes the perfect bedding for Wande Coal's cocky lines where he warns against those who take advantage and sends a clear message not to be trifled with. It's not my favourite of the bunch, but it'll do.
Ever Blazin
The songwriting on this record sticks out to me the most. This is probably the most open Wande Coal has been on this entire project, it seems very baring out your soul at 12 am kind of feel. I really like the high pitch falsetto to convey the depth of his emotions and there's a sense of urgency when he sings "I drive myself crazy thinking 'bout you" that will surely resonate with many lovers in the house. This is one of the songs on the album which definitely needs a video and we're hoping for one.
 Vex
At this point, we're begging for something more than the promotional singles on this project but that seems too much of an ask. In any case, this record is a certified banger jeez! Sarz is a mad man for this beat, you can't listen to this record without fighting the urge to move your body in some way. Everything about this song is infectious and the icing on the cake is really the kiss-offs to the adversaries. This has all the ingredients of Mushin 2 Mo' Hits Wande, complete with the absurd rhymes (rhyming kolomental with chemical and the likes) and I am living! This record is begging for the clubs to be re-opened.
Again (Remix) featuring Wale
Finally! Time to hear how Wale contributed to an already great song. Brace for impact. Okay so far, it's just Wande singing the hook but hm, I am anxious as the evil that past international collaborations between afropop stars and rappers have done is enough, and etched in my memory. Wale's verse sounds like it was just slotted right in the middle, not entirely convinced. Pause! We will have to run this one back cause it came and went so fast.
Final Thoughts
Wande Coal is and will always be a certified hitmaker, and perhaps it's the undeniable comfort in this assertion that fortifies him from going to great lengths to show his artistry. His entire catalogue of music can speak for itself and that's just FACTS! With 'Realms', his first project in over six years, he's not making any bold proclamations beyond what he has already done and that's okay.
There's enough on this project to make the radio circuit, hits like "Naughty Girl", "Ode Lo Like", "Again" and more will continue to garner fanfare because of their infectious pulse, but as far as making any grand statements, Realms isn't too bogged down by that and that just might be its sweet spot. Nothing feels out of place (*cough Wale *cough) and everything feels familiarly beautiful and even though we're coming into times where afropop is fast becoming Africa's global export, there deserves to be music made just for music's sake – the kind that exists for no reason other than the good feeling it spurs from listeners.
All in all, Realms seems like a conciliatory offering hinged on the prospect that there's more to come, hopefully, an album on the horizon, whatever the case may be, we'll keep our fingers crossed.
Stream Realms below.
Featured image credits/BBC
---
Hell hath no fury like Tami. Tweet her your fave female rappers @tamimak_
---