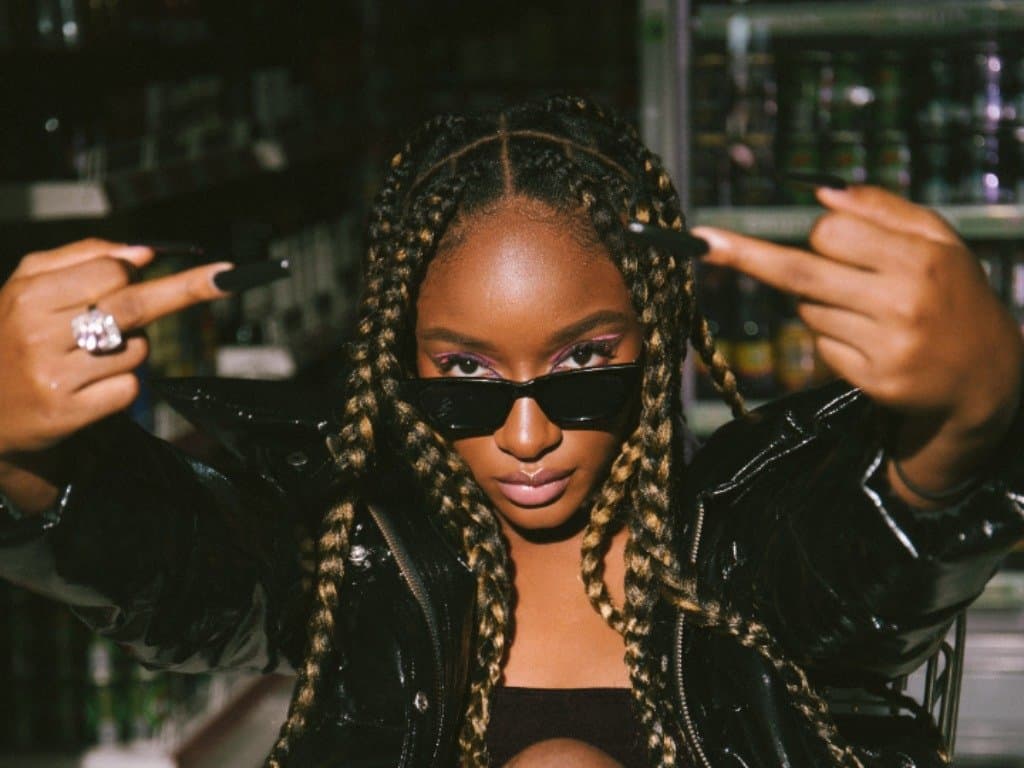 Our First Impressions Of Ayra Starr's Debut Album '19 & Dangerous'
a glittering debut from Mavins latest star
Barely six months into her entrance on the scene with her glittering self-titled EP, Mavins Ayra Starr is back with her most well-rounded effort to date. Unveiled today, the fast-rising star has now expanded the world around her music with the release of her debut album '19 & Dangerous'. Imbued with a youthful spirit and awe-inspiring vocals, the album is teeming with possibility from one of the scene's brightest stars with crisp lyricism and clear-cut delivery.
Speaking about the album in an exclusive interview with the NATIVE, the Beninese-Nigerian singer shared that '19 & Dangerous' was packed with fierce reflections about life, love, and becoming offering therapeutic levels of aural healing for her growing fanbase. That sentiment feels like the driving force of her current output as she tackles life's experiences and shortcomings in her own unique way across 11 tracks.
After a month of build-up and the release of the promotional single "Bloody Samaritan", Ayra Starr's debut moment is finally here. So, what were the album's best songs? Best verse? Best Feature? Below, the NATIVE team answered these pressing questions and more after giving the album a couple of spins. Here are our first impressions of Ayra Starr's debut album '19 & Dangerous'.
View this post on Instagram
Best Song
Wonu: My best song on this is definitely "Beggie Beggie". I love everything about the song from the delivery, to feature selection, to the story being told to the listeners. This was one of the few songs I had to run back on first listen. Hearing Ckay's tag also made me excited and I was not disappointed after his verse. He put up a stellar performance on this track and of course, Ayra did the same. A close second to this will have to be "Bridgetn". I must say Andre Vibes went crazy on this beat and the chemistry between these two was undeniable. Also, I really like the lyrics. Ayra gassing herself on the hook is everything!
Ada: As usual, picking a fave song is so tasking as more than 1 always gets to me. However, on this album "Fashion Killa", "Blood Samaritan", "Cast (GEN Z anthem)" and "Amin" are top tier. But I'd have to say hats off to "Bloody Samaritan", She did her damn thing with the song.
Dennis: If there's any song that best captures the invincible side of Ayra Starr's persona, it has to be "Fashion Killer." It's the sort of self-aggrandising song that's brimming with outrageous, god-level swagger; Ayra's voice is commanding, and the writing is so damn good and catchy every line is a potential Instagram caption. My memory might be failing me a bit, but this is possibly the best display of precocious overconfidence I've heard since Wizkid's "Holla at Your Boy." I mean, she enters the song with a pseudo-rap cadence proclaiming, "My denim faded but I rock it like a baby in a cot," and that arguably even isn't the best line on the song. There are several cuts that lean into boastfulness on '19 & Dangerous', but this one is easily the best in terms of craft.
Best Verse
Shina: The only song on Ayra's album with a fast tempo. This isn't Ayra's usual lane but she rides the beat effortlessly and delivers one of the best verses on this album. Would love to hear more songs like this from her. Other honorable mentions will be the two guest verses from Foushee and Ckay and the hard-hitting first verse on "Fashion Killa". With lines like "I light the room in the dark cause my bling is a torch / I watched fashion die today in the mirror that I saw" there's enough braggadocio on there to confirm Ayra's dangerous status.
Ada: My fave verse would be from the "Cast(Gen Z Anthem)". A particular verse that really caught my attention was when Ayra said "Live my life the way I wanna live with no shame/Suck on these nuts if you're ain't approve of". It spoke to me so much, both emotionally and personally and you'd always want a song to not just entertain but speak on some form of reality.
Nwanneamaka: The best verse for me came in the first since out of the album "Bloody Samaritan". The intro song which doubles up as the chorus just exudes an air of confidence. It resonates with me because via her Native Exclusive interview she shared that she has always been the people-pleasing type but she's grown out of that and we can definitely hear it on this verse of "Bloody Samaritan." It's one of the bad bitch anthems from the project and I'm always here for a song that makes me feel powerful.
Best Lyrics
Nwanneamaka: My favourite lyrics came from the album outro, "Amin." She started the song off by rejecting poverty and ended it by saying she's ready to accept all the good things life has to offer. Standouts like "I'm ready for the funds/ready to be happy" speak to me the most because all I really want is money and happiness.
Shina: I have quite a few picks. Lyrics from "Fashion Killa," an obvious inspiration from A$AP Rocky's song of the same title take up a majority of my picks. She starts the song with "My jeans faded but I rock it like a baby in a cot" and then goes on to say "I put the water in the ocean in the city that I'm from" meaning she has got the excess amount of drip to don. She ends her second verse with "Think of it, a brown shirt and no ribbon/Diamonds awaken every time I need it/Babushka on everything, my allegiance." You're going to have to choose your fighter at this point cause these are all testaments to Ayra Starr's Dangerous lyrical prowess.
Tami: I've really enjoyed listening to Ayra's debut and I'm pleasantly surprised to see thematic and sonic growth just seven months shy of her debut self-titled EP. On '19 & Dangerous', the quality of her lyrics is more elevated. Ayra is still saying the same things but the delivery is different. This time, the stakes are higher and she's determined to show she's her generation's undisputed leader. Standouts from me are scattered across the entire album. From opener "Cast (Gen Z Anthem)" where she's literally saying "Suck on these nuts if you ain't approve of" to "Bridgertn" where she sins "Broke all the stereotypes, I make my rules", it's clear that Ayra isn't looking to mince the truth for anyone.
Overall First Impression
Wonu: Honestly, I did not expect the album to be this good. Ayra Starr continues to outdo herself all the time. It's such an amazing body of work. Her first tape dropped earlier this year and the growth between that and this is quite evident. I'm very much impressed by the tape and I'll rate it a solid 8 out of 10.
Dennis: Ayra Starr is worth the hype and more, that's probably my biggest takeaway from '19 & Dangerous'. It's not that her eponymous EP from earlier this year wasn't impressive, but it was a stealthy introduction catalysed by one of the most consistent star-making machines on this side of the world, which made it a tad difficult (for me, at least) to sincerely gauge the extent of her powers and potentials. Whatever the bar was with that well-received EP, the Mavin singer has eclipsed it with an album that was crafted with wicked and profound poise. She's jubilant and pensive, exuberant and vulnerable, vindictive and empathetic, and more, all in the span of eleven songs. That '19 & Dangerous' is out a few months after her EP is testament to Ayra's readiness to play in the big leagues on her terms, a Gen Z star with a clear sense of self-worth, an already accomplished skill-set, and an infinite ceiling on how her powers evolve going forward.
Woju: Starting an EP titles '19 & Dangerous' with a song subtitled "Gen Z Anthem", I was definitely expecting a pop, Tik-Tok-friendly offering from Ayra Starr. But as the powerful intro track came roaring through my earphones, it was clear that Ayra Starr is doubling down on her impassioned vocalism. On "Cast (Gen Z Anthem)" the Tems comparisons seem valid, but when she delivers a track, "Lonely" reminiscent of Teni #thatyear, Ayra Starr capitalises on a culmination of our favourite characteristics from female musicians. From rousing crescendos at her hooks to triumphant horns across the project and adept lyricism, '19 & Dangerous' is packed full of strong points and versatility. One of the highlights of the album for me is Ayra's consistent pop-culture references. On the title of the track, "Bridgertn" — where the strings actually take us back to our Christmas binge; "Beggie Beggie", where she jokes, "Hundred years, husband material;" or even when she announces "and my ass got thicker" on "Fashion Killer" where she references A$AP Rocky's indelible record Ayra Starr's lyrics are definitely 19. As Regina's mum proudly refused back in 2004, "you girls keep me young, oh I love you so much!"
Stream '19 & Dangerous' below.
[Featured image credits: Instagram]
---
Written by Ada Nwakor, Adewojumi Aderemi, Dennis Ade-Peter, Shina Ladipo, Tami Makinde, Nwanneamaka Igwe and Wonu Osikoya
---