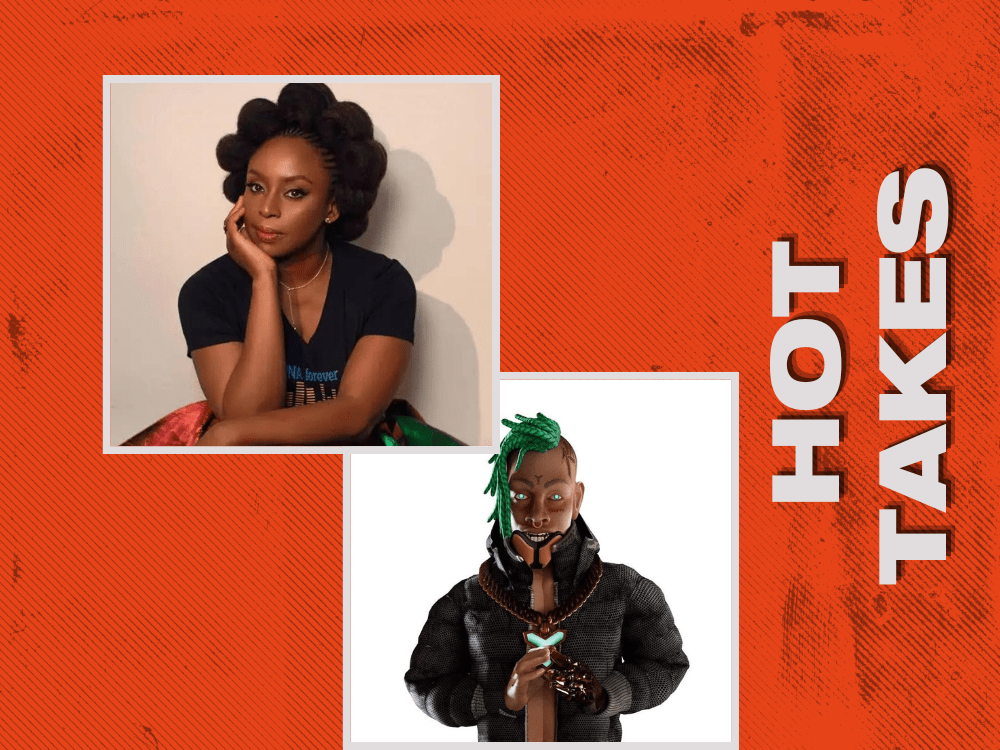 Hot Takes: Sad Boys Club, Adichie & FN Meka, the AI-Powered Rapper
all the hottest takes this week
At every moment of our lives, something is taking place to shift the course of the future, whether pleasant or not. There is no debating that fact. All around us, the wheels of the world keep turning (even faster than before), leading many of us back to old routines, as we course towards the end of the year. In Nigeria, summer for us means rainy days, cloudy skies and tumultuous winds, and with the new year only months away, anticipation is rife for the general elections next year.
Last week, I joined the NATIVE, ready and eager to take on the task of spotlighting our culture, sounds, music, fashion and more from this side to the world watching. This week, I'll be taking the reins on my first-ever Hot Takes (!!!) uncover my listening and visual pleasures, the Adichie-backed wins at the NBA conference and an interesting occurrence where music meets technology meets gaming. Enjoy.
What I'm listening to
I find myself returning to Omah Lay's 'Boy Alone' and several tracks on Rema's 'Rave & Roses.' Since Omah Lay's breakout in 2020 with his well-received EPs 'Get Layd' and 'What Have We Done,' I have remained a fan of his moody bad boy music.
The singles that followed those EPs—"Understand," the Justin Bieber-assisted "Attention," and "Woman"—were great but nothing prepared me for the utter beauty that is 'Boy Alone.' It is wholesome sad-boy-with-sprinkles-of ashawo vibes but Omah Lay's vulnerability and honesty are irresistible. "soso" is a personal favourite as every track gets to me, pulling me deeper into the singer's world.
On the other hand, Rema's 'Rave & Roses' on the first listen didn't blow me away. I had anticipated the album as I felt it would be the artist's crowning glory since his debut in 2019 but it left me feeling that something was missing. Although I recognised the intricate world that music producer London built for Rema, I felt the singer was still in search of something in music that seems to elude him. Lyricism, perhaps? I don't know.
But on several listens, tracks such as "Dirty," "Calm Down," "Soundgasm," "Time N Affection," "Jo," "FYN" and "Runaway" have stood out for me, and I am in awe of how Rema utilises his vocals around the instrumentals and produces melody after melody.
What I'm watching
I have been watching the 1994 British dark comedy crime film 'Shallow Grave.' It is British director Danny Boyle's feature directorial debut. The film is about three roommates who find a suitcase of money belonging to a dead new roommate and the conflicts that arise from their decisions.
I am yet to complete the film but it is an interesting watch so far. I am familiar with some of Boyle's other works such as 'Trainspotting' (1996), 'T2 Trainspotting' (2017), 'Slumdog Millionaire' (2008), '127 Hours' (2010) and 'Steve Jobs' (2015), so it is interesting seeing how his career kicked off feature film-wise.
Adichie's words at the NBA Conference
On Monday, August 22, 2022, the Nigerian Bar Association (NBA) held the opening ceremony for the 62nd edition of its Annual General Conference at Eko Hotels & Suites. The eight-day conference, which started on August 19 and ends on August 26, will feature panel discussions, speeches, training and male and female inter-branch football competitions.
Nigerian author Chimamanda Ngozi Adichie was a keynote speaker and during her speech, she decried the fact the country lacks true leaders. She also made a case for "troublemakers," as they are the people she believes will fight injustice and tyranny. Several politicians vying for roles in the 2023 general elections were in attendance.
Adichie, an widely known feminist, also raised concerns about the disparity in prize money for the winners of the male and female football competitions: the male team will win 500,000 Naira while the female team will win 200,000 Naira. Soon after, several personalities contributed to the prize money for the female teams, increasing it to a sum of Four Million Naira.
While some people have praised Adichie for calling out the disparity, other people have hinted at an "unfair treatment" of the men. I say that if the NBA had been fair in the first place, Adichie wouldn't need to have pointed out the difference in prize money. Considering the exploits of the women of Team Nigeria at the 22nd Commonwealth Games, it is a shame that the NBA didn't read the memo that women should not play second fiddle as it concerns talent and opportunity.
Rap's AI experiment gone wrong
The wave of technological advances sweeping the world is unstoppable, and the music industry isn't left out. Last week, American record label Capitol Records signed FN Meka, a virtual rapper powered by artificial intelligence (AI). FN Meka is the creation of Anthony Martini and Brandon Le, who are co-founders of Factory New, a virtual record label.
FN Meka has a huge following on social media with 10 million followers and over a billion views on TikTok. "Florida Water," his debut single under Capitol Records, features American rapper Gunna and professional Fortnite player Clix. "Florida Water" is a Trap song about flaunting wealth and a luxurious lifestyle. I couldn't figure out which part of the song was FN Meka's but it felt like I was listening to a conventional American Trap song.
Yesterday, news came out that Capitol Records dropped FN Meka from the label and issued an apology after an activist group released a statement condemning the mannerisms of the digital rapper, which they say is a copycat of thousands of black artists such as Gunna (who is in jail because on RICO charges). This development also comes after an old Instagram post of FN Meka resurfaced that showed him making light of police brutality and incarceration.
Initially, before the new information, I didn't find anything wrong with FN Meka and virtual rap. Throughout the years, as Trap music gained more steam, rap purists have concerns about it signalling the death of "real rap," rap is pure lyricism and technicality. Still, the genre lives. I don't think virtual rappers will knock human rappers off the scene. I believe this is simply an effect of technology, as evidenced in other industries such as healthcare, transportation, finance, etc. But following recent developments, Capitol Records have done the right thing. While it's entirely outrageous to co-sign a racist AI rapper in any way, I feel this won't stop Capitol or another label from signing a digital rapper in the near future. It's scary times.
breaking: Capitol Records "has severed ties" with the A.I. rapper FN Meka, "effective immediately," following days of backlash over the caricature

the activist group @industryblkout called for a formal public apology about two hours ago pic.twitter.com/arkL2OkTjv pic.twitter.com/BjfjLDfpMO

— Joe Coscarelli (@joecoscarelli) August 23, 2022