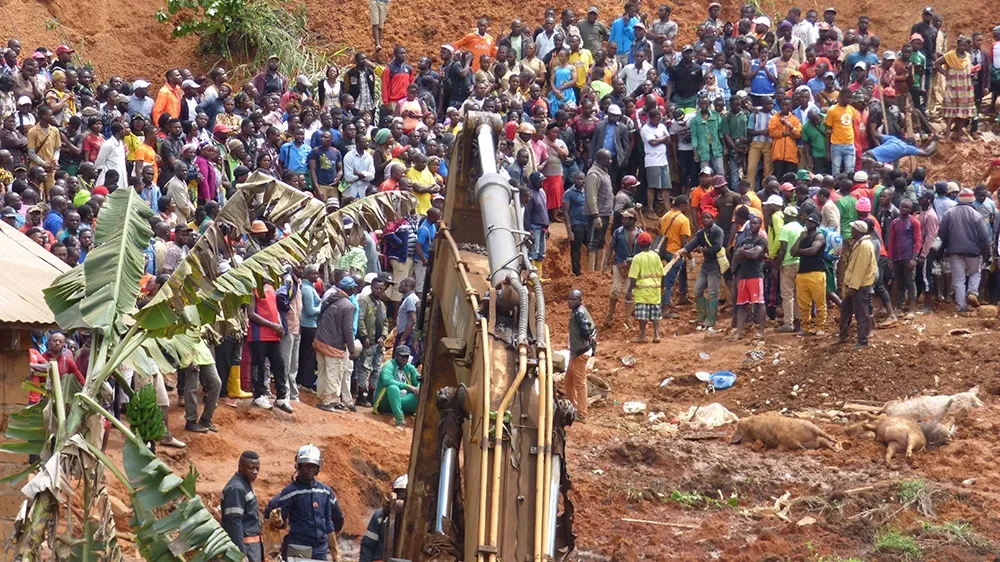 What's Going On: Landslides In Cameroon, Elections In Madagascar & More
news headlines from Cameroon, Madagascar, Niger and Nigeria
"What's Going On" Tallies Notable News Headlines From Across The Continent — The Good, The Bad, And The Horrible — As A Way Of Ensuring That We All Become A More Sagacious African Generation. With This Column, We're Hoping To Disseminate The Latest Happenings In Our Socio-Political Climate From Across The Continent, Whilst Starting A Conversation About What's Important For Us To All Discuss. From Political Affairs To Socio-Economic Issues, 'What's Going On' Will Discuss Just That. This Week's Headlines Come From Across South Africa, DR Congo & more.
---
LANDSLIDES DESTROY LIVES & PROPERTIES IN YAOUNDÉ
More than 20 people were killed by landslides caused by heavy rainfall in Cameroon's capital Yaoundé. Among the affected areas include Mbankolo, a neighbourhood 25 km from Yaoundé. Authorities say many people are still missing.
The rain began on the night of Sunday (October 8) to Monday (October 9), causing the Mefou River to burst its banks and submerge several neighbourhoods. According to BBC Africa,  Mbankolo was worst affected by the latest disaster, with some homes built on slopes collapsing and banana trees being uprooted. The flood has also stalled rescue efforts, forcing locals to pull bodies out of the debris with their bare hands. 
"Yesterday we pulled out 15 people who had died and this morning we have found eight. We are still looking," the fire service's second in command David Petatoa Poufong told reporters. Bodies of the victims have been laid out at a morgue while the injured were rushed to hospitals. The Yaounde General Hospital said it received 12 injured, including a 7-year-old girl.
In November 2022, at least 15 people died when a landslide engulfed members of a funeral party in Yaounde's working-class district of Damas, on its eastern outskirts.
MADAGASCAR: PRESIDENTIAL CANDIDATE INJURED AFTER OPPOSITION RALLY TEARGASSED
Opposition parties in Madagascar were teargassed on Saturday in a rally ahead of elections on November 9, injuring former president Marc Ravalomanana on the leg. The parties held the march against the incumbent President Andry Rajoelina in Antananarivo, the capital of Madagascar.
"They choked us with tear gas," one of the presidential candidates, Jean Brunelle, told AFP. "We were in the frontline… and they just fired just like that, without warning." Hery Rajaonarimampianina, another former president and opposition leader, told AFP that the march was called under "the same philosophy (as on Monday), that of ensuring respect for the law and democracy in a peaceful manner."
Madagascar's history is marked by a struggle for political control. In 2009, Andry Rajoelina, who was the mayor of Antananarivo, took over from Ravalomanana after he resigned from the presidency, with military and high court backing. Opposition parties have termed Rajoelina's position in power as an  "institutional coup," and further accused him of being a naturalised French citizen, which in turn, invalidates his citizenship as a Madagascan.
NIGER CUT 2023 BUDGET FOLLOWING POST-COUP SANCTIONS
Niger's military junta has cut its planned spending for 2023 by 40% because of international sanctions imposed after they took power in a July coup, the group announced in a  televised statement on Saturday.
"Niger has faced heavy sanctions imposed by international and regional organizations. These sanctions expose the country to a significant drop in both external and internal revenues," the press release said. "This state of affairs makes it necessary to revise the 2023 budget forecasts." This year's budget, initially forecast at 3.29 trillion CFA francs ($5.3 billion), was slashed to 1.98 trillion, the statement said, without detailing where the cuts would fall.
Following the July coup, several organisations condemned the junta's actions, calling for a reinstatement of the ousted Mohamed Bazoum. When the junta refused to restore Bazoum to power, the Economic Community of West African States (ECOWAS) imposed heavy economic and financial sanctions on the country, which is already one of the world's poorest countries.
NIGERIA: KILLER COP SENTENCED TO DEATH
A high court in Lagos has sentenced a police officer to death for shooting and killing a lawyer. After nearly a year, Justice Ibironke Harrison found police officer Drambi Vandi guilty of one count of murder of Bolanle Raheem, who was pregnant at the time when she was shot dead Christmas Day last year. Vandi shot the lawyer after her vehicle in the town of Ajah in Lagos failed to stop at a checkpoint.
"You will be hanged by the neck till you are dead," the judge told the police officer who had pleaded not guilty. This is the first time a police officer will receive such a sentence in Nigeria, with police officers constantly facing allegations of abuse and extrajudicial killings against the citizenry.
Vandi had asked the court to dismiss the suit and discharge him claiming that he had no case to answer but one of his colleagues who testified during the hearing confirmed hearing the gunshot. Vandi has a right to appeal the ruling.
Featured image credits/Leclerc Tsakem & AP