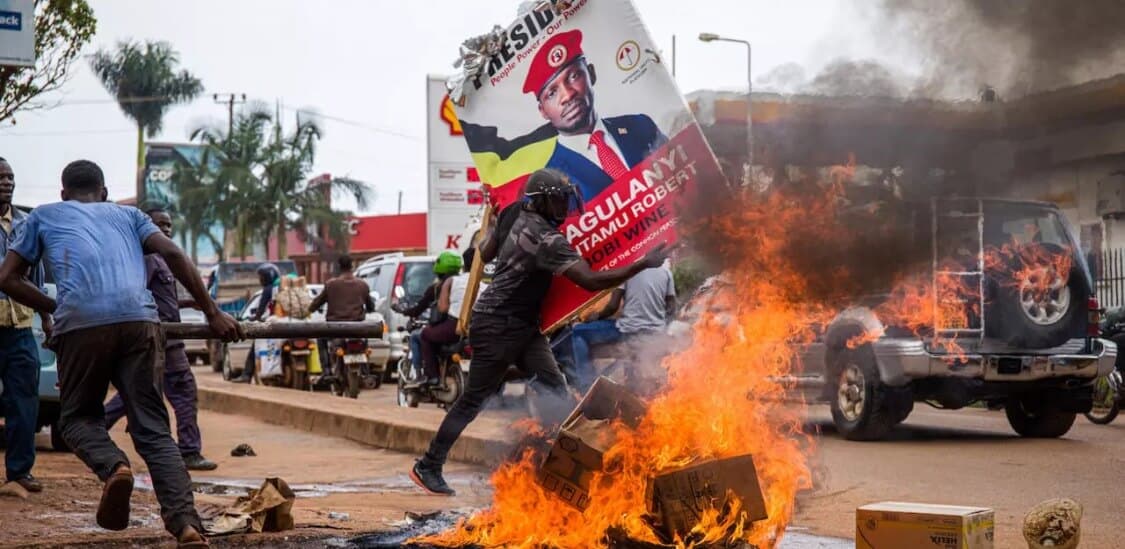 #StopPoliceBrutality: Violence erupts in Uganda leaving more than 30 dead
Presidential candidate Bobi Wine's arrest sparks unrest
On Thursday, protests erupted in Uganda following the arrest of presidential candidate and musician Robert Kyagulanyi Ssentamu popularly known as Bobi Wine. The presidential aspirant was arrested on Wednesday by armed forces, with the authorities citing his continued violations of the Electoral Commission and Ministry of Health guidelines during the political campaigns as the basis for the arrest. According to a press statement by Ugandan Police, Wine was actively involved in the massive mobilisation of unauthorised assemblies and processions amidst the threat of Covid-19 in Uganda with the majority of the participants in attendance disregarding the use of safeguards such as facemasks, physical distancing, and proper hygiene.
Since then, the Ugandan people have been in an uproar, as news of his arrest reached news outlets and social media. Many came out in droves, throughout major cities like Jinja and Masaka, and also in the capital, Kampala, to raise their fists and voices against the sufferings endured by the people, under the reign of President Yoweri Museveni, who has been in leadership for over 30 years. Their anger was fuelled by the fact that Wine had been arrested multiple times in the past year since he announced his intention to compete against Museveni in the forthcoming 2021 elections which will be held in two months.
Statement on the arrest of Presidential Candidate Kyagulanyi Robert Ssentamu (NUP) Party. pic.twitter.com/QYgHAX0Hbq

— Electoral Commission- Uganda (@UgandaEC) November 19, 2020
Whole conversation has been looming all month, demonstrations officially began on Wednesday, as angry protesters shared footage of crowds burning tires and blocking major highways, with additional reports of looting and vandalism in many cities. Much like it was during the #EndSARS protests in Nigeria, the Ugandan police are reacting with more violence, aiming to stifle the voices of the protesters. Officers used tear gas to disperse the crowds, and many have been pronounced dead as a result which has caused unrest throughout the past week. Ugandan police have said they had arrested several people in connection with the violence, which reportedly left 16 dead and several others badly injured. According to Kampala Metropolitan Police spokesperson, Patrick Onyango, the toll will likely continue to rise as over 65 have been left injured and over 350 detained throughout the capital, Washington Post reports.
The Human Rights Watch has said that it is clear that the Ugandan authorities are using Covid-19 guidelines to repress opposition and that the governing party itself has held large campaign events. Uganda's political history is steeped in violence, uprising, and corruption for many years. Having come into power in 1986, President Museveni is one of Africa's longest sitting presidents and he has presided over the East African nation for several decades, following dictator Idi Amin.
Bobi Wine, on the other hand, has won the hearts of the people since his decision to run for presidential office. According to AlJazeera, many young supporters have said that they are drawn to Bobi Wine because of his criticism of Museveni's government often integrated in his music lyrics. Others have said that as a young leader, Wine is better positioned to tackle the challenges the country faces. Known by supporters as "the ghetto president", Wine is said to be running on a platform of change and a promise to oversee a "people-centered" government that would ensure equal access to education, health care, and economic development. Uganda, like many other African nations, has never witnessed a peaceful transfer of power during their presidential elections and it seems like next year will be no different. Museveni, 76, is eligible to seek another term next year after he changed the constitution during his presidency and removed the age limits on running for the presidency.
View this post on Instagram
According to reports from citizens on the ground, the government has now employed several tactics to continue terrorising citizens since the protests broke out earlier this week. Innocent people are being beaten, harassed, arrested and much worse, killed for their involvement in the protests by the armed forces charged to protect their lives. There are also reports that electricity has been cut out in some parts of the capital city, and many are stuck indoors due to a 9 pm curfew.
It is clear from continuous grievances over the world that police reform (or abolition) is completely necessary. As Ugandans continue to face death or attack for voicing their opinions, here are some ways that you can help out from wherever you are.
Use and Engage with the hashtags
Social media is the fastest way to disseminate information about what is happening around the world. Ugandans are already generating buzz for the injustices taking place in their country under the following hashtags #UgandaIsBleeding #EndPoliceBrutalityInUganda #FreeBobiWine
This is not the way human being in their own country ought to be treated 😭😒😒#StopPoliceBrutalityinuganda #Ugandaisbleeding pic.twitter.com/gmy2csy5vG

— Edgar Ryans 2 🇺🇬🇺🇬 (@2_ryans) November 19, 2020
Contact your nearest Ugandan embassy
If you're not in Uganda, you can still help out by contacting a Ugandan embassy in whichever country you currently reside in. For the purpose of this post, we have included the details of the Ugandan embassy in Abuja, Nigeria below.
Address:  UGANDA HIGH COMMISION
PLOT NO. 3 MANDARA CLOSE, OFF MAMBILA STREET
ASO DRIVE, P.M B 223
MAITAMA, ABUJJA
NIGERIA
Phone:   +234 (0) 8132666559
+234 (0) 8142443429
Email: highcomabuja@yahoo.co.uk
The High Commissioner: H.E Nelson Ocheger
Email: nelson.ocheger@mofa.go.ug
This is a developing story. This post will be updated with relevant information.