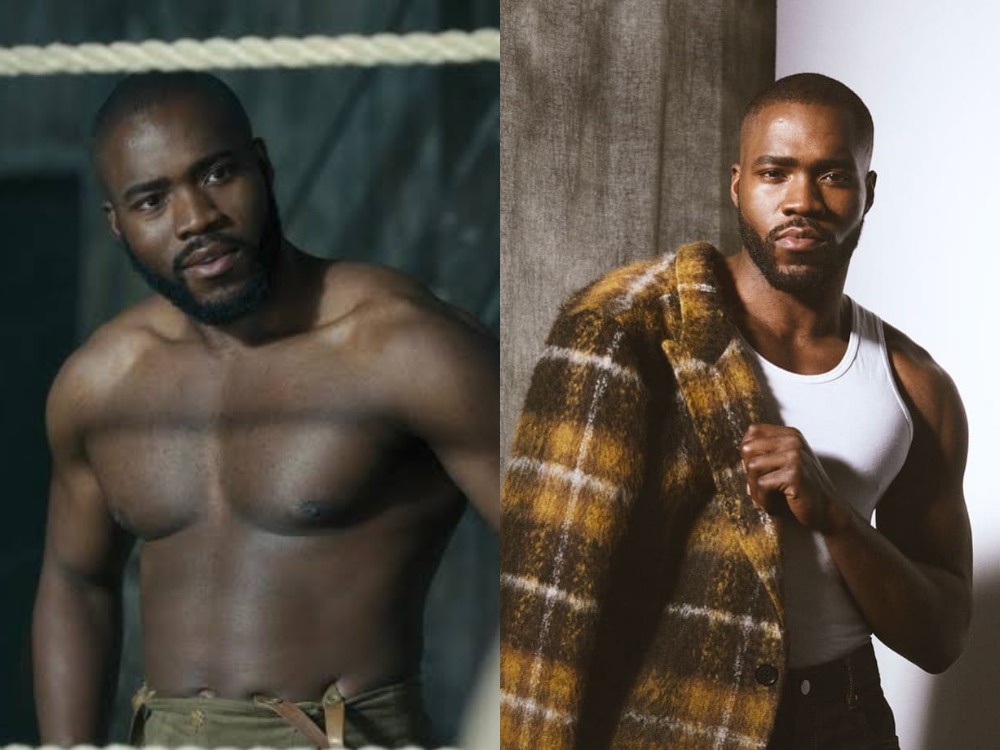 NATIVE Exclusive: Martins Imhangbe Talks New Season of Bridgerton, Boxing & More
A new season arrives tomorrow
British-Nigerian actor Martins Imhangbe, who plays Bill Mondrich in the 2021 Netflix period drama 'Bridgerton', has always had a passion for acting, right from an early age. Despite being Nigerian-born, where creative careers are typically shunned, he was fortunate enough to have parents who nurtured and supported his creative talent. Imhangbe would eventually find his feet, after attending Lewisham College and securing a diploma in Performing Arts.
At the time, he auditioned for drama school but failed to gain admission. Without losing any steam, he auditioned once again, and was finally accepted into the Royal Central School of Speech and Drama. After graduating in 2013, he officially kicked off his acting career by entering into theatre. Although 'Bridgerton' marks an impressive TV debut for the theater actor, he's also landed roles in productions such as 'Death of a Salesman' and 'The Tragedy of King Richard the Second' in London.
In 2020, while the world picked up the pieces from the seismic effects of the COVID-19 pandemic, Imhangbe found himself in his biggest role yet: as Bill Mondrich, best friend to the Duke on Netflix's hit TV series, 'Bridgerton.' Mondrich, unknown to many, is based on a real boxer called Bill Richmond, who became the first black boxing entrepreneur in the 19th century.
"First of all, when I got the audition, I didn't know that character actually existed. I didn't know that Bill Richmond was such a pioneer."
View this post on Instagram
For most actors, training to play a boxer is tough, as they have to undergo rigorous training that they might not otherwise be used to, but training to play a boxer in the late 18th and early 19th century has a whole new set of challenges. However, Imhangbe was almost primed for a moment and a character such as this. Speaking to the NATIVE a few weeks before the new season's release, he shares: "I love boxing a lot, the discipline, I love the endurance and honestly, there's nothing like it," revealing that he had earlier played a role that involved boxing.
It's clear that Imhangbe is immensely dedicated to his craft and assumes the life of whichever role or character he is emulating. It's this strong conviction in himself and his abilities that endeared him to Shonda Rhimes and the series casting agents. Imhangbe, himself also echoes this by sharing that there's a lot of heart poured into the new season. "In one sentence, I would describe the new season as heartful," he says over the phone.
With the new season only hours away, and anticipation already rife for the return of the 'Ton and their mischievous and nosy, Lady Bridgerton, we caught up with Martins Imhangbe to talk his journey to 'Bridgerton,' his relationship with his work and find out some exclusives.
Our conversation, which follows below, has been lightly edited for clarity.
NATIVE: How was working on the new season for Bridgerton? 
Martins: Well, it was nice. It was really interesting coming back to a show that everyone was proud of, and coming back to film a new season. All of that was quite interesting. There was a new energy but at the same time, there were COVID-19 restrictions and, so navigating that was a bit of a hassle but we've done it, so yeah, it was good.
NATIVE: So let's talk about the new season. Your character plays Will in the series, and you're really close to the Duke. How was bringing that character to life?
Martins: It was amazing because I was learning so much at the time. First of all, when I got the audition, I didn't know that character actually existed. I didn't know that Bill Richmond was such a pioneer and such a black pioneer, so it was nice to be able to be a part of telling that story and be a part of that history. To really get into character, I just read books going into the history, and learned a lot about the time. That kind of informed all my choices going into the role.
NATIVE: How was working on this new season of Bridgerton? Coming back to work and creating with everyone for a second time. 
Martins: It was really good, because I mean now, the show is now established and successful. So, it felt like everyone was sort of proud of the show and knew their characters a bit better now that we had done the first season. So, the relationships in this season were a lot clearer and fully formed.
NATIVE: In terms of relationships, do you think viewers are going to relate more to the characters in this season? 
Martins: Oh yes, I definitely think so because you've had a whole season to really get acquainted with these lot. Now, you're going into another season so you've had time to get to know these characters and what makes them tick. For this reason, people are definitely going to feel more connected to these characters and love them even more.  
NATIVE: Period dramas like "Bridgerton" are important for many reasons. As a Black character in a predominantly Eurocentric period drama, what was it like navigating the role you were embodying?
Martins: This was a real life character so yeah, that was amazing. Black people were doing a lot in those old times and doing extremely great things. Bill Richmond was one of the first black boxing entrepreneurs and he was very successful, so I felt very proud actually, just being able to be a part of that narrative. I think often times we've seen black people in those times being victims of oppression so it's nice to see someone who is actually successful and thriving in their own field. 
NATIVE: Did you have to learn boxing for that role or that's something you do normally?
Martins: I don't usually box but I had to reconnect with boxing. I did a play, a while ago, which required me to start training as a boxer. After that, I did boxing for about three years, then I got this role which really helped me reconnect with it. I love boxing a lot, the discipline, I love the endurance and honestly, there's nothing like it. 
NATIVE: Will we be seeing more of you in the new season?
Martins: Well, you'll be seeing more of me in a new light that's all I can say. I'm really excited about seeing what everyone will make of it and it'll be nice to see how the audience takes the change.  
NATIVE: How would you describe the new season in one sentence? 
Martins: In one sentence, I would describe the new season as heartful. There's a lot of heart poured into it and it's going to be quite moving. 
NATIVE: What will you want viewers to take away from the new season?
Martins: I would like viewers to just enjoy the characters and just enjoy the journey of each character because I feel like there's so much put into it. For those paying attention, there's a lot to take from it, in terms of the journey and the characters so I would really love for viewers to enjoy the ride.
NATIVE: What personal projects are you working on? 
Martins: Well right now, I'm just gearing up for the release of season 2, that's pretty much it. There are quite a number of things but I can't really talk about those right now so we're really just focusing on the release which is out in a few weeks. 
View this post on Instagram
Featured image credits/