Beyonce is a great performer, in fact, there's a conversation to be had for crowning her the best of this generation, but I'll let you be the judge of that. From her days as a member of Destiny's Child to her legendary Coachella performance that bagged her a Netflix documentary, she's consistently delivered awe-inspiring dance routines and death drops that you definitely should avoid trying at home.
So when a 22-year old performer named Papi 'Stephen' Ojo burst out with similar jaw-dropping moves beside Queen Bey in her executive-produced visual album Black is King, he quickly became the cynosure of all eyes in his hip-jerking, blue-toned role. But as his expansive CV will reveal, Papi Ojo has had a hand in many of your favorite celebrities dance moves long before Queen B's seal of approval, haven worked with names like Rihanna, A$AP Ferg, Janet Jackson, Teyana Taylor, Davido, and more.
Dreams do come through 🚀🚀🚀 #beyonce #blueman #papiojo @Beyonce pic.twitter.com/SkLXAl6O4y

— PAPI_OJO (@PAPI_OJO) July 31, 2020
Just a young kid from Lagos trying to make it in the world like you and me, Papi Ojo does not take his success so far for granted. In a conversation over Hangouts last week, he tells me of the immense gratitude he felt working with Beyoncé on set every day and the gargantuan role of bringing African dances to a global stage. "It's a blessing to be putting my country on the map. There are far many talented dancers on this earth but for me to be able to represent and for Africans on the continent to accept me, I am proud that I didn't disappoint people back at home and here in the diaspora".
As a born and bred 'Naija' boy, Papi has always been conscious of whether or not he will be a disappointment. Any Nigerian child can easily relate to the difficulty of choosing a creative passion over a professional dream society has for us, but for Papi Ojo getting his parents on board with his vision took little convincing. Backed by his older brother, who is now late, and his cousin Emmanuel, the three formed a dance group called the A.V.O Boyz back in 2015 when his family moved to America.
"My parents have always been supportive and even though, they want us to focus on education, they have never once stopped my brother and me from dancing. They would give us the leeway to do what we wanted because they underwood that education is not the only way to make it in life."
Backed by this supportive family background and a prayerful disposition, Papi Ojo now wants to make his mark in the music industry. Growing up within a musical family who were not only fans of music but were also performers themselves, Papi found his love firstly in music before being enthralled to move to the sounds he was hearing. 'I was very insecure about that side of me even though I have always wanted to do music and it's always been my passion' he admits to me, describing the period before he found the discernment to dive into his passions and live completely for himself last year. Though the focus has mostly been on his dancing and little on his actual musical talent, Papi Ojo is ready to show the world that he can merge these two passions together seamlessly and prove that he's more than worth your time. 
'Papi is here, hide your girls' says Ojo with a chuckle, explaining that this is his catchphrase. He describes a pulse of love and positivity at the centre of his music, 'I would describe my music as music for the lovers and for the happy people. It highlights romantic love and having fun while touching on everyday activities for millennials' he succinctly explains. This captivating quality that evokes amorous feelings and feel-good dance is ostensibly seen from his most recent release "Beremole", a catchy afrobeat number primed for dancefloors from Lekki to Brooklyn. 
Though he's only been making music for a year, Papi is confident in his ability to constantly provide listeners with dance-ready hits haven grown up on a musical diet of P-Square and Sound Sultan. He credits the rising afropop acts at the time for propelling his tryst with dancing, explaining that a song truly comes alive when you can connect to its hypnotic pulse. 'I have to combine my two passions because they are like brother and sister. They help each other so much' Ojo says, before adding 'Why stay in one lane if you can dominate in two, you understand?'. Gone are the days of constricting oneself, as these days, people can be as multi-hyphenate as they please and cater to the many different versions within themselves.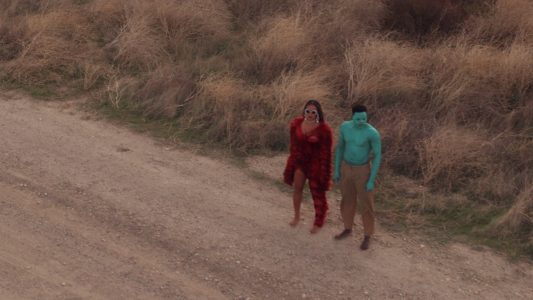 Above all, Papi Ojo wants the world to know that he is following his heart. The heart that brought him to singing as an insecure kid all those years ago and the heart that has sustained his dance career even at times of turmoil when he was close to giving up. He goes wherever the music and the dancing take him, and for now, that's finally leading up to his biggest project yet–the release of his forthcoming EP. This project, he promises will introduce viewers to a whole new side to him, which will be bolstered by the best music video that will do justice to his love for dance. 
"I need to get out of my own head and realise that the world is bigger than me and my own problems, and I have to stand up for something. I hope everyone is ready to take this journey and be ready for my growth.
Don't worry, it will shock you."
With the harrowing events of this year from the global health crisis to the racial reckonings that have been amplified, Papi Ojo is banking on himself more than ever before. Nothing has seemed impossible this year and nothing seems beyond reach, and with Ojo's sturdy Christian faith and his deep warming conviction in himself, he's gunning to win the hearts of not only the ladies but the world at large. 
Featured image credits/EbonyMagazine/Disney/Parkwood Entertainment
---
Hell hath no fury like Tami. Tweet her your fave female rappers @tamimak_
---