Blaqbonez is funny. Not like floor-rolling funny, more like 'haha get a load of this guy'. The way he tells it, his real life itself is lined with epic Nollywood-like plot twists and divine comedic timing.
"The first time I tried to record" Blaq began, "I broke the mic stand and the mic also, so I had to pay like 50K", he said with a blank stare, adding "I swore never to hit the studio again".
Freeze frame.
This was Emeka 'Blaqbonez' Akumefule at fifteen, getting dragged home by angry studio owners looking to arm-wrestle his parents for money to replace a damaged microphone. Blaqbonez did indeed stop trying to record music after that. He had been writing rhymes in his books for almost two years before that hilariously unfortunate incident, so he simply went back to doing just that.
He doesn't narrow why he headed back to the studio in December 2012 to a single event, but he narrates a series of interloped stories. First, he won Terry The Rapman's Zombie contest in February of 2012. Later that year, he started his foundational pre-degree programme at the Obafemi Awolowo University.
In OAU, another movie-like encounter with Chinko Ekun put him in the crosshairs of the future "Able God" star. "The first time I met Chinko, he rapped about my red tie and rhymed it with 'Fatai'" Blaqbonez says, half-joking about the hilarity of it. But the real catalyst to becoming Bad Boy Blaq was support from other students in his year who pressured him to record after often finding the rapper relentlessly scribbling in his rhyme book.
Unlike a lot of people, Blaqbonez has seemingly fond memories of a Nigerian university education. I doubt he was insulated from issues resulting from the frustrating state of public education in Nigeria, but in his artist mind, he viewed OAU as a 'mini-Nigeria.  To prove his point, he gave an analogy of how a stage in OAU could feature Davido as a headliner, and a recent graduate of the university with an obscure name like 'Jaido P' as the opening act, and both artists would command an evenly-compelling crowd reaction.
It's often understated in these parts but home-turf support is important for rappers to do well. The true advantage OAU provided Blaqbonez was access to Nigerians from diverse backgrounds and cultures as an immediate audience.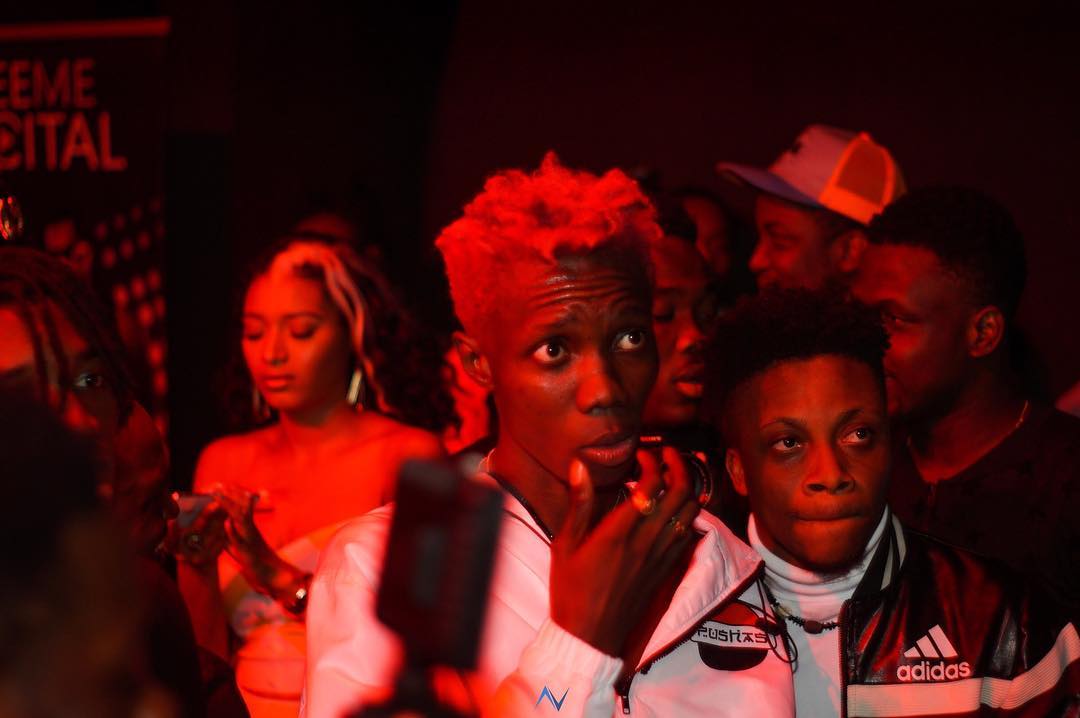 Blaq would later go on to tell an alternate story of his first big performance on campus, and how he froze mid-set in front of 5000 people while performing a song he recorded the night before. He'd been rightfully booed off stage, but that night gave him a taste of pure instant feedback. "I see first hand how these people feel about the music, and those are people that don't even like you", he observed. "You see a ready crowd that is accessible and you can just keep testing".
Eliminating echo chambers is a very important part in the unravelling of BlaqBonez's purpose. In a 2012 interview, he was quoted to have said his dad, Mr Akumefule could never picture him as a rapper. You would expect a rapper on the come up to brandish a rebellious mask, but Blaqbonez is pretty realistic about his odds "My dad had a plan for me. He has an engineering firm outside the country" the Computer engineering graduate said matter-of-factly, "The plan was to do music for a year then join him after school If I don't make any headway".
If you reflect his back-up plan against a mirror of emphasis on 'testing', you may be tempted to think Blaqbonez as an artist who will only play it safe. But the way he sees it, having a ground game is always sure to pay off, and this belief becomes more apparent as he began to talk on sterner issues.
In Blaq's mind, being a "smart artist" in 2019 is having control, a clause his contract with Chocolate City preserves. But also because his confidence may have something to do with a self-proven ability to mark territory
A few days ago, fresh updates on the brewing legal battle between EMI and Kanye West, indicated the publishing giant is not backing down, despite West's claim of an illegal clause in his contract that bars him from retiring. When I gingerly poked Blaqbonez about why he chose to sign with Chocolate City, considering the appeal of defying pre-existing music business structures, he responds with an inner gaze. "I feel like my movement is a wrecking ball," he said, saying  "Being signed or not signed I am still going to do what I want to do. If I am smart about what I want to do, having people around me, I can make better decisions".
In Blaq's mind, being a "smart artist" in 2019 is having control, a clause his contract with Chocolate City's imprint, 100 Crowns, preserves. But also because his self-assuredness may have something to do with a self-proven ability to mark territory. Blaq has a strong track-record of contesting and winning rap-battle competitions. After winning TerryTheRap man's zombie's contest, and way before he met M.I, he crossed paths with Vector who set up his own King Kong rap contest as a recruitment camp of sorts for the Hennesy Artistry cypher 2016. At the cypher, Blaq took the first turn at the mic, wide-eyed and throwing hand signs, and within 8 seconds, already referenced the American Oval office, Marvel's Mr. Fantastic, and laid well-deserved death to haters.  This was 2016 before any of his old or new fans heard his current form.
  "I recorded a song mid-July 2016, and after that, I was so convinced that when I put out 'Bad Boy Blaq', my life will change",  and like a stand-up comic waiting to drop a punchline, he added "So the project before that, was called 'Last Time Under'".
At the start of our interview, his lanky frame flailed down the stairs at Chocolate City's HQ, in a white puffer jacket, and white sneakers. We'd met once a few months earlier at an industry event, so naturally, the first thing  I noticed was his new look. "He didn't tell me he was cutting his hair" his manager, Aisosa whispered over his shoulders, "I just came to the office and saw him like this" he added, confirming the radical change from dreadlocks to manic-red hair, was fairly recent (probably overnight). Blaqbonez' hands-on process can be just as sporadic and uniquely forward-thinking.
The release of "Bad Boy", a trap-fused single precluding his debut album, 'Bad Boy Blaq, was the first indicator Blaq was finally growing into a market-ready artist. During our interview, he informs me he became aware of his closeness to the game a few months earlier—way before he signed a deal with 100 Crowns in December 2017.  "I recorded a song mid-July 2016, and after that, I was so convinced that when I put out 'Bad Boy Blaq', my life will change",  and like a stand-up comic waiting to drop a punchline, he added "So the project before that, was called 'Last Time Under'."
In spite of the glorious runway that became more apparent after that, when I ask him for the specific song he recorded that cleared his doubts about his potential in a music career, Blaqbonez remained silent. After letting the awkwardness settle into the room, he gave a long sigh before saying "Those songs never came out". Not only did he hold back from releasing those songs, Blaq also claims he recorded a 17-track concept album that didn't survive the cutting floor when he got M.I's call to join Chocolate City's LAMBAugust campaign May last year.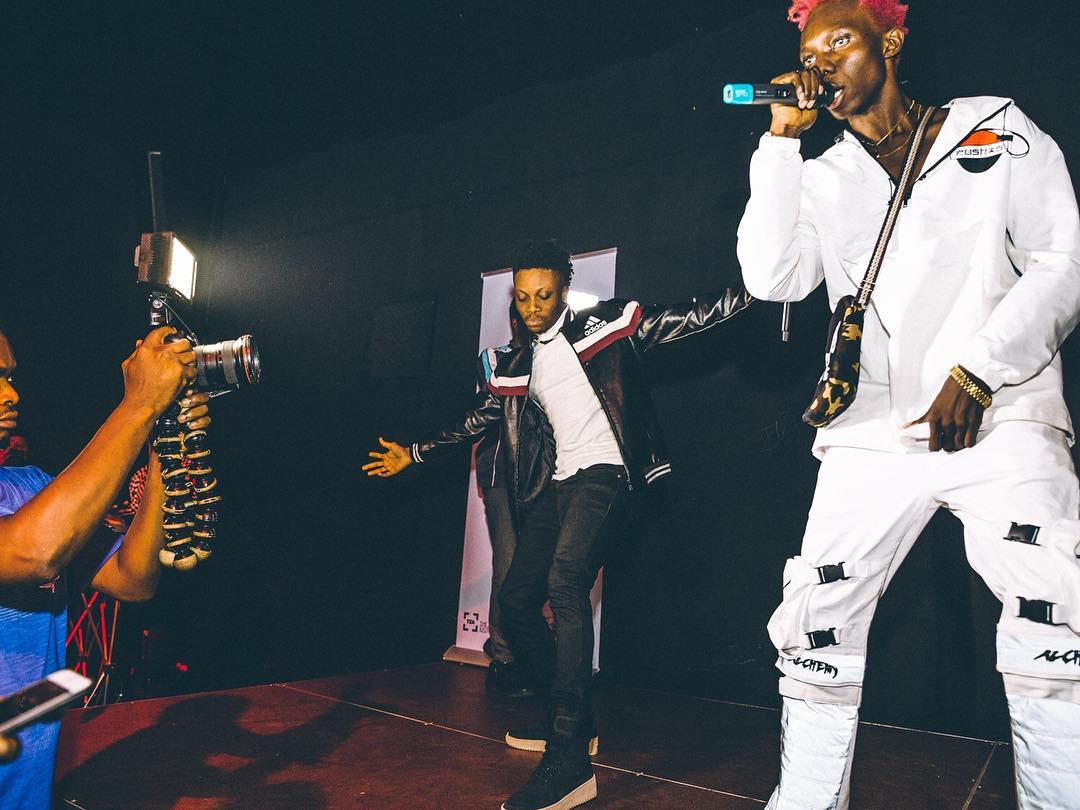 In this critical quality assurance periodic testing phase, the only memorable track Blaq recalls is a little-known song called "Change Am". After crowd-testing "Change Am" at OAU and the University of  Lagos to positive responses in 2016, Blaq was certain he'd cracked the code. But he still felt the output of his song wasn't doing the music justice, so he stopped recording altogether once again, until he met producer and rapper, Alpha, just before signing on with Chocolate City.
Meeting Alpha put him in the same room with Oxlade, another next-rated singer who Blaq reckons may be the best Nigerian vocalist since Wande Coal. Together, they created "Mamiwota", one of the stand-out tracks from 'Bad Boy Blaq', and gradually, more themes for the project started to come together. A phone call from M.I, nine recorded tracks later, and the project was ready. But throwing that banger alongside thoughtful songs like "Consent", and "Woke", didn't save Bad Boy Blaq from getting caught up in his parent label's rowdy 5-album 'LAMBAugust' roll-out. 
We never get around talking about why he decided to release a re-up version of Bad Boy Blaq, but there's no question the seven-track serving—including three remixes of songs from the original project, and four brand new tracks—is the superior record.
The life, times and becoming of Blaqbonez mirrors elements of universal struggles rappers all over the world have to contend with: validation, self-discovery and rise to glory. In Nigeria, Blaqbonez is an immediate progression to what we have already heard from accessible rappers like YCEE, Falz and M.I. But you also get the idea, he has an updated touch that may very well place him in higher ranks of homegrown wordsmiths earlier than expected.
On "Nikes", the crucial collaboration with prettyboydo, off Bad Boy Blaq Re-Up, a brazenly materialistic subject matter is brilliantly subverted into a gritty aspirational youth anthem. In the same vein, innocuous songs like "Good Boy" featuring BOJ and CKay and "Play" featuring YCEE, exist as highlights on the record, not just for being musical, but also entertaining.
Blaqbonez has an organic rounded idea of what it means to be a rapper with Nigeria today, which means we can expect more authenticity from him down the road. As a nod to his ever-ready battle-rap mode, perhaps, all he needs now is some contenders to rise to the occasion, so things can get a little more exciting.
---
Toye is the Team lead at Native Nigeria. Tweet at him @ToyeSokunbi
---