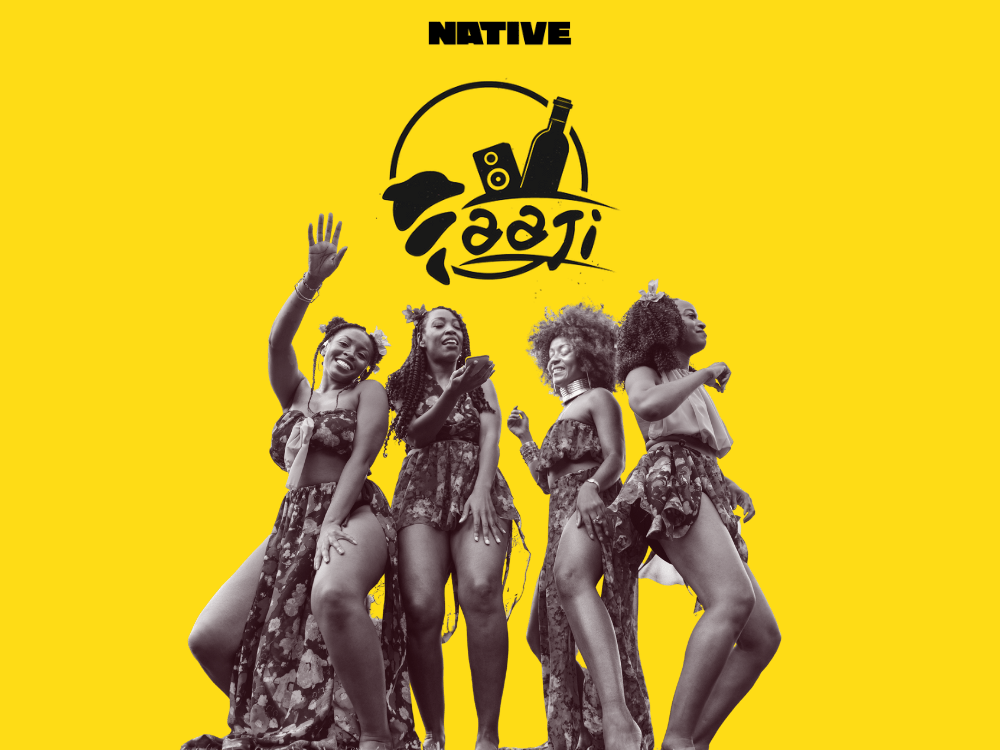 Inside FaajiApp's Vision of Curating Worthwhile Experiences
A pristine showcase of the importance of tech in African entertainment
Two years ago, the duo of Ayo Olagunju and Moyo Ajibade took a lifelong interest seriously. Acknowledged as the socially connected folks within their circle, most of their friends looked to them for popping locations within Lagos. Then the pandemic broke out and everything went stagnant. Indoors, it struck them. What if people could access a website where they'd find places suited to their chosen interests? 
The pandemic being considerably contained, FaajiApp was fully fronted the following year. "One of the first things we did was get a designer," said Faaji's co-founder and product manager Ayo, on a recent call with The NATIVE alongside other members of the startup company's leadership. "The reason was because we wanted a playful, enjoyable website. From getting designers, we started getting engineers that were capable of building the idea we had in mind."
View this post on Instagram
Yet available only in Lagos, the creators rightly placed a growing need for recreational activities around the city. "I saw it going both ways because they're people who want to go out, but they don't know where to go," says Moyo, who is Faaji's co-founder and operational manager. "Like, a lot of people want to go out, they want to spend their money. Lagos is stressful, you know? Imagine leaving your house entering traffic from nine to five. Lagosians are always looking for an avenue to blow off steam and we wanted FaajiApp to be that place where you can find different avenues to do that." 
What was subsequently required was Faaji's push into the market. Seyi Alawode came on board then, handling "marketing, branding, partnerships and all of that fun stuff," she says. Formerly based in the United Kingdom, she runs a marketing agency and tells me now that Faaji has "hands down been one of my favourite clients to work with ever…I mean, the boys already know one another and they are their own audience."
She continues: "We are the Faaji audience, so it's almost like talking to our friends. A good chunk of our marketing campaigns have been based on research and it's not hard to literally ask your friend as a young girl in Lagos, 'what are your socialising pain points?' And you find that a lot of people are lonely, a lot of people don't have people to go to  events with, a lot of people don't have—you know, they'd go to events and wish they were at home, watching Netflix. That is another pain point, a lot of people also think Lagos is very repetitive. So we have all this data, and that's been Faaji's recipe."
View this post on Instagram
Navigating the website is easy and quite fun. Users can choose between four animal avatars, and then there's about 30 interest categories—including loud music, games, costume party, LGBTQ+, football and many more. You can purchase event tickets and there's also the prospect of hosting an event.
Social tools such as Find A Buddy and the Faaji Gang discord group are designed to help users embrace community. "It makes your fun much more amplified and really good," explains Ayo. "I feel like that's one thing that would separate Faaji from, I'd say to a large extent Eventbrite and other platforms," reiterates Seyi, "because it actually goes deep into the Gen Z side of things. I think that's why the culture is fucking with it, 'cos it's more to our taste." 
The creators of Faaji are currently building its network to prove that "the concept actually works before we expand to other territories," says Moyo. They're well open to establishing in the UK, reasonably because of its concentration of Nigerian migrants; meanwhile, Abuja residents have demanded its set-up in the capital city. To that end, what data would Faaji require to function satisfactorily in, say, Anambra state? 
"First of all, we need to understand what the scene is like in Anambra," explains Moyo. "We'd have to do lots of research to find out, 'Okay, do people in Anambra like to turn up? Do they like to go out? What do they actually enjoy doing?' Fun is relative; it's different for different people. That's the first thing we need to find out; then we also need to find out, 'Okay who are the providers of this fun? Are there enough providers? Is it something that we need to put in the Faaji effect? Like, you know, make more personalised events and activities for the people of Anambra."
As is common throughout the call, someone else—this time Ayo—bounces off another's person reply to give more detail on Faaji's practices. He recounts a recent case of a beach party host asking if payment from an event can be made from abroad, Belgium specifically. "It goes to tell you that Faaji is a global product," says Ayo with obvious glee. "But because of the nature of our business, we have to do our due diligence, which is what Moyo explained. Before we get a host on board we have to be sure who you are. We don't want you going to a party and you get kidnapped, which is just why we're limited to Lagos for now. The moment we automate that process of security and vetting hosts, that's it. We can accept payments from anywhere; you can buy tickets from anywhere." 
View this post on Instagram
Creating such a product comes from a lived-in understanding of being young and down for the ride. The Faaji trio have either had personal experiences of parties coming up short, or needing to schedule loose time periods. Between Ayo having five years experience as a product manager and Moyo being a dynamic social character, their heart is undoubtedly in the right place. 
For Seyi, being an undergrad in London demonstrated the usefulness of similar products. "There's a website called Design My Night–up until I left university, anything I'm doing in London, I'm doing it on there," she says. "Unless you have friends who know what's going on at all times, there's no way you're going to find out what to do, where to do it, how to do it. I was most excited to see how it would work for the Lagos market." 
It is widely agreed that tech is Nigeria's greatest influencer right now. Across industries, important products like Faaji are serving as a launchboard onto the unlimited possibilities of a new world. According to Ayo, more strategic collaborations are being lined up in the coming months. He makes it clear Faaji are more than a ticketing company—the description was only necessary to get them on the radar of potential users. 
"The next thing for us is 10x start, go on steroids," he says, "and what do I mean by going on steroids? We have a mobile app coming out. Already as we speak, we're already planning concerts for December. We're already planning experiences; one of the things I'm very keen to see is a new feature that will give you updates on what people are doing in different locations. You should see it very soon. You'll keep hearing about Faaji for the next six months."
---