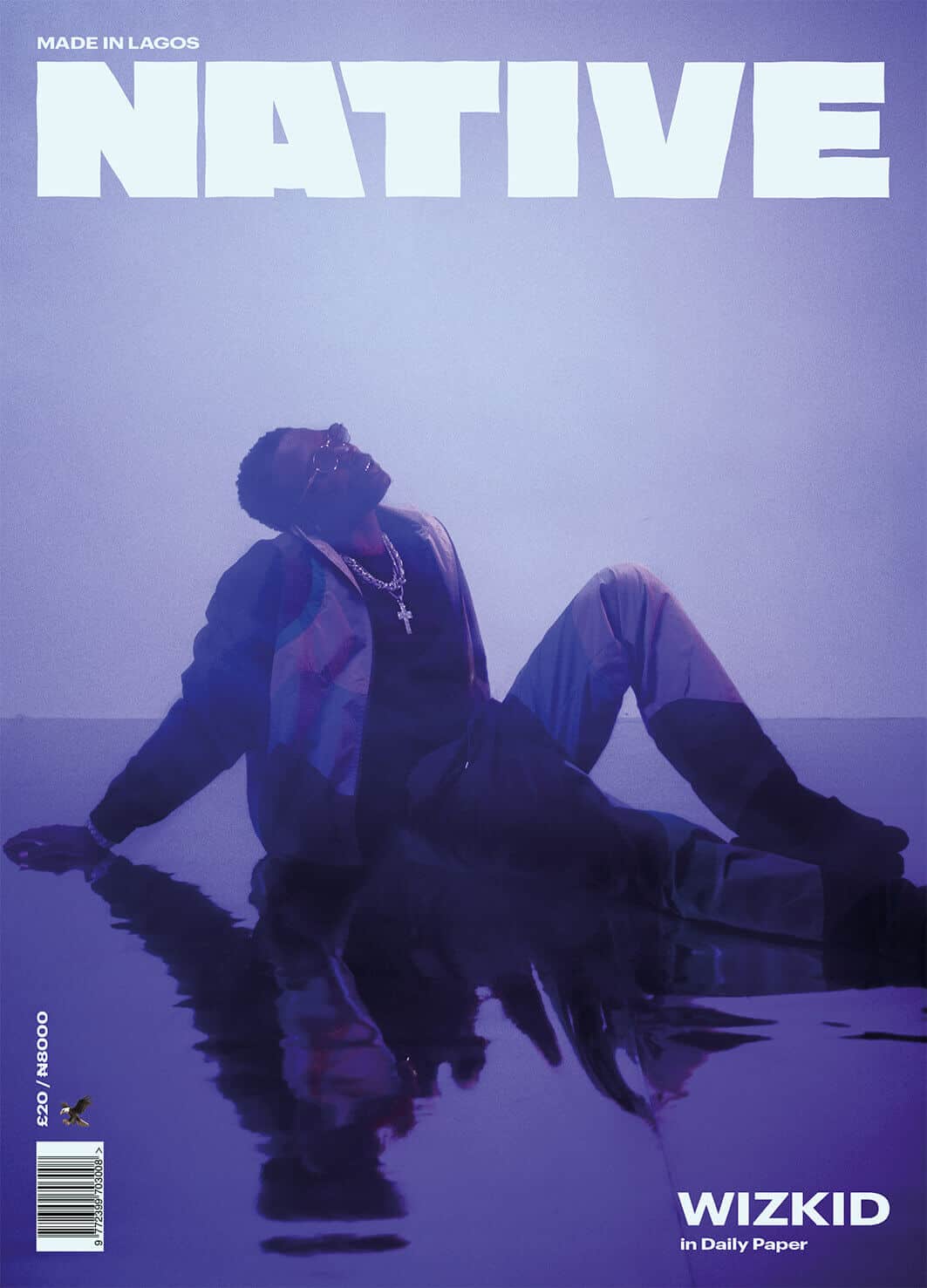 Credits:
Photographer – Mahaneela Choudhury-Reid (@mahaneela.jpg)
Photo Assistant – Sarah Harry-Issacs (@sarah.harryissacs)
Creative Direction – A'alia Boyo (@queenoftheyouth)
Gaffer – Joe (@lightingbyjoe)
Production company – Object & Animal (@objectanimal)
Producer – Jess Ajose (@jess.ajose)
Studio: YoYo Studios
Stylist: TJ for Blac Ribbon
Stylist – KK Obi (@kkobi__)
Stylist assistant – Kennedy Clarke (@yunngflava) MUA – Fey Adediji (@beautybyfey)
Set design – Jade Adeyemi (@adeyumyum) Set assist – Sofia Mpandu (@Mustbesofia )
BTS Photo – Tife (@tifeid) BTS Vid – Barbara (@outtake999)
Wizkid's first official public appearance musically was a feature on MI's album, Talk About It, laying a stellar hook on "Fast Money, Fast Cars". By the next time we heard from Wizkid, he was already a superstar, cemented by his first hit single released under EME, "Holla At Ya Boy". His journey didn't start here though, as Wizkid had been hanging around since he was 12 years old. Under the moniker 'Yung Prince', he attempted to break into the industry, rapping, as seen in his stint with Willy Bang on the legendary Jimmy's Jump Off show, which is still up on YouTube today. Somewhere along the line, he was signed by Banky W to EME Records, where he began to dish out hits without giving fans a moment to breathe. From "Holla At Ya Boy", he released two club bangers, "Tease Me" and "Don't Dull", which he followed up with random drops like the popular "Zombie Freestyle", "Ole Lamba Freestyle", his cover of Future's "Turn On the Lights" and "Gidi Girl" which are all still regarded as cult classics today. His hypnotic drawl drew the women in and we know that anywhere women go, men will follow. Shouting out women from major cities around Africa and in the diaspora was a strategic songwriting decision, which propelled Wizkid's stardom to new heights, as he was constantly booked all over Africa. Once Superstar and Empire Mates State of Mind were released, all eyes were on Wizkid, the boy who could do no wrong amongst his peer, while songs like "Pakuromo" and later "Jaiye Jaiye" enticed the older generation. At this point it was safe to say Wizkid had captured the hearts of every African across the globe. 
Contemporary afropop has come a long way since the times when it was the status quo for party guests to request foreign music from DJs at African events. Pioneers in the Nigerian DJ industry such as DJ Abass and DJ Jimmy Jatt never fail to remind us younger DJs that there was a time when party guests didn't care much for recorded Nigerian music, and would rather hire a band to play Highlife, Juju or Fuji in addition to a DJ, who would play all the latest foreign hits from artists such as 50 Cent, Sisqo, Ja Rule and the likes. 
This, however, began to change when Kennis Music facilitated the growth of artists like 2face Idibia and The Plantashun Boiz, Weird MC, The Remedies, and much more. At African events within Nigeria and across the diaspora, you were much more likely to hear hits such as "Konko Below", "Jaga Jaga" and "Ijoya" at parties, and even though these songs found major success internationally amongst various African communities, they barely scratched the surface when it came to global acclaim. But it carried on like this for a while, with Styl Plus entering the scene with a fresh style reminiscent of the beloved New Edition & Boyz II Men. The boy band managed to capture our hearts with emotional melodies, crisp production and impeccably heart-wrenching story-telling; making a huge impact with hits like "Olufunmi" and "Imagine That". Everybody and their mum knew the lyrics, yet due to language barriers and the absence of a follow-up they were unable to cement a crossover.
As this was happening, D'banj and Don Jazzy were developing as a burgeoning force,  forming their own record label, Mo' Hits Records, which was jam packed with incredibly talented musicians who set the pace for the current Afro-pop sound we're familiar with today. Fusing electronic sounds with undeniably groovy gbedulicious drum patterns and crisp vocals; Wande Coal's debut album, Mushin2Mohits, quickly became the blueprint for modern Afro-pop. With this, in addition to Curriculum Vitae (the Mo'Hits All Stars album) they had the industry in a chokehold throughout the latter half of the noughties. Over in the UK, songs like "You Bad", "Bumper 2 Bumper", "Ten Ten", "Pere", "Close to You", "Tongolo" and more had already started to penetrate the wider urban communities, but none of these small successes could foresee how much gold would be struck when D'banj dropped "Oliver Twist". Spreading like wildfire at the height of the BBM era,  the song's reach was proof that with consistency and the right sound, anyone could become a superstar.
Following the global success of his predecessors, the now world-renowned Starboy Wizzy soon rose to global stardom via the support of avid diaspora listeners. It was through his lamba-laced bravado that an entire generation embarked on a journey to reconnect with their roots. Whether at a hall party, carnival, uni raves or a class party, Wizkid's non-stop bombardment of hits ensured he was the soundtrack to our youth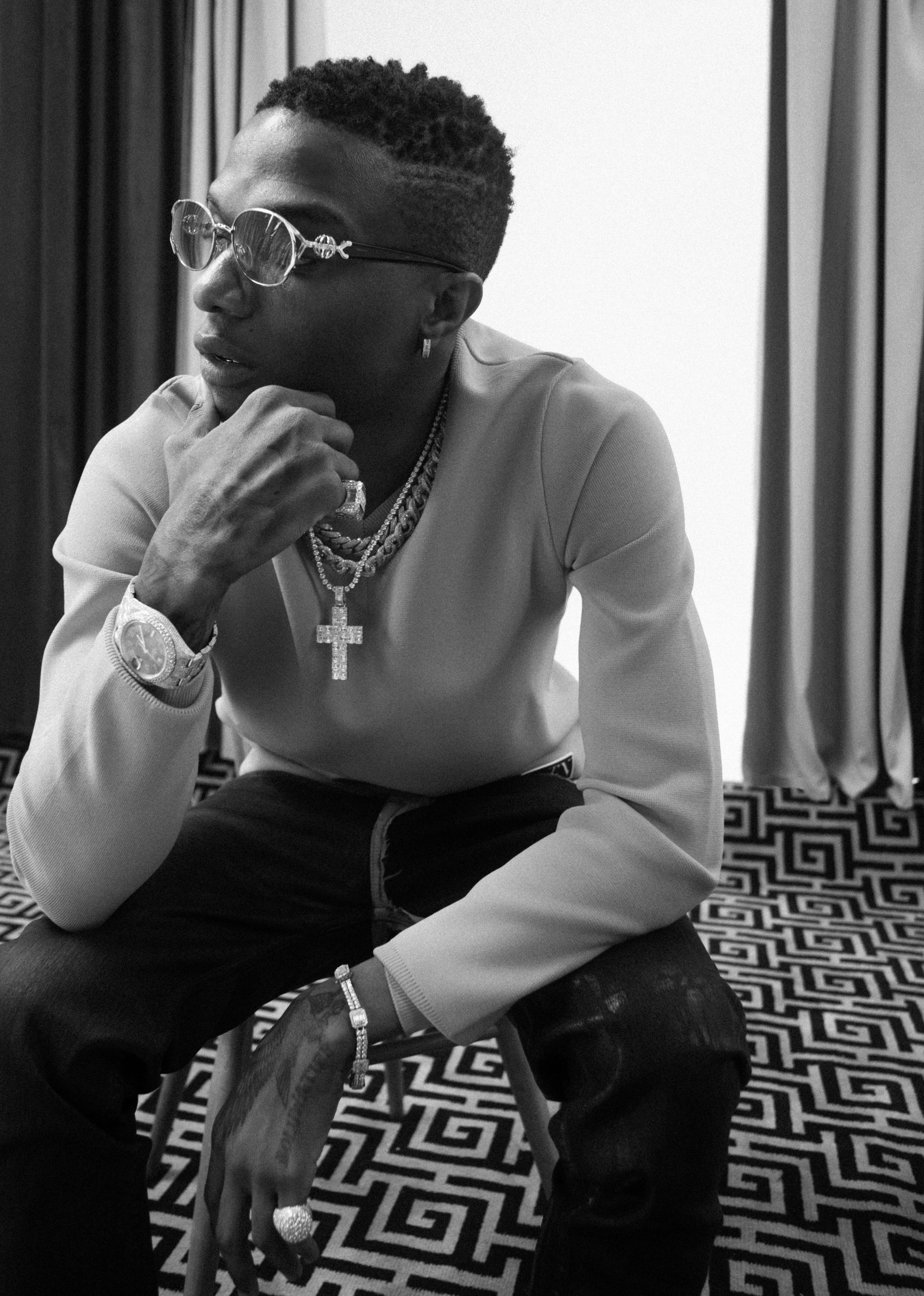 In 2012, a year after Superstar was released, following a tour of Africa and a string of awards ranging from the MOBOs, BET and nominations from MTV's EMA's, Wizkid set his sights on London, selling out the just-over-5000-capacity HMV Hammersmith Apollo. He set the pace with a freestyle on Tim Westwood TV where he shouted out his future close friend and collaborator, Skepta. This was an indelible moment which cemented Afropop as a popular and sought after genre in most urban spaces around the UK. The influence was so strong and evolved over the years to birth the now chart topping sub genre, Afroswing, which is led by Black British artists who embraced their heritage in their music; among these are J Hus, Sona, NSG, Notes, Yung Bxne and many others. 
In 2014, after a string of hit singles and a ton of international features under his belt, some time during his globetrotting on tour, Wizkid was ready to drop his next album. This time, his sound was more refined with major effort from Legendary Beatz who assisted him in creating one of the biggest songs of his career, "Ojuelegba". The feel-good ode to his hometown seized the attention of people around the globe, one of them being one of the biggest artists on the planet, Drake. Aside from the trance-inducing melodious instrumental, what captured listeners was the pure honest lyrics which narrated the all too familiar black struggle for economic freedom, but this time, from an African's point of view. Skepta and Drake expanded on this topic with Skepta particularly shining light on the turmoils of growing up in London as an African. Every Black British listener felt seen and heard, with his opening lyrics saying "when I was in school being African was diss, sounds like you need help saying my surname miss". Wizkid's success in the UK can be attributed to the identity crisis generations of British Africans faced as children of migrants, who never quite felt at home in the UK, yet were treated like foreigners back in Nigeria. His sound, songwriting and swagger helped British Africans – some of who had spent their childhood lying about hailing from the Caribbean – to find their footing culturally, and see their background from a youthful perspective and no longer from the lens of family and friends who had been back to their home countries and felt comfort in their culture. With his verse on "Ojuelegba", Skepta made being African cool again, and helped the youth find their way home.    
Within the next two years, Wizkid had signed a deal in North America with RCA, but not without a feature on Drake's fourth studio album which earned him his first number 1 hit. "One Dance" featuring Wizkid & Kyla dominated the charts at number 1 for 15 weeks in the UK, according to Official Chart Data, and was number 1 on the Billboard Hot 100 in the US for 9 weeks. Without being pushed as a single, this is an incredible feat, however, a convening of  one of the world's biggest stars and the biggest African artist was bound to break the mould. They later collaborated again in 2017, with "Come Closer" on Wizkid's third studio album, Sounds From The Other Side. It was through these hit songs, as well as collaborations with Major Lazer, that Wizkid was able to break the glass ceiling and become a global superstar in every sense of the word. His music was now no longer just being played in urban spaces; you could, and often did, hear Wizkid everywhere.
The euphoria of Wizkid's success was infectious. With most of his fans around the globe feeling like part of the journey, the UK welcomed the Starboy back with open arms in 2018 ready to be blown away following another sold out show at the Royal Albert Hall in 2017, full to the brim at 5,000 people. This led fans to question, can an African sell out the O2? 20,000 people. And he did. That year, Wiz and Skepta hit the streets with another infectious banger, "Energy" and with everyone having a strong sense of 'the motherland', screaming 'Africa to the World', AfroRepublik, headlined by Wizkid, sold out the illustrious venue by a landslide. As AfroRepublik became the first African concert to sell out the O2, Wizkid earned proof – though hardly needed –once again that he was a titan and innovator in the music industry. This event's significance cannot be understated, as it led to more Black British youths joining Nigerians on the yearly exodus to their respective home countries to get a taste of the culture that inspired his music and attend the various concerts that make up the (in)famous Detty December. 
Beyond the music, Wizkid served as the bridge between the two cultures, and managed to do so with his music. His presence, and jams,  led to a cultural revolution, which has taken the Nigerian and African music industry to a new level, a level that seemed almost inconceivable only a decade ago.