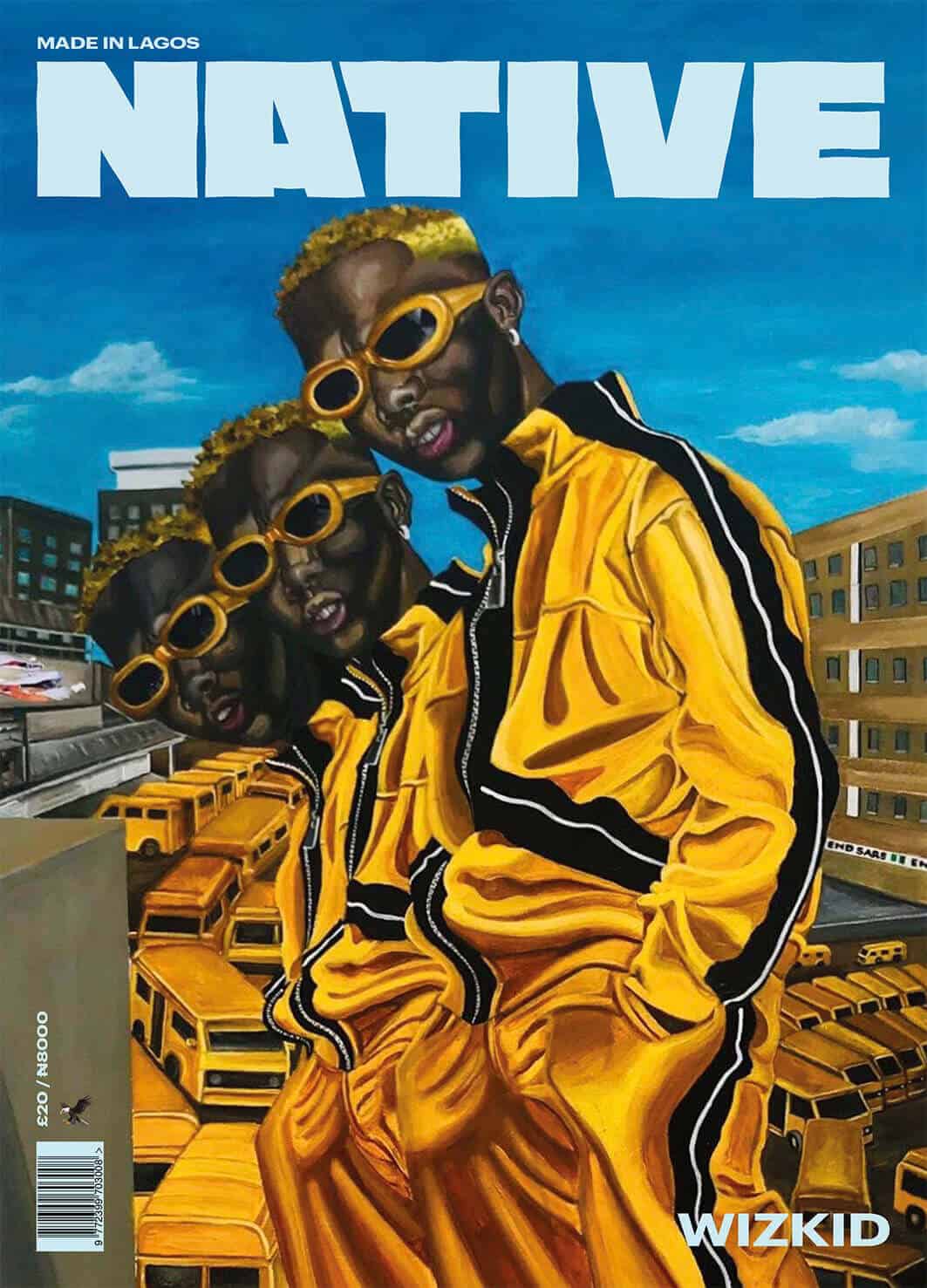 Credits: 
Photographer – Mahaneela Choudhury-Reid (@mahaneela.jpg)
Photo Assistant – Sarah Harry-Isaacs (@sarah.harryisaacs)
Creative Direction – Daniel Obaweya (@nigeriangothic), Mojoyin Durotoye (@moj_bot), A'alia Boyo (@queenoftheyouth)
Gaffer – Joe (@lightingbyjoe) 
Stylist: TJ for Blac Ribbon
Stylist – KK Obi (@kkobi___)
Stylist assistant – Kennedy Clarke (@yuungflava)
MUA – Fey Adediji (@beautybyfey)
Set design – Jade Adeyemi (@adeyumyum)
Set assist – Sofia Mpanda (@Mustbesofia )
BTS Photo – Tife (@tifeid)
BTS Vid – Barbara (@outtake999)

I don't remember exactly where I first heard Wizkid's music. I doubt anybody who has followed his music from the very beginning can recall either. 
When he first started breaking onto the airwaves, the digital distribution we take for granted today was non-existent, music piracy was at its peak, and Nigerian radio stations still had an authoritarian influence on exactly who popped off, when they popped off and how high they popped. In those years of "Wizkid_gidi_girl_NotJustOK.mp3" file tags, a new artist could remain virtually unknown, despite having leaked singles dominating barbershops, hair salons and the streets. 
What I do remember of discovering Wizkid, however, was the first time I really paid attention to his not-so-secret weapon: his voice. It was the summer of 2009 and I was in my mum's car, hiding away from family members at an Owambe. Until then, the entire afternoon had been me wiggling out of forced hugs and awkward encounters with those "Do you remember me?" uncle and aunty types. I actually stole away from the noise of the main party with some food, to call my best friend/crush from my mum's Nissan minivan. In the car, I sunk my teeth into some party fried meat, and washed it down with a bottle of Coke. At fourteen, I couldn't really ask for more as far as having a good time was concerned, so I turned on the radio for ambience. That was when Wiz came on. It was 96.9 Cool FM Lagos, and they were playing "Gidi Girl". 
To begin with, I didn't even think it was a Nigerian song. Not because I had an elitist music taste at fourteen but because, compared to every other Nigerian song I had heard before that moment, the only reference I had for the sound of "Gidi Girl" was Sean Kingston. Still reeling in the mixed emotions from my phone conversation, two lines caught my ear from the first verse, "And I can't get over you/Cos you got me so confused." I had never heard that kind of relatability before in Nigerian music, so imagine my surprise, when the hook came on and it was Wizkid crooning "You're my gidi girl." 
***
It's hard to explain the importance of this moment in Wizkid's career to people who haven't listened to Afropop mature from a "third world sound" to becoming this behemoth of pop culture symbolism. Nigeria is especially believed to be the place where innovators go to die, but even in the world beyond ours, outliers are sometimes denied the gains of their innovations. In music, when new artists break into the airwaves, the question of how long they will stay on the radio, can be directly answered by other factors, including timing, economic instruments and mass acceptance of new technology.  
For example, when 2baba first launched his international crossover campaign with the release of his ambitious Unstoppable album, the Nigerian music industry was in a starkly different place. In those years, CDs were still the main source of music distribution and publishers from Nigeria's notorious, pirate-dominated Alaba market, ruled over the entire value chain of music distribution, like a cartel. But In 2008, frustrated by the high level of corruption in Nigerian music business, 2Baba refused to cave to Alaba demands to sell his album at N150 (~$1.2) per CD, offering the 18-track box-packaged LP on sale at N1000 (~$10) —the same unit price the project was sold for around the world. 
Though the end result was 2baba getting redshirted from the African music spotlight for nearly two years, after a series of minor tabloid scandals buried any serious conversations around his music, his resistance was not completely foolhardy. At the dawn of the millennium, except for show performances, the only other way for Nigerian artists to make tangible revenue from music, was selling off their masters to Alaba publishers for a single one-off payment. On the publishing end, Alaba marketers converted these projects into goldmines, cheaply mass-printing CDs and distributing them across the continent. 
Due to their extensive and unparalleled distribution network, Alaba pirates were able to shortchange artists by buying the rights to distribute albums at laughable fees, and selling them aggressively on the streets. As most artists desperately needed the upfront cash and, almost more importantly, relied on their music being heard, to be subsequently booked for live appearances – historically the biggest revenue stream for artists in Nigeria – they had no choice but to begrudgingly agree to these extortionate deals. Alaba-artists agreements also have no royalty clauses, so publishers only pay artists a fraction of what they recouped from the virtually unlimited profits off CD sales. This intellectual property robbery was the motivation for 2baba's protest, but like many innovators, the effect of his disruption – whether initially successful or not – was always destined to be future-forward.  
Which brings us back to Wizkid. Before the official release of his debut album Superstar in 2011, numerous singles off the set had leaked into the public through jump CDs, illegal downloads and bluetooth file transfers. To give a sense of how extensive this unmetered distribution of music was in the late 2000s to early 2010s, it was commonplace for every high school in Lagos to have at least one person, whose phone served as the plug for the latest music.
In my high school, that "plug" was Jibola, my best friend/crush, who was also my seatmate through much of senior year, starting in 2009. Before Wizkid became a certified Next Rated, we'd bonded over ditzy Harlequin novels, teen trash-TV and Mo'Hits records. Wiz's music was a unique, near-sacred addition to the mix of shared interests. Our "thing" was sort of my own little world. I knew we would never be more than friends though. Sounds like a coward's excuse in hindsight, but she had a secret crush on a senior, who was two classes ahead of us. Telling her I had feelings would have been so lame. But the heart is a lame irrational thing. Unfortunately though, feelings only get stronger the harder you try to ignore them. 
In 2011, Wizkid's Superstar was officially released under Banky W's Empire Mates Entertainment label, and "Holla At Your Boy", the music video that changed everything, also dropped off the project, later that year. Early 2000s TV shows like I Need To Know and Wetin Dey already tried to touch on themes of adolescent romance in mainstream Nigerian media, but their focus on stereotypical "African" issues like reproductive health, HIV and poverty were more reflective of the western gaze of organisations like USAID, who were the few media funders with a little more money to throw around. As far as a wholesome depiction of the Nigerian teenage experience in popular media goes, the "Holla At Your Boy" music video was the first of its kind. Because, boy did that song make me feel things when Jibola finally secured her senior boyfriend. I understand the lyrics on the breakout single are the words of a young superstar soaking in the feels of his rise, still, the line "If you see me drive by, holla at your boy" glossing over the smooth mid-tempo synths, sounds a lot different when you're listening from the depths of the friend-zone.
***
Fans are starting to get accustomed to his project release cycles, but for a chunk of his decade-long run, the space between two Wizkid projects always seems to be the longest. The wait for a new project, may lead into months of silence across all social media platforms. Once that happens, it doesn't take long before gossip blogs and tabloids start to fill the void of his voice with sensationalist news. 
Four years ago, barely two weeks after the release of "One Dance", his Billboard #1 collaboration with Drake, Wizkid was embroiled in an online war of words with infamous Nigerian blogger, Linda Ikeji. At the peak of the drama, Ikeji made a lengthy blog post claiming she reported Wizkid to the Lagos State Commissioner of Police, because he threatened her with violence. Wizkid was having a weird 2016.
This was the year following the election of President Muhammadu Buhari's first term in office. Oil prices were slumping, government spending tightened and uncertainty hung over the music industry, and Nigeria at large. Later that year, Wireless Festival tweeted Wizkid would be missing his initially highly publicised billing due to visa problems. It's hard to say if making that show would have had an effect on the lackluster year that was 2016, because, although "One Dance" was popping off around the world, back home, Superstar Wiz was starting to appear completely over the entire idea of stardom, and what was previously expected of those in the position he then held.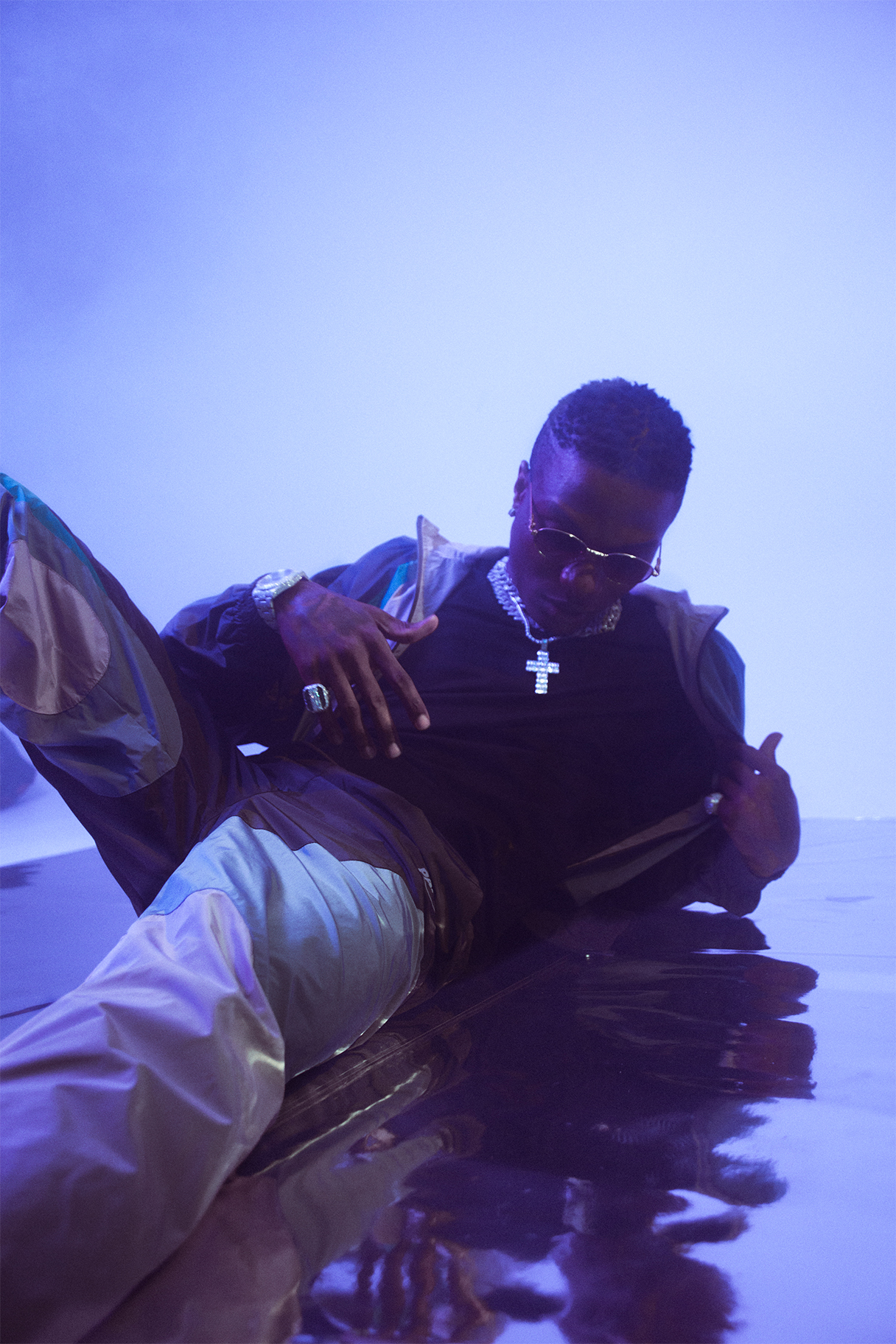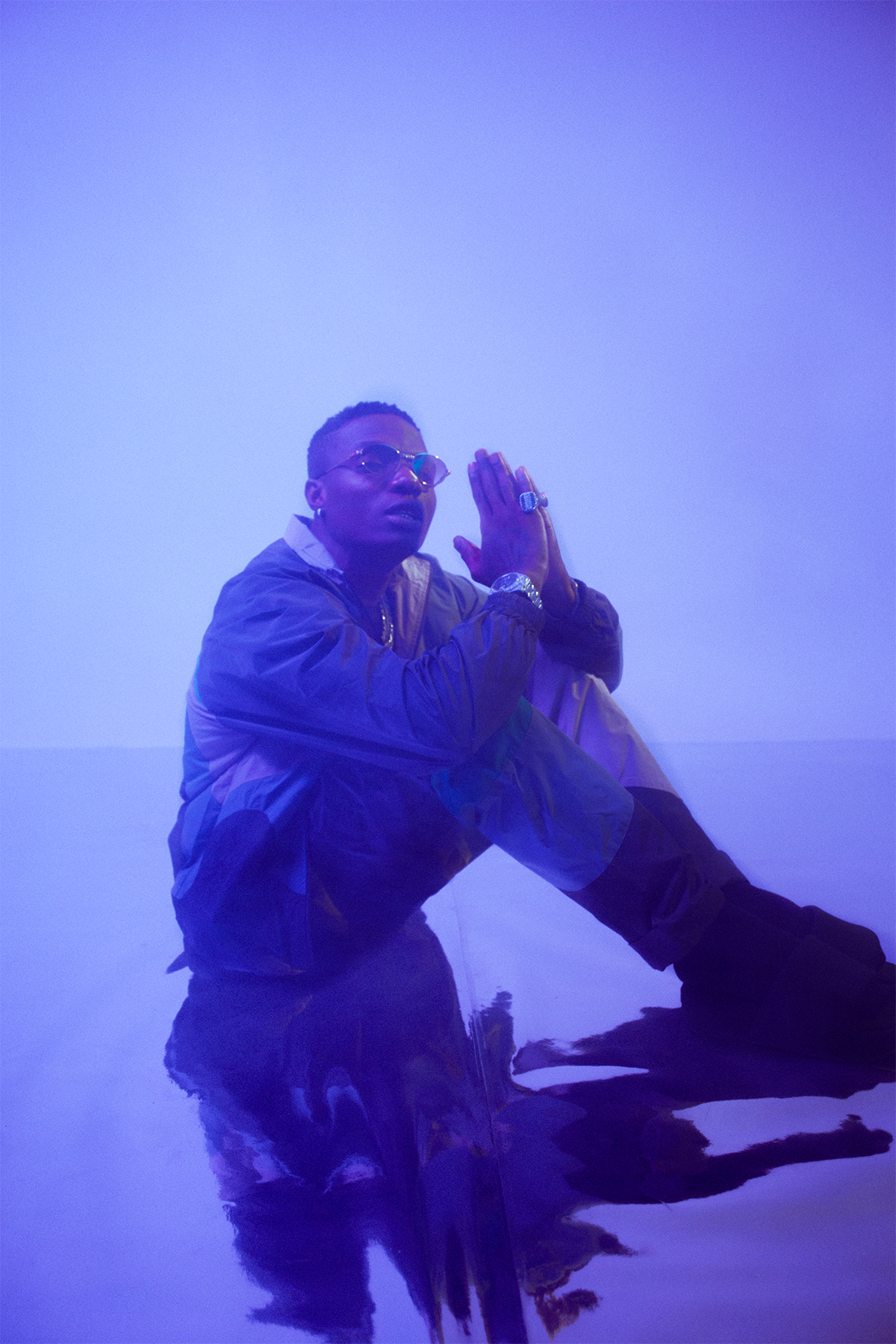 Storytelling for music careers is tough anywhere, but especially in Nigeria. The media is bullish about narrative choices, and fans are often tilted away from introspective music and towards club bangers. Oddly, over the years, Wizkid has been accused of not having a clear creative direction by fans and critics alike, and for adapting to the same music market forces. 
Before the drama with Linda Ikeji, and even further past the release of "One Dance", the most fans had seen of Wizkid in over two years since the release of Ayo in 2014, was a string of solid, but not necessarily club-ready, singles. Between 2011 and 2015, Wizkid went from experimenting with synths, afro-drums and alternate compositions on Superstar, to segueing into a very traditional sounding album (Ayo), leaning into themes and tropes he had previously avoided, packed-full of pre-released singles that were undoubtedly successful, but somewhat hampered the overall listening experience of the long-play. 
But then, there was "Ojuelegba". Tucked away in the middle belt of this sophomore album, Balogun placed a true gem that would be famously further polished, a full year after its release. 
It was my fourth academic year at the University of Ibadan. I was working on my final project, when my housemate burst into my room, near-yelling about an ""Ojuelegba" remix!" with "Skepta!!," and "Drake!!!." I thought he was bullshitting. The shock value of its surprise release aside, the original is such a personal, Lagos-specific song that it seemed like a choice straight out of the left field of Wizkid's discography, to feature verses from two of the biggest rappers in the world. 
"Ojuelegba", is a song about the true identity of Lagos, a grass to grace story, born smack out of the centre of the mainland. The effect of a Drake and Skepta remix is equivalent to Phyno hopping on Jay-Z and Alicia Keys' "Empire State of Mind", or Dizzee Rascal dropping a verse on 2Pac's "California Love". When the hook reverberates on any of those songs, we all feel that raw love for any global city with a vibrant soul. 
Drake and Skepta's have extensively documented an understanding of what it means to mean so much to your people. Their relationship with their own respective cities – Toronto and London – is probably what made them gravitate toward the song, and that led to such a perfect meeting of worlds. As Big Smoke and the 6 God traded bars about personal resolve and the global black experience, sandwiching arguably the greatest Nigerian chorus of that decade, it seemed somewhat fitting that this song would be the one to catalyse the next wave of Wizkid.  
***
"I had to tell my story, because they'd rather show you black kids with flies on the television"
Skepta, "Ojuelegba" 2015.
Two years earlier, while fans eagerly waited for Ayo, word on the street was that the Starboy wanted to leave his root label, Empire Mates Entertainment. Due to rumoured management problems, cryptic tweets, and a public fall-out with the label owners, it was clear this would be the last stop on the EME road for Wizkid. "Ojuelegba" thrives on Wizkid's sense of gratitude, preceded by a period of career uncertainty and personal life turbulence leading up to the release of his final album under the label that introduced him to the world. On the cusp of an international crossover, remixing "Ojuelegba" – a humbling mid-career highlight where he recounts the days of his early start at Mo'Dogg's studio, Surulere – subtly began to indicate there was indeed a method to the Starboy's madness. 
"One Dance" would not be released until the following year, but as an emerging artist in a globalising world, the remix of "Ojuelegba" was the first page of a new chapter in Wizkid's artistry. Like so, the mythos of a Starboy born in Lagos and set for universal glory was underway. Did Wizkid always have his long-game plan mapped out in a scrapbook somewhere? Hard to say, but the release of Made In Lagos confirms much of his moves since 2016 have been deliberate at every turn. 
The story of Nigerian music's evolution in the last sixty years, is inextricably tied to well-documented socio-cultural shifts in African music traditions as a whole, dating all the way back to slavery. The details are fuzzy, because documentation is scarce, but one way to deconstruct how popular African music arrived at a symbolic moment like Wizkid's Made In Lagos, is to look at the evolution of black music itself. Contextualising Wizkid's decade-long career within the African experience, as new technologies continue to transform how we consume art, is important, because it gives historians more data about black cultures. 
In Megan Sullivan's African-American Music as Rebellion: From Slavesong to Hip-Hop (2001), she illustrates how many Black genres like Blues, Jazz, Gospel music and their subsequent offspring, were birthed on slave plantations, as a means for enslaved Africans to communicate and share stories. Before that, the earliest known black music traditions were ceremonial songs, accompanied or often led by drums, attached to specific occasions and social contexts such as marriages, childbirths, or spiritual cleansing processions. 
Percussion in African music traditions predates the 15th century transatlantic slave trade, hence they have always been intrinsically tied to the Black sound. This detail is important for two reasons: One, because percussion style and arrangement have always been defining elements for what is considered as indicative of the "Afro" sound; two, because the design of modern day drums, which mainly evolved from the innovation of dried animal skin stretched over a wooden frame, in fact originated from Asia in 5500 BC and was replicated across the Middle-East, and subsequently Africa, through Arabian slave trade around the 9th century. 
The historical timeline of how drums were innovated around the world suggests that African music has its earliest borrowed influences from Islamic culture. A relevant case in point to this theory is how Yoruba Fuji music evolved from adhān, the Muslim call-to-prayer, and Quranic recitation melodies that relied on the performer's nasally vocals and little to no additional instrumentals. In its early days, Fuji music was called "Ajiwere" – a Yoruba prayer meaning, "we will wake up well" – a term that can be loosely explained as a description of how muslim evangelists used to sing around the neighbourhood, moving from house to house to wake other faithfuls for their early morning prayers.  
Over the years, Yoruba Fuji has also evolved with innovations in global music trends, incorporating wide-ranging influences, including folk, jazz, rhumba and disco. In the 1930s, while Nigeria was still a British Colony, the sound was heavily influenced by Cuban-style percussion and called "Apala". Pioneers like Haruna Ishola and Dauda Epo Akara, led the genre through a phase of its initial regional tilt towards Southern-Nigerian muslims. By the time Nigeria gained independence in the 1960s Sikiru Ayinde Barrister, who coined the term "Fuji", popularised the sound and became one of its first global ambassadors, touring Europe and the Americas through the '70s and '80s. 
Despite its heavy reliance on live instruments, strings and loud drums, Fuji has retained authenticity as music channeled through the charisma and voice of its performer. In mainstream global pop, we have seen an advanced form of this song-architecture masterstroke, from how Kanye West stretches the use of vocal samples. West, a producer-artist double-whammy, is a revolutionary artist because of how he incorporates unconventional sounds and elements with Rap music. The truest testament to Kanye's genius, is his application of design-thinking to traditional song structure and song composition, using the human voice as the ultimate instrument. This is where the sound and artistry of Wizkid snaps into full focus. 
You see, on the cusp of Wizkid's arrival on the Afropop scene, there was no middle ground between Western-influenced R&B & Pop music made by artists like 2Face & Styl-Plus and the conventionally mass-appeal Dance music spearheaded by the likes of P-Square. The former group of artists sang over typically American-style R&B keys and bass drops, the latter group relied on big effects, scatato synths and loud drums. Wizkid was the sweet spot in between; though his music borrowed from Western Pop and Hip-Hop/R&B styles, his vocal delivery leaned more towards a Fuji-inflected aesthetic. 
When you combine the wide range of influences that make up the arrangement of a typical Wizkid composition, with his nasally ever-so-slightly autotuned delivery, his voice becomes another instrument on the song, this has arguably separated Wizkid's music from the lot, throughout his artistry. As the future beckons on a younger generation of artists to push the boundaries of Afropop once again, you can hear the Wizkid template replicated in how producers often filter Rema's voice through auto-tune until it's nearly indistinguishable from ambient instrumentals. 
This extensive backstory is also why it has not been inconsequential that African music heads have insistently re-contextualised the differences between Fela's politically-charged Afrobeat and its derivative sound, Afropop, especially as Afropop's influences continue to widen. Because today, terms like "genre-mashing", which are bandied round by Western critics grasping for ways to describe The Sounds From This Side, seem to me like a new buzz word – see: "World music" and "Afrobeats", before it – that's only reflective of laziness on the part of music writers, who gloss over the components that make up a sound and thus its history.
****
The release of Wizkid's Soundman Vol. 1 EP in December 2019, broke another long spell of musical silence that began after the polarised reception of Wiz's mixtape-album, Sounds From The Other Side (SFTOS). As a seminal body of work, the primary reason Sounds From The Other Side has aged so well, and to this writer, is a classic in the bloom, is because it was the first project to display the full array of what we can expect from a global Wizkid, in sonic style and architecture. After a traditionally Afropop sophomore album packed with club bangers and singles, we saw Wizkid experimenting with mellower mid-tempo synths, trap and electronic music through 2015, culminating in his RCA debut, showcasing a maturing Starboy, in real time. 
But while Wizkid was trying to tune the ears of Nigerian audiences to his new artistic direction, the months that followed the release of SFTOS, saw the break-out of a new Afropop vanguard. By the time, Soundman dropped, the landscape for Afropop had been digitally transformed once again, radically. This unrelenting pace of innovative leaps across the music ecosystem is another Afropop phenomenon that's hard to describe in the light of Wizkid's decade-long climb to this stratospheric height. Instead of the two years it took for Wizkid to reach the same ubiquity as 2baba, it took Rema, FireboyDML, Joeboy and Tems an even shorter amount of time to peak at maximum reach for their target audience. And like me, these are all Gen-Z artists who grew up listening to Wizkid. Tems, one of the brightest stars the country has produced in years, turned in her own star-showing on Made In Lagos standout, "Essence"; a full circle moment, in record time. 
Away from the surprise drop of Soundman, something bigger than Wizkid was brewing in Nigeria's capital city, Abuja. On Friday, December 6th, 2019, the same day Soundman dropped, Nigerian activist and former presidential candidate Yele Sowore, was re-arrested on the same court grounds where a judge had ordered his release. This was after nearly five months of being unlawfully detained by Nigeria's covert ops security agency, DSS. Throughout that weekend, what should have been a typical fan-fare for any new Wizkid project, was buried under the media circus surrounding Sowore's long battle for freedom. 
Fast-forward to September 2020, Sowore, once again begins calling for an October 1st  2020, Independence day protest. Three days after Sowore led his own initial march against the ineptitude of Nigeria's leadership, a young man in Ughelli, Delta state was reportedly shot dead by the operatives of Nigeria's notorious SARS police unit. The rest is real time history we're witnessing, unfolding to be a watershed civil rights movement. This marked the beginning of the #EndSARS protests that culminated nearly two weeks of young Nigerians marching in the streets to demand change.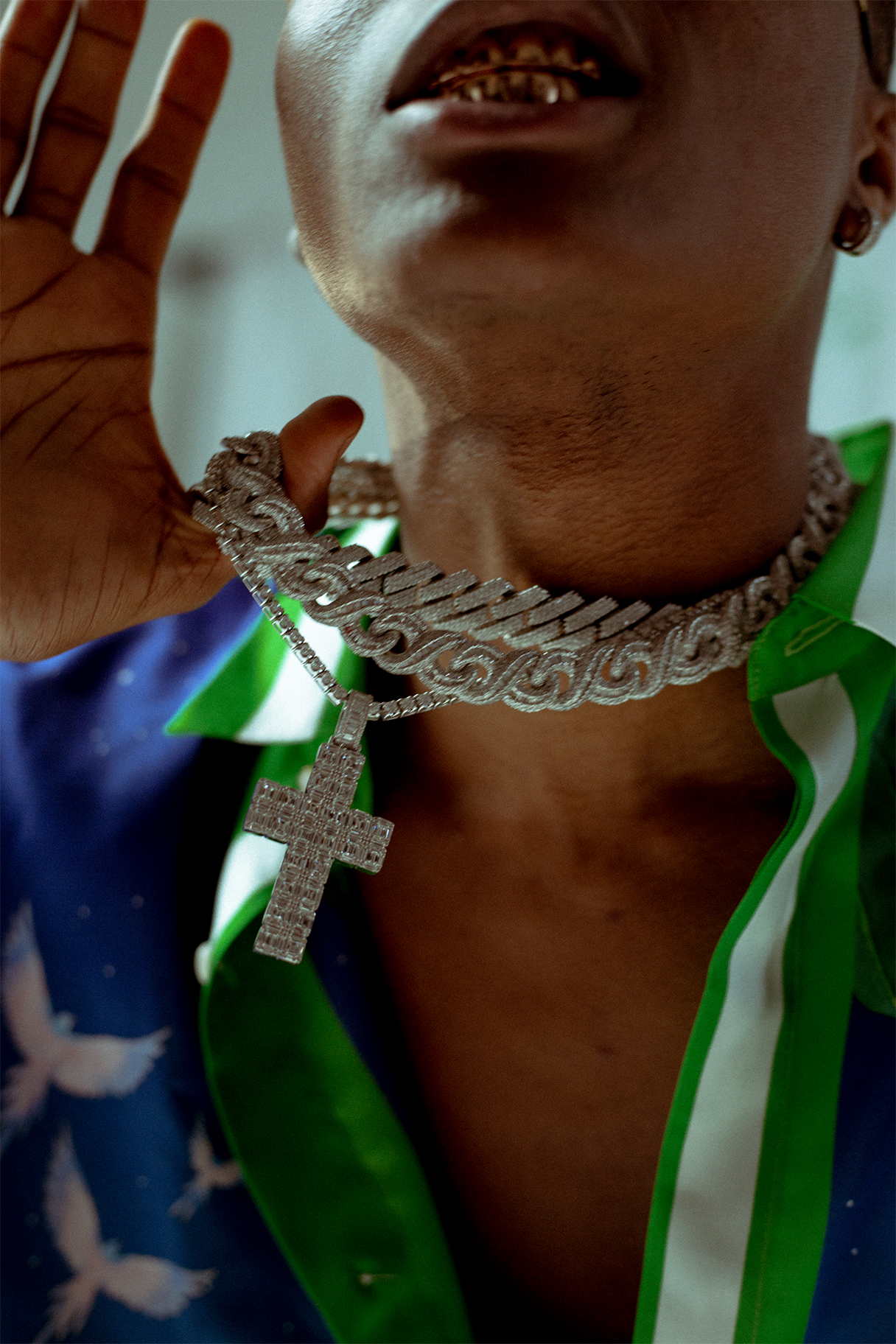 In the past, protests, civil strikes and marches in Nigeria never go on for too long before movement leaders are bullied, bribed or silenced to disperse agitators. #EndSARS was different from the moment Falz and Runtown came out to lead protesters around Lagos Island. Until now, Nigeria has had a history of celebrities and public figures staying silent during periods of civic agitation. But these #EndSARS times have gleaned a different reality. In addition to Falz who has always been a vocal socio-political commentator, Wizkid and his direct peers: Burna Boy and Davido, along with many other Nigerian celebrities also lent their voice, influence and presence to the #EndSARS protests around the world. 
Fela once described music as the "weapon of the future." The Abami-eda, an outlier by all means, lived during Nigeria's restrictive military era and was no stranger to the insurrective power of music. On protest grounds, Fela's assertion couldn't have been more validated, as young Nigerians who had been locked down for many months used music to bond and stay in high-spirits. What may befuddle historians of the #EndSARS movement many years from now will note, is that not all the songs that were played during protests had anything to do with the government. While Fela's music itself occasionally blasted off protest grounds speakers at some locations, DJ selections often included Afropop's cream of the crop feel-good music, even in the face of violent pushback from authorities. Until the disastrous shooting of protesters at Lekki Toll Gate on October 20th, save for placards hanging in the air, you could have easily mistaken some protest gatherings for a street carnival. 
This is why there is a need for specificity and contextualisation when examining the factors that led to the emergence of Afropop. Of much of the feel-good music rotated during the protests, Wizkid's sits atop the pile. Yet seeing the Starboy posed on top of a car in London, with a fist in the air like Fela, while protesters looked on, chanting "Buhari must go!", though a rare display of leadership and social responsibility by the pop star, was not strange, or out of place. If anything, it's merely the legacy of Fela's Afrobeat, coming full circle.  
When an artist rises to the top of their class quickly and unassumingly, the expectations piled on their artistry and symbolisms are instantaneously astronomical. We have seen this with Burna Boy, who critics constantly bait to take a more political stance with his music, given how much of Fela's branding he has leaned on for inspiration over the years. But with Wizkid's involvement in the #EndSARS protests, leading up to the release of Made In Lagos, the Starboy has shown that perhaps, there's another way. 
Soundman got buried in the noise surrounding a brewing national political moment. But the project's muted roll-out was also compounded by how new generation artists have further diffused Wizkid's monopoly over Afropop as we know it. It's noteworthy however, that the Starboy hasn't always been so out of touch. During his Superstar years, tracks like "Holla At Your Boy" served to draw-in sheltered middle-class teenagers and hipsterish young adults,  while mainstream hits like the Fuji-inflected "Pakurumo", pulled in older, more traditional listeners. 
With Made In Lagos, Wizkid consolidated lessons learned, and pushed back the album's release from its initially slated date, as the #EndSARS protests were underway. Time will tell how Made In Lagos will be remembered in the light of the #EndSARS movement, but as we have seen from post-album interviews, WizKid's involvement in the protests is being discussed extensively around the world. There's no debate that Made In Lagos, the story of an Ojuelegba studio rat turned global popstar, will always be inextricably tied to this crucial Nigerian historical moment. 
***
In the years since Wizkid broke out, the Starboy has been praised for his instrumental leaps in bringing Afropop to a global mainstage. But as a decade closes in since he broke out with  Superstar, the arrival of Made In Lagos, brings the prophecy of his debut album full circle. Made In Lagos is chipped with wholesome themes, eclectic songwriting and chock-full of timeless collaborations. What defines Wizkid's artistry at this stage in his career, is how he is now able to seamlessly wield the sound he has been masterfully putting together over the last decade.
From the experimental Superstar, to the Dance-Pop based Ayo, up to Sounds From The Other Side, the project that started to make his blueprint a lot clearer. Even fans who neglected Soundman, owing to its relaxed drop, may be pleased if they revisit it today, because it doesn't take a music genius to hear the primer qualities of the EP for the sounds to come on Made In Lagos. On the personal front, his Starboy imprint is now split into a fashion arm and music empire. Partnerships with Nike, Puma via JD Sports and more to be announced, already indicate a similar path we have seen artists like Jay-Z take, in empire-building, as they near their 30th birthdays. Musically, Starboy Records already has a repertoire of successful alumni including Mr Eazi, Maleek Berry, Legendury Beatz amongst others, Wiz is also currently incubating Ogba-raised protégé, Terri. 
Wizkid has shown over the past decade his innate ability to adapt to the times, maximise his spotlight and undeniably match astronomical expectations demanded from the man of every moment. On stage during the launch concert for Superstar, a suited Wizkid emerges, at Eko Hotel's dais, posed in Fela's iconic fist-in-the-air stance. That was the real birth of the Wizkid we know today. 10 years later, he's walking into a neon-lit theatre in London, for a special virtual performance live-streamed around the world in partnership with YouTube, donning a sleek black leather two-piece and bejeweled in a thick diamond-encrusted crucifix. During his performance, parts of the hook on "Ojuelegba" are reworked with lyrics referencing #EndSARS. This is Wizkid in 2020, frontlining Afropop's digital revolution, and Made in Lagos against odds that range from economic hardship, to industry cabals and bullish media. Now, the world looks on as Wizkid lives out his destiny in real-time, lending his voice to Nigeria's civil rights movement and dominating one of the biggest global genres of music.