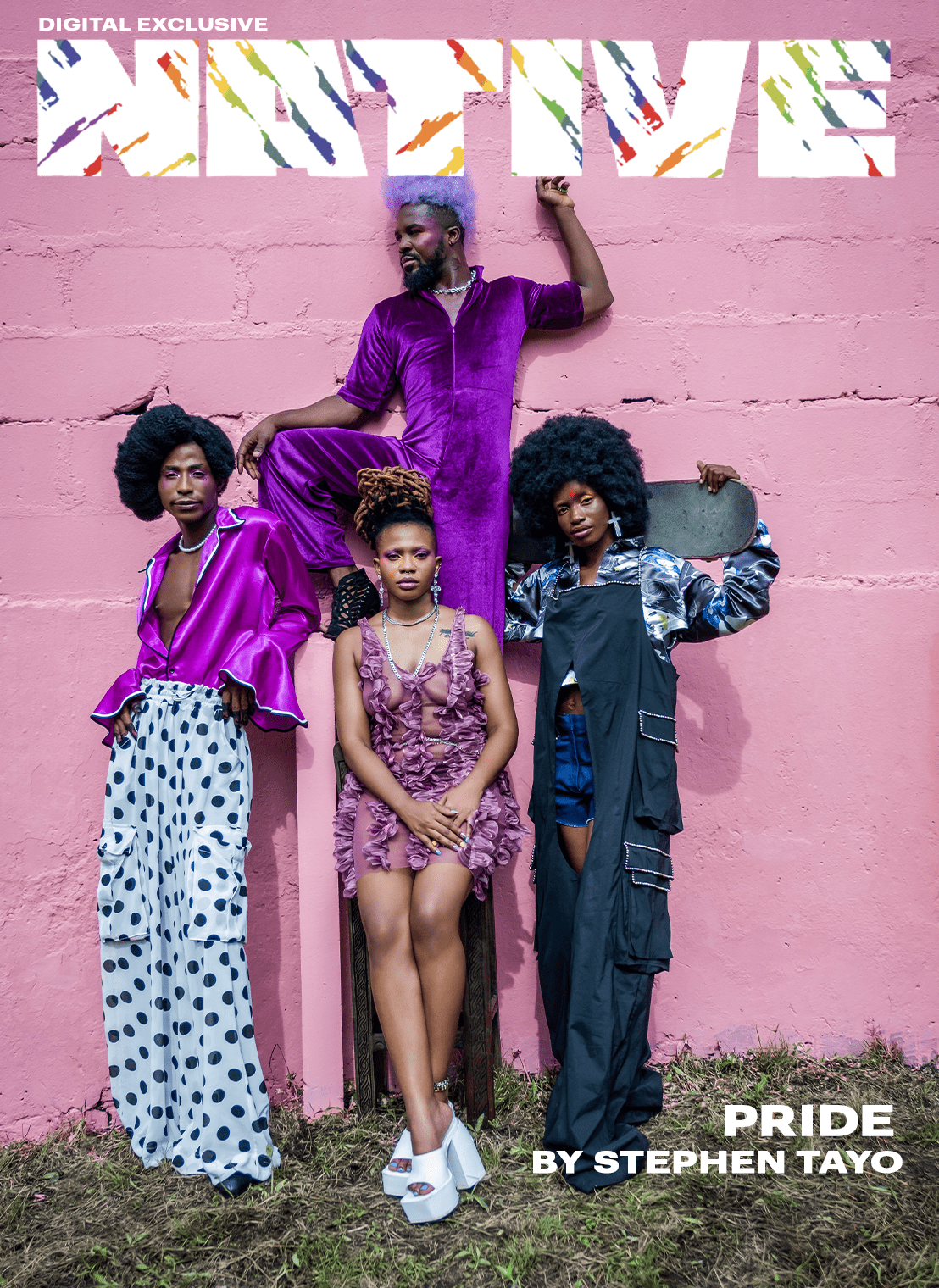 Credits: 
Editor-in-Chief: Seni Saraki
Editor: Adewojumi Aderemi 
Creative Assistant: Ada Nwakor 
Community Editor: Tami Makinde 
Editorial Consultant: Matthew Chukwudi Nwozaku 
Photography: Stephen Tayo
Set Design: Ayo Lawson 
Lighting: Ifebusola Shotunde 
Photography Assistant: Henry 
Set Assistant: Yusuf Karim
Styling: Ashley Okoli 
Styling Assistant: Demola Mako 
Make-Up: Ayopo Abiri 
Make Assistant: Cvntai 
Hair: Enigbonjaye Funke 
BTS Video: Jola Adeboye 
BTS Photography: Wonu Osikoya 
Location: Fluid Locations

In recent years, music has been the face of the African cultural campaign. The focal point of Nigerian popular culture, music and the icons that lead our sonic delights are the cultural assets most people pay the greatest attention to. Not too far behind are the sartorial tastemakers, defining the zeitgeist with their exhibitionist approach to clothing. With countless fashion showcases. existing businesses across the fashion pipeline, and consumer interest at an all time peak, Nigeria's fashion industry looks like a bountiful success story. Averaging a growth of nearly 20% since 2010, out of context Nigerian fashion is unstoppable, but studying the figures of the global fashion industry, worth multiple trillions of dollars, and Africa's place within it – an estimated 1%, if that – accounts from fashion entrepreneurs, such as Adebayo Oke-Lawal, lifts the fog.
"I knew I wanted to be a designer but Nigeria didn't foster those types of dreams; I was called names for wanting to be a designer and told it could never really be profitable in Nigeria by so many people; even dreams of fashion schools (which didn't exist in Nigeria at the time), were an absolute fallacy."
Across all levels of the value chain, there are inherent flaws in the system, obstructing growth of an industry begging to spread its wings to full span. Heavily reliant on imported goods, despite the fact that cotton manufacturers exist within the country, though their current operations are severely low, insecurity in terms of availability of material resources joins our unstable currency in highly successful combat against fashion entrepreneurs. Infrastructural challenges meet personal trials, as low income and poor education suppress the average Nigerian, restricting their ability to freely and fruitfully exhibit their creativity. 
From an early age, Bayo has been attune to his talents as a fashion designer, "as a kid in school I drew on all my exercise books and my teachers would complain. I was always drawing clothes; I would get the Argos clothes catalogue, and along with my neighbour, we'd learn how to draw silhouettes using photos of the models and then redesign the looks." Though the Nigerian landscape didn't appear immediately supportive, Bayo had a defining experience as a child that would motivate him to pursue his desired career path, despite the mammoth mountain he'd have to climb in order to get there – with little proof or assurance existing, at the time, that he would even get there. 
"When I was about 10 I had a TV box that I put all my sketches in and by then I had over a 100 sketches and designs; an aunt of mine asked if she could help me make some and sell and she did and they sold. I always say, that reality of being able to make something that sold was what pushed my dream forward more."
With this assurance that his dreams would come true, Bayo took matters into his own hands, knowing that Nigeria wouldn't be able to support him the way he needed, seeking internships, training himself with the help of YouTube, and even dipping into his savings to buy himself a sewing machine. "I'd sneak out of school to go work for fashion brands, shows and magazines. I basically looked for every avenue to equip myself, as the knowledge was not going to be handed to me and the industry didn't have the infrastructure for me to easily access such information and knowledge." 
In the decade since Orange Culture began, the fashion landscape has irrevocably changed. Though many obstacles still stand in the way, there are several success stories to prove that it can be done, and many leading figures in fashion, ensuring that the resources they lacked are available to emerging designers and creators. Grants, mentorship programs and educative initiatives have cropped up over the years, including Orange Culture's corporate social responsibility, The Orange Mentorship. Launching just before the pandemic broke out – which meant lots of young people found themselves in need of direction, the Orange Mentorship begun as a means to provide aspiring fashion entrepreneurs with the information and access to expertise, from industry practitioners and role models,  that were denied Bayo at the time he was starting out. "It was so difficult and we made so many mistakes we could have avoided," he says, explaining why his solution-oriented mindset prompted him to begin this learning initiative. "I'm very passionate about fixing the lack of proper knowledge transfer and fashion education, so I decided to play my own part especially during the pandemic when so many aspiring designers felt so lost and confused."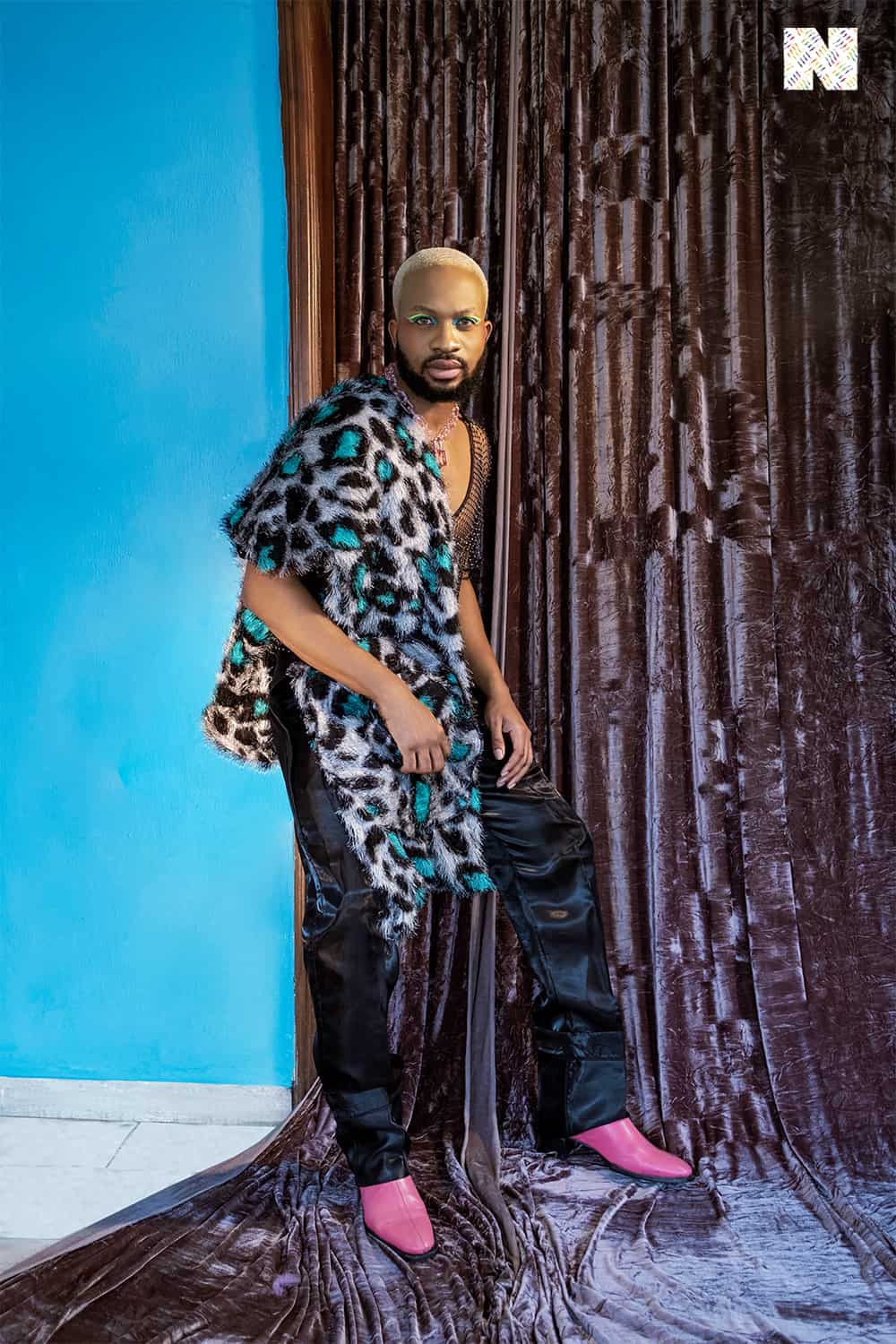 When Adebayo Oke-Lawal was starting out, the Nigerian fashion industry as we know and love it today was still in its nascent stages. The only established fashion showcase was Arise Fashion Week, with the now primary fashion exhibition, Lagos Fashion Week premiering the same year Orange Culture was born, 2011. Notable ateliers such as Deola Sagoe were making strides in the local and global markets, renowned for their exclusive high-end garments, however luxury fashion was resigned to international brands, with the Louis Vuittons Chanels and and Guccis reigning as the prized possessions of the time. These days, Orange Culture joins the likes of Kenneth Ize Aso Oke two-pieces, Mowalola caps, Vivendii tees, Andrea Iyamah swimsuits, or House of Deola traditional wedding dresses as the status symbols across age groups and communities. Despite the politico-economic hardship of growing a business in Nigeria, designers have fashioned dominating tastes in popular culture, their impact at home far outweighing foreign influence. Empirical amongst the progressive ideal pushed through vestiary means by fashion entrepreunears is androgynous fashion and the deconstruction of gender binaries through clothing. 
"For me as a teenager I went through so much personally trying to build this brand, because there were literally no road maps to deal with being different as a boy and also building a brand that was so different from what men were wearing or we were told men were supposed to wear."
Himself spearheading the genderless fashion movement in Nigeria, these days there are a plethora of labels evading the binary, and consumers are increasingly expressing their non-conformity through non-gendered clothing. From LVMH semi-finalist, Lagos Space Program to self-professed gender-bender wavythecreator, en vogue in the creative space over the past few years have been fluid items, designed to illustrate the depreciating relevance of gender in today's world. What was once called "the devils work" by observers of Oke-Lawal's work has now influenced mainstream sartorial tastes, with even the most conventional individuals embracing androgyny in fashion. "I got messages saying I was horrid and talentless and feminizing their men and all sorts of horrid things," Bayo reveals of the bullying he's endured throughout his fashion journey. "All my life, I've had to go through the battle of choosing to be me, choosing to express myself how I want to and live a liberated life. I've been attacked so many times on and off social media, just simply for how I dress. It's been a rough journey but I wouldn't have it any other way."
Learning not to rely on anyone's acceptance, instead one's own convictions, Bayo Oke-Lawal is dedicated to inspiring rising designers to feel comfortable as outliers, creating a space – the Orange Mentorship – where individual expression and counter-grain thought is both safe and celebrated. "With every opportunity I have, I try to push for others, from how I set up my business, to my personal brand, to my castings – I believe very much in creating spaces for others with the very little I have." Appreciating that the industry will progress faster if it worked in unison, Bayo also references the mental, emotional and financial benefits community building and support from his peers and mentors have brought him, especially powerful considering his early years were spent as the butt of every joke.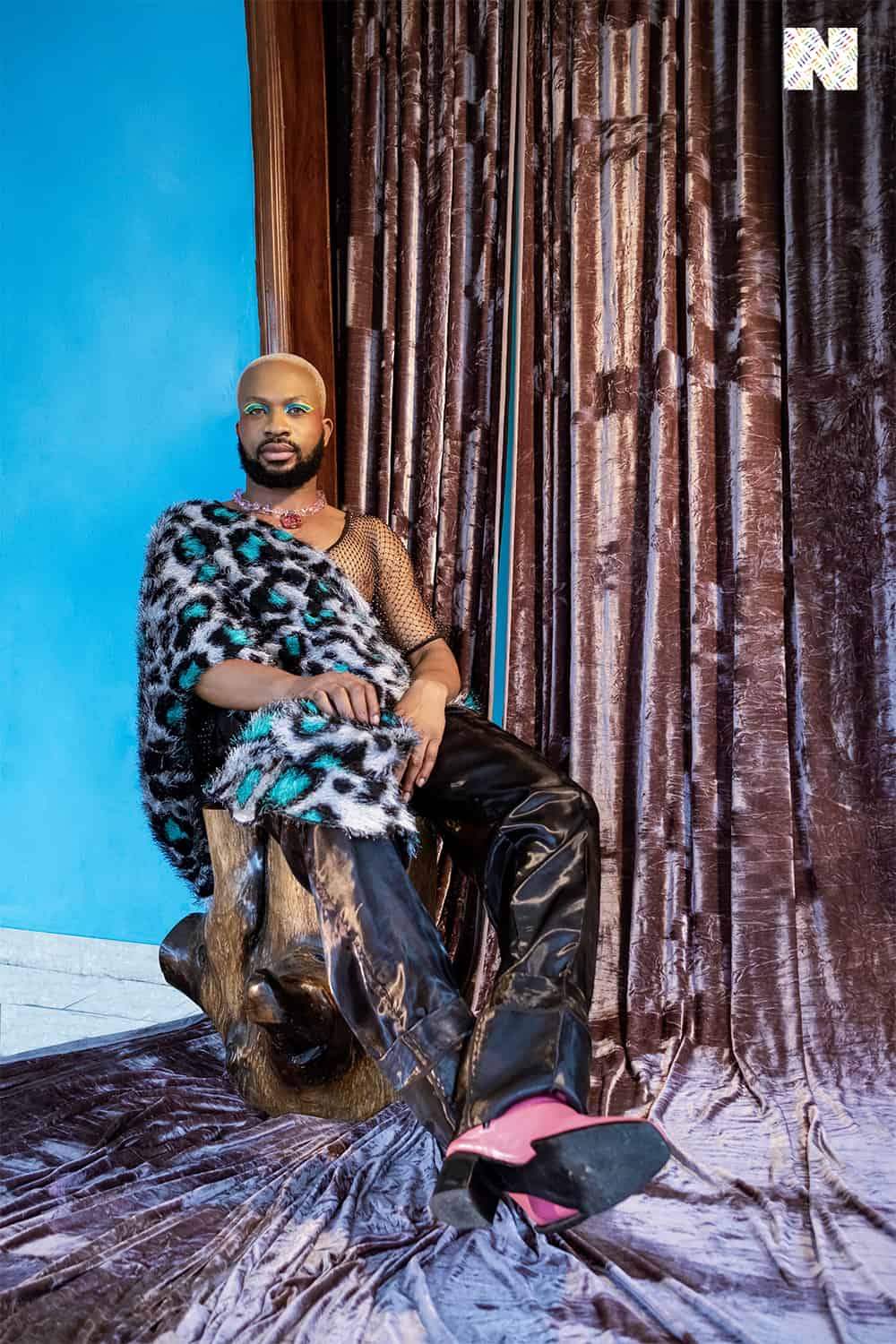 Constantly the victim of childish mocking, Bayo was often dubbed a nerd, made to feel lesser than for his passion for learning. Claiming ownership of the word often used to deride him, now Bayo is empowered through his nickname, The Orange Nerd. His affinity with the colour orange shares a similar origin story, in that Bayo used his encounters with bullies to uplift himself through writing "I had a history of being bullied a lot, I didn't really fit into the mould or stereotype of what a man was supposed to be. I was always told speak louder, your voice is too light, fashion is for girls, and people would bully me in schools and call me all sorts of names from fag to woman. So I decided to write an article called The Orange Boy, based upon my story of growing up amidst all of this and trying to find my voice in a place (Nigeria) that didn't hold space for me." 
Earning widespread praise for his prose, The Orange Boy became a beacon of hope for people who were bullied for wanting to step outside the box career-wise, or discriminated against for questioning their gender identity and sexuality. "I realised the importance of these conversations and I realised I was not alone in the feeling of being alone and an outcast in the country. So when I eventually decided to start Orange Culture as a brand, I wanted to create a brand that made spaces for us outliers – the orange boys and girls, who [are] odd to everyone else but [are] so beautiful because of that oddness."  Positioning his label as a cultural movement that celebrates individuality, and welcomes otherness, with Orange Culture, Adebayo Oke-Lawal has made an unsurmountable impact in Nigerian fashion and society at large. For most, this is an achievement we strive towards, but for The Orange Nerd being a valuable asset in this space is a survival tactic; he cannot not make a difference "because when you are so impactful people have to put their differences aside and listen to you – they have no choice." 
I have a platform now that is greater than anyone's views of my differences and so whether they appreciate that or not, they will hear me, they will see and they will feel me everywhere they go.