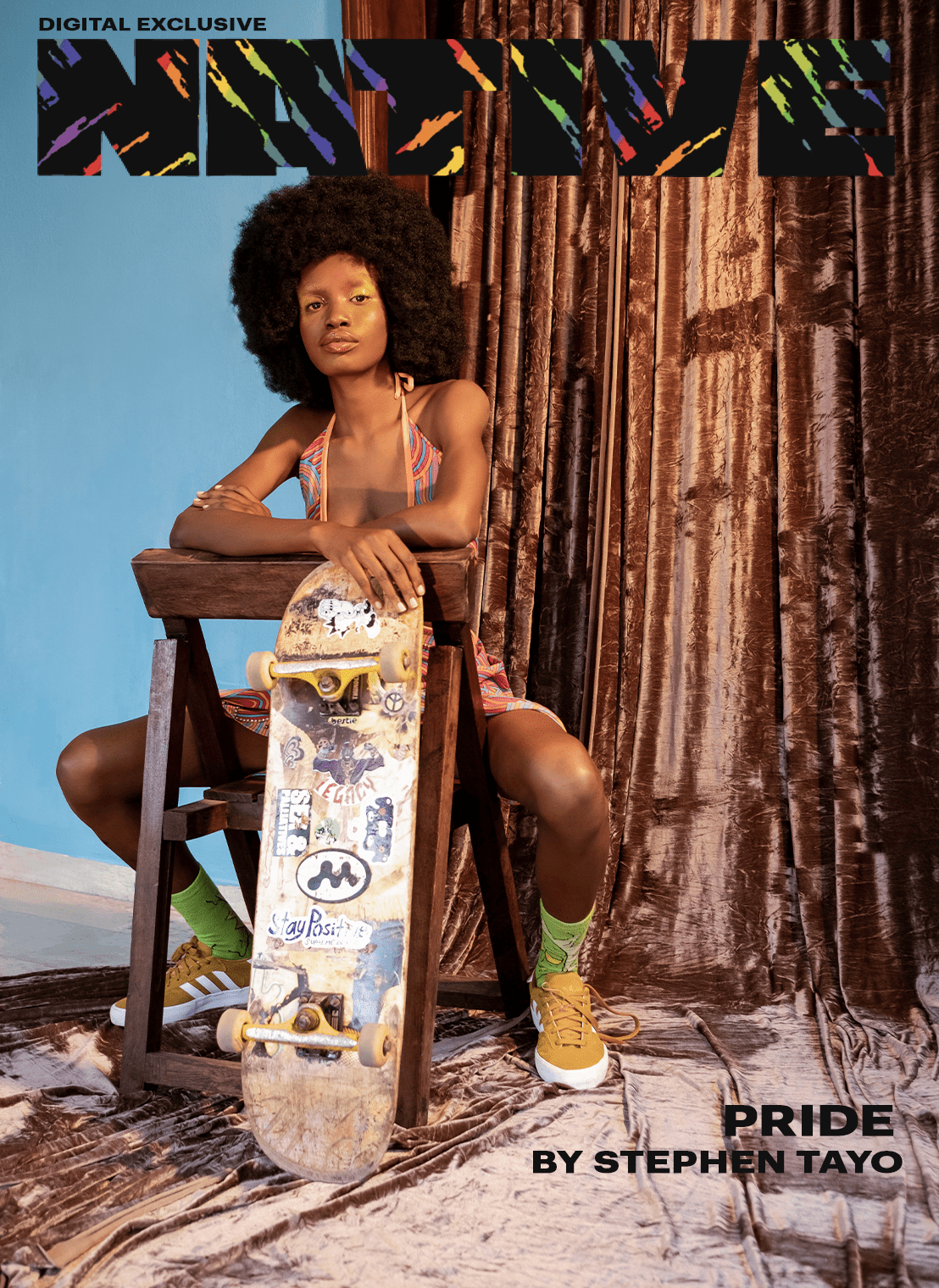 Credits:
Editor-in-Chief: Seni Saraki
Editor: Adewojumi Aderemi 
Creative Assistant: Ada Nwakor 
Community Editor: Tami Makinde 
Editorial Consultant: Matthew Chukwudi Nwozaku 
Photography: Stephen Tayo
Set Design: Ayo Lawson 
Lighting: Ifebusola Shotunde 
Photography Assistant: Henry 
Set Assistant: Yusuf Karim
Styling: Ashley Okoli 
Styling Assistant: Demola Mako 
Make-Up: Ayopo Abiri 
Make Assistant: Cvntai 
Hair: Enigbonjaye Funke 
BTS Video: Jola Adeboye 
BTS Photography: Wonu Osikoya 
Location: Fluid Locations
For most of us, our lives have been typified by Western cultural hegemony. Where in global politics and economics, the Imperialist West continue in their domination and neo-colonialist oppression, global media disproportionately represents Western affairs. In an unequal exchange of information and attention, our growing up years were dominated by Western media, from the music we listened to, to the places we longed to visit, even the accents we aspired to fluently espouse. Of course, we shared a national pride and our cultures have always been cherished and revered, but as the latter half of the 2010s continued on, African culture, art and lifestyle began to see increased documentation and celebration – both at home and abroad. Many described this paradigm shift a cultural renaissance, whilst the heavyweights in several industries touted the global campaign 'Africa to the World'. 
With increased reports and accounts on the diversity of identities that exist and thrive across the continent, more and more young Africans were empowered to do what they love, going against the grain – if that's the path they suited – to much more success and support than that of previous generations. Maverick individuals found their communities and communities – built upon these non-conformist ideals – carved out their own spaces within the cultural landscape. Such was the rise of skateboarding cliques that entered into popular consciousness in and around 2017.
Unavoidably aware of the four-wheeled uprising sweeping youth culture in Africa, Blessing Ewona boarded the bandwagon in 2019, after participating in the Lagos Women's Run, which fell on her birthday that year.  "After the race, I went to the National Stadium, where I met one man who owned a sports shop there. He gave me a penny board because I participated in the marathon – he said his gut told him to. I was so happy, I thought what I had was an actual skateboard. I would ride it everywhere, it was small but I didn't mind." Loaned her first proper skateboard by a friend who was travelling to Cyprus, a rookie with the enthusiasm of a pro, Blessing wold train every day, posting Instagram Stories of her attempts at new tricks, which helped her document – and marvel at – her palpable progress, "and it was just something I thought, 'let me share, so the haters will also see the progress' [laughs]." 
Though tumbles are not infrequent, Blessing is motivated to share her progress with her followers, who are turning into a skating fanbase, to remind herself, and others that nothing is impossible, it just takes practice and perseverance. "I love posting my falls, especially to inspire other people who wanna skate, because people are so scared of falling off the skateboard that they don't even try it and then when your first fall comes you realise that it isn't actually that scary and it was all in your head. Also my falls are hilarious sometimes and I just wanna post it because it's funny to me and can also be funny to others too." With other skaters also sharing tips on how she could correct form, with her training footage, Blessing has become a friendly face to people who are interested in learning. She has become an inspiring figure particularly for women, similarly the girls of the Skate Kitchen crew, who first nudged Blessing on course.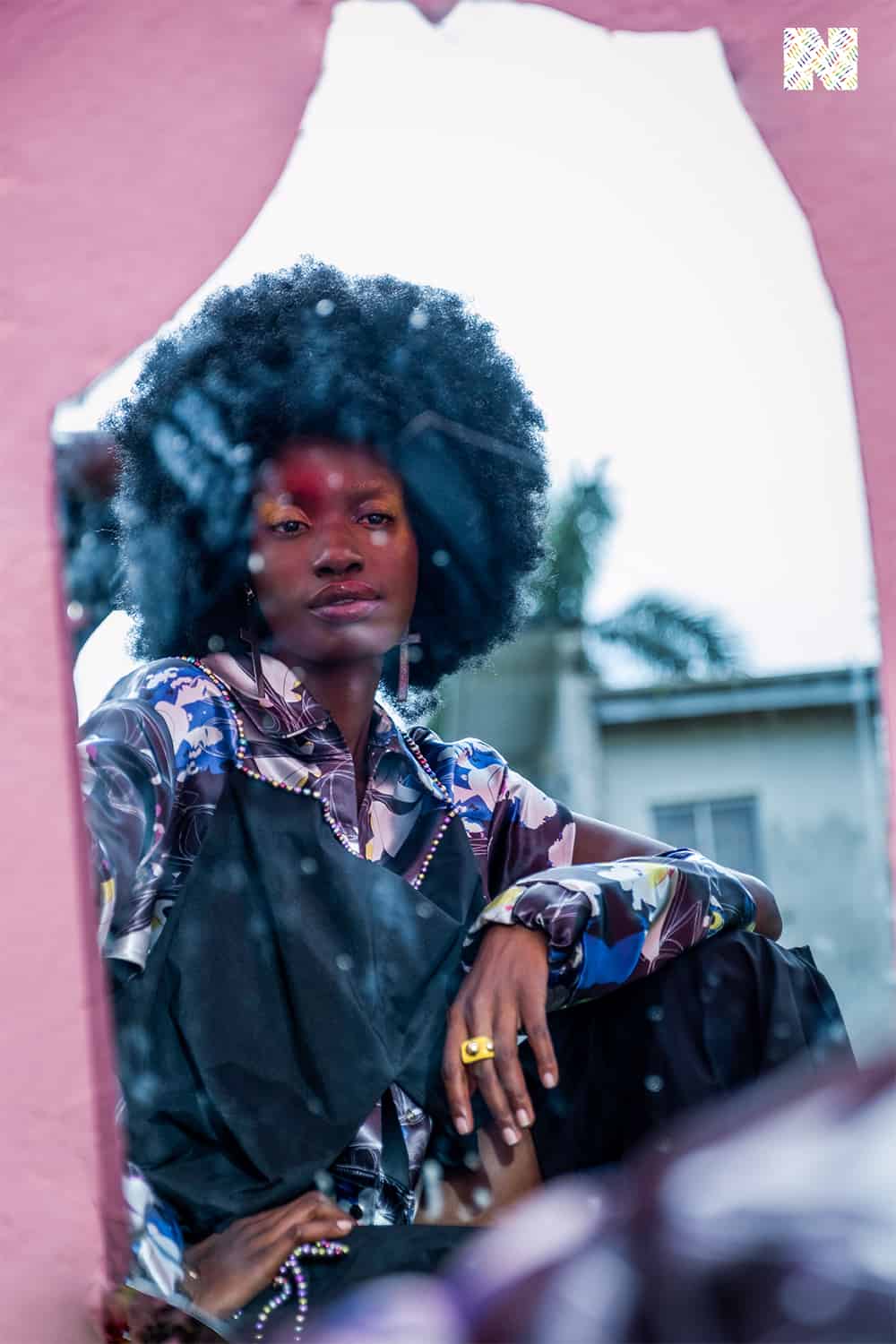 "My interest in skateboarding started right after I watched Skate Kitchen, a movie about a group of female skaters in New York."
Skating is considered a radical sport, with its participants widely assumed to be progressive. Skateboarding communities worldwide, however, tend to operate with the same innate marginalisation of women that most movements in our androcentric world bear. "When I started skating I would only find about 2 to 4 guys at the National Stadium or I would have to call them or even skate alone sometimes." 
The only female face to be highlighted as a key participant in Waffles 'n' Cream's most recent Go Skate Day, Blessing Ewona is used to being the lone female, something a South African counterpart, Kelly Murray of Skateistan resonates with. Though women have historically always participated in skateboarding – recreational and competitive – the disproportionate representation and unequal treatment has persisted over time. In 2005 it was revealed that male winners of the X Games – an ESPN broadcasted extreme sports event hosted across America – earned 25 times that of their female counterparts. Where discrimination remains rife in the industry, prejudice trickles down into an interpersonal relationship between skaters. "For a girl," and other such condescensions were levelled against Kelly Murray for a large chunk of her ascent, and Blessing's own first steps were met by people bullying her, attempting to talk her out of skating and even employing her parents' authority to do so.
"Dencity is a safe space for women/queer people who wanna just skate, create their shit and have fun. I like to have fun and I like to see people have fun and be happy too."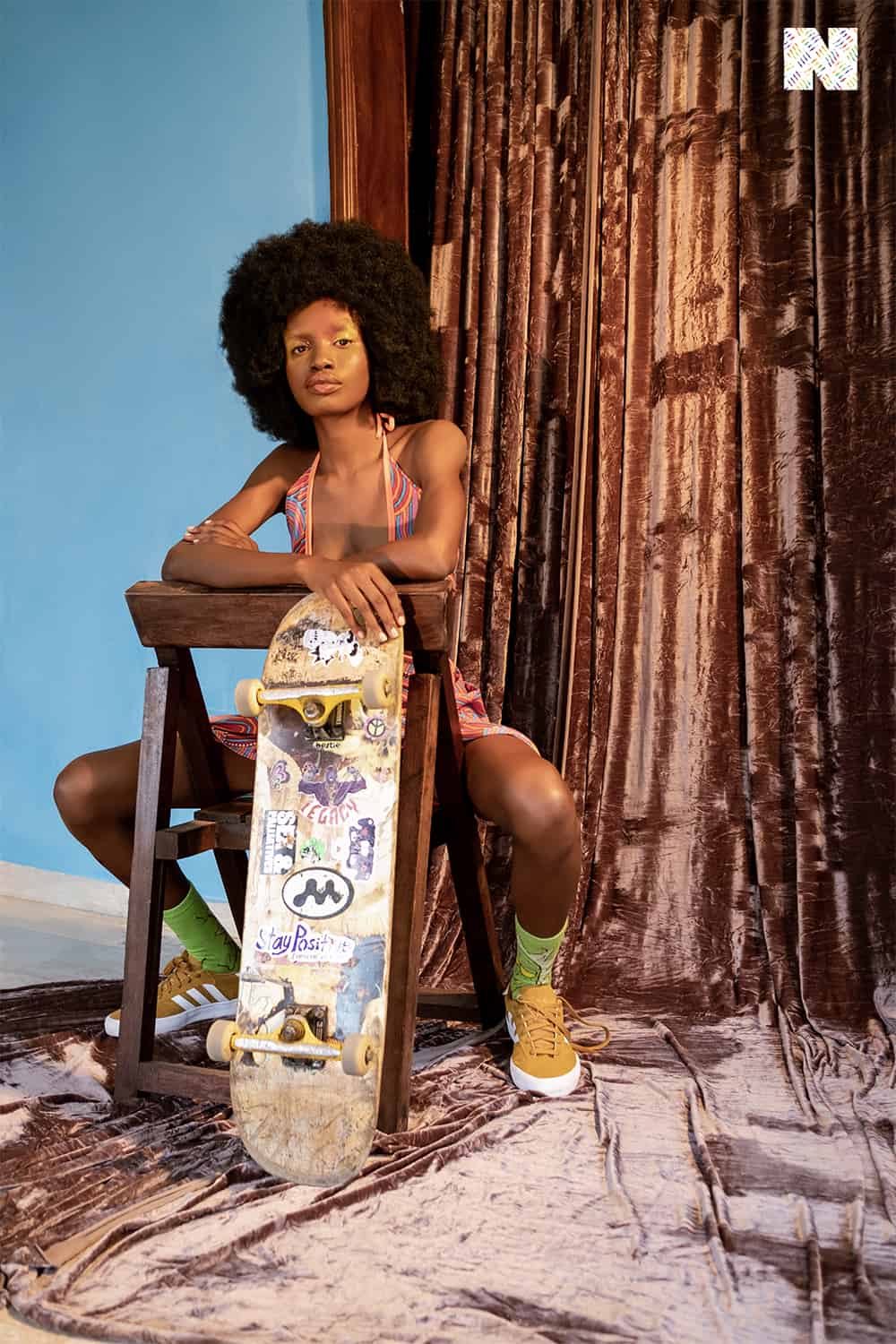 Like women, queer skateboarders are disproportionately underrepresented, and when they are, they're often considered outliers and branded the spokesperson for queer people within the skating community, something at which South African skateboarder, Yann Horowitz has previously expressed. Coming out in 2016, Brian Anderson is widely reported to be the first gay professional skateboarder, in the sports near century existence. Since Andeson's coming out, increased attention has been drawn to queer skateboarders and queer skateboarding communities, from So Cal to SA, Atlanta and to Lagos. Similarly, women's dedicated skateboarding collectives have increased in number; Skateistan in South Africa, Megabi Skate Girls, an offshoot of Etheopian skate program Megbi Skate, and now Blessing Ewona's Dencity, which engages women all across Nigeria. 
Heavy on the solidarity, the male dominated skate group that first welcomed Blessing at the annual streetwear convention, Street Souk are by no means reflective of the general queerphobic and misogynistic attitudes that abused and subjugated queer and/or female skaters in the past. Still, spaces that are dedicated to marginalised identities, specifically cater to us, operate with and for us are imperative. This is what necessitates Blessing Ewona's open and accommodating space called Dencity.
"Now the community is growing bigger and bigger, you find skateboarders everywhere now and everyone is actually skating. Just seeing more females interested in skateboarding and actually coming out to skate is all the empowerment I need. Getting DMs from females across the country who wanna learn to skate, the feeling is unexplainable. This initiative does not only empower me but the entire skate community in Nigeria."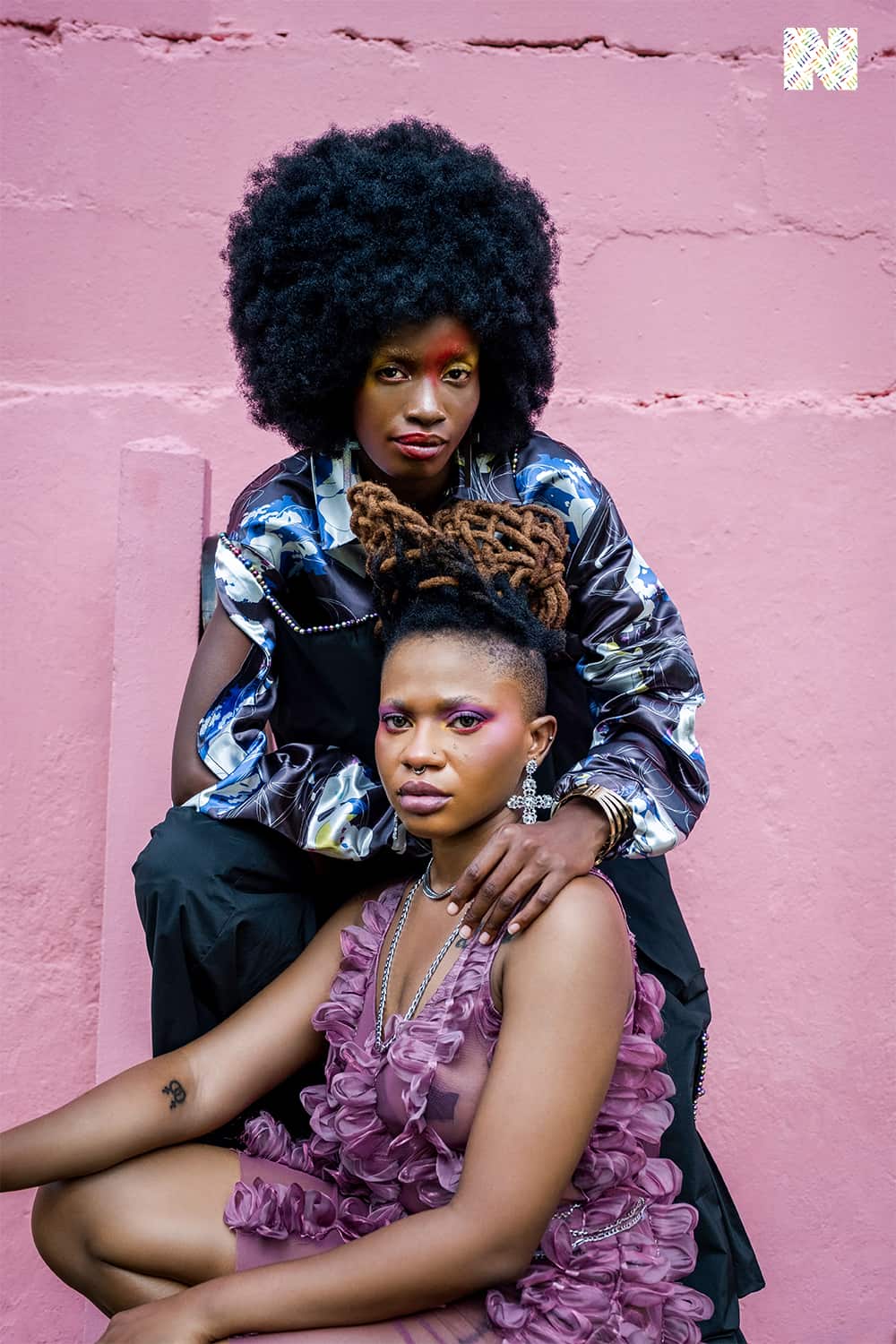 Entrepreneurship has long since been championed for women in Nigeria. An interesting manifestation of our misogynistic society, women are encouraged to kick off their own businesses, but most often as secondary to their duties to tend to the home, their husband and their children. The professional activities of young Nigerian women are undermined as hobbies to pass the time, as our primary role has been designated as caregivers. For Gen Z women, including Blessing, they continuously sustain their rejection of these customs. Initiatives such as Femme Africa, the women-led organisation breaking barriers and connecting women in Nigeria's male-dominated entertainment industry, or social movements like Street Souk, which aims to level the playing field for women in street culture, are charting paths in a multiplicity of spaces so that women are no longer denied professional ambition by the disproportionate gender make up of whichever industries we find ourselves in. Joining Iretidayo Zaccheaus, Founder of Street Souk, in her campaign with Off-White, hinging on an exclusive t-shirt pledging support to young, Nigerian women, Blessing Ewona's Dencity is another space prioritising women, emphatically queer, wholly inclusive. 
 The leader of a national movement, Blessing Ewona has overcome the irrationally crippling anxiety she feels with this responsibility; she is skating over the hurdles and humbly, often unintentionally, inspiring her tribe to do the same.
"I used to be afraid of everything, everything that could go wrong, [and even] everything that could go right because it just put so much pressure on me. When we learn to accept and face fear directly, then we [will be able to] take that risk no matter what."