It is no secret that Nigerian society is a patriarchal one. One doesn't even need to visit our shores to see how androcentrism proliferates, a simple peek through our most commercially successful movies will give you all the insight into the misogynistic tropes into which Nigerians – through TV and cinema – are buying. Though films such as 'Wives on Strike' or 'King of Boys' portray and venerate women wielding their own power, both in their own unique ways, quite a few major blockbusters still haven't been able to shake decades old stereotypes of Nigerian women as evil mother-in-laws (The Wedding Party), conflicted brides (Isoken), or slimy, slutty vixens (anything with Beverly Naya in it).
But whilst our popular entertainment still has a way to go in telling women's stories, Nigerian literature has always remained diverse, imaginative and inspired in how they narrate women. So, of course, when rumours dropped that Arese Ugwu's bestseller, The Smart Money Woman would be getting a television adaptation, we knew that we were in for a treat, and have been eagerly anticipating today, as the series premieres on AfricaMagic Showcase tonight (DSTV Channel 151).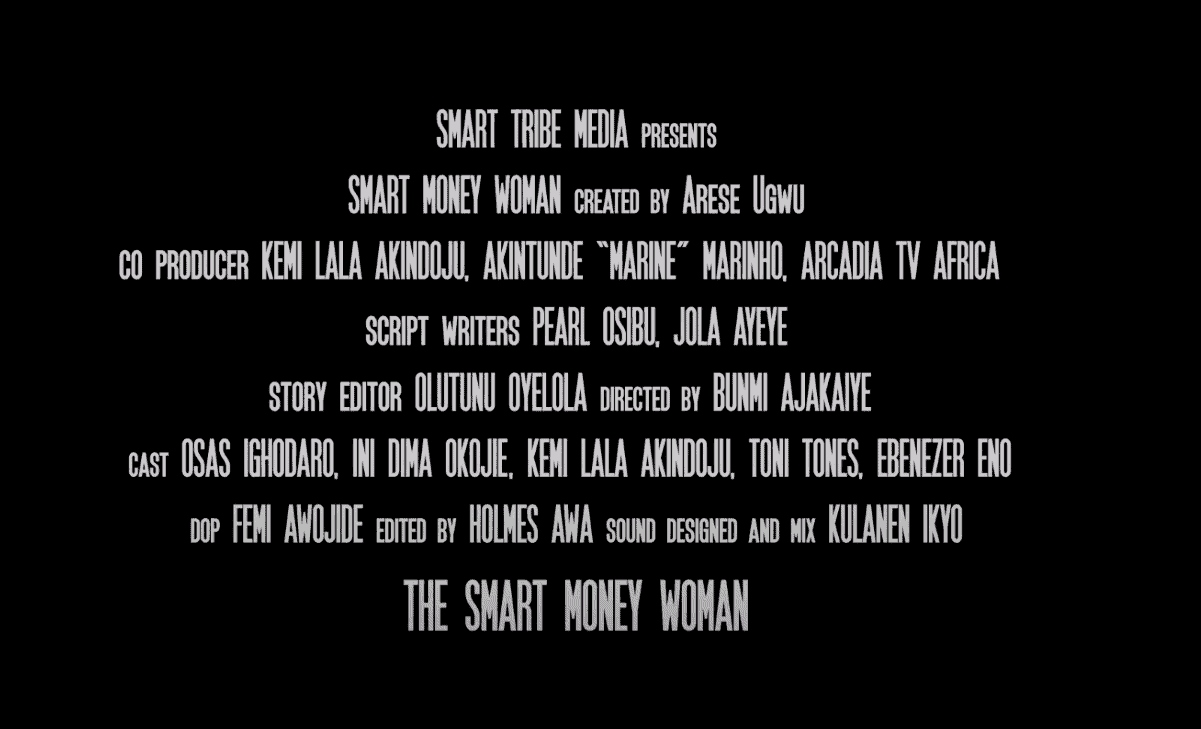 Published in 2016, Arese Ugwu's The Smart Money Woman is a Lagos-based fictional novel that explores the daily trials of middle-aged, middle-classed womanhood in Nigeria's commercial capital. The Smart Money Woman TV series, which is based on the book, isn't only exciting because of its storyline centring around five women and their affairs alone, it's also a treat considering the formidable cast of female filmmakers behind the scenes. Produced by Kemi Akindoju, The Smart Money Women is directed by Bunmi Ajakaiye and its scriptwriters are Pearl Osibu and Jola Ayeye, who of course adapted from Arese Ugwu's original story.
Starring Osas Ighodaro, Ini Dima Okojie, Toni Tones, Kemi Lala Akindoju and Ebenezer Eno (respectively), The Smart Money Woman TV series follows the lives of its protagonist Zuri, and her closest comrades, Tami, Lara, Adesuwa, Ladun, who navigate financial, career, relationship woes as individuals and as a supportive group, through the course of the show's thirteen episodes, which will air weekly. Speaking with NATIVE about what viewers should expect from the forthcoming series, Ayeye says:
"Smart Money Woman is about how love, relationships and money collide. So you guys can expect to laugh, cry, feel sad and be exasperated by the characters and their shenanigans. You can expect to see themselves and their friends –and enemies– in the individual stories. I really, really hope people enjoy the series, it's going to be a fun 13 weeks"
Watch the trailer for The Smart Money Woman below, and get your alarms set for 9:30pm tonight, when the series premieres.
Featured Image Credits: Smart Money Arese/YouTube
---
Wojumi Is A Bad Bitch And She's Going To Brag About It. Tweet Her Your Latest Cultural Exploits @Dewoju
---