With recent events like Apple Music's intensified curatorial efforts and Billboard's recent cover story—which features three of the continent's biggest stars—as further proof, it's quite clear that music coming out of Africa is only getting bigger and better by the day. Due to this, it's unsurprising that global labels and corporations are increasingly investing in the continent's music space.
As part of an incursion which has seen them open an Africa-based annex and signed a global recording deal with Tiwa Savage, Universal Music Group has just launched Def Jam Africa, a new label, which will follow the blueprint of the prestigious Def Jam recordings. Def Jam Africa will be dedicated to representing the best of hip-hop, Afrobeats and trap talent on the continent, and they've already kicked things off with a flagship roster.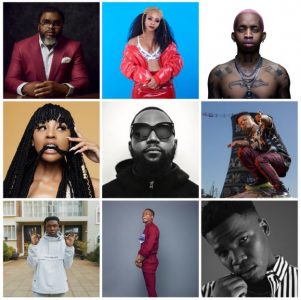 Def Jam Africa now boasts of nine artists on their roster: Nasty C, Cassper Nyovest, Larry Gaaga, Boity, Nadia Nakai, Tellaman, Tshego, Ricky Tyler and Vector. The label is currently based in Johannesburg, South Africa and Lagos, Nigeria, but it will be looking to discover, sign and service artists from across Africa. As part of Universal Music's operation in Sub-Saharan African, Def Jam Africa will be overseen by Sipho Dlamini, the managing director of Universal Music Africa.
Looking to get straight to business, Def Jam Africa is currently prepping new releases for its novel roster, most notably 'Zulu Man with Some Power', Nasty C's third studio album, which will be released this summer in partnership with Def Jam Recordings in the U.S.
In a statement, the interim CEO of Def Jam Recordings, Jeff Harleston said,
"Def Jam is a globaly recognized brand, synonymous with excellence in hip-hop, and we enthusiastically welcome the launch of Def Jam Africa an opportunity for audiences worldwide to discover the incredibly talented artists emerging from across the continent."
Def Jam Africa is the latest global expansion move for Universal music and Def Jam Recordings, following the launch of Def Jam South East Asia in September 2019.
---
Dennis is not an interesting person. Tweet Your Favourite Playboi Carti Songs at him @dennisadepeter
---