There were no tears in The Jungle.
Instead Santi, his dedicated fans, and the countless industry heavyweights convened to ogle the latest kid on the block, as he tore up the cinematic stage. Designed by Tsvetelina Tomova, who mirrored the living room aesthetics of the Mandy & The Jungle listening party, Santi's thoughtfulness when it comes to set design illuminated through the static TV screens, breathing life into the room through the palm trees on stage. Santi was equally as deliberate with the sound engineering, enlisting the help of fellow Monster Boy, GMK and some other professional looking "sound guys", who, I assume were commissioned by management.
So far, the LVRN management deal is working. Announcing their partnership with The Monster Boys shortly after Mandy & The Jungle's release, Santi's freshly-fashioned management team didn't take long to reap the harvest – by July 13, Santi was raging on an NY summer night, with fans and new faces at the city's Museum of Modern Art. Upon winter's arrival, the performer kicked off November by commanding mosh pits at Day n Vegas' first time festival, before jetting out to LA for Tyler, The Creator's Camp Flog Gnaw. He was still yet to meet a crowd on his own terms, after 9 years and 4 bodies of work.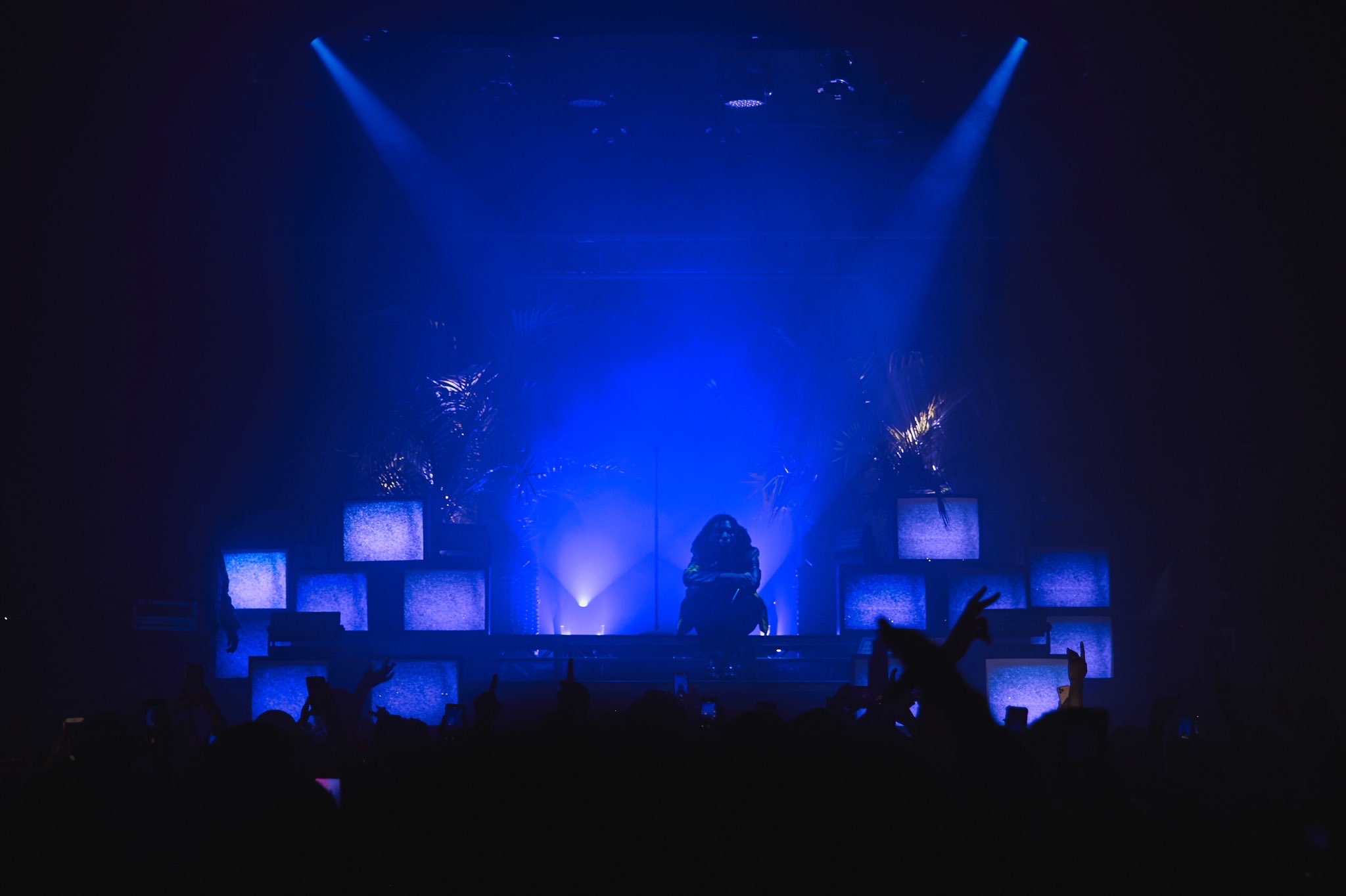 To us fans, a Santi headline show was long overdue, but, in reality, we're entering into The Jungle right on time.
"Then I just gauged…" Santi begins, in his usual philosophical manner, explaining the propitious timing of this debut show. "[On tour], I've been discovering more about sets, [and] the fact that I can play with my voice live, with machines and stuff like that."
He's always known he'd one day master manipulating his voice through the mic, but the newly acquired knowledge still excites the rapping singer. "Woah, what the fuck!?"
Now hearing his sung ad-libs through the opening number at the show, "Raining Outside", I share his sentiments: "woah!" I've seen Santi perform countless times. I'm used to yells through the mic during his NATIVELAND appearances or even at his intimate Boiler Room shoot. But here, now, Santi is much more careful with how he uses his voice, singing more, feeling more, evoking more. I've seen Santi perform countless time, but I haven't seen anything like this.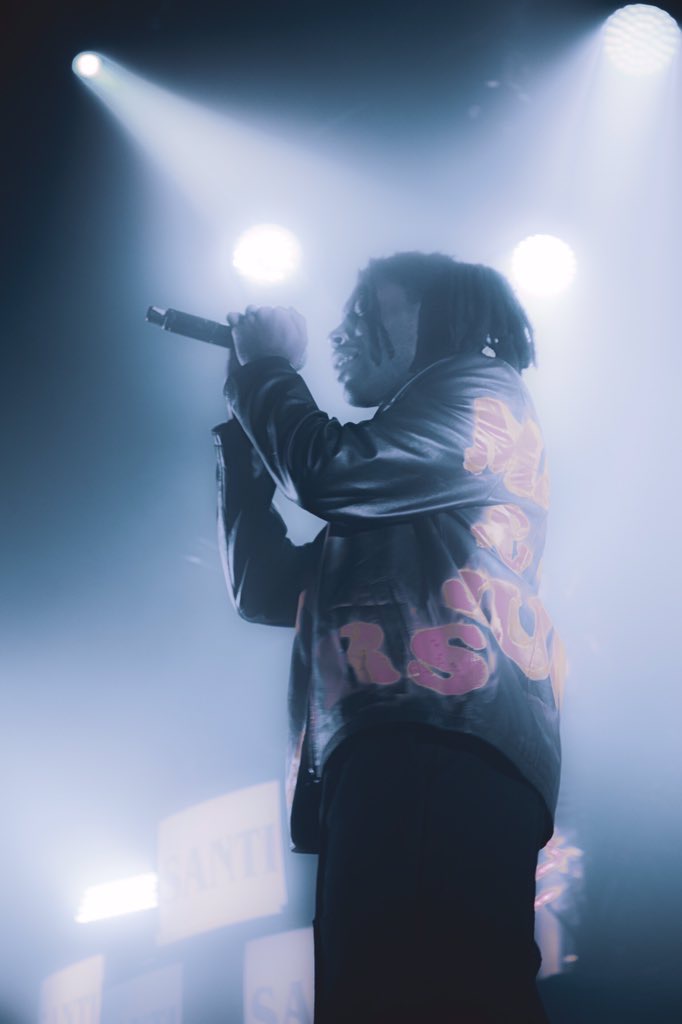 ***
I've been penned in for A Day In The Life Of Cruel Santino the day before the show. At 7:49am he sends me a message, "you coming?" Santi needs an early start, we've got a packed day ahead of us.
Our first mission is to find him some Docs to perform in; conveniently, Santi's AirBnB, where we meet, is located just off London's notoriously edgy Camden High Street. I suggest we keep it safe by trying Office and then the Dr Martens store itself, just a five minute walk up the road, but after a disappointing glance at the Office stock, on our way toward the more promising collection that we're convinced will be at the flagship,  Santi stumbles upon an indigenous Camden outlet. He lets out an excited scream.
"God have mercy. I love! Thank you."
After multiple disappointments, and a tentative plan to settle for plain black boots to be customised by Mowalola, Santi finally finds the perfect pair of boisterous flamed New Rock shoes, which he nimbly kicks around during his regular on-stage dance breaks, despite their impractical weight.
The crowd is eating up Santi's refined galala footwork.
The cheers almost drown the "Dime In The Winter" outro playing behind Santi's moves, then intensify as a notorious bounce bubbles through the speakers, introducing Mandy's third and final single, "Sparky".
The power cuts out, and surprisingly no one shouts "Up NEPA". It's hard to tell if this is by mistake or design, a technical mishap or an extended pause to build anticipation, but my concern is quickly rendered irrelevant as the chant  "Santi… Santi… Santi…" begins to fill the uncertainty.
"First off yeah, I love you guys"
Santi reminds us, once we regain power.  "For these next set of songs I need you guys to get fucking lit. Lets fucking have fun: No Tears in the fucking Jungle" Santi calmly commands, but as usual his crowd is anything but.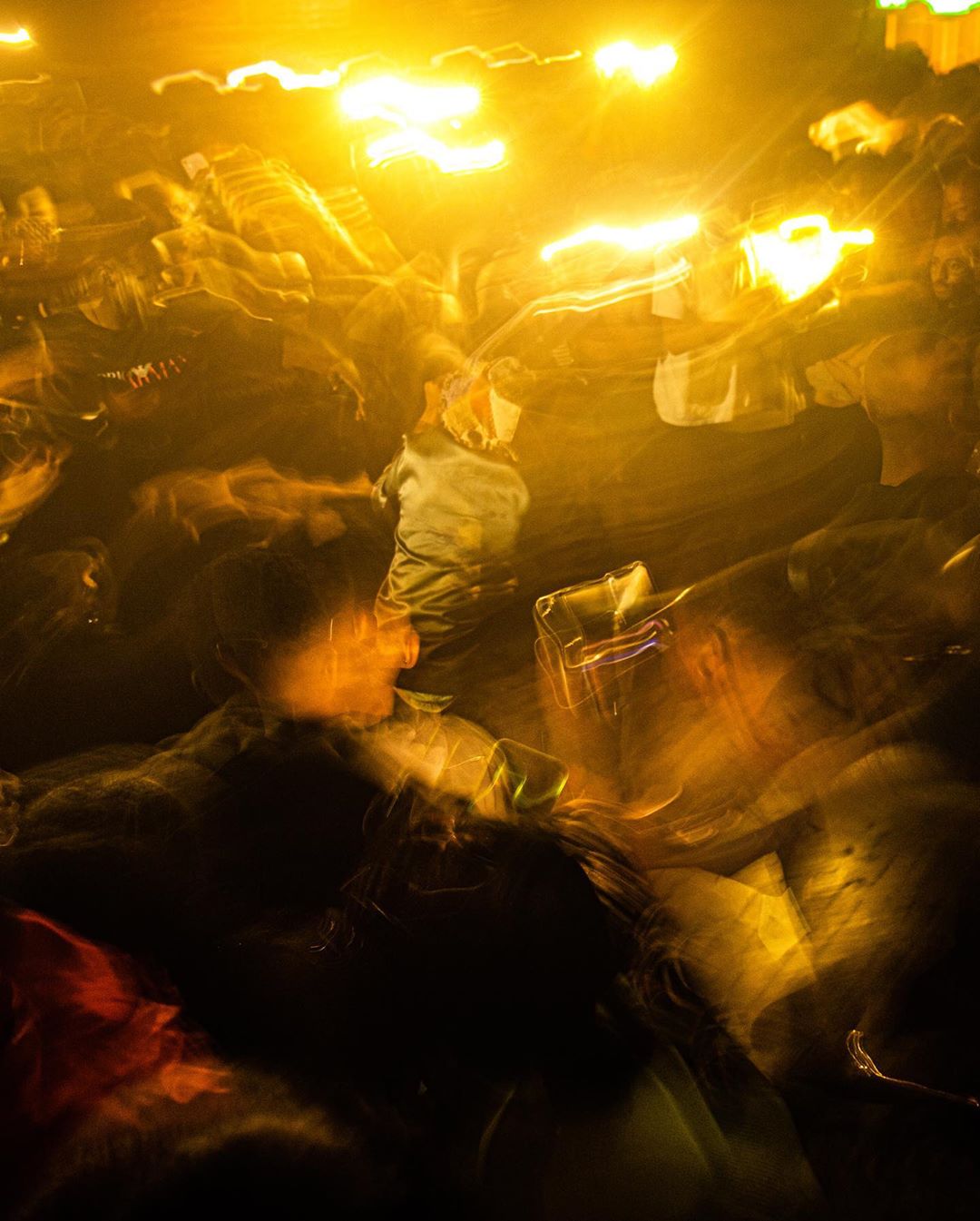 ***
We're flipping through the fourth issue of the Places + Faces magazine, nested in Ciesay's enclave, who arrived in the country the day before the show, charged with the task of pumping up the crowd before Santi's arrival on stage. By the time this is published, Ciesay should be in Miami, lighting up some other function, but he had to make the trip to London for Santi. No Tears In The Jungle seems much more than a gig for the Places + Faces boss.
He and Santi bond over a mutual appreciation for Coon-ye West's indelible impact on the global music industry, Hideo Kojima video games – Santi is in reverence of the signed poster Ciesay has hanging in his personal museum of culture – and, of course, their artistry. It seems to me that Ciesey made this arduous trip not for a job, but for the unmissable opportunity to DJ as a friend's headline show.
After the crucial exchange of merch – two t-shirts, a hoodie and two tracksuit bottoms – Santi bids farewell to his friend, who he might see tonight at Rihanna's party – he needs to head to rehearsals. Santi's cupboard has seen a significant emboldenment since he arrived in London, a couple of weeks ago. He's been gifted "clothes for life" by the Nike team last week, he's got to pick up clothes from Riccardo Tisci's latest Burberry collection, and his fellow Monster Boys meet him at the rehearsal studio with a tote overflowing with Supreme. New drip gives the sartorial star joy, "when I make a lot of money, I'm going to spend a lot on coats" he says, shivering in the single-degree chill encapsulating the UK.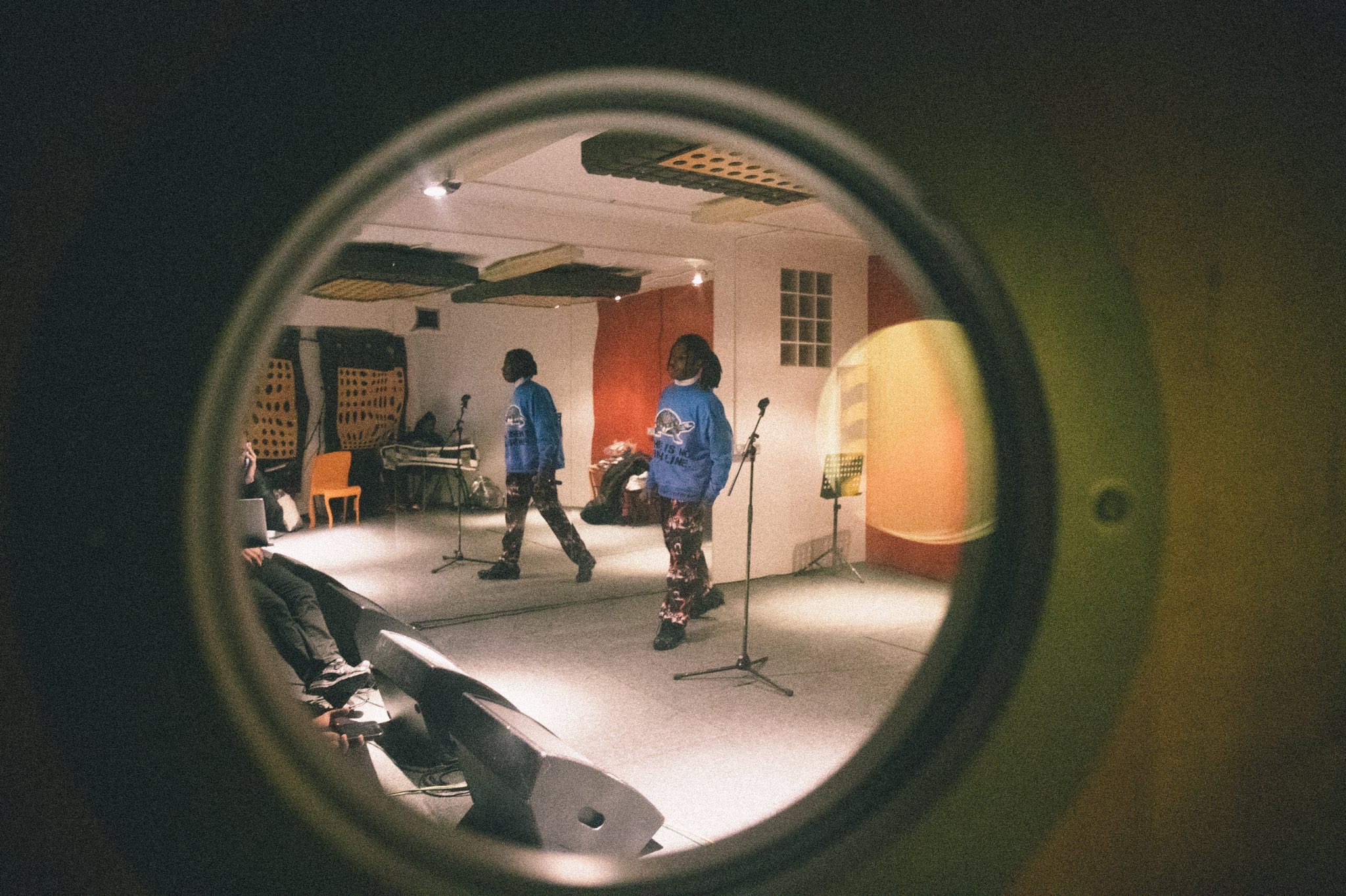 Once we arrive at the studio, Santi finds himself his second mug of green tea for the day. Notorious for clearing the room whilst he records, he promptly dismisses me and his friend, Eileen, a budding London producer, under the monicker Vzline, who met Santi in Dubai during the "Gangster Fear" era. Funnily enough, she is who I'm now wading through the crowd with as the letters "G-M-K" introduce the career-defining collaboration.
The DJ cuts the track. "Odunsi is not here" Santi announces to an audibly disappointed crowd. Being absent must be disappointing for Odunsi too, because Santi's next mandate to his fans instructs us to sing the iconic verse on "Gangster Fear" for its crooner, who is live on FaceTime watching the show through Mowalola's iPhone.
Designing one of Odunsi's outfits for his February London debut – doing so for a long list of notable public figures in between, from Drake to Naomi Campbell – Mowalola was charged with the statement piece of Santi's singular look for the night. She custom-painted the Mandy & The Jungle leather jacket Santi proudly dons throughout the majority of the concert, despite the savage heat in the room.
A mere 6 degrees outside, the Islington Assembly Hall is flooded with sweaty fans in room enough to rage but certainly not enough to breathe. The hall floor is raging along with us. The vibration of the bass from "Turn Down Mami" coupled with the crowd's eruption animates the wooden boards which trampoline beneath our feet, resting only when Santi offers a moment of peace to address his ragers with the coveted final 3 words of the song: "I need you".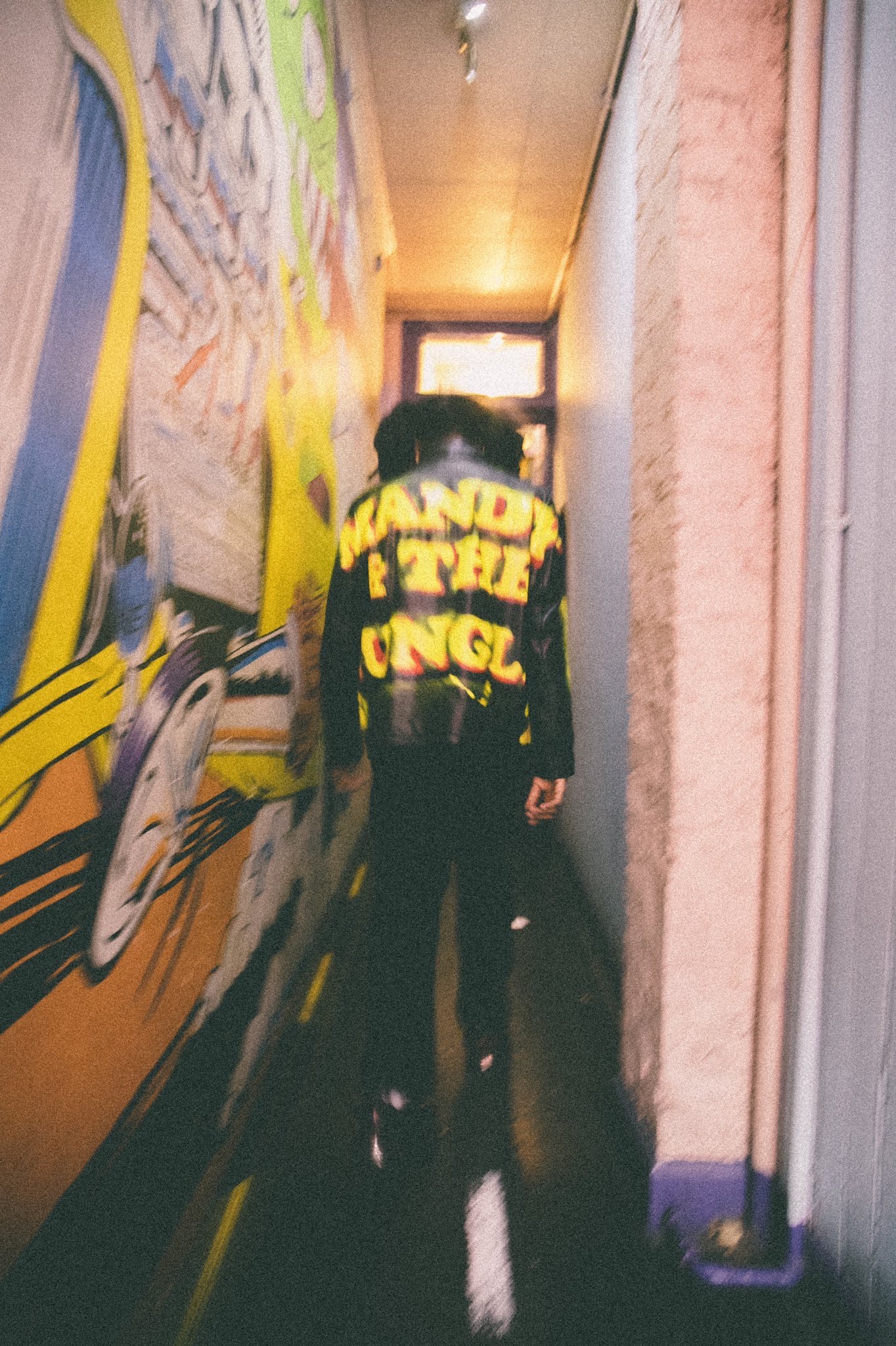 ***
"We don't need anyone"
This is his response when I ask about the top secret line up which hadn't yet been released to the public. I imagined the supporting acts were intended to be a surprise, but I was wrong. Santi's intention was to dominate.
"The way I've planned the set, I don't want anybody to have their own segment – minus Tay [Iwar] who's going to have his own"
Santi is proud to admit that he needs his fans, but he knows that he needs no help engaging us – through his powerful discography that labour is complete. But Santi also knows that his cohesive collaborations are part and parcel of what make his discography so potent; he boasts of an indubitable skill when it comes to bringing together the perfect blend of artists onto one seamless, cult-status, multinational record.
With that in mind, Kida Kudz, Shane Eagle, and Tomi Agape are all enlisted to accompany Santi through "Raw Dinner" and the anthemic closer, "Rapid Fire" according to their features. Tay Iwar, of course, graces the stage through "Murvlana", then returning with the only other solo performance of the night. Despite a few too many last minute pleas to be added to the set list, Santi gets his way. Beyond these limited guest appearances, he finally gets to thrill a crowd all by himself.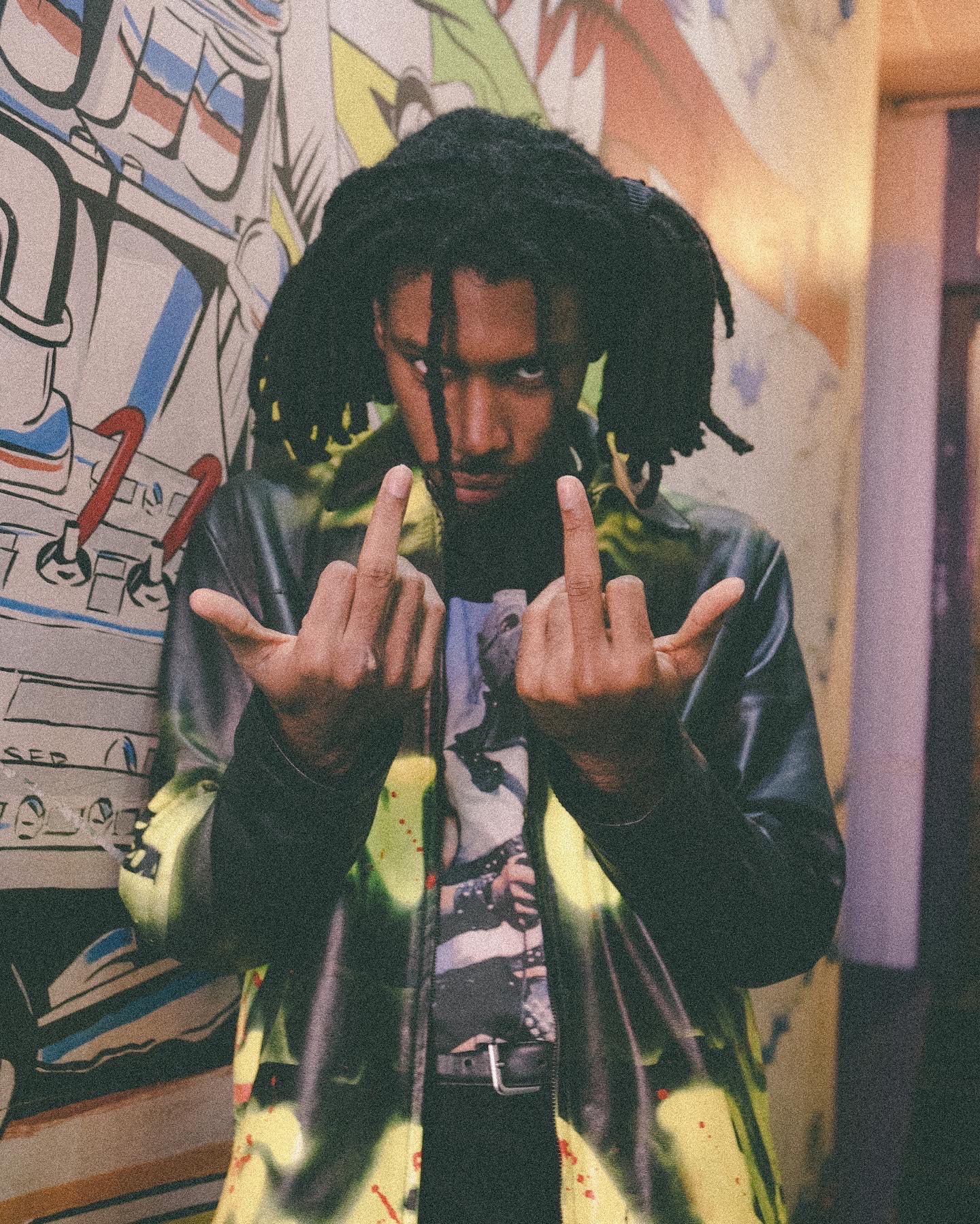 In recent months, festival runs have meant that Santi has had to share a generic stage with whomever else the organising parties deem fit. In some cases, Santi's has been graced with the presence of legends, such as Solange and Tyler, The Creator, and in the next year, he will share a crowd with A$AP Ferg, Camila Cabello, and even Nigerian old hand, D-Banj, as early as December at Afronation Ghana.  Though only WOO HAH Festival and Sweden's Lollapalooza have been announced so far, Santi laments that "2020 is already fully booked".
So, as we enter into Mandy's Jungle, we are strictly on Santi's terms – his mission: to evoke "rage & love" in his 800+ audience. By my estimations, and from the post-game analysis that commandeered every conversation in the immediate vicinity of the venue, Santi succeeded with a simple three-step recipe: his performance prowess, the quality of the project in question, this time Mandy & The Jungle, and the unwavering absorption of his dedicated fanbase.
If we were to gauge it well, as Santi so often does, he's hosting a sold out debut headline show to glowing reports from fans and critics alike, in one of the world's most influential capitals. This can only mean that his international crossover is in full swing.
This year, Nigerian artists at every level have hosted sold out shows in London. From Odunsi & Rema to Davido and Wizkid, Nigerian artists have managed to pull and engage a massive audience from 500 to 5000. From as early as D'Banj' Koko Concert London debut a decade ago – which was followed by a deal with Kanye West's G.O.O.D Music two years later – to last years Tiwa's Vibe tour that preceded her Universal Music deal earlier this year, headlines in this city have signified an international interest beyond the diaspora. This is a mandatory pit stop for artists on their pilgrimage to global success Santi has now taken.
"I probably won't be [independent] by my next album"
In this interconnected digital epoch, Nigerian artists accumulate fans and professional attention from all corners of the world, but our ability to reach a global audience doesn't miraculously assuage the engineering difficulties Nigeria-based artists are bound to face. Nigeria is known, by our people most especially, for her shoddy technical resources, especially when it comes to stagecraft, limiting our artists' performance ability, and thus their capacity to reach full bloom.
However, by taking the reins and spreading their wings across the world, performing artists, such as Santi and Tiwa Savage, are overcoming the restrictions at home, harnessing their full potential as entertainers, whilst simultaneously cementing their international appeal. Their success in both places eventually finds its way home during the bustling season to come.
"I mean, I know we're going to sell out… Like immediately"
There will be Tears in The Jungle
Image Credits: TSE