In Davido's world, his capacity to conjure singles that keep his lyrics in the mouth of the masses and his messages in their hearts for months have always been the truest metric for measuring his growth and artistic credence. For his third studio album, and second in the past year, he presents a body of work which cements his place in our music stratosphere and continues to show that he has nothing to prove. 
---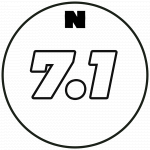 Davido's legacy as one of the most eminent afropop acts of his generation stands secure. For much of the 2010s, he strove hard at work as a tireless evangelist of the hybridised sonic form Nigerian pop took, effortlessly taking over the mantle of music prominence as laid down by progenitors like 2Baba, P'Square, and Wande Coal. He conquered Nigeria first, then Africa, and as the preceding decade closed out, commanded the world's attention. David Adeleke's stratospheric rise from a wealthy man's son to the baddest has been underpinned by an intuitive ability to seek out searing melodies, a willing, collaborative spirit, and unabashed dedication to –  and appetite for –  seeking out hits singles year on year. 
Buried deep into the stunning drum patterns, piercing chords, hi-hats, syncopations, and oft-gruff emotiveness that unites most of Davido's hit tracks, lies a more naked understanding of his tensioned place in the zeitgeist as a figure who inspires insane levels of admiration and an even crazier level of dissent towards his brand.  Often, the apprehension that comes with straddling such extremes has spilled over into his music. Early in his career on "All Of You", he was in combative mode, eager to crown himself king less than two years into his career; while "FIA",  an acerbic retort after a series of personal tragedies played out in the public realm, sounded like Davido watching over his shoulder, with certain parts of the single reading like he was content to hunker down into a him versus the world posture at the tail-end of one of the most dominant years of his career. 
Fortunately, those periods of condensed irritation quickly pass for Davido, and much of the frustrations of the intervening years were smoothed over and course-corrected on A Good Time, Davido's ebullient sophomore album that found him marinating in the joys of his increasing western commercial appeal, love from fans, relationship utopia, and the glow of familial contentment; in an interview with British GQ around the release of A Good Time, Davido said that it was "a good time to be African," but, on a more personal level, it was also really a fun time to be Davido. 
On A Better Time, the quick-fire 17-track follow-up to his sophomore offering, Davido attempts to advance the vision of A Good Time maximally without cracking under the pressure of our collective precarious year. Largely, ABT does not diverge from AGT in subject matter or form, it's another near-hour of high-octane production, loving croons, and grandiose promises from one of Africa's most consistent hitmakers. At certain points, ABT toggles back to the existential tension of Davido's stardom: legitimacy and perception. 
Yet, on his third album nearly a decade after his breakout, Davido doesn't confront the legitimacy questions with the withering acidity of old. He instead chooses a king's swagger for response. "FEM"  the album opener that came after months of radio silence, is powered by Napji's euphoric concoction of piano synths and blustering horns that are adorned by clever wordplay and cloaked invectives slyly directed at rivals and detractors, and while Davido's music has always seemed reverse-engineered for clubhouses and raving celebration, the haunting circumstance of this year's groundbreaking protests against police brutality and youth's marginalization has seen "FEM" forced out of clubs and situated as a protest ground accessory, heralding the single's unexpected addition to the canon of Nigerian protest songs. 
As a "FEM" inverse, "The Best" is a more subtle and boundless affair, allowing Davido to joyously indulge in self-mythologising in tandem with his protege, Mayorkun ("And I learn from the best oh, myself," Davido glibly affirms on the song). It is an instant standout, as Davido builds on the dynamism of Mayorkun's culturally-resonant ad-libs and opening verse to remind folks about what he does best and provide another evidence of the undoubted creative synergy between himself and the Mayor of Lagos. 
While Davido's music often feels supersized, it has never bothered itself with theatrical details that provide extended gazes into his life or state of mind.  Here, however, the focus is even more muddled, with no discernible cohesive theme running through ABT –  a sharp, understandable contrast to the enthusiasm of AGT's Africa Rising embrace. In lieu of narrative, Davido falls back on the subject matters that have hallmarked his near-decade stint at the top of Nigerian pop: women as love interests, over-the-top benevolence, weariness from being a misunderstood king, and a peculiar interest in the divine and how it directs his life – it's a successful gambit. Davido drifts towards his earnest, off-the-cuff lover persona for most of the opening section. "Jowo" is refreshingly honest, boasting some of the most assiduous writing on the project. On "Something Fishy", he is a scorned lover owning some of his insecurity, a suitable counterbalance to the staid uniformity of typical Nigerian pop love songs, while "Heaven" is a return to standard love-singing form for Davido. On the track, he credits a celestial figure with making him feel naked and inspired in one breath, but somehow he makes it work; even though droning on with the "Feel so real" line takes the spark out of the song for a bit. 
In the lead-up to ABT,  Davido has lent his clout to a number of up-and-coming and rebounding stars. He delivered a vociferous verse on the remix of Ajebo Hustlers' "Barawo", as well as making appearances on May D's "Lowo Lowo" and Mayorkun's "Betty Butter". That trend of collaborating with emerging singers primed for success continues on A Better Time. "La La," a groovy house and lounge music fusion with CKay that sounds like Davido cutting loose after a frenetic jam session, then there's the shimmering effervescence of the track's Amapiano homage. On any other Davido album, "Fade" with Bella Shmurda would have worked as a perfect outro, but here, it's only a portent to gaze at the finish line.  Starting with a dedication to a divine figure, "Fade", undergirded by cherubic instrumentals and liquid drums, transforms into something different after the opening sequence with Speroach's touch activating Davido's wanderlust, and leaving Bella Shmurda to work around the parameters set by his host. The track is a worthy follow-up to the Yonda-assisted "Animashaun" that bookended AGT. 
From time to time, A Better Time leans on the dynamism of form that has made hip-hop a cultural juggernaut, but the choices, spanning sub-genres and eras, are lucid and increasingly attuned to sounds within Davido's textural range. Overall, it feels like a marked difference from the line on "D&G" that pointedly referenced a contradiction of Davido's career (Yankee ti ji / I just wanna make history without my people back home missing me). Here, aided by his able team of super-producers and A&Rs, the singer moves unencumbered between worlds, capable of meshing the music of his land of birth and that of his heritage without making a mess. Davido is also more capable of yielding the floor to his guests without any of the wide-eyed gallivanting that weakened some of his earliest American hip-hop collaborations. The Nicki Minaj collaboration, "Holy Ground", is a case in point. Davido's verses are delivered with a kind of restraint that doesn't impugn the catchiness of the track, while a line like "Mama so fine, she got like six tattoos/ If she was a city, she be Timbuktu" was made for the ubiquity of a viral Instagram caption. Nicki Minaj takes the distorted sexual innuendos to the next level, switching between singing and rapping for heightened effect. 
It's a credit to Nigerian pop music's ascendancy that a Minaj feature does not monopolise the narrative of ABT,  only serving to further its reach. Coming after "The Best" ,"Shopping Spree" is positioned as the centrepiece of this project. Davido does most of his heavy lifting on the track, where he bridges the subterranean, warped Atlantan lyricism of Young Thug with the honeyed purrs of Chris Brown's verse, but he doesn't sound out of touch with either American. Within the album, "So Crazy" feels more fluid; the trap flow Davido employs early on the song thaws into a more regular afropop delivery as the minutes wind down –  and when he mutters "But I been dey call you you no dey pick", you almost genuinely feel sorry for him. A chance meeting in Los Angeles birthed "Birthday Cake" with Nas and Hit-Boy but the classic hip-hop production and Nas' jaunty verse do not compensate for the fact that it feels like something is missing in the margins even if Davido tries his valiant best.
Much of Davido's success over the last nine years has owed itself to the intuitive nexus between himself and his tested producers, and when the details in his music are not fleshed out here, the production makes it less disappointing. Fresh VDM, Napji, and Speroach create an eclectic range of beats to accentuate the overall listening experience and steer the sound in a fulfilling direction. On "Sunlight", Napji's melodious blend of horns, drums, and pianos paint a tropical hue that sees Davido attempt to make an optimised version of  2019's "Green Light Riddim". It's a bit formulaic, but with Davido admitting in an interview with W Mag that one of his key motivations for this album was out doing A Good Time's commercial success, the rationale falls in place. 
With the music world turning its back on tightly-packed, condensed albums and reverting to maximalist aural hikes, Davido plotted his path on A Better Time with a kind of spastic rigour and showed just enough discipline to stay the course. The moments for strutting and flexing arrives when he links with talent from the continent. On "Mebe", with Mugeez, there's more of the idiosyncratic writing that Davido has made thoroughfare throughout his career. Sho Madjozi delivers a star turn on "I Got a Friend" electrifying Fresh VDM's fresh techno-Gqom inspired beat while Davido pays tribute to deceased compatriots like Tagbo, Olu, and Pop Smoke, and it's one of few moments on the album when Davido's sentimentalities make for emotional acuity of that variety. On album closer, "On My Way" Davido mixes the cerebral with the whimsical. It is a curious, underwhelming end to an album of this magnitude. 
Too many times on A Better Time, Davido's hits-focused approach impedes the continuity of exciting concepts and sacrifices cohesion for dynamism, but the tradeoff is a body of work that doubles down on Davido's worldview and presents a clear vision of how Nigerian pop can dovetail with American hip-hop at full blast. He does not pretend at being an auteur, instead, the concentration was on providing a glut of hits and would-be hits that could stimulate the cultural appetite like few releases this year have done. In Davido's world, hate and love have always been tools for aggrandising his position, so sections of the Internet panning his music in the weeks before it officially dropped must have been per course for him; hate or love, he just know you'll turn up to his music when it comes on. That, perhaps more than anything, is what makes Davido different from those of his ilk: he's obsessively invested in making the music to soundtrack widespread joy,  wherever that leads him to. 
While Wizkid continues to dexterously rewire Nigerian pop's emotional motherboard, and Burna Boy is hard at work at redefining the scope of our music, Davido remains an immovable cultural juggernaut capable of bending people's will regardless of which part of the divide they fall on. In a year that has often been anything but good, Davido's A Better Time audaciously requires people to imagine a safer, cleaner, and more joyous world where Davido is the best.
And at certain points listening to this album, this fantastical world is tantalizingly within view.
Listen to A Better Time here: